Huawei might be venturing into launching Nova-branded wearables in the future.
A recent trademark filing corroborates rumors going around Chinese social media site Weibo that the technology giant plans to introduce Nova smart devices, which include smartwatches and wireless headsets.
Huawei filed for a trademark on Christmas Eve, December 24, for "Huawei NovaBuds" with the European Union Intellectual Property Office under categories like headphones and earphones.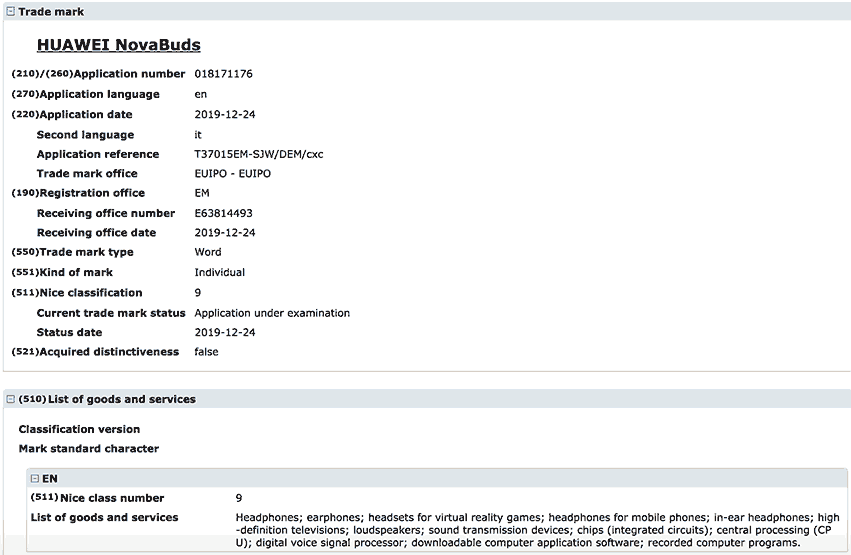 The filing doesn't mention any specs, but we assume the NovaBuds will inherit tech from products like the Huawei FreeBuds 3 and the Honor FlyPods 3.
Right now, the Nova brand is mainly focused on smartphones, with the latest launched being the Huawei Nova 6 series. But the company has introduced a Nova mini speaker earlier in the year.
SEE ALSO: Huawei FreeBuds 3 vs Apple AirPods 2: Which earbuds are better? and Huawei Nova 5T review: Shines like a supernova
At the launch of the Nova 6 and Nova 6 SE, Kevin Ho, president of the handset product line at Huawei Consumer Businesses Group, said they had shipped over 125 million units of the Nova series worldwide. Perhaps the line's popularity and its sales record have prompted them to consider developing the Nova brand itself beyond smartphones.
But will Huawei spin off Nova like it did with Honor? Will there be three separate brands for Huawei to segregate three different markets and price ranges? Those are all still unanswerable questions for now. What we do know from the series' rebranding in August is that the Nova is positioned as a flagship line for the younger generation.
Via HuaweiCentral
---