Realme is all set to enter the wireless earbuds market with the launch of the Realme Buds Air on December 17. Through teasers, we've learned a bit about the earbuds already, but because of Indian e-commerce site Flipkart, we find out that they will cost ₹4,999 (around P3,580, $71).

The Realme Buds Air come in yellow, black, and white. The product image on Flipkart shows both the earbuds and the case having a glossy finish.
According to the product listing, they will ship with a USB-C cable, which means the audio accessory charges via a USB-C port. That is a welcome addition because the Realme Buds Wireless still use the dated microUSB port.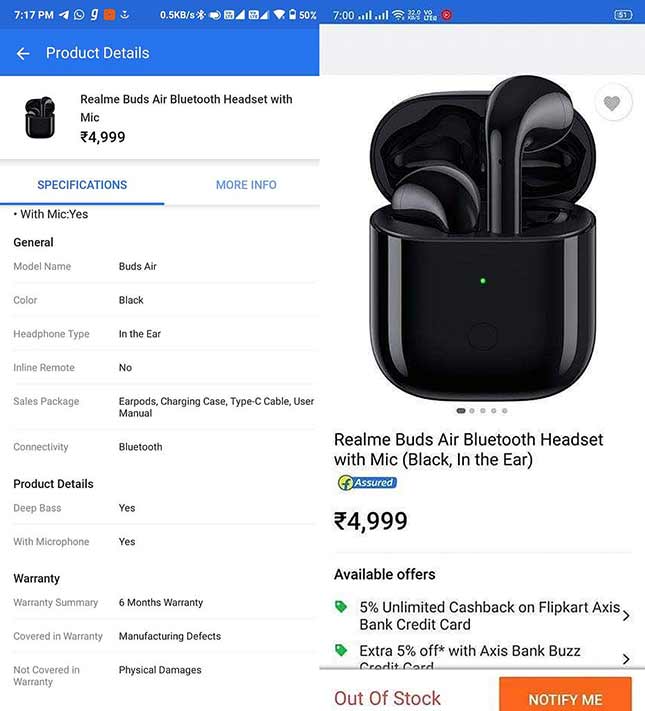 The Realme Buds Air come with Bluetooth 5.0 connectivity, work with Google Assistant, and instantly connect with your phone when you open the case. They also support touch controls for music and call management.
Reports claim the wireless earbuds are equipped with 12mm bass boost drivers. We should hear more about them on launch day.
It comes as no surprise that the company is developing its wearables/audio accessory portfolio. And that its newest addition looks glaringly like a particular Apple accessory.
According to market research firm International Data Corporation or IDC, the wearables industry experienced a significant rise in the third quarter of 2019. The boost is due specifically to what it's been calling the "hearables" market, which includes wireless earbuds, headphones, and the like.
SEE ALSO: Realme Buds 2, Realme Buds Wireless arriving in the Philippines Dec 12 and All Realme phones to go on sale on Lazada Philippines Dec 12
Its popularity is mostly attributed to Apple's AirPods, which lead the wearables category with 29.5 million units shipped in the third quarter of this year. In comparison, Apple just shipped 10 million units in the same period in 2018. There's a growth of 195.5% over the past year, giving Apple a total market share of 35% this quarter.
We see earwear — earphones and headphones — having a massive growth over the last year. A total of 40.7 million units were shipped over the previous year's 11.8 million, meaning earwear alone had a year-on-year growth of a whopping 242.4%.
With modern smartphones losing their 3.5mm headphone jack, you can expect more of these hearables to hit the market.
Via MySmartPrice
---