You simply can't go wrong with a solid smartphone that costs less than a pair of branded basketball sneakers, especially if the person on your list isn't too keen on sports, or if he or she is just looking to upgrade from a feature phone.
The Samsung Galaxy A10s, Huawei Y6s, and OPPO A5s are three of the most popular choices on the Philippine market today. Even better? They're all priced at P6,990, or roughly $138 converted, which makes them affordable to most and a must-have for many. But which handset is a better purchase overall? Read on for our top pick.
Low cost, high style
Budget handsets typically don't look good, but the Huawei Y6s is an exception rather than the norm for the segment.
The blue color variant has a dual-tone design a la Huawei's own P30 Pro flagships in Misty Lavender and Mystic Blue colorways and the earlier Google Pixel phones. The top section, which includes the main camera module and fingerprint reader, is glossy and glittery, while the rest of the back has a matte finish.
The OPPO A5s and Samsung Galaxy A10s, on the other hand, look plasticky by comparison, and have a more slippery finish that easily pick up fingerprints and are slightly more awkward to hold one-handed. This familiar but tired design language is pretty much standard across low-cost smartphones. Props to Huawei for offering something different — and much more likable.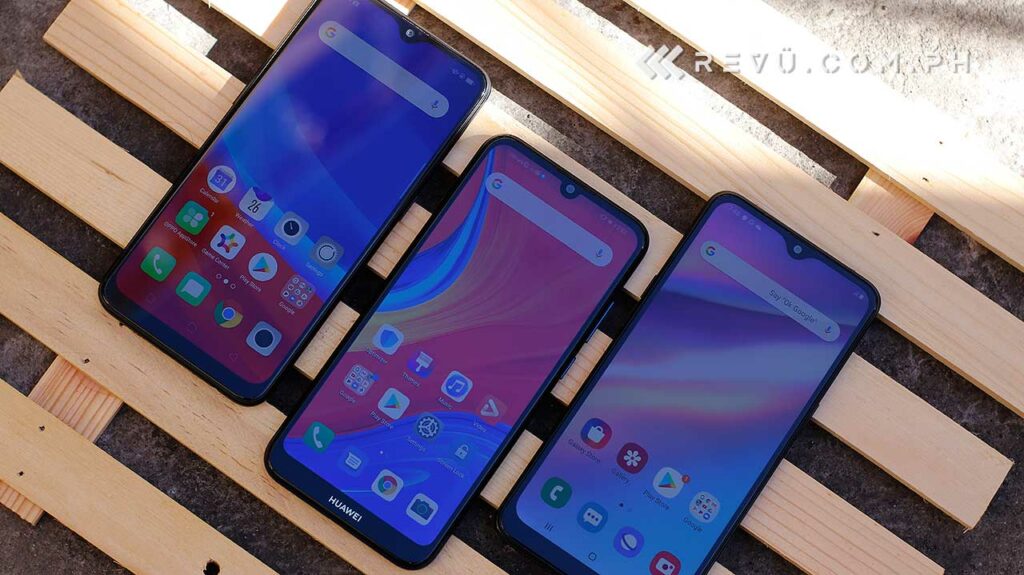 Moving to the front, all three devices have a notched display with a cutout at the top to accommodate a front-facing camera. The OPPO and Samsung share 6.2 inches of screen real estate. By contrast, the Y6s arrives with a handier 6.09-inch touchscreen and a smaller, less intrusive notch design.
The three phones are about the same when it comes to thickness and weight. They're compact and can fit in any pocket or bag without much trouble, and single-handed use is never an issue. All three have the same ports, too, with a 3.5mm headphone jack and microUSB for charging and file transfer. No USB-C here.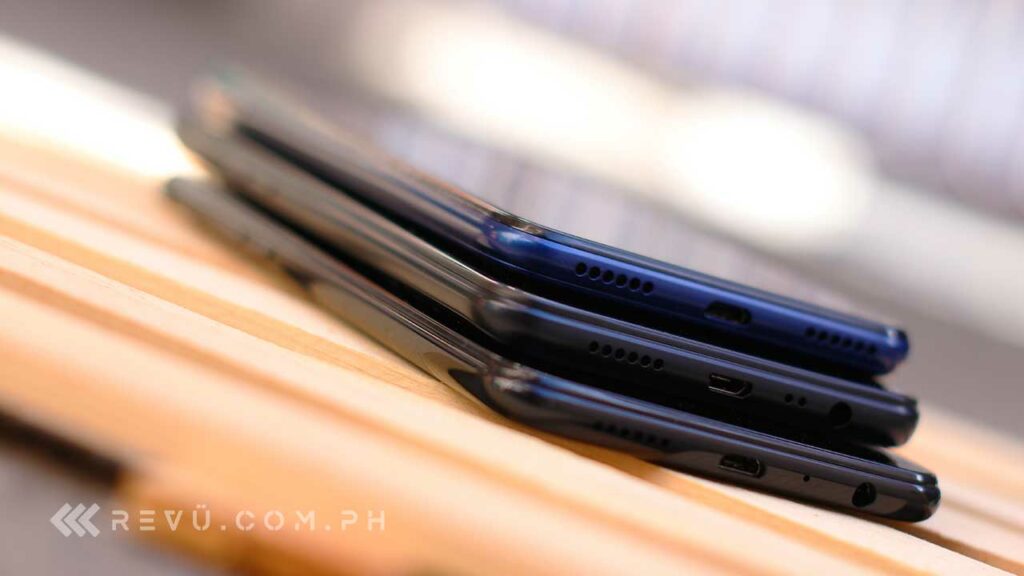 No speed bumps
Speed isn't a problem, because all three devices are powered by a respectable 12nm MediaTek chipset with 8 CPU cores and PowerVR GE8320 graphics for smooth gameplay. A Helio P35 sits inside the Huawei Y6s and OPPO A5s, whereas the Samsung Galaxy A10s, perhaps to cut down on the price tag, packs a slower Helio P22 unit.
Nevertheless, both the Helio P35 and Helio P22 can run heavy games like Mobile Legends: Bang Bang and Black Desert Mobile without lagging and dropping frames like crazy. Likewise, excessive heating isn't an issue, so you can play games for extended periods. The Galaxy A10s maxes out at 2GB RAM, which can make multitasking a bit more problematic. The Y6s and A5s offer more memory and have 3GB RAM.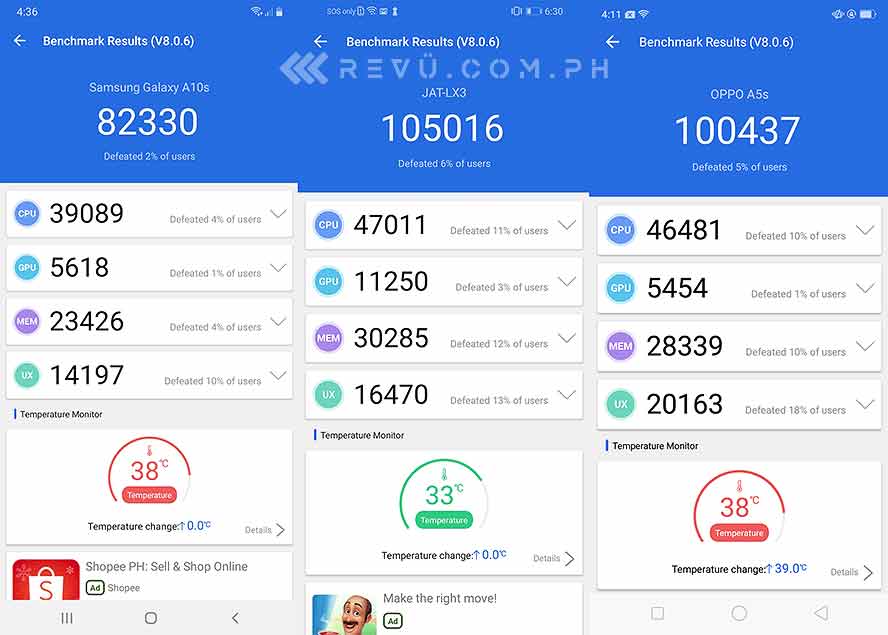 It's also worth noting that of the three, it's the Huawei that shines the brightest in the Antutu Benchmark test with a score of 105,016. The A5s, which shares the same internals as the Y6s, came in a close second.
The Huawei Y6s can run Mobile Legends at the highest settings available with High Frame Rate mode enabled. Black Desert Mobile, one of the best-looking games we've seen on a smartphone, can be played smoothly at medium graphics, further driving the point that, despite its lightweight price tag, this Huawei isn't a lightweight performer.
Storage matters
Storage-wise, Huawei's budget blower comes in at 64GB, whereas the A5s and Galaxy A10s both start with 32GB storage each. All three have a memory card slot for expanding the available storage.
And although having twice the base storage on the Y6s might not seem like a big deal, as you can always add more memory to the OPPO and Samsung using a microSD card, the 64GB of space will allow you to install more apps that can't be moved to the phone storage. The added space on the Y6s also lets you store large multimedia files on the smartphone.
Convenient unlocking
While many handsets lack a biometric feature, this is not the case with these three devices. Each phone has a physical fingerprint sensor on the back, and we didn't encounter any problems with all three. They're fast and mostly accurate.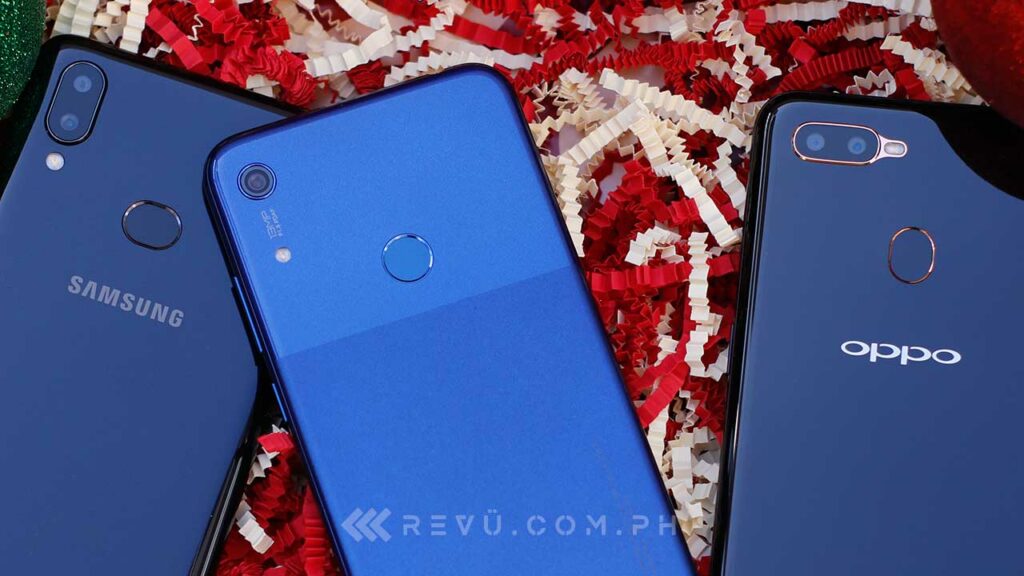 Additionally, the fingerprint sensor on the Y6s supports gestures, allowing you to pull down the notification shade and quick settings bar and operate the camera app, which is useful and convenient.
Other considerations
Huawei Y6s has the best-looking screen, as well as the loudest speaker to match. Plus, it has its own FM antenna, allowing you to listen to your favorite radio broadcasts without wrestling with wired earbuds. The OPPO A5s and Samsung Galaxy A10s feature bigger but inferior displays, though the loudspeaker quality is quite decent for both.
When it comes to battery life, OPPO's budget entry leads the way with a 4,230mAh cell that can easily last two days on a single charge. Both the Y6s and A5s support faster-than-usual charging up to 10 watts compared with the Galaxy A10s, which charges at a slower rate.
Sample pictures taken with the Samsung Galaxy A10s, Huawei Y6s, and OPPO A5s, in that order for each set
The A5s and Galaxy A10s sport a dual-camera setup with an extra sensor for portraits. The Y6s just has a single shooter of 13 megapixels, but it produces slightly better pictures with higher dynamic range in daylight, as seen in the photo with skyscrapers in the background. We also like that the highlights are not blown out.
The A5s captures the best closeup shots (pink cat figure), even when cropped to get the same field of view. Additionally, it performs better than the Y6s and Galaxy A10s in low light (again, refer to the cat figure), and the auto-focus is faster and much more consistent.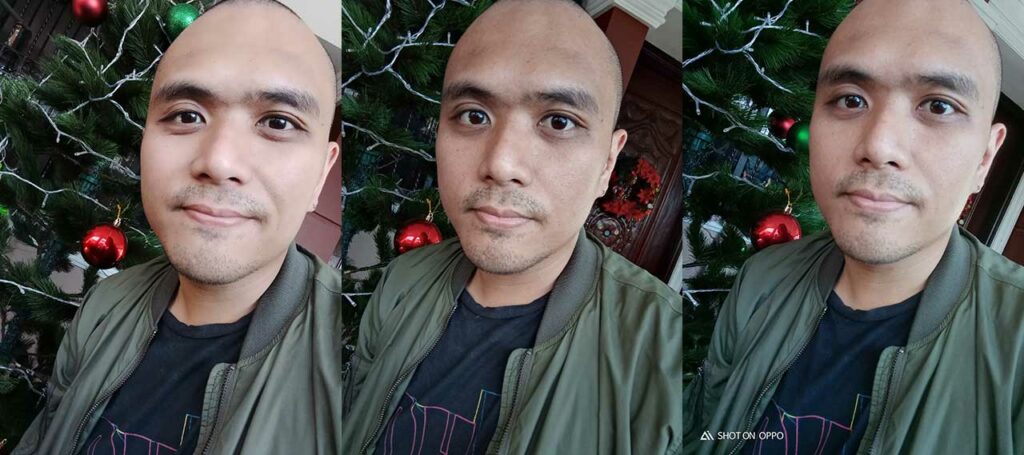 All three phones have 8-megapixel front-facing shooters, and they do a pretty decent job of taking selfies in both outdoor and indoor areas. We found the Y6s to be the better all-around performer of the three, especially indoors where lighting can sometimes be difficult. Huawei's optional beauty mode also manages to smooth skin without messing up skin tones and erasing facial hair.
Which phone should you buy?
It may come down to preference, but we like the Huawei Y6s a bit more than the OPPO A5s. It doesn't last as long as the A5s, and both share the same chipset. However, the Y6s looks more attractive and offers more base storage than the OPPO, without costing a peso more. The Samsung Galaxy A10s , on the other hand, has some catching up to do.
Samsung Galaxy A10s vs Huawei Y6s vs OPPO A5s: Specs comparison
---