We all know Apple's new Mac Pro — yes, the one that still looks like a cheese grater! — costs a ton of money to purchase. But did you also know that the set of wheels and feet you can purchase along with it are unapologetically expensive, too?

In the Philippines, the base 2019 Apple Mac Pro Tower is priced at a whopping P359,990 ($7,106), while the tricked-out configuration of the Mac Pro Rack with a 28-core Intel Xeon processor and Afterburner graphics will set you back more than P3.2 million ($63,162).
What's also crazy is that Apple is selling replacement kits for Mac Pro wheels and feet for P36,990 ($730) and P12,990 ($256), respectively. No typo — those small rubber wheels are more expensive than actual car wheels. And you may even need additional tools to install these computer wheels, which are, incidentally, costlier than the recently launched 2020 Apple iPhone SE.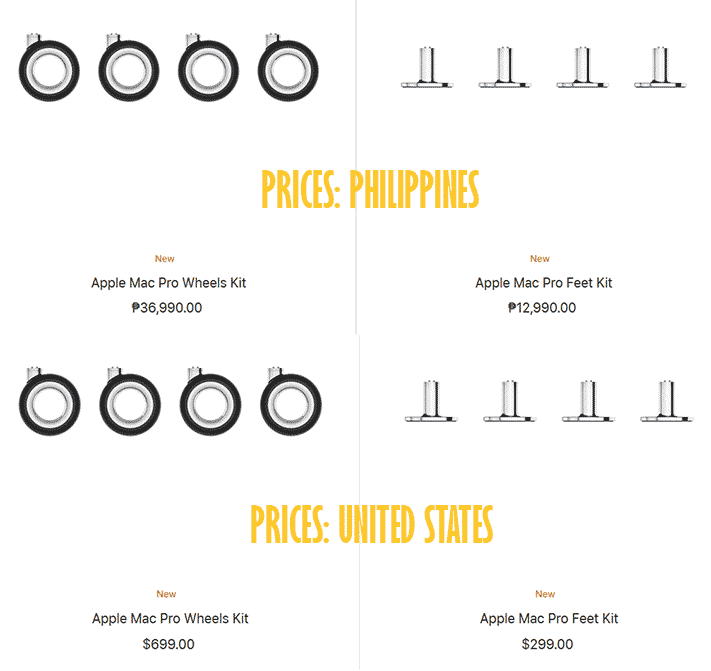 Do the math, and that's roughly P9,248 ($183) per wheel, or P3,248 ($64) per foot! And just in case it's still not clear to you — for most people, that's a lot, especially considering these accessories don't do anything special in particular. The wheels won't make your computer sentient and capable of moving around the house; heck, they don't even lock in place.
SEE ALSO: 2020 Apple iPad Pro, MacBook Air launched. PH prices revealed, too
The legs aren't retractable, although the Mac Pro already comes with a set of feet, so there's little incentive to buy the feet unless they get lost. According to Apple, the only real benefit to installing the Mac Pro Wheels Kit is that "it will make it easy to move your Mac Pro around," whereas the Mac Pro Feet Kit provides "improved stability."
Obviously, if you can afford a 2019 Apple Mac Pro that costs more or less the same price as a nice used car, this is probably the least of your concerns now.
Official product video of the 2019 Apple Mac Pro, in case you need to remember what it offers
---