Back in December, OPPO launched the Reno 3 series in China. Design- and spec-wise, these phones were a departure for the Reno line. Unlike its predecessors that sported motorized, wedge-shaped front cameras, the Reno 3 has a more conventional look we've grown accustomed to when it comes to modern-day smartphones.
The OPPO Reno 3 — which is the subject of this review — comes with a multi-camera array over the glossy, gradient back and a waterdrop notch in front. You can place it among other phones released by the brand and its competition, and it'll fit right in.
Internally, the OPPO Reno 3 phones are the first for the Reno series to offer both 5G connectivity and Android 10-based ColorOS 7 out of the box, which means they might look standard, but they're slightly ahead of the curve.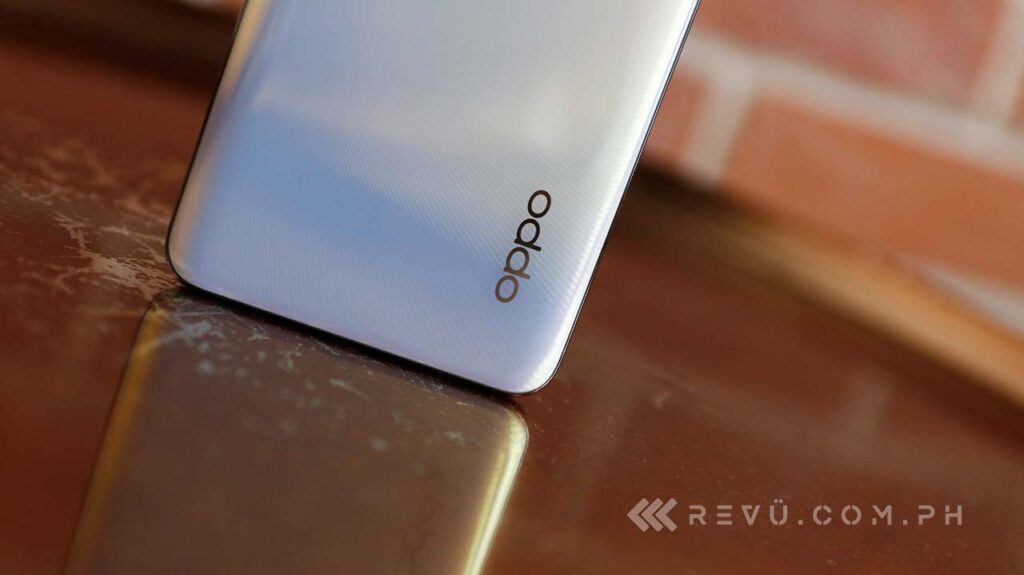 These are the models sold in China, though. The global version of the OPPO Reno 3 is slightly different from the China variant. The variant we're getting runs on a different processor, and it has a different camera configuration.
Should we be jealous of the Chinese version (especially with its impressive benchmark scores), or is the OPPO Reno 3 still a covetable midrange phone? That's what we hope to uncover below.
Price and availability
The dual-SIM handset is already being sold in the Philippines for P18,990 (around $376). It's being offered on Smart postpaid, too — along with the OPPO Reno 3 Pro.
Locally, it is available in one variant, where 8GB of RAM is paired with 128GB of expandable storage. And it will come in three color options — Auroral Blue, Midnight Black, and Sky White.
Hardware
We've considered the OPPO Reno series as the company's more experimental line of devices, at least design-wise. The shark's fin-like wedge for the front camera has been an attention-grabber since the first Reno handset was introduced in 2019.
But OPPO has opted for a different way to attract user's attention with the Reno 3. With colors inspired by different ways light hits in the great outdoors, we get three distinct colors for this phone. The company named these Auroral Blue, which is inspired by the night sky of Northern Europe; Midnight Black, which takes after the midnight sky; and Sky White, which makes one think of the morning sky.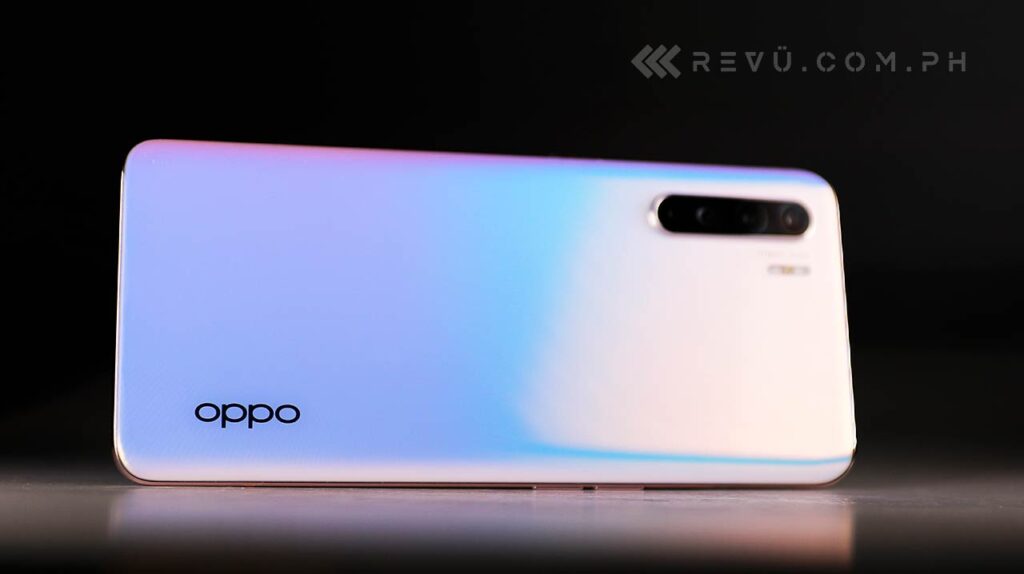 The Sky White unit we've tested shifts from pale blues to lilac depending on how the light hits the back of the phone and what part of the device you're looking at. It's an aesthetically pleasing device. We would've wanted to see the cameras recessed into the back of the Reno 3 as it has been with past Reno devices, so you can place it flat on a desk. Nevertheless, it doesn't take away from the stunning design. One downside is it's a bit of a smudge magnet, so prepare to wipe it down often.
The 6.4-inch Super AMOLED screen is hardly interrupted by the waterdrop notch, so you get to concentrate on what's on the display.
The OPPO Reno 3 is designed to be lighter and thinner, and you can feel that right from the first time you hold the phone in your hands. The back of the handset curves slightly to the sides, allowing for a comfortable hold. It's grippy, too, so you can be somewhat assured it won't accidentally fall from your hand. Even with a relatively big screen, we were able to use the Reno 3 easily with one hand. The phone feels well-built and solid. You can easily mistake it for a premium device from feeling alone.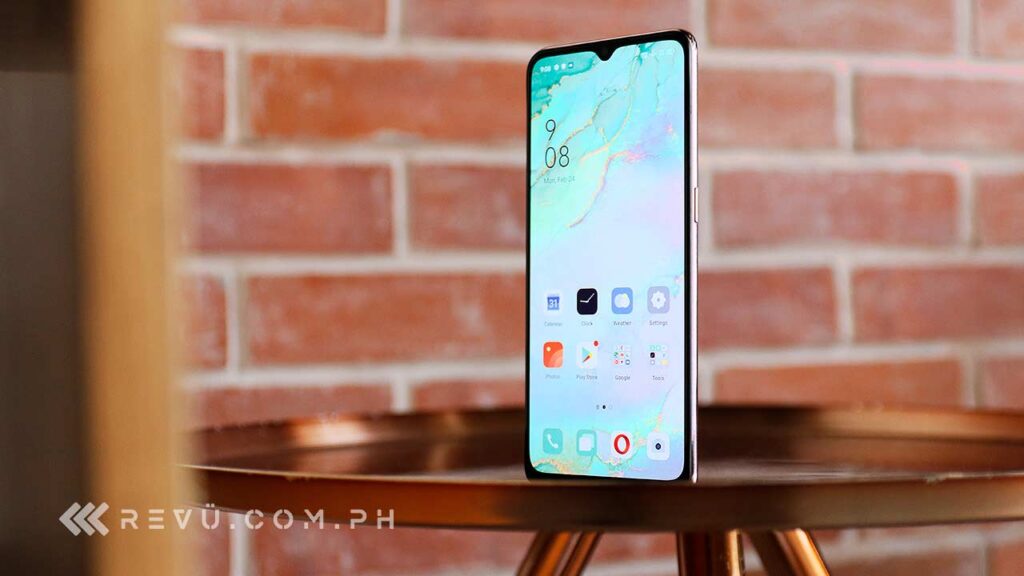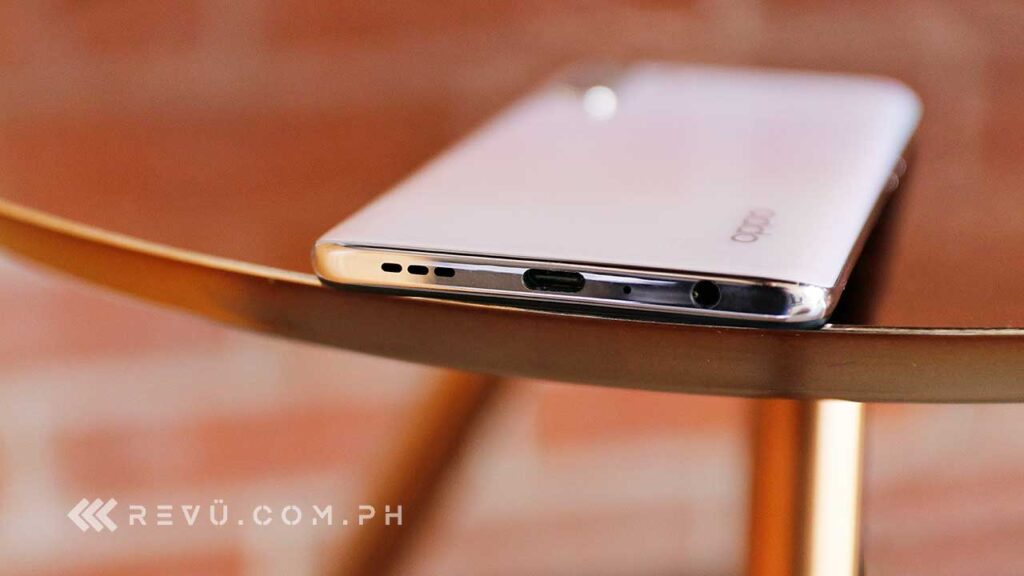 It even has all the hardware features we've come to expect from our smartphones, including a fingerprint scanner, USB-C charging, and, for those who still need it, a 3.5mm audio jack.
The right side of the OPPO Reno 3 has the power button; the bottom has the single speaker, USB-C port, mic, and 3.5mm audio jack; the left side has the volume rocker and tray for two SIMs and microSD card; and there's another mic at the top of the phone. The earpiece takes up a small sliver above the front-facing camera, and there is a hidden fingerprint sensor underneath the glass.
Screen
With the OPPO Reno 3, you get a 6.4-inch OLED screen with a respectable 90.8% screen to body ratio. Bezels are thin on the sides with a slightly thicker chin. The waterdrop notch takes a small portion of the top of the phone, and most apps, by default, ignore that part of the device. You have the option to select which apps will utilize the entire display.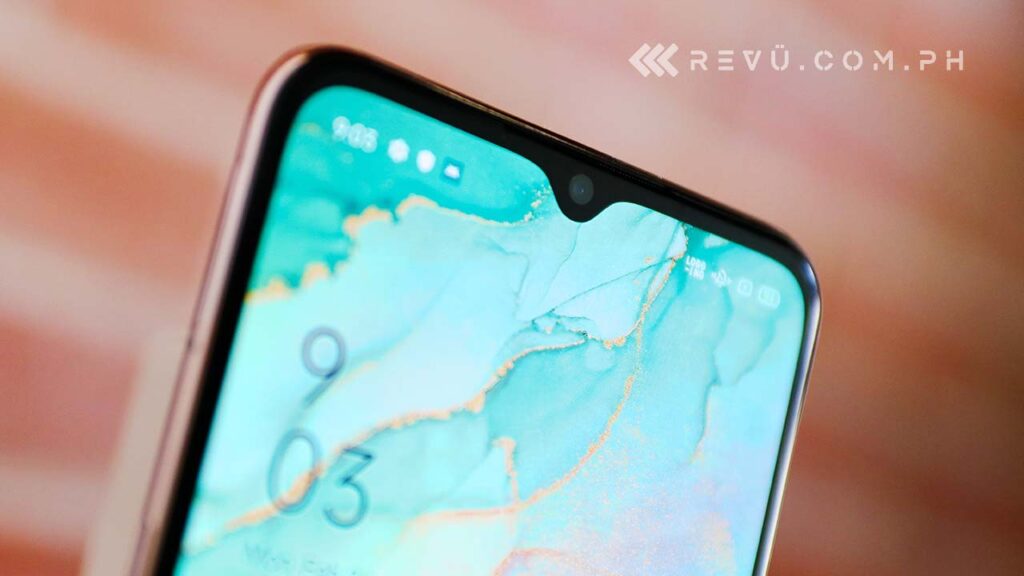 Colors are bright and vibrant on the OPPO Reno 3's screen. You get excellent viewing angles, and it is usable even when you're outdoors on a bright, sunny day. Because the display doesn't curve to the edges, you can avoid accidental touches there. Its black levels are great, too, since you won't be able to tell where the screen and bezel meet.
The OPPO Reno 3 offers ways to protect your eyes, too. The phone has TÜV Rheinland Low Blue Light Certification, which means it can filter blue light to protect your eyes. It offers an Eye Care mode to help you out. And with ColorOS 7 onboard, this handset supports system-wide Dark Mode, which doesn't just help prevent eye fatigue but also reduces power consumption.
We also noticed a feature called "Low-Brightness Flicker-Free Eye Care" in the Settings. According to its description, the function is designed to "reduce the visual fatigue caused by screen flicker at a low screen brightness level." But OPPO cautions that this feature will "slightly increase image noise."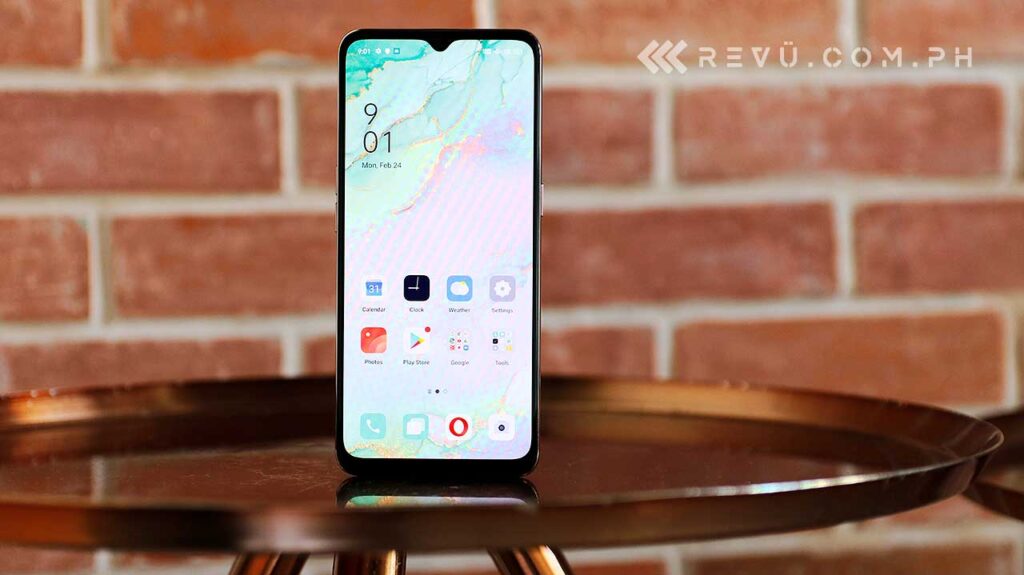 On top of protecting your eyes, OPPO introduces visual improvements, too. The phone has a proprietary "OSIE Ultra Clear Visual Effect." OSIE or OPPO Screen Image Engine, the company claims, is an industry-first, software-based visual optimization for short videos. It's designed to improve image quality and visual effects of third-party apps like Instagram and TikTok. The feature does so by increasing picture saturation and contrast while reducing noise.
One other good piece of news about the OPPO Reno 3 is that it'll support 1080p streaming on Netflix. We weren't able to confirm this with our unit since we're using a pre-production device. But that's something buyers of this handset can look forward to. Who doesn't want to get HD support for their favorite Netflix shows and films?
Performance
For the international variant of the OPPO Reno 3, the company opted to ship the phone with an older MediaTek Helio P90 chipset paired with 8GB of RAM and 128GB of storage instead of the MediaTek Dimensity 1000L. We would've wanted to see the capabilities of the latter, but we're not discounting the P90 either.
As you can see from the benchmark scores, the device doesn't exactly stand out from its competition. However, it does get the job done. Whether we want to use it to check on email and social media, shop online, look for things online, listen to music, watch shows and movies, or even play some games, it didn't heat up or crash the apps. Multitasking was an easy, painless affair.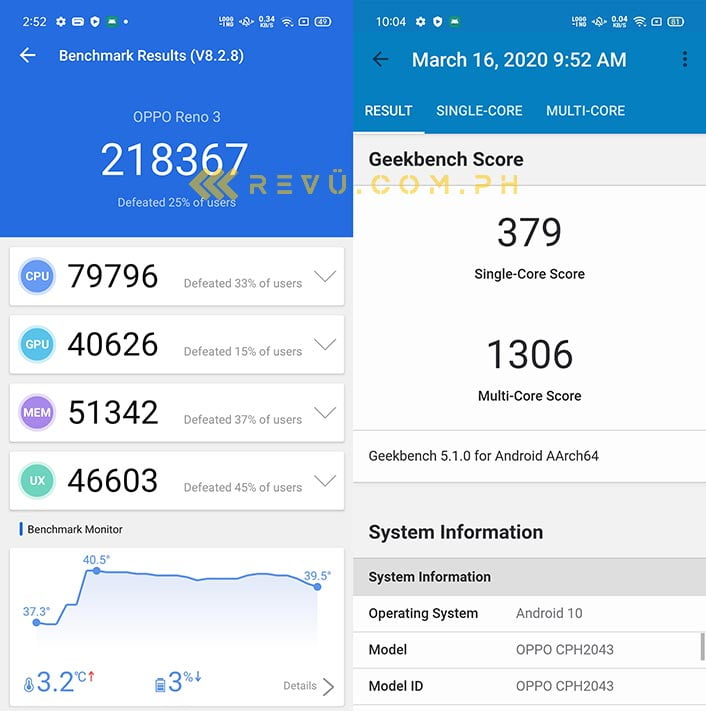 We appreciate that the OPPO Reno 3 ships with the latest version of Android on top of the clean and sleek ColorOS 7. It's uncluttered and offers more customizability right down to icon styles. You can make it your own and make it look good while you're at it.
OPPO even brings multi-user mode with this device. So, if you want to separate your work apps from personal ones, or have a separate setup for your kid, it's possible to do that with the OPPO Reno 3. It's a feature we wish more manufacturers adopt.
The OPPO Reno 3 keeps your phone secure with the help of face unlock and the optical fingerprint sensor. Both security features work well. An optical fingerprint sensor is a tad slower, but not by much that it causes an issue.
Gaming is possible on the OPPO Reno 3. But we've noticed that for graphics-heavy games, it's best not to push the graphics to high
Gaming is possible on this handset. But we've noticed that for graphics-heavy games, it's best not to push the graphics to high. We got to play Asphalt 9 and Call of Duty Mobile without any issues if the graphic settings aren't forced to the limits. And with around 110GB of usable storage, you can install a lot of the games you want.
One other issue we could see you encountering is the placement of the bottom speaker. It would mostly cause problems when you have the phone in landscape, where it's unavoidable that you might cover it. It's a decent speaker, though. With Dolby Atmos, the sound coming out of it clear without it sounding tinny when you max out the volume.
Even though we're using pre-production software, there isn't much we can complain about, really, and that's a good thing.
Camera
One of the strong suits of the OPPO Reno 3 is its cameras' capabilities. It gives you the range to take great shots no matter what lighting condition you'll find yourself in. A quick disclaimer, though: We're limited with what shots we can show you right now given that we're under enhanced community quarantine (stay safe, everyone). But we tried to test it in as many different scenarios as we can to see how the cameras will hold up.
On the back of the phone, the OPPO Reno 3 stacks vertically the 48-megapixel main sensor alongside a 13-megapixel telephoto camera, an 8-megapixel ultra-wide camera, and a 5-megapixel monochrome sensor. In front, there is a 44-megapixel camera, which is one of the best you can get for a selfie camera.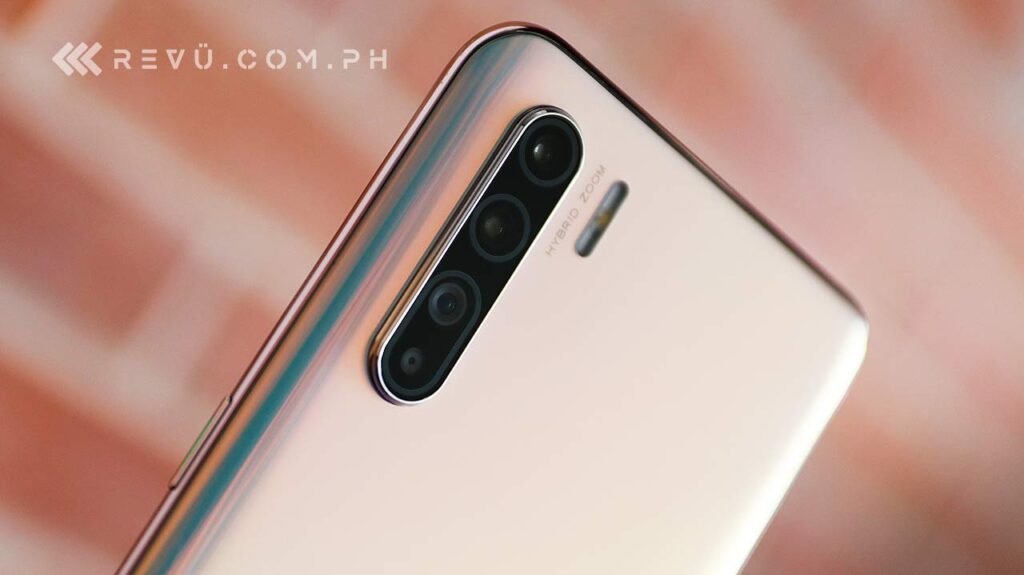 We're impressed with the photo quality we got when in brightly lit areas. The colors are as accurate as they can be. And if you turn on HDR along with the Dazzle Color mode, you get that little pop of color some of you might want to get from your pictures. We find the Dazzle Color feature to be particularly useful when you shoot in less-ideal conditions. One thing we've noticed the cameras struggle with is focusing when you're close to a subject. It takes a while to do so, and sometimes. you really won't even be able to.
When it comes to the wide-angle shots, OPPO tries to compensate for the distortion. It's not the best out there, and you will notice a dip in the quality of the photo. But it's nice to have the option available.
Now, if you make a habit of zooming with your smartphone camera, it's not something we would've recommended before. But this midrange device makes a case for zooming in. Thanks to the combination of hardware and software, you can get ultra-wide shots at 0.6x, standard 1x, 2x optical zoom, 5x hybrid zoom, and up to 20x digital zoom.
Zooming in on subjects
Other sample pictures taken with the OPPO Reno 3
You can get a lot of detail even in 5x zoom, allowing you to read signs that are far away. We can imagine this will be useful for students who are further back in a big lecture hall. With the 20x digital zoom, it allowed us to zoom into a building that's far from where we were standing. At that point, taking the photo requires you have a steady hand to get a good picture. But expect to see noise. We don't have much use for it personally, but the option is there for those who want it.
With the help of some software magic, the primary camera of the OPPO Reno 3 can take 108-megapixel photos using a multi-frame composition solution.
As the company explains it: "With Optical-Flow Sub-pixel Registration, the camera can match and calibrate the sub-pixels on different frames to generate a low-pixel original image, with more information. And then, through sub-pixel interpolation, the original image with low pixels becomes a picture with high-resolution."
Basically, you can get detailed photos even when you zoom in. It works well, particularly in bright lighting conditions.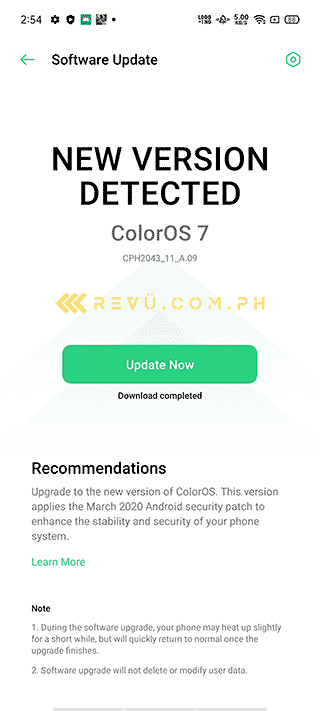 Our unit received an update while we were testing, which enabled the feature. It's accessible through the Expert (or Professional) mode. You just need to tap on the XHD icon to get 108-megapixel pictures. We find that the feature works best with the standard and telescopic lens of the Reno 3. It seems to lose detail and sharpness if you combine it with the ultra-wide-angle lens.
Another area OPPO excels in is when it comes to taking night shots. Ultra Dark Mode or Night, as it's labeled in the camera app, helps improve the brightness and quality of your picture significantly when the lights are low. It can even do so without the help of a tripod. We must note that there is a tripod mode that improves the chances of getting even better photos. It takes longer exposures to make sure the images it captures are good.
The images we took in the dark where handheld, but they still showed a lot more details than usual, especially at that time of the day. We even got a picture of our house cat who was moving around despite it almost being pitch black where she was.
Regular vs Ultra Dark or Night Mode. An area OPPO excels in is when it comes to taking night shots
We noticed the photos we took had a bit of a cooler hue to them. And the processing sort of smoothens out the image to get rid of the noise, which means you have softer-looking pictures. Even the selfie camera offers a night mode. But don't expect it to be as great as those taken with the rear camera. You're visible, but photos will come out grainy.
When it comes to videos, you can shoot from 720p at 30 frames per second up to 4K at 30fps. There are 60fps options for 720p and 1080p videos. And if you want to record in ultra-wide, you have your pick between 720p at 30fps or 1080p at 30fps. You can record in slow motion, too, at either 720p or 1080p. And if you want to zoom in, you can get up to 10x at 60fps or 20x at 30fps. The latter means you can zoom in even when you record in 4K.
The colors in the short clips we took are as accurate as they can be. And we like that the OPPO Reno 3 gives you the range to shoot how you want. The company brings its bokeh effect to videos, so if you're going to record people, you can keep the focus on them. And with Electronic Image Stabilization, it can somewhat steady the rattle of moving shots, but not by much. Don't expect it to perform miracles.
Compilation of videos captured on the OPPO Reno 3
Now, if you want to get steadier videos, there's the Ultra Steady Video 2.0 function. This feature was adopted from the Reno 3's predecessor, and it gives you is the option to shoot steady clips even without a tripod or gimbal on hand. It tries to compensate for as much as your movement as it can, and we love that it's a built-in option.
The Ultra Steady Video feature records at 1080p at 60fps. Now, if you want more in the shot, you can also record in Ultra Steady Video Pro. This shoots with a broader 119.9-degree angle at 1080p at 30fps. This option might appeal to those who like to do outdoor sports and want to capture more of their adventures.
And if you want a quick and painless way to edit videos on the fly, OPPO's Soloop smart video editor is pre-installed in the Reno 3. It can select parts of the clip and improve this with the help of built-in music. It will edit the clip based on the melodic changes in the tracks. With different themes, templates, and filters to choose from, you can get a quick, shareable video with a few taps. These clips can be readily shared on apps like YouTube and TikTok.
Battery
The OPPO Reno 3 scores decently in our PCMark benchmark test. And since we didn't really leave the house with the handset, we could quickly get around eight to nine hours of screen-on time or around a day and a half's worth of use. If you're a power user, a full day is still plausible.
Plus, with VOOC Flash Charge 3.0, you can top up this smartphone quickly. Even with our test unit that didn't come with its charging brick, we were able to top it up in around two hours and 15 minutes from 0% to 100%. You can get a lot out of the 4,025mAh battery and charge quickly, too.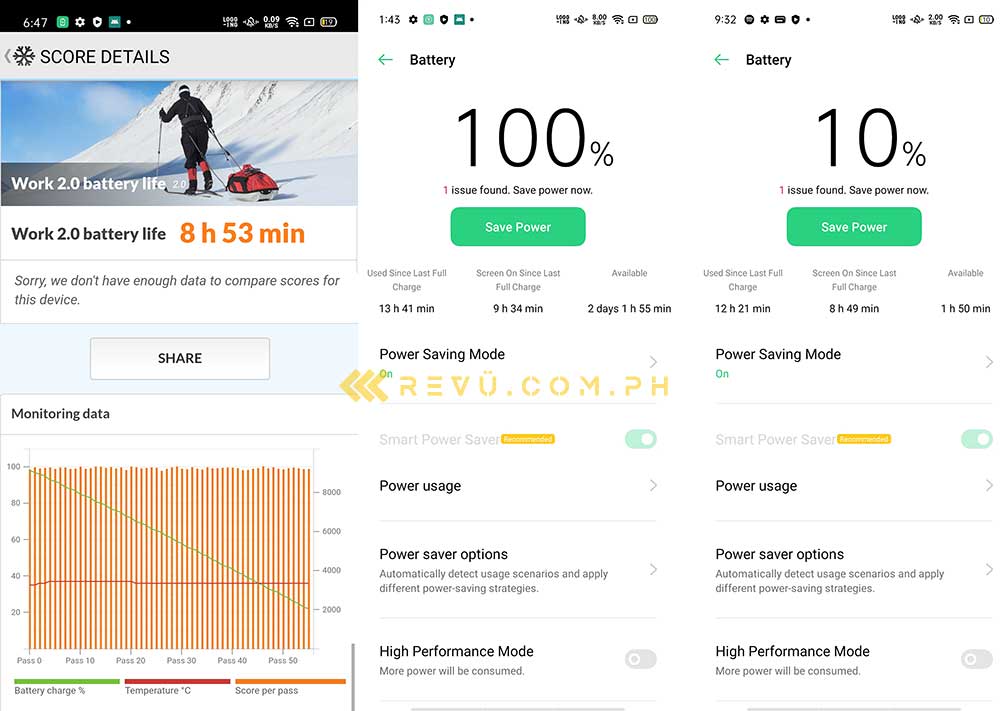 Final thoughts
The OPPO Reno 3 left a more favorable impression the longer we used the device. We still wished to have tried out the new MediaTek processor, but we're pretty happy with what the international version of this handset can offer. It's a relatively speedy, eye-catching phone with tons of bells and whistles to play with.
Mobile photographers will be happy to tinker around with the Reno 3's cameras. Media junkies will love to watch on the phone's screen or listen to music on it. And on-the-go workers, except for the extreme power users, will get a lot of mileage out of this smartphone.
The OPPO Reno 3 might not be what we expected to get, but it went the extra mile for us.
OPPO Reno 3 (global) specs
6.4-inch Super AMOLED screen, 20:9 aspect ratio, 60Hz refresh rate, 2,400 x 1,080 resolution
Octa-core MediaTek Helio P90
IMG PowerVR GM 9446
8GB RAM
128GB storage
Quad 48MP (main), 13MP (telephoto), 8MP (ultra-wide angle), 2MP (monochrome) rear cameras
44MP front camera
Fingerprint sensor (in-screen)
4,025mAh battery with 20-watt Type-C fast-charging (VOOC Flash Charge 3.0)
ColorOS 7 based on Android 10
---