OPPO announced its latest ColorOS 7 user interface late last year, with a stable release slated throughout 2020 for OPPO smartphones like the Find X, Reno, and Reno 2 series. Current handsets in the F and A lineups will get it as well.
(Update, January 25: Our Realme 3 Pro has Realme's version of ColorOS 7! Read Realme UI initial review: Big step forward in the right direction.)
OPPO's ColorOS 7 is based on Android 10 and offers a major UI overhaul that introduces a new color palette across the system and a custom font. At the same time, it is also designed to reduce visual fatigue by including a cleaner interface that should be easier to navigate.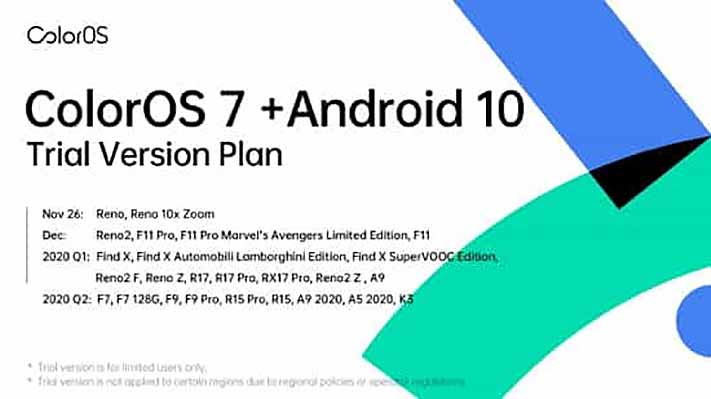 Of course, ColorOS 7 brings with it the familiar Android 10 features such as a system-wide dark mode; focus mode, which allows users to block apps for a time; and better privacy and location controls.
We have played around with the latest ColorOS 7 beta build on our Reno 2, which OPPO updated manually for us at Revü. Here are the features that have us excited as we wait for the rollout of the official software update for OPPO devices.
A new and better look
ColorOS 7 makes a huge jump both in terms of overall aesthetics and specific UI elements that make it arguably the biggest upgrade to OPPO's software we've seen in years. There are too many to mention, really. But think everything from icons to wallpapers to the notification shade, quick settings bar, and Smart Assistant page, right down to the font — OPPO Sans.
SEE ALSO: Under-screen cam, no hole? This OPPO phone is the future, How OPPO is preparing for the 5G era in Asia-Pacific, and OPPO Enco Free review: Great features at a budget-friendly cost
There are new animations as well, including one that shows up while charging an OPPO. The native camera app also looks different and is now more intuitive to use, especially for those who like to take night shots and landscape pictures. It reminds us of Huawei's camera-software layout, which is more of a praise and less of a criticism of OPPO's familiar yet hardly original design choices.
Performance improvements
OPPO says the new software upgrade includes improvements to the core system that make apps launch up to 25% faster and perform more efficiently, resulting in a smoother experience. Apps on ColorOS 7 are also said to provide better touch response and in-game frame rates. Meanwhile, oMem is a memory optimization suite that prioritizes system resources for frequently used apps and enables more apps to remain open in the background. It has been claimed to boost RAM utilization by 40%.
More wallpapers
Another thing that sets ColorOS 7 apart from recent iterations is the wide selection of static and live wallpapers available for you to use. The latter has plenty more color palettes and animation effects to choose from. They all look great to us; we're actually shuffling between them on a daily basis. Hopefully, OPPO can add more live wallpapers before the stable rollout.

Improved Off-Screen Clock feature
The number of Off-Screen Clock options (think always-on display styles for OPPO devices) has been bumped up significantly, too. Previously, users had one choice — and it was bland and not up to par with what other manufacturers were offering.
ColorOS 7 not only gives you multiple analog and digital clock displays, it also allows for just the clock to be shown and nothing else. When notifications are displayed with the screen turned off, you see them in color as opposed to plain white. And they're shown using the same notification icons you find in the status bar when the display is on.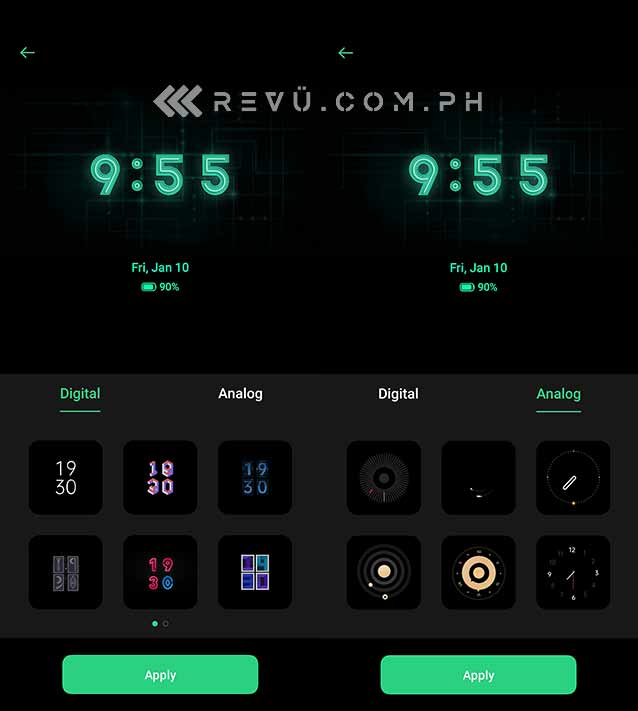 Customizable icons
OPPO's latest Android interface also introduces a new feature that lets you choose between different icon borders and colors to match your wallpaper and theme as needed. And while some OEMs give you the same freedom that OPPO does, few offer the same wide assortment of icon styles as ColorOS 7. The only thing we're missing here is the ability to integrate third-party icon packs from the Google Play Store, but we're pleased with the updated iconography in general.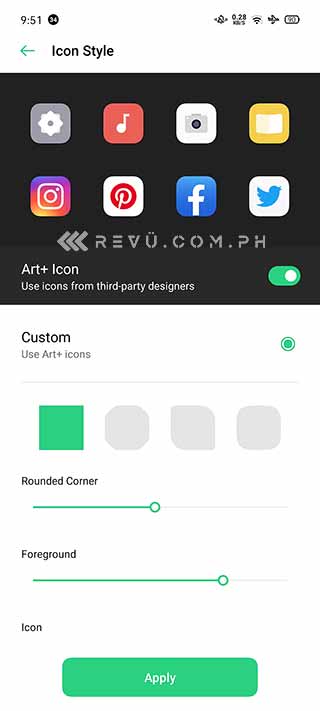 Dark mode done right
ColorOS 7 adds support for Android 10's dark mode, and it looks particularly great on phones sporting AMOLED displays like the OPPO Reno 2. The company's implementation can be scheduled for a set time within the day, which is something you don't get on stock Android 10. More impressively, it seems to be compatible with more third-party apps compared to Google's setting.
Dark mode! You know what's impressive? It seems to be compatible with more third-party apps compared to Google's setting
Hide your real MAC address
ColorOS 7 will let you randomize your MAC address to improve your device's security and privacy. But first, what is this MAC address we're talking about? A MAC or Media Access Control address is a unique identifier that can be used to track individual devices on Wi-Fi networks. In the wrong hands, it could be used against you in some way, most likely to gain access to your Wi-Fi network.
To use a random MAC address on ColorOS 7, go to the Settings app. Choose Wi-Fi, then select your wireless connection. Tap Privacy and enable Random MAC Address. Repeat these steps for every wireless network you connect to.
How to use a random MAC address on ColorOS 7
Gesture navigation
This feature has already been built into OPPOs running ColorOS 6, but the new software specifically adds the ability to return to a previous app by simply dragging and holding the side of the screen. Additionally, gesture input is now fully compatible with landscape mode.

Smarter Sidebar
OPPO's Smart Sidebar function has likewise been improved on the new software. It takes up less vertical space on the screen because there's only one row of shortcuts now instead of two. This makes one-handed use more practical and convenient. Honestly, we don't enable Smart Sidebar on our OPPO phones, but that could change with ColorOS 7.
An improved Smart Sidebar feature
Faster wireless file transfers
Remember the Peer-to-Peer Transmission Alliance, which was formed by OPPO, Vivo, and Xiaomi to develop a new file-transfer technology for quickly sharing files from one Android to another?
Well, OPPO Share on ColorOS 7 brings support for it, so you can send and receive big files from Vivo and Xiaomi devices much faster than when using Bluetooth. It still uses Bluetooth for pairing, but file transfers are done using Wi-Fi P2P (Peer to Peer) for faster transfer speeds up to 20MB per second.
Video: A demo of OPPO, Xiaomi, and Vivo's file-transfer feature
Other things you should know about ColorOS 7
Surprisingly, there aren't many bugs or glitches to report in the beta. Game Space and Game Assistant are not included in the beta we tested, and we couldn't use the screen-lock shortcut to turn off the screen, but those are the only issues we've noticed so far.
---