Midrange smartphones are expected to perform like flagship devices, even though they cost less than their flagship counterparts. That's why companies put in as many impressive features it can into this segment, promising as much value as possible. Some can meet this brief, while the others falter.
Vivo Philippines' new devices fit into this segment and are poised to offer value for your hard-earned peso. The Vivo V19 and the Vivo V19 Neo (click here for our review of the Neo) are the first smartphones from the company to arrive locally since the COVID-19 pandemic hit. The former, which is the subject of this review, is considered the more "premium" of the two with a better processor, an extra ultra-wide selfie camera, and better charging time. We're here to check if it lives up to expectations.
Price and availability
Since we reviewed the Vivo V19 ahead of its price reveal in the Philippines, we didn't have the official suggested retail price for the handset yet. If we base it off Malaysia's SRP of RM1,699, then it will retail for around P19,837. But, of course, you need to take taxes and other dues that might affect its price locally.
The V19 will be available in 8GB RAM + 128GB storage configuration, and it'll come in Gleam Black and Sleek Silver.
Hardware
The Vivo V19 is an eye-catching device, with its sleek, reflective silver back that's smooth to touch and, unfortunately, a magnet for fingerprints. Its rear panel with its rectangular camera module reminds us a bit of the 2020 Samsung Galaxy series.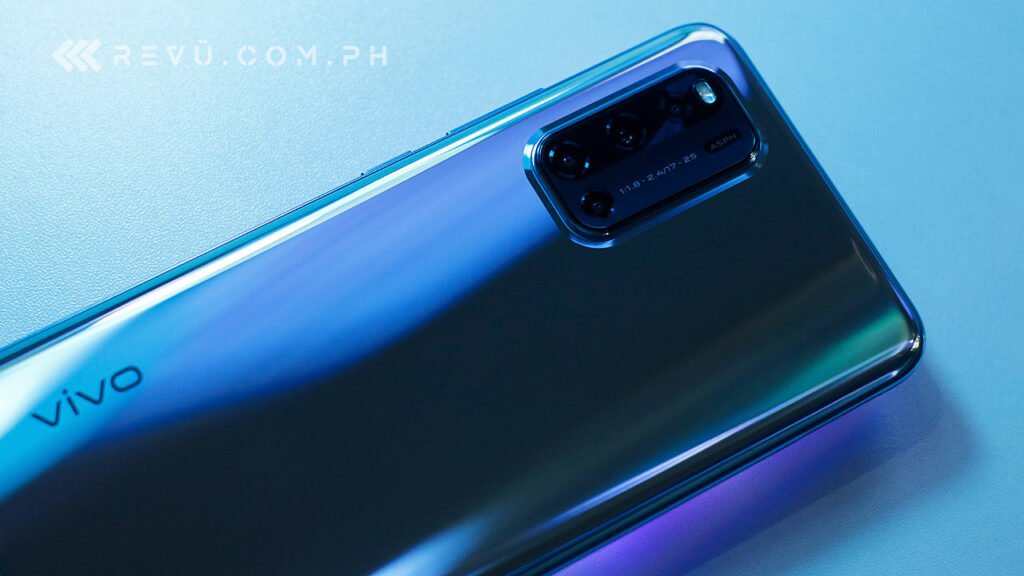 This handset seems to be slimmer and lighter than the Vivo V19 Neo, but with a bit more refinement. It gives off the impression that it is more expensive than its price tag could suggest. It curves a bit on both sides, allowing you to hold it more comfortably in hand. It's a two-handed device for those with smaller hands, but it won't cause strain when holding it with one hand even as it packs in a sizable battery.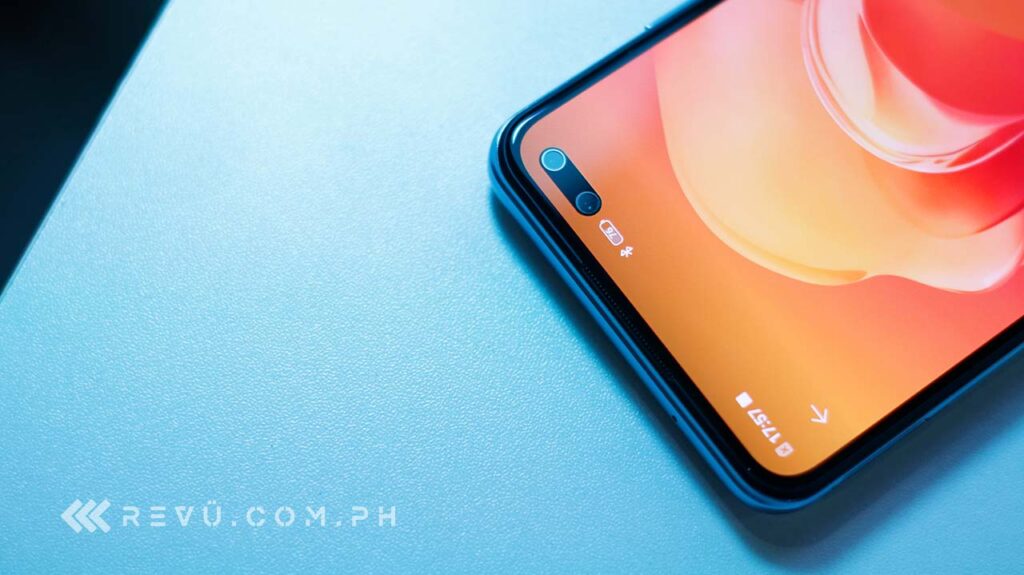 The front of the display has thin bezels that are almost symmetrical, except for the slightly thicker chin. While the two selfie cameras of the Vivo V19 are off to the right side, it's a bit harder to ignore than the single punch hole for the Vivo V19 Neo. At least, the cameras are off to the side and not interrupting the middle as camera notches on other phones do.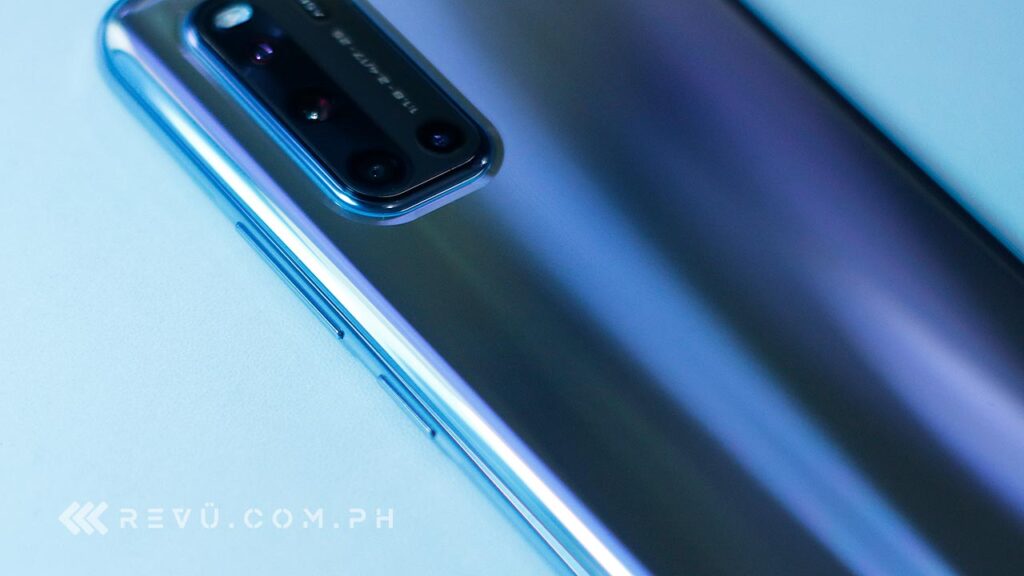 Button and port layouts are the same as on the Vivo V19 Neo and other Vivo smartphones. You get the volume rocker and power button on the right side; a triple card slot on the left for two SIMS and a microSD card; a mic port at the top; and a 3.5mm audio jack, mic port, USB-C port, and speaker grille at the bottom. The fingerprint scanner is embedded underneath the display.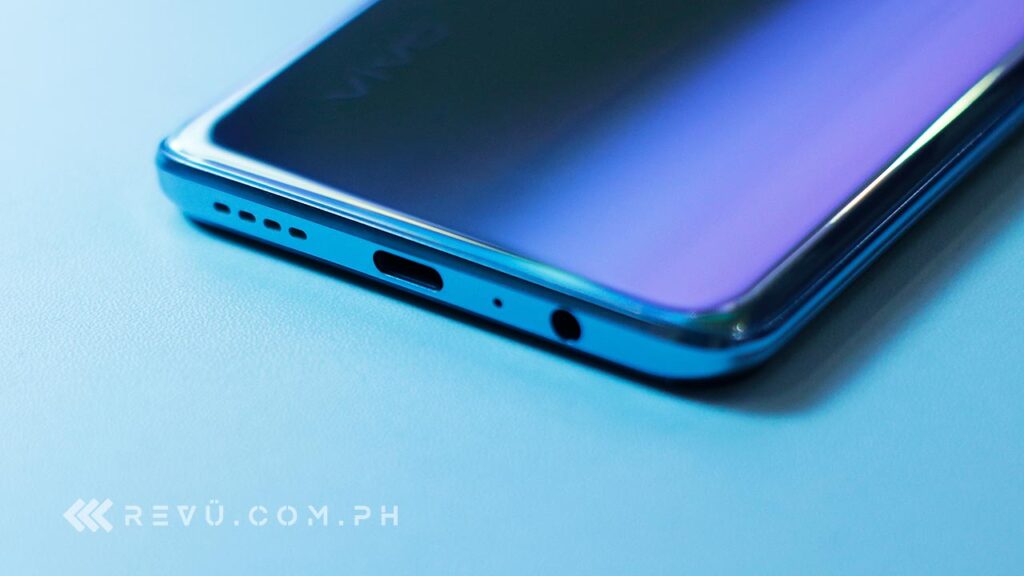 We can't talk about what accessories the final unit has since we were lent an engineering unit to test.
Screen
The screen on the Vivo V19 is a bright, vibrant display. It sports a 6.44-inch Super AMOLED display with a 2,400 x 1,080p resolution and 20:9 aspect ratio. It offers deep blacks and punchy colors. It can handle being used outside on a sunny day. You get great viewing angles, too, making it a treat to watch content, play games, or even just browse through social media.
You can adjust color modes and temperature, enable system-wide dark mode, as well as toggle eye protection to keep you from straining your eyes.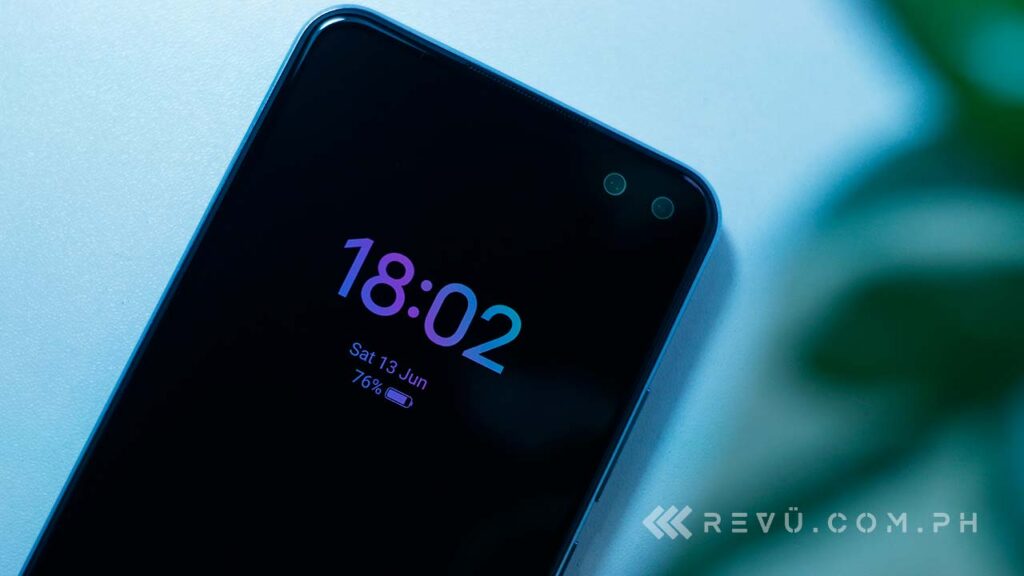 As we mentioned, it's a bit harder to ignore the pill-shaped cutout for the cameras. But that's mostly when you use the full screen. Many apps automatically adjust by starting below the notification bar and hiding the cameras with a black bar.
Camera
The Vivo V19 comes with a total of six cameras, with four sensors on the back and two lenses in front. Behind the phone, there's a 48-megapixel main camera, an 8-megapixel ultra-wide sensor, and 2-megapixel macro and depth cameras. The dual-camera setup in front is what differentiates the Vivo V19 from the Vivo V19 Neo. We believe it has the same primary 32-megapixel camera and an additional 8-megapixel ultra-wide shooter.
Having two cameras in front carries the tradition of a dual-selfie camera setup seen on the Vivo V17 Pro, but that was housed in a pop-up module instead of being embedded into the screen.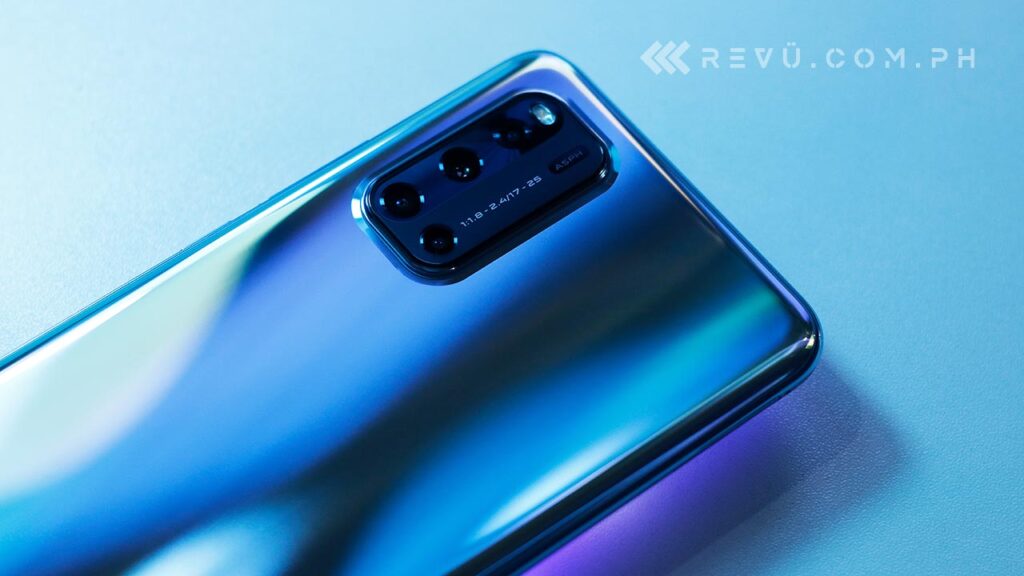 The Vivo V19's cameras are built to capture as much detail as possible. In decent lighting conditions, you get a lot of detail, color accuracy, and adequate saturation on your photos. It will sometimes boost colors and saturation a bit too much, so it's best to check if you got the pictures you've wanted after you take them.
Just like the Vivo V19 Neo, the Vivo V19 will produce 12-megapixel photos by default. But there is an option to shoot full-resolution, 48-megapixel pictures, which will give you more detail and allow you to crop in without sacrificing much of the quality. And if you need it, Pro mode also offers to save 48-megapixel RAW and JPEG photos for you.
All shot in Pro mode. Pro, Pro in Night mode, Pro (1x), Pro (2x)
With a tagline of "Ignite your night," Vivo wants us to pay close attention to the Night mode features of the Vivo V19. It's a feature it also shares with the V19 Neo. And it's available on both the rear and front cameras, too. It's not something to be used when it's completely dark out. Instead, it helps boost your images' brightness while reducing the noise you would typically get in low-light shots. As a result, though, it will tend to soften the image a bit. But you get a somewhat better-balanced photo out of it when compared to just using Auto.
We compared selfies taken with Night mode and Auto, and the former looks more natural. Auto mode will compensate for the lack of light with a fill light, but these produce harsher, less flattering photos.
From this set of selfies, the first is taken in Auto mode and the second, in Night mode, which looks more natural than the former. As for the rest: Auto (nighttime), Super Wide Angle (nighttime), Auto (daytime)
As we've mentioned, the Vivo V19 comes with ultra-wide-angle lenses on both the front and back of the device, which will allow you to take in more scenery or squeeze in more people into your selfies. It somewhat fixes the distortion you'll see at the edges, but there is understandably more noise in these images since it uses a lower-resolution sensor.
[sciba leftsrc="https://www.revu.com.ph/wp-content/uploads/2020/06/Vivo-V19-sample-picture-Revu-Philippines_auto-daytime.jpg" leftlabel="Auto" rightsrc="https://www.revu.com.ph/wp-content/uploads/2020/06/Vivo-V19-sample-picture-Revu-Philippines_ultra-wide-angle-daytime.jpg" rightlabel="Super Wide" mode="horizontal" width=""]

Auto vs Super Wide
With a depth camera included, the Vivo V19 can help you take portrait shots with blurred background. Like other Vivo units, taking photos in this mode will let you adjust the focus after the fact. However, in this pre-production unit we've tested, the feature doesn't seem to be working yet.
AI Image Matting separates the subject from the background and let you edit these independently of each other. It will even allow you to change the background of the photos you've taken
Vivo is introducing what it calls "AI Image Matting," which will separate the subject from the background and let you edit these independently of each other. It will even allow you to change the background of the photos you've taken. We wish we could've tested this one out.
Vivo opted to equip the V19 with a macro sensor instead of a telephoto lens, so don't expect good quality when you try to zoom in. If you're into things like toy photography or just taking pictures of subjects up close, then the macro camera will prove immensely helpful, allowing you to get as close as 4cm away. It seems to require a steady hand, though, because it's easy to produce blurry shots. But when you get it right, it looks pretty cool.
Sample pictures shot in Macro mode. The second one is cropped
[sciba leftsrc="https://www.revu.com.ph/wp-content/uploads/2020/06/Vivo-V19-sample-picture-Revu-Philippines_auto-daytime-1.jpg" leftlabel="Auto" rightsrc="https://www.revu.com.ph/wp-content/uploads/2020/06/Vivo-V19-sample-picture-Revu-Philippines_2x-zoom-daytime.jpg" rightlabel="2x zoom" mode="horizontal" width=""]

Auto vs 2x zoom
We expected the Vivo V19 to take excellent selfies, and it doesn't disappoint. You get your usual Beauty tools to enhance your selfies, or you can opt to go au naturel, and it will still look great.
The Vivo V19 can shoot up to 4K videos at 30 frames per second with the rear camera. You can shoot at 60fps, but these are limited to shooting in 720p or 1080p. The front camera maxes out at 1080p at 30fps. Shakiness is unavoidable, especially in 4K. But Vivo tries to make up for this with the Ultra Stable Video feature.
Since we were testing a pre-production unit, it seems to be carrying a different name. Labeled as "Super Anti-Shake," it achieves the effect we assume Ultra Stable Video hopes to produce. You get videos that look like they were shot using a gimbal. But the video quality is maxed out at 720p. Ultra Stable Video is expected to come to the front-facing camera, too. But we weren't able to test that out, either.
Performance
Some people care about whether their device sports the latest chipset, and they might not be happy to find out that the Vivo V19 uses an older Qualcomm Snapdragon 712 octa-core processor. But just because it isn't the latest and greatest, that doesn't mean it can't get the job done. Vivo pairs the Snapdragon 712 with 8GB of RAM and 128GB of internal storage that's expandable up to 512GB via the dedicated microSD slot.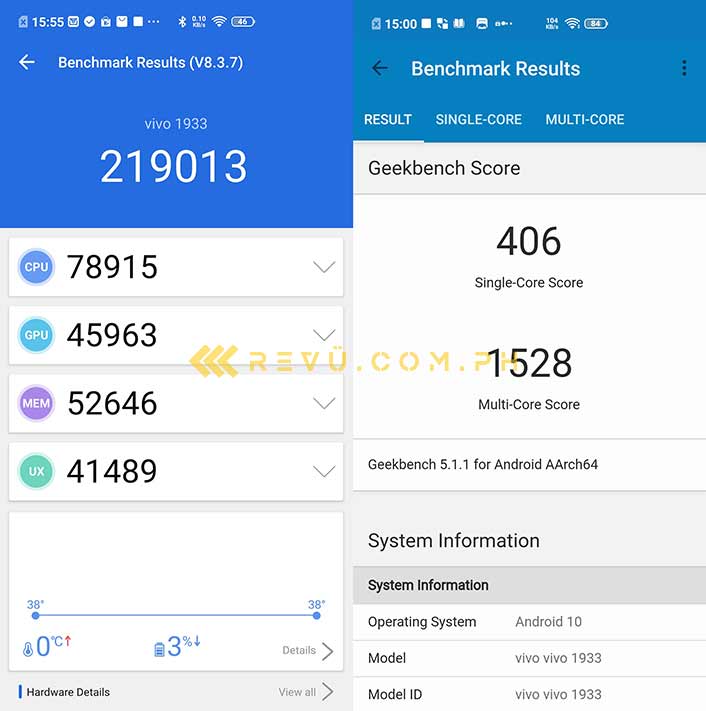 It's a decent configuration we've come to expect from this segment. And even though we're using a pre-production sample, the phone still performed as intended. There were no crashes or unnecessary heating, even when we multitask and switch through apps or play games like Asphalt 9, Marvel Super War, and Mortal Kombat.
We're confident the units that will be sold to the public will perform the same, if not better. And while we got benchmark scores, we won't be surprised if the final unit will show different results.
Software-wise, you get Android 10 with Funtouch OS 10. It features a new user interface we haven't seen on other Vivo devices in the Philippines yet. We'll do a separate feature for this if time permits. The most significant change is that the company has finally stopped using the iOS method of having the settings panel pull up from the bottom.
Software-wise, you get Android 10 with Funtouch OS 10. It features a new user interface we haven't seen on other Vivo devices in the Philippines yet
Now, it's more in line with other Android devices where the notifications and settings are all accessible through the pull-down menu up top. There doesn't seem to be an app drawer, or an option to enable it. So, for now, all your apps will live on your homescreen.
Vivo promises an improved Ultra Game Mode with the V19. It will get features like Fast Screen Capture, Screen Recording, as well as improvements to Game Vibration, Voice Changer, and Killer Countdown. We experienced no issues playing games at their highest visual settings, which is good news for you mobile gamers.
Unfortunately, we were a bit limited by the engineering sample we were using. For one, we couldn't test Netflix. The Vivo V19 Neo supports Full HD streaming on Netflix, so we're expecting the more expensive Vivo V19 to do the same.
Its fingerprint sensor wasn't enabled either, so we weren't able to test it out. Our frame of reference is still the Vivo V19 Neo, which worked without any issue. Face Unlock did work, and it did as well as you'd expect.
Battery
Because we're using an engineering unit, there are a lot of questions about how long it can truly last. It shares the same 4,500mAh battery capacity as the Vivo V19 Neo, but performance is vastly different. The Vivo V19 Neo can achieve around 13 hours of continuous use, while the Vivo V19 only got up to approximately 10 hours and 28 minutes. Its PCMark score is also lower at just eight hours and five minutes. It's still a pretty lengthy amount of time, but we're hoping the final device does better.
Where the Vivo V19 trumps the Vivo V19 Neo is its charging speeds. Unfortunately, we didn't have the power brick with us, but with Vivo's 33-watt, FlashCharge 2.0 technology, it promises to go from 0% to 50% in just 30 minutes. So, even if it would end up burning through the battery quicker, it does promise faster top-up times.
Final thoughts
The Vivo V19 targets a young, on-the-go market who need a device that can keep up with them. While it doesn't sport the latest processor, its real-world performance proves that it can take what you throw at it. There's a lot of potential here, even when we just experienced it through using a pre-production sample. It's designed to meet your expectations, and in its final form, we believe it can do just that.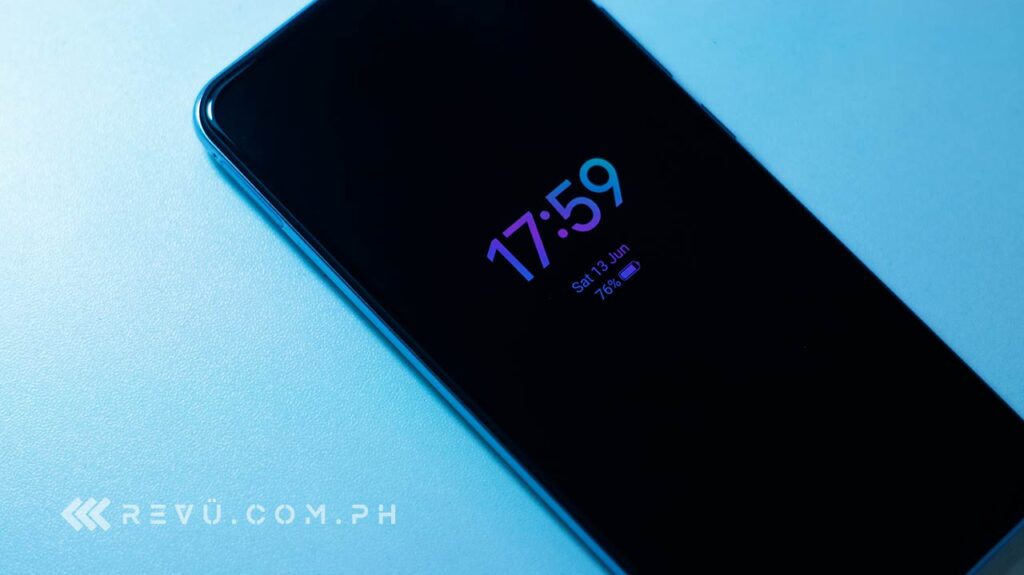 Vivo V19 specs
6.44-inch Super AMOLED display, 2,400 x 1,080p resolution (20:9)
Octa-core Qualcomm Snapdragon 712 processor
8GB RAM
128GB storage (expandable up to 512GB)
Quad 48-megapixel (main), 8-megapixel (ultra-wide), 2-megapixel (depth), 2-megapixel (macro) rear cameras
Dual 32-megapixel (main), 8-megapixel (ultra-wide) front cameras
Fingerprint reader (under-display)
4,500mAh battery with 33-watt Vivo FlashCharge 2.0 fast charging
Funtouch OS 10 based on Android 10
Colors: Gleam Black, Sleek Silver
---