Vivo has a new mainstream phone for the midrange market, armed with six cameras all in all, with four on the back and two in a single elevating mechanism; a 20:9 AMOLED screen; and a battery that can last an entire day and comes with fast charging via a Type-C port. Say hello to the Vivo V17 Pro.

It provides plenty of upgrades from the V15 Pro while costing less than its predecessor. So, is Vivo's latest the one to get if you're after a versatile, all-around handset that won't burn a hole through your budget? Find out in our Vivo V17 Pro review!
Vivo V17 Pro price and availability
In the Philippines, the SIM-free price of the Pro is P21,999 or roughly $425 for the 8GB/128GB memory option. There is no other configuration on offer. Preorders have already opened up, and the first day of sales is set for October 19. Those who book their units early will receive freebies worth P3,500 ($68).
Design and build
The Vivo V17 Pro is perhaps the most interesting smartphone the company has put together so far. As you may know, it has four cameras on the back and two cameras hidden within the housing itself, for a total of six. That's two more than what the Vivo V15 Pro offers, which is already plenty by most phone standards today.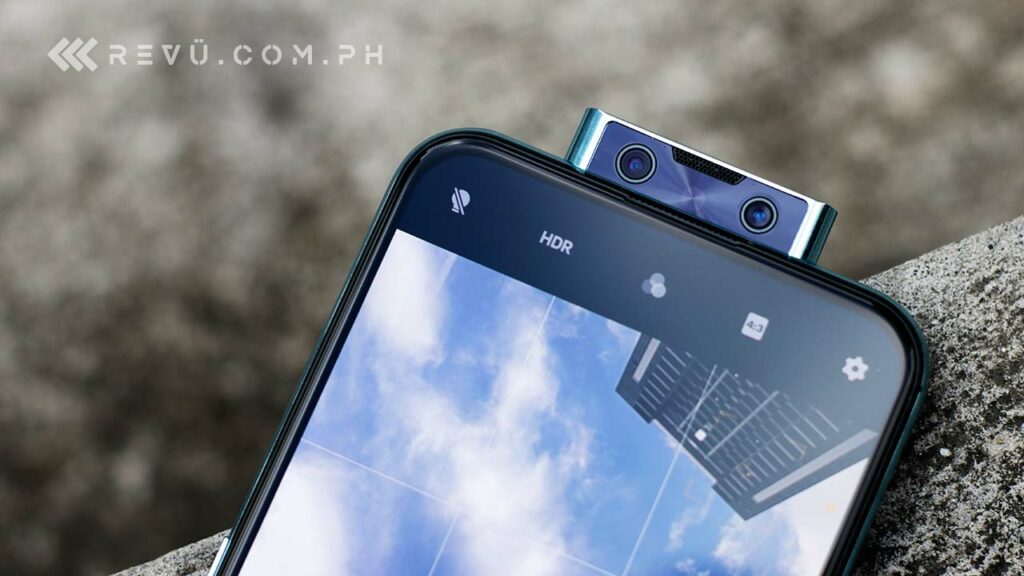 Outside of the pop-up mechanism that carries two sensors and lenses, the rest of the design, including the subtle gradient coloring, is nothing particularly groundbreaking. Our review sample comes in a gorgeous pinkish-blue combo called Crystal Sky, and it reminds us of Huawei's Breathing Crystal variant for its P30 and P30 Pro handsets. We've also seen an all-black color that looks sleek and will likely appeal to anyone turned off by bright, colorful devices.
The V17 Pro doesn't have a physical fingerprint reader on the back; instead, you unlock the device by resting your finger on a specific portion of the screen. Vivo says this is the latest iteration of its fingerprint-scanner technology, which means it's faster and more accurate than its predecessors. The company has been one of the pioneers of the industry in incorporating under-display solutions into its smartphones, so it's no surprise that the Vivo V17 Pro unlocks quickly with a single touch.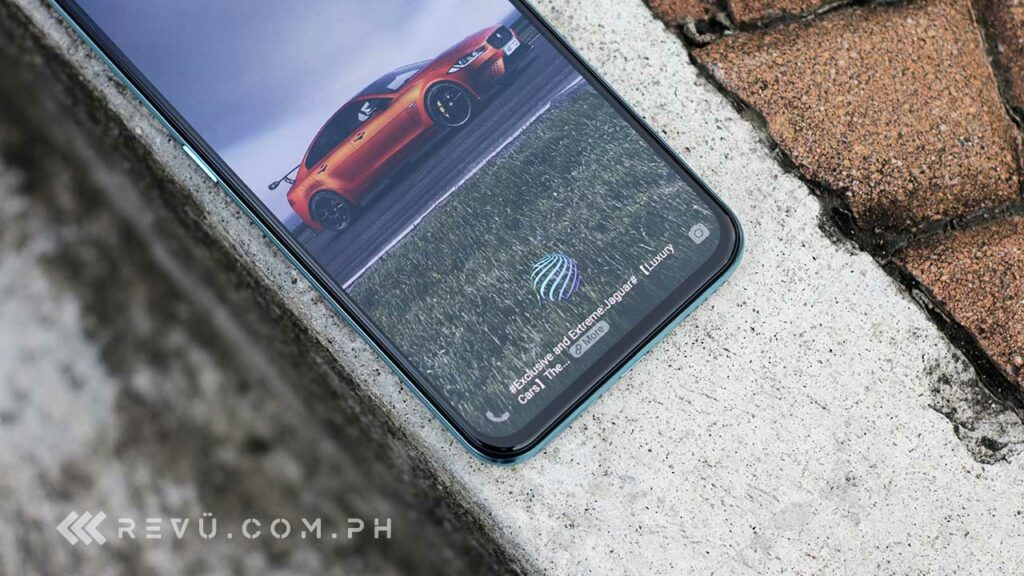 Despite the plastic construction, the device is quite heavy for its size, coming in at 201 grams. It's also just under 10mm thick, which makes single-handed operation slightly more difficult than we had imagined after seeing the handset for the first time. No doubt the weight is largely due to the motorized dual-lens camera for selfies and the 4,100mAh battery backup underneath the rear panel.
READ ALSO: Boracay through the lenses of the Vivo V15 Pro: A camera review and Vivo V15 Pro gaming review: One of the best in the segment
Taking selfies with one hand can be scary at times, especially because the back has a glossy finish that is slippery and easily takes on fingerprints. Thankfully, Vivo includes a case in the box for the V17 Pro. It's nice to hold and provides some much-needed grip while not spoiling the design, and we recommend that you use it if there are no other options available to you.
SEE ALSO: Vivo NEX 3: First sample pictures and videos and Vivo TWS Earphone with high specs, affordable price launched
The main camera setup is located near the center of the panel, as opposed to being on the upper left or right corner, like we're used to seeing. As for the unit itself, although it is not totally flush with the chassis, it exhibits only a minimal bump as compared to the V15 Pro. The LED flash, mounted in between the lenses, has an unusual location but doesn't affect how we take photos or shoot video. Other users might have a different experience, though.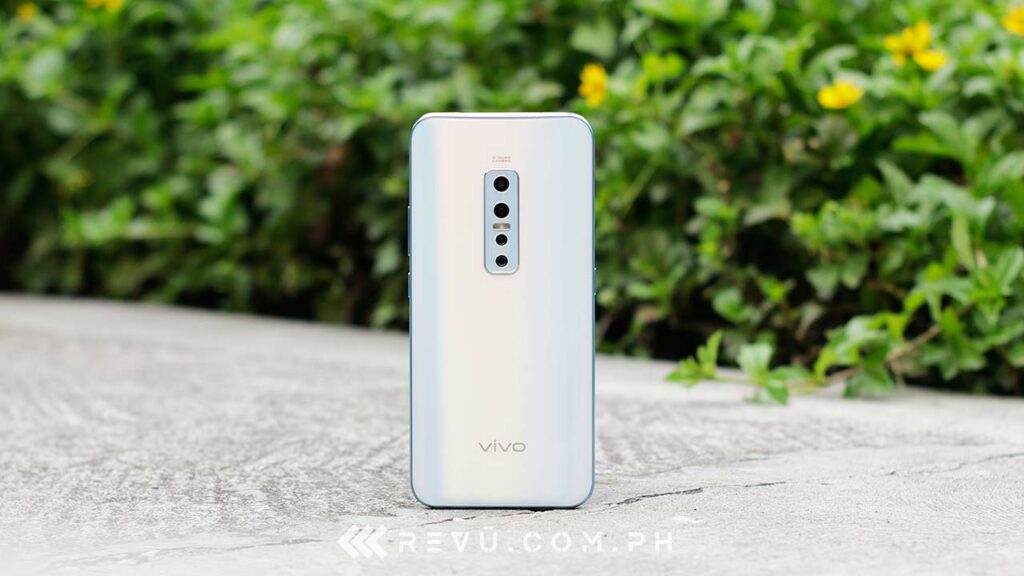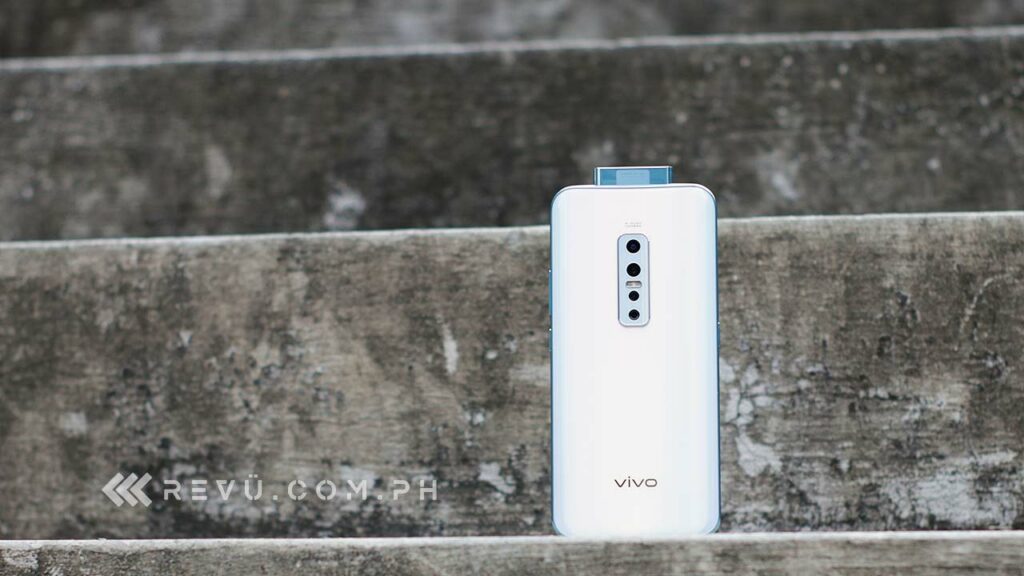 The same can be said about the front-facing cameras; we have no problems with where they're positioned, which is in the middle of the top frame. By default, the cameras will make a sound when they elevate to click your selfie, but it can be disabled in the Settings app if you find it too loud.
Along the right side, you'll find the power key beside the hardware controls for volume up and down. There's also a physical button on the left to summon Google Assistant from any screen at any time. The button is textured, so it's easier to find by touch.
The top edge sports a headphone jack along with a secondary microphone for noise cancellation, while on the base of the handset, a Type-C USB port (yes, finally!) joins the speaker grill for the mono loudspeaker and SIM card tray with a dedicated microSD card slot for expanding the storage capacity.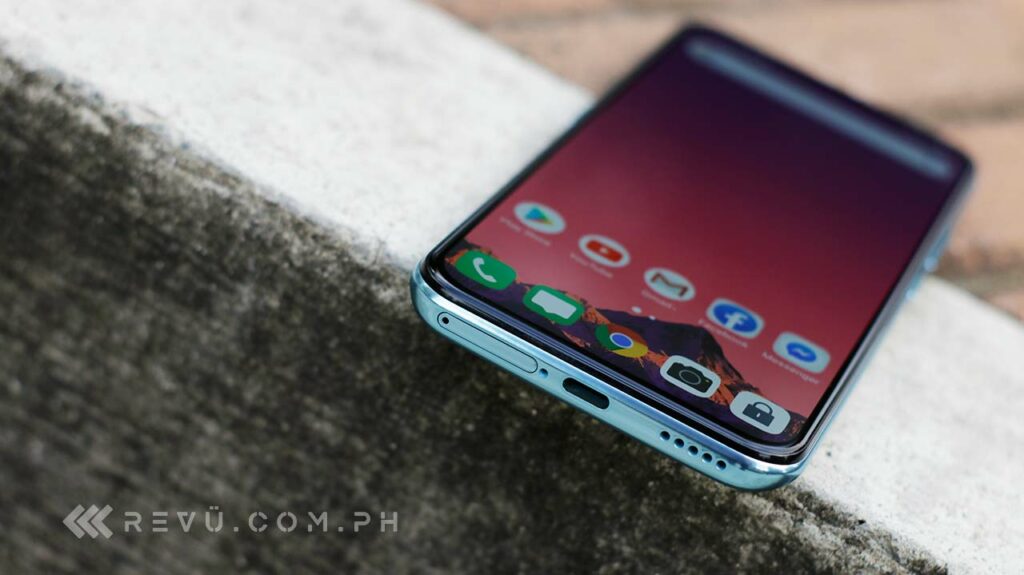 Screen
Then there's the notch-less AMOLED display of the Vivo V17 Pro. It measures 6.44 inches on a vertical, with a resolution of 2,400 x 1,080 and a screen-to-body ratio that goes up to 91%. The aspect ratio, meanwhile, is 20:9, meaning it's a teensy bit taller than the V15 Pro's 6.39-inch AMOLED. Both panels are similar in terms of size and quality, though, which isn't surprising considering how the handsets are just months apart from one another. 
The screen on the V17 Pro performs well, vibrantly displaying pictures on the panel, while brightness and viewing angles are equally commendable as well. Contrast is, as always with AMOLEDs, spot on as you're able to see some discernible depth on the image, and colors look saturated but not overly so.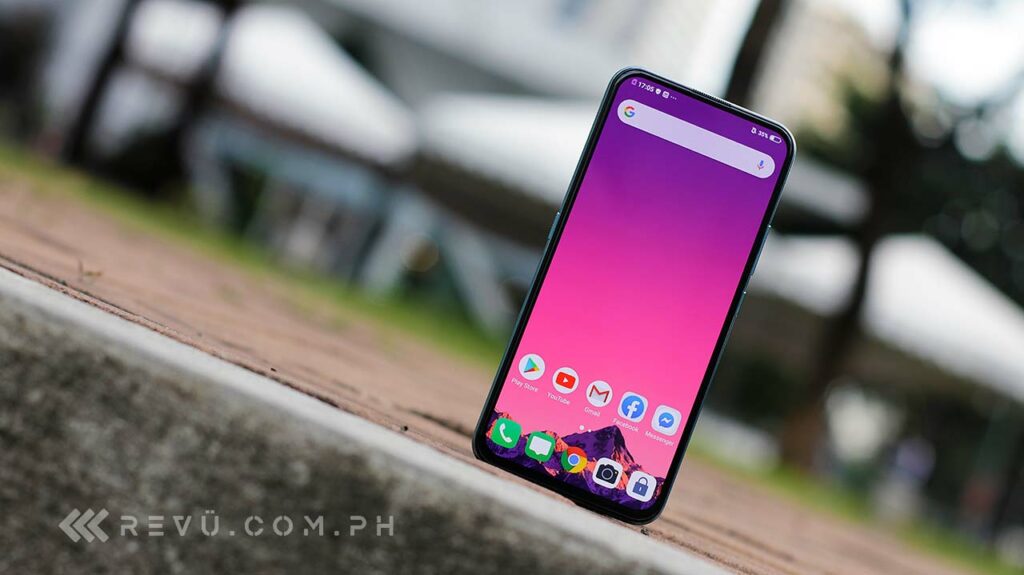 The Vivo V17 Pro meets the with Widevine L1 standard, so you can stream videos on Netflix and Amazon Prime Video in HD resolution. Additionally, it has always-on function, so can always see the time, date, and notification icons at a glance without unlocking the display. Keep in mind this will also drain the battery faster, so we suggest not leaving it on all the time.
Overall, there's little to fault in the screen department though there are certainly better options in and around this price segment. Sure, it could be punchier, the bezels could have been slimmer to reduce the hardware footprint, but these will also add to the cost and hurt its affordability.
Camera
Before going any further, we must point out that the local version of the Vivo V17 Pro, including the one we used for this review, has varying hardware capabilities as compared with the unit sold in India. It still has a 48-megapixel main shooter and an ultra-wide option with 8 megapixels and f/2.2 lens, but the auxiliary cameras pack different sensors. One has a depth sensor for better portraits and the other is a dedicated macro camera. Both sport an f/2.4 aperture lens.
Videos shot on the Vivo V17 Pro
1x vs Ultra-wide, except for the last set, which has pictures taken on 2x and 10x zoom levels. The Vivo V17 Pro doesn't have a telephoto lens, but the magnified photos are still great because they come from a 48-megapixel sensor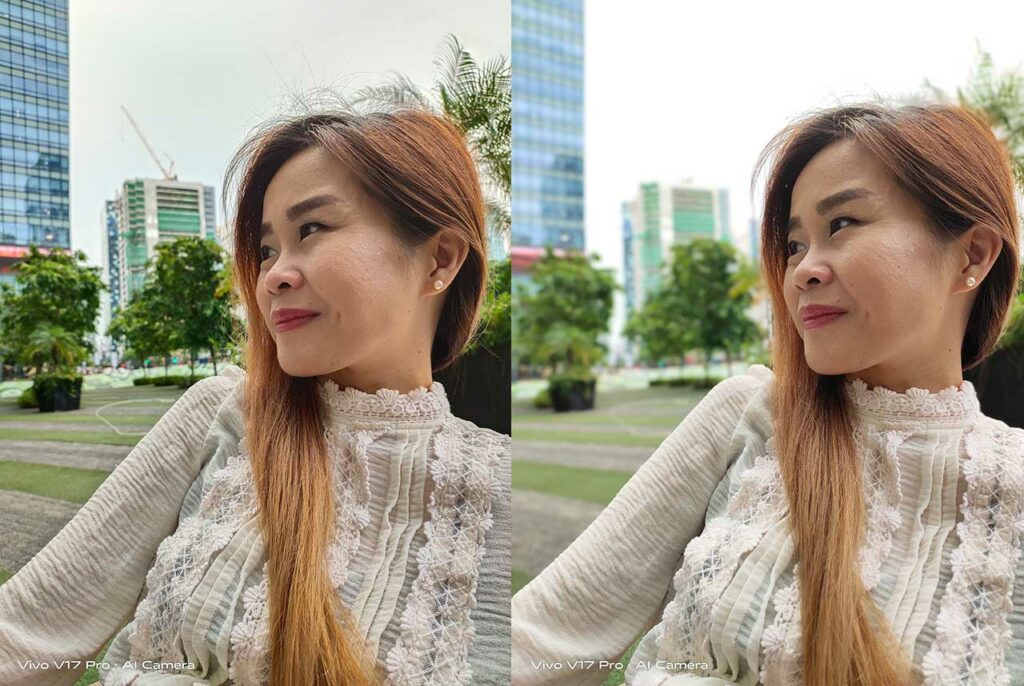 The selfie shooters are identical, consisting of a 32-megapixel, f/2.0 primary camera and an 8-megapixel ultra-wide camera. The lenses are not fixed, so you can tap to focus on your subject using the display. On a similar topic, the lens on the wide camera on the back can focus on different areas of the frame, which should help when shooting in low light.
Selfies: 1x (Auto mode) vs 1x (Portrait mode) vs Ultra-wide. We love that the V17 Pro can take ultra-wide selfies!
The galleries and video spread throughout this section offer a quick preview of the capabilities of the Vivo V17 Pro's camera system.
Talking about software, the rear camera includes AI scene recognition to enhance photos, as well as a powerful Backlight HDR feature that will get you usable results against harsh lighting more often than not. It works for normal and wide-angle photos — and for selfies, too.
There's also Night mode for the main cameras in front and on the rear, while Vivo's Pro mode will allow you to get technical with the camera and manually adjust most settings, such as exposure, ISO, shutter speed, white balance, and focus. Further, the V17 Pro supports 4K video at 30 frames per second, plus slo-mo, time-lapse, and more.
Auto mode vs Night mode
While the smartphone lacks optical image stabilization, our photos turned out well-exposed and detailed in favorable conditions, with closeups understandably faring better than wide-angle shots, thanks to the 48-megapixel sensor, which shoots at 12 megapixels by default. Videos look nice and detailed, but the software stabilization isn't great when there's movement involved.
If you're planning to purchase the V17 Pro for its camera system, you probably won't be disappointed.
Performance
The Vivo V17 Pro runs on a Qualcomm Snapdragon 675 chipset, fabricated using Samsung's 11-nanometer process and mated to 8GB RAM and 128GB of expandable storage. It integrates an Adreno 612 GPU, which Qualcomm has optimized to run popular game engines better compared to previous Snapdragon 600 and Snapdragon 700 series chips. 
The Snapdragon 675 is a pretty powerful processor that can play graphics-intensive games like PUBG Mobile and Call of Duty: Mobile without running into framerate issues at higher settings. Plus, day-to-day tasks are handled well; apps launch and load quickly; and multitasking feels slick and immediate on the handset, thanks to the RAM.
Gaming on the Vivo V17 Pro: Call of Duty: Mobile, NBA 2K20 (2:41 mark), PUBG Mobile (5:27 mark), and Mobile Legends: Bang Bang (8:33 mark)
Comparing it with some of the fastest and most popular options out there right now, the Snapdragon 675 is noticeably faster than the Snapdragon 660 in phones like the Nokia 7.2 and comparable to the Snapdragon 710 and Snapdragon 712 in the Realme 3 Pro and Realme 5 Pro, respectively. It trumps the MediaTek Helio P60 and Helio P70 while staying battery efficient during those times the V17 Pro is performing demanding tasks.
If you're curious, our review sample managed to return 176,783 points in Antutu 7 Benchmark. It pulled in 510 and 1,626 points in Geekbench 5's single- and multi-core tests, respectively. For comparison, our Snapdragon 712-based Realme 5 Pro notched 175,436 in Antutu and 322 in Geekbench 5 Single and 1,464 in Geekbench 5 Multi.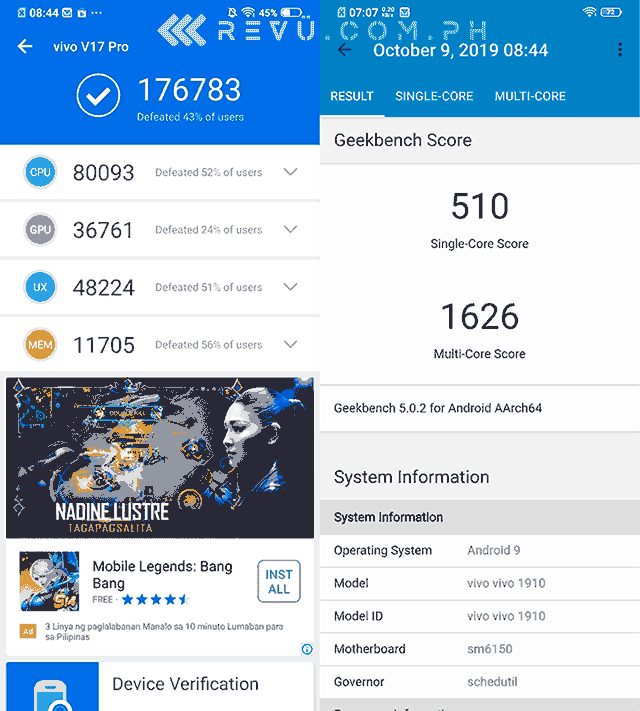 Battery and charging
The Vivo V17 Pro houses a 4,100mAh battery backup, which is larger than the 3,700mAh cell that powers the V15 Pro. That doesn't sound like much of an upgrade, but the V17 Pro actually delivers great battery life, able to last a full day with moderate usage on a single charge.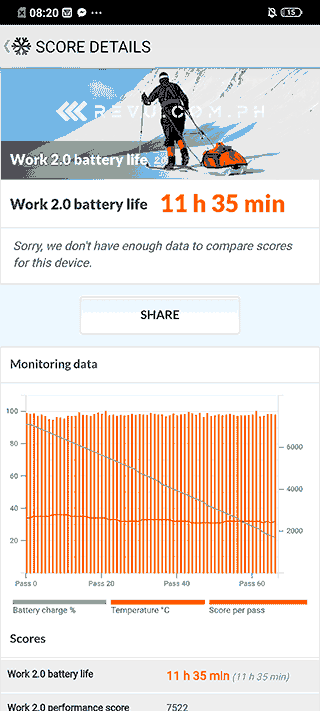 What's more, there's 18-watt fast charging onboard, and it's compatible with other chargers, too — and not just with the one Vivo has included in the retail box. It takes close to two hours to top up a dead battery to full using the bundled power brick and USB-C cable. Running the a PCMark battery test with brightness set at 50%, we got 11 hours and 35 minutes.
Final thoughts
Six lenses including two that pop up from inside the housing; an AMOLED screen that extends nearly to the edges on all four sides; a bigger battery with USB-C fast charging; and top-end performance — the Vivo V17 Pro gets almost everything right.
Six lenses; an AMOLED screen that extends nearly to the edges on all four sides; a bigger battery with USB-C fast charging; and top-end performance — the Vivo V17 Pro gets almost everything right
The competition is stiff, though. Xiaomi has just released the Redmi Note 8 series with quad cameras and a 64-megapixel sensor inside the Redmi 8 Pro. OPPO's Reno 2 series will be announced in the Philippines this month. Realme will also launch a new phone soon, one that has been confirmed to come with a 64-megapixel camera.
Vivo V17 Pro specs
6.44-inch FHD+ Super AMOLED display, 2,400 x 1,080 resolution (20:9 aspect ratio)
11nm Octa-core Qualcomm Snapdragon 675 processor
8GB RAM
128GB storage
Quad: 48MP, f/1.8 main camera; 8MP, f/2.2 ultra-wide-angle camera; 2MP, f/2.4 depth sensor; 2MP, f/2.4 macro sensor
Pop-up dual: 32-megapixel, f/2.0 front camera; 8-megapixel, f/2.2 ultra-wide-angle camera
Face unlock
Fingerprint reader (in-screen)
4,100mAh battery with 18-watt USB-C fast charging
Funtouch OS 9.1 based on Android 9.0 Pie
Colors: Crystal Black, Crystal Sky, Midnight Ocean
---