Vivo put product launches on hold when COVID-19-related lockdowns were put into place in many parts of the Philippines. But now, the company is ready to introduce its newest devices. There are two new midrange smartphones from the company, and the more affordable one is the subject of this review: the Vivo V19 Neo.
It shares a lot of the Vivo V19's DNA, but with a less powerful chipset and a single selfie camera. But does cheaper mean less than? That's what we're hoping to find out here with this review.
Price and availability
Available in blue and white colors, the Vivo V19 Neo is priced at P17,999 (around $358) in the Philippines.
For those who preorder the smartphone, it comes with over P3,000 (over $60) worth of freebies, including wireless noise-canceling earphones and a six-month extended warranty. The preorder period starts June 13, 2020, and ends June 19th.
Hardware
The Vivo V19 Neo is more affordable than the Vivo V19 because it swapped out a few components. Instead of a Qualcomm Snapdragon 712 processor, the Neo has a Snapdragon 675 chip. It doesn't come with an additional ultra-wide selfie camera. It has a slightly smaller camera module on the back than the standard Vivo V19 (click here for our review of this model).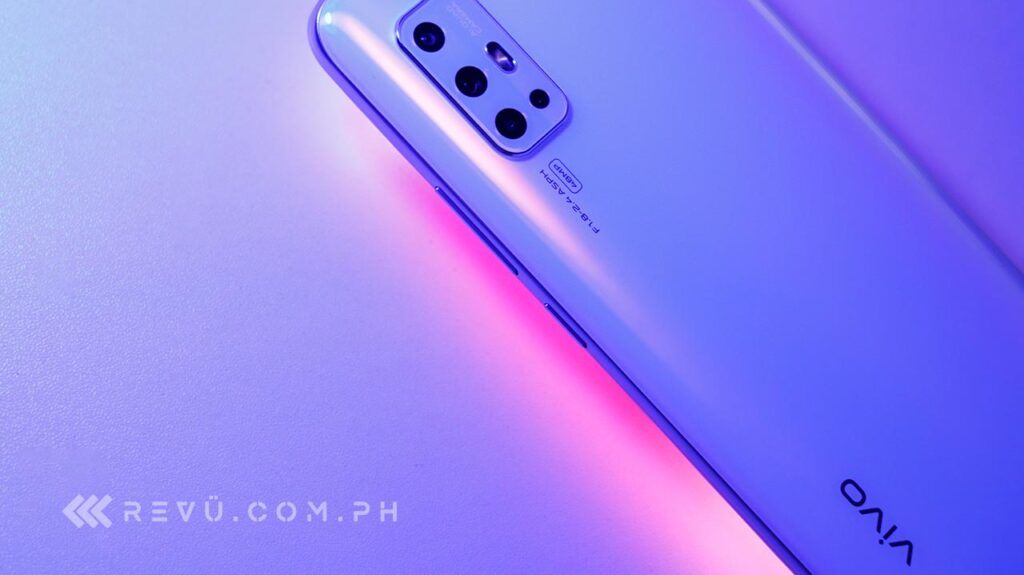 Our test unit comes in a color reminiscent of the Vivo S1 Pro's Fancy Sky color variant as well as other color options offered by other smartphone makers. You get that pastel blue gradient with hints of pink and purple when you shift it around. It might not be new, but it still looks fresh and light. It also does an excellent job of hiding fingerprint marks.
Since it isn't a flagship phone, the Vivo V19 Neo has a plastic back and frame combined with the glass front. It doesn't look or feel shoddy, though.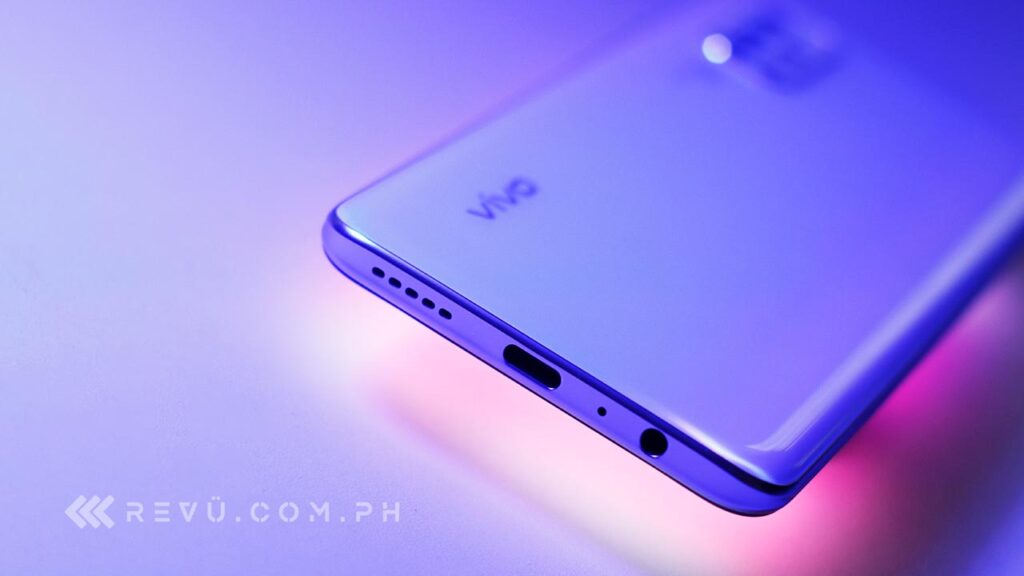 The right side of the frame houses the volume rocker and power button; the left side has the triple card slot for two SIMs and one microSD card; the top has a mic port; and the bottom houses a 3.5mm audio jack, mic port, USB-C port, and speaker grill. If you're looking for the fingerprint sensor, Vivo hid it underneath the display.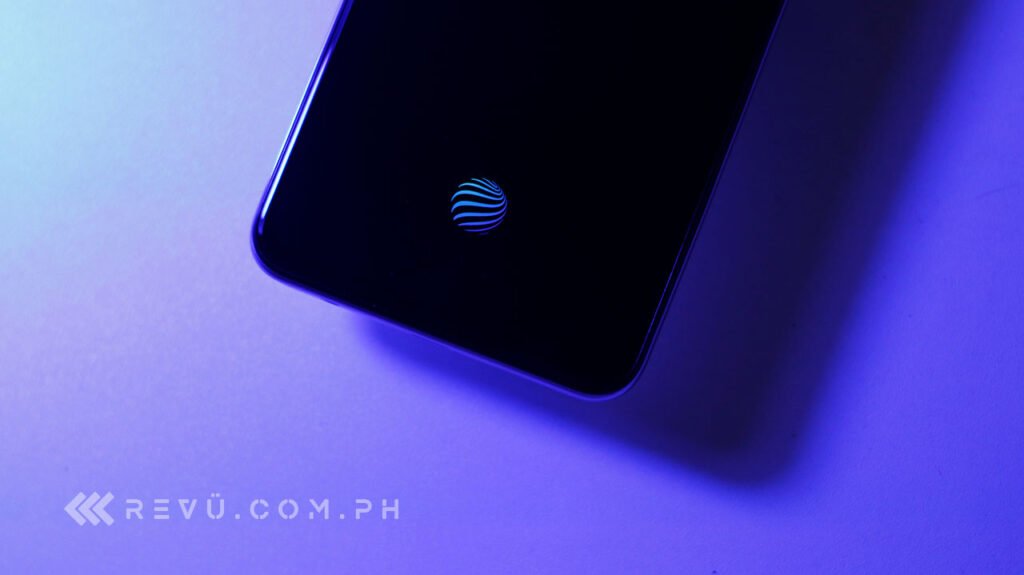 The bottom bezel in front is just slightly thicker than those at the sides and the top. Plus, there's a small punch hole for the selfie shooter. But either element doesn't distract much from the big screen.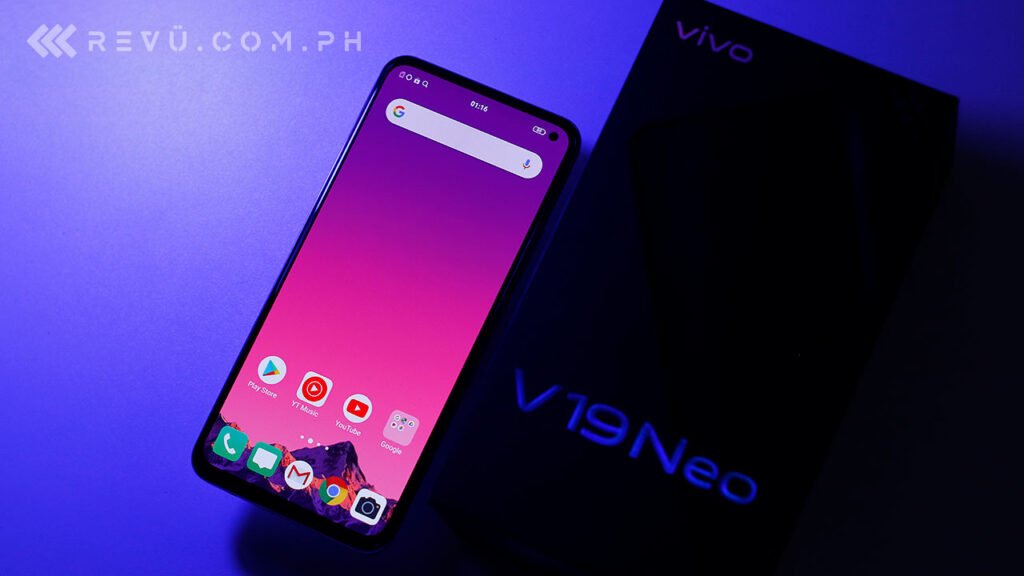 With its display, you get a relatively big device that would mostly require two-handed use if you have smaller hands. One-handed use is possible, but it requires some thumb gymnastics to reach something on top of the screen.
What's inside the box
Vivo V19 Neo
Silicone case
Power brick
USB-C cable
Earphones
SIM-eject tool
User guide
Warranty card
Screen
You get a lot of screen to work with when it comes to the Vivo V19 Neo. It has a 6.44-inch Super AMOLED display with a 2,400 x 1,080 resolution and 20:9 aspect ratio. The handset offers it with sufficient color reproduction, good black levels, and consistent viewing angles. It's not the brightest display we've used, though, so you might have some difficulty using it under direct sunlight.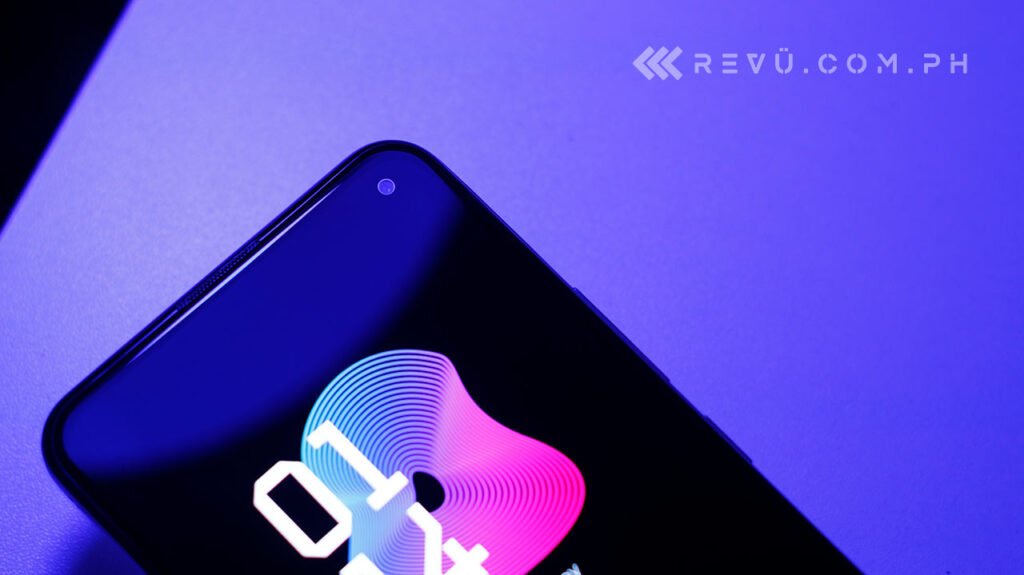 The punch hole for the single selfie camera doesn't really obstruct anything. You can play games and watch content without any issues. We kind of forget it's even there. It just pushes the icons you usually see on the right side of the screen a little bit to the left. You'll only be reminded it's there when you turn on the selfie camera and the edges of the punch hole light up.
Vivo offers several features to help relieve or prevent visual fatigue, including eye protection, dark mode, adjustable color modes and color temperature, and low brightness anti-flicker.
Camera
The Vivo V series phones are camera-centric devices, and the Vivo V19 Neo is no exception. It is equipped with a quad-camera setup on the back composed of a 48-megapixel primary sensor, an 8-megapixel ultra-wide lens, a 2-megapixel depth camera, and a 2-megapixel macro sensor. And then there's a lone 32-megapixel camera in front.
Night mode is one of the features Vivo promotes on the Vivo V19 Neo. And it isn't just confined to the rear camera but to the selfie shooter, too. It's best used with a little bit of light still present. Don't expect to get anything useful if you try to take pictures when it's too dark. If you have a light source somewhere, the photos it produces are brighter, allowing you to get a bit more detail. Of course, it doesn't completely get rid of the noise. You can still take photos in Auto, but these come out noisier.
Auto mode vs Night mode
Night mode on the selfie shooter helps you take more flattering selfies in low light. Unlike using auto mode with the flash turned on, this won't blind you temporarily. Perhaps in the future, when we can head out again at night, this will be a useful tool in your arsenal when you're out with friends and want to capture some memories.
Selfies taken with the Vivo V19 Neo. Auto mode, nighttime; Night mode, nighttime; Auto mode, daytime; Beauty mode, daytime; Selfie Bokeh mode, daytime
Take it out on a beautiful, bright day, and it shines. You get good color accuracy, vibrancy, and detail. Its artificial intelligence engine allows it to identify what you're trying to photograph easily. It can even identify pets like cats, in our case.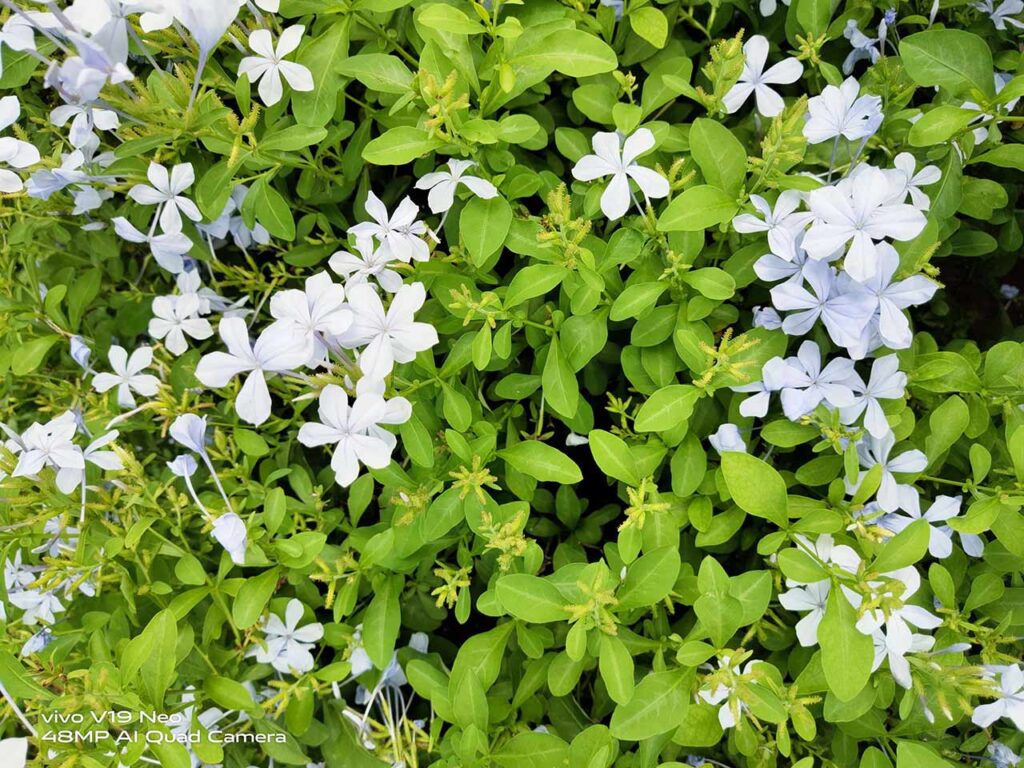 By default, it produces 12-megapixel photos. But you can take 48-megapixel ones, too. Those will be useful if you want to crop in since you get a lot more detail. The tradeoff is it uses a lot more space, so be mindful of that. In Pro mode, you get the option to save 48-megapixel RAW and JPEG formats.
The depth camera helps you take better portrait photos, but it still has trouble with the ends of hair at times. It does help put the focus on the subject. And we appreciate that you can change the focus point after you've taken your picture.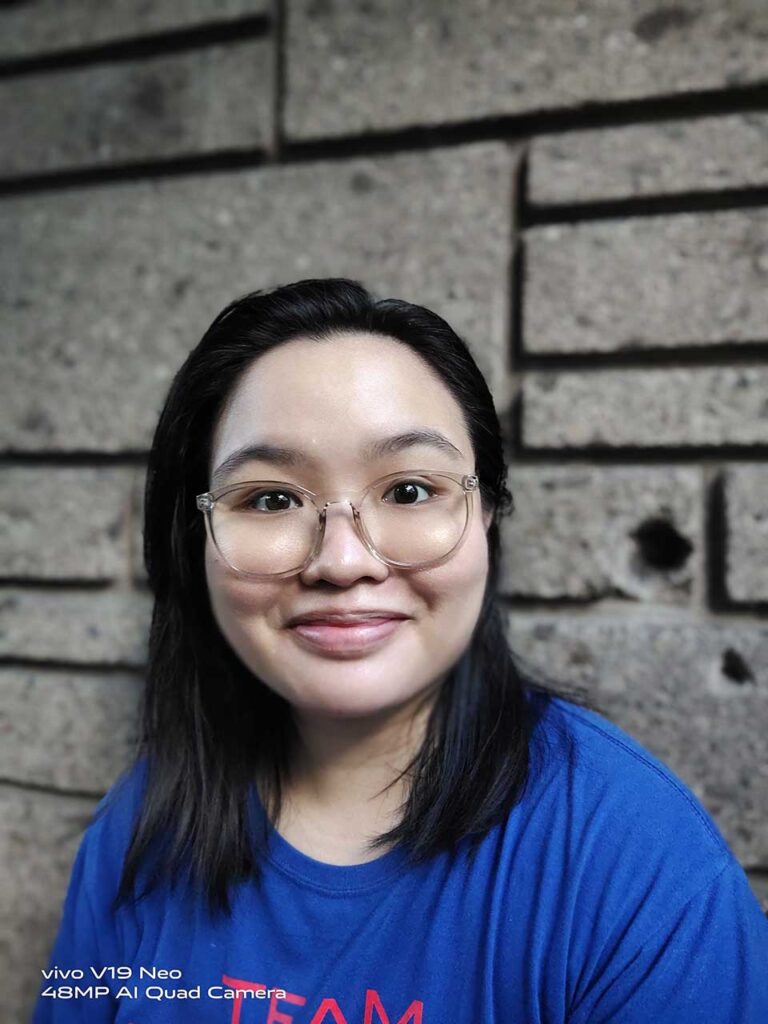 The Vivo V19 Neo has a Super Wide Angle mode to help you get more out of a photo. Of course, it comes with some distortion on the ends, and it takes a bit of its sharpness away. But it's something to take advantage of in wide spaces, or when you want to cram more into a shot. You still get a fair amount of detail, especially if it's bright.
[sciba leftsrc="https://www.revu.com.ph/wp-content/uploads/2020/06/Vivo-V19-Neo-sample-picture-Revu-Philippines_auto-daytime.jpg" leftlabel="Auto mode" rightsrc="https://www.revu.com.ph/wp-content/uploads/2020/06/Vivo-V19-Neo-sample-picture-Revu-Philippines_ultra-wide-daytime.jpg" rightlabel="Super Wide Angle mode" mode="horizontal" width=""]
Auto vs Super Wide Angle
With a macro sensor, you can get the best photos at 4cm away from your subject. It's best used in brighter areas because these photos come out darker.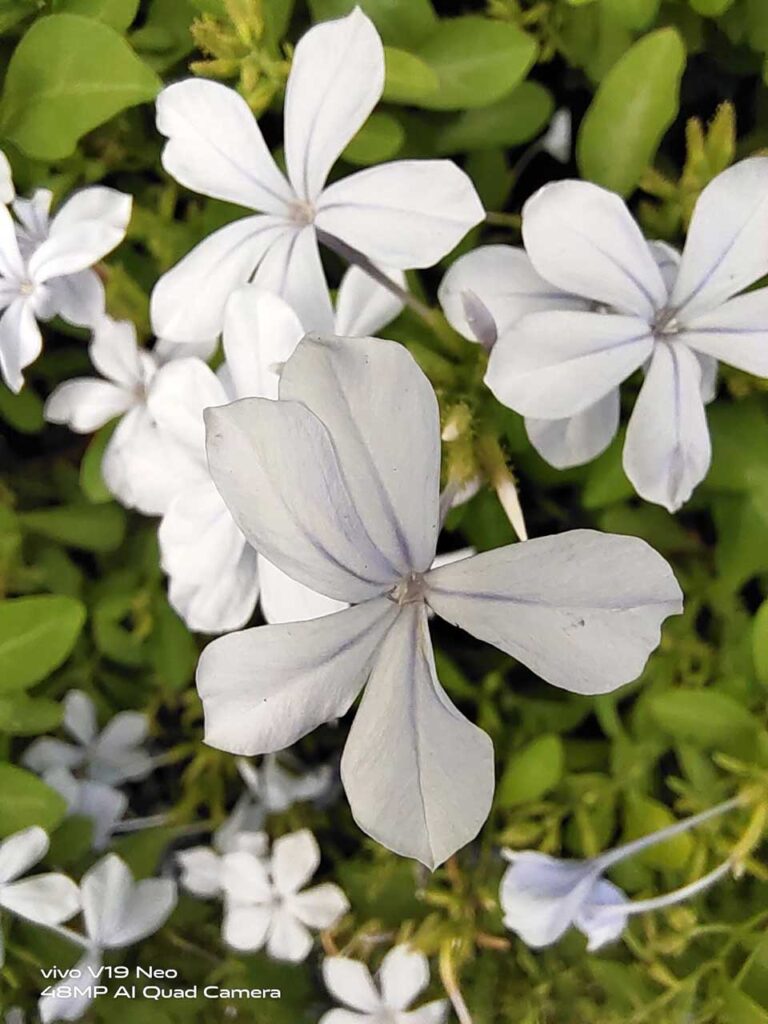 Zooming into pictures is a weakness for the Vivo V19 Neo. There isn't a telephoto lens here to help you out. We find 2x can work, but pinching to zoom beyond that, you lose a lot of the color accuracy and detail.
You can shoot up to 4K videos at 30 frames per second (fps) with this phone. But prepare for those clips to be shaky. You can get 30fps or 60fps in 1080p and 720p videos. And those recorded in those resolutions will appear steadier. In good lighting, you get accurate colors and crisp details. Our test unit didn't have Ultra Stable Video mode yet, but we're hoping to see that in a future update. If you want to capture wide-angle videos, you can record at 720p and 1080p at 30fps. Slo-mo is a fun feature to play around with, too.
A compilation of videos shot on the Vivo V19 Neo
Performance
The Vivo V19 Neo runs on a tried-and-tested Qualcomm Snapdragon 675 chipset, 8GB of RAM, Funtouch OS 10 based on Android 10, and 128GB of expandable storage. It's a reliable device. The one time it crashed during our testing was when we changed the visual quality on Asphalt 9. Otherwise, it works as expected. The handset heated up when we've played videos non-stop or used the camera for too long, but these instances aren't out of the ordinary.
This device is very middle of the pack when it comes to its benchmark scores. Nevertheless, it gets the job done, whether you need it for a bit of work, watching videos, playing games, or listening to music. We hope Vivo, as well as some of its competitors, would scale back a bit more when it comes to preinstalled apps. Thankfully, you have a lot of storage here, but we'd prefer to pick the applications ourselves.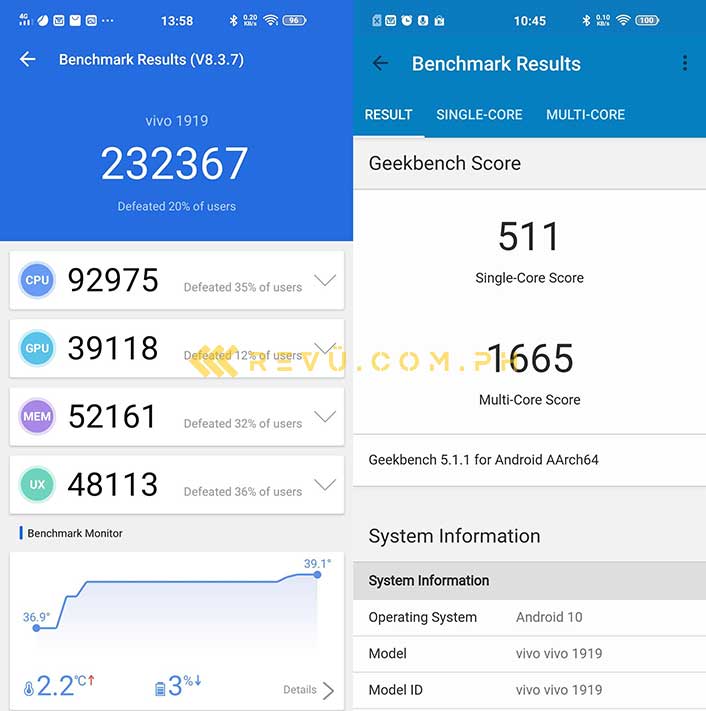 If one of the apps you use heavily is Netflix, we're glad to tell you this phone supports Widevine L1, which means it supports Full HD playback. We had a Vivo V15 on hand, and that only supported SD videos. You'll see the difference immediately that entertainment junkies will appreciate this feature.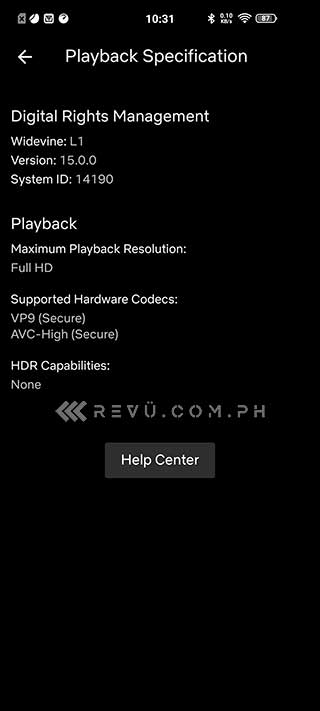 But we'd suggest you use earphones to watch videos. We find the audio quality coming out of the lone speaker to be lacking in volume. It doesn't distort sound when you max it out. It's just not that loud.
You can play games at their highest visual settings without any problem. We were able to do so with Asphalt 9, PUBG Mobile, and Call of Duty.
The in-display fingerprint sensor worked well on the Vivo V19 Neo. Even with slightly damp hands, it responds quickly. You can use Face Unlock to supplement the fingerprint sensor, but even Vivo will remind you that the latter is more secure than the former.
Battery
You'll get a lot of mileage out of the Vivo V19 Neo's 4,500mAh battery. With the screen on for most of the time and the battery set in Normal mode, we were able to get around 13 hours and 35 minutes, changing between watching videos, listening to music and podcasts, checking email, and playing games. A full workday or more is possible with this device. Our PCMark test reflected this, too, with a result of 15 hours and 32 minutes.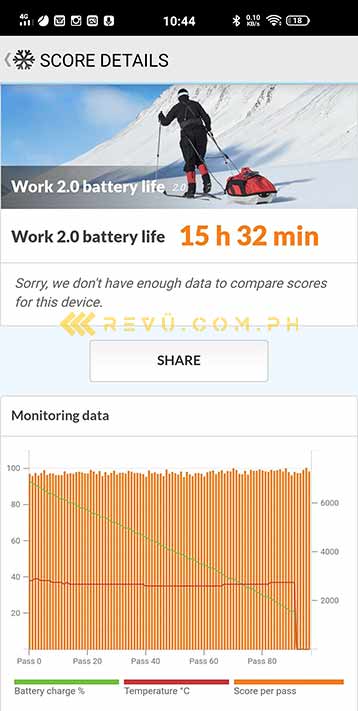 Thankfully, it comes with a USB-C fast-charging capability. Instead of a 33-watt fast charger, Vivo equips the V19 Neo with an 18-watt Dual Engine fast-charging tech. It's still capable of reaching up 30% in 30 minutes and fully charges in around two hours.
Final thoughts
The Vivo V19 Neo might be cheaper than the Vivo V19, but it won't seem like you're being shortchanged much. You get a smartphone that performs as well as you'd expect it would within its segment.
If you expect to have a reliable, midrange device with a long-lasting battery and decent cameras, you'll get precisely what you pay for with this handset. But those looking for a handset that over-delivers, the Vivo V19 Neo might not be the smartphone for them.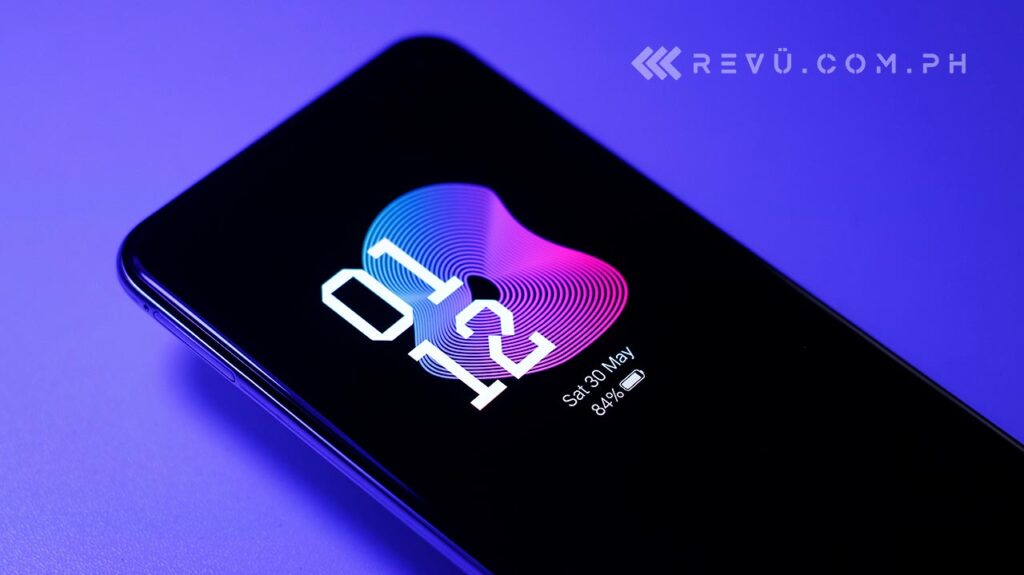 Vivo V19 Neo specs
6.44-inch Super AMOLED display, 2,400 x 1,080p resolution (20:9)
Octa-core Qualcomm Snapdragon 675 processor
8GB RAM
128GB storage
Quad 48-megapixel (main), 8-megapixel (ultra-wide), 2-megapixel (depth), 2-megapixel (macro) rear cameras
32-megapixel front camera
Fingerprint reader (under-display)
4,500mAh battery with USB-C 18W Dual Engine fast-charging tech
Funtouch OS 10 based on Android 10
Colors: Blue, white
---