The Huawei Watch Fit straddles the line between a fitness tracker and smartwatch. It offers a slew of health- and wellness-related features and some smartwatch functions that can keep you off your phone a bit.
(Update, October 5: Click on this to find out how to win a Huawei Watch Fit!)
Priced at P4,999 (around $103) in the Philippines, with freebies worth P2,380 ($49) during the preorder period, the Huawei Watch Fit is great value for your money. That is, if it performs as well as it promises to. This review hopes to answer most of your questions about this new Huawei wearable.
Hardware
Available in Graphite Black, Cantaloupe Orange, and Mint Green, the Huawei Watch Fit bears an unusual rounded rectangular watch face design, which reminded us of a tiny refrigerator or a stretched-out Apple Watch or Fitbit Versa the first time we saw it. It has a slim profile at just 10.7mm thick and weighs around 21g without the strap. We barely remember that we're wearing it, allowing us to use and even sleep with it comfortably.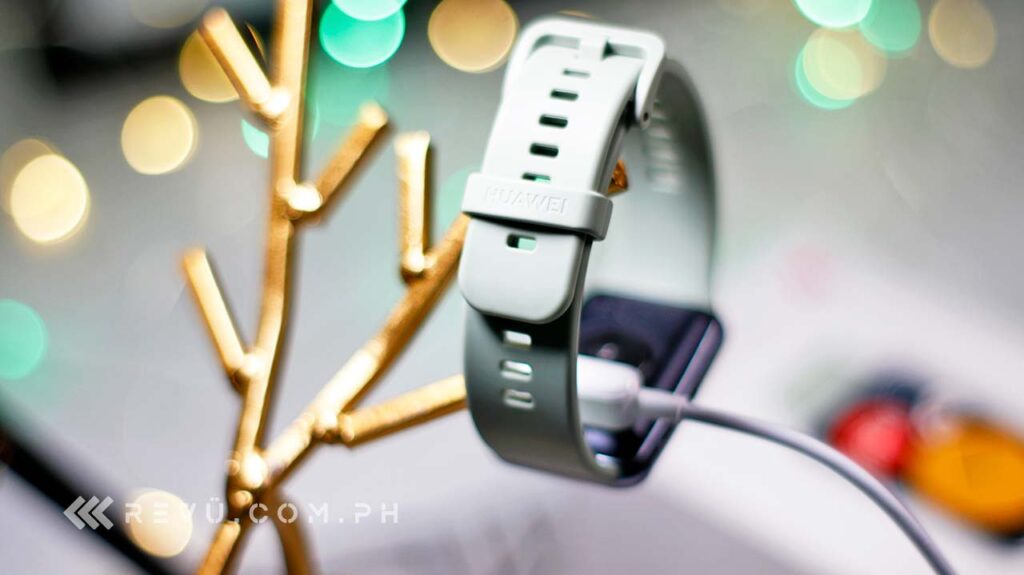 The watch's sensors are located at the bottom of the chassis. Built with a smooth matte plastic finish, it's easy to wipe and capable of resisting sweat accumulation. Its frame has a textured matte finish that complements the strap. A small flat button is located on the right side of the frame to help power the Huawei Watch Fit and navigate through the user interface. We like that it doesn't protrude too much, so we don't accidentally press it when we're stretching our hands and wrists — an issue we've faced with other smart bands and smartwatches.
The front has a 1.64-inch AMOLED display with 456 x 280 HD resolution, 70% screen-to-body ratio, and 2.5D glass. It's an excellent, crisp display that can rival the quality of more expensive wearables. Huawei's decision to elongate the Watch Fit's screen works in its favor. You get to see more information at once. Outdoors, it will deal with some glare, but it's still sufficiently bright and somewhat readable. It offers auto-brightness, so it can adjust the screen's brightness depending on whether you're in a well-lit or dark environment.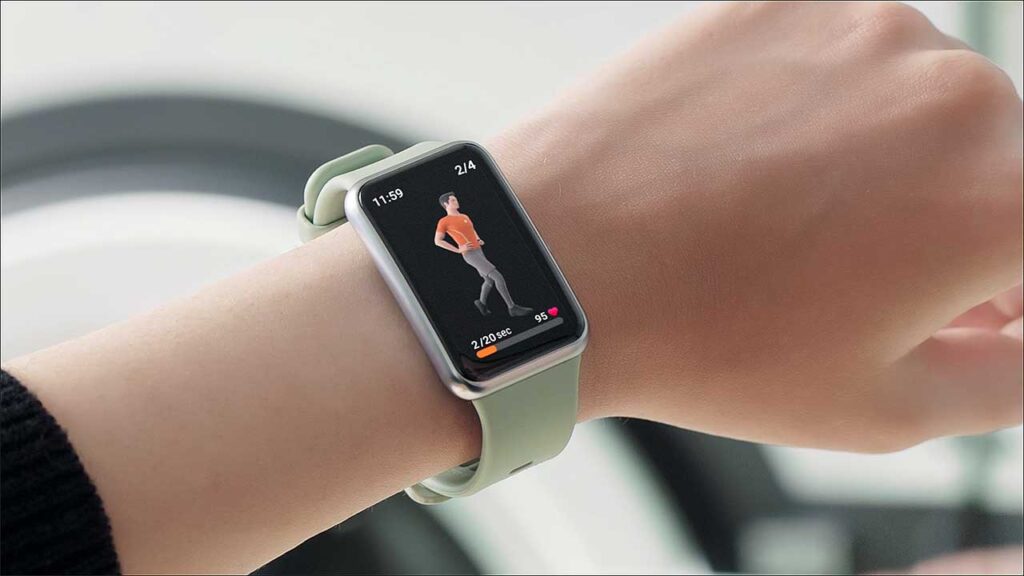 The Huawei Watch Fit is 5ATM water-resistant, meaning it can survive underwater at depths up to 50 meters in depth for 10 minutes. You can take it with you for swimming, but don't dive with it. It can't handle water moving with force, so don't take it in the shower with you.
This fitness-centric wearable also comes with a built-in GPS, SpO2 sensor, heart rate sensor, 6-axis IMU sensor (accelerometer, gyroscope), capacitive sensor, and ambient light sensor. The heart-rate sensor takes advantage of the new Huawei TrueSeen 4.0 heart-rate tech for 24-hour monitoring. It promises to send an alert if your heart rate exceeds the normal range. Combined with its other sensors, there are more things the Huawei Watch Fit can keep track of, and we'll talk about these further later.
The device also supports Bluetooth 5.0 and Bluetooth Low Energy and has 4GB of memory.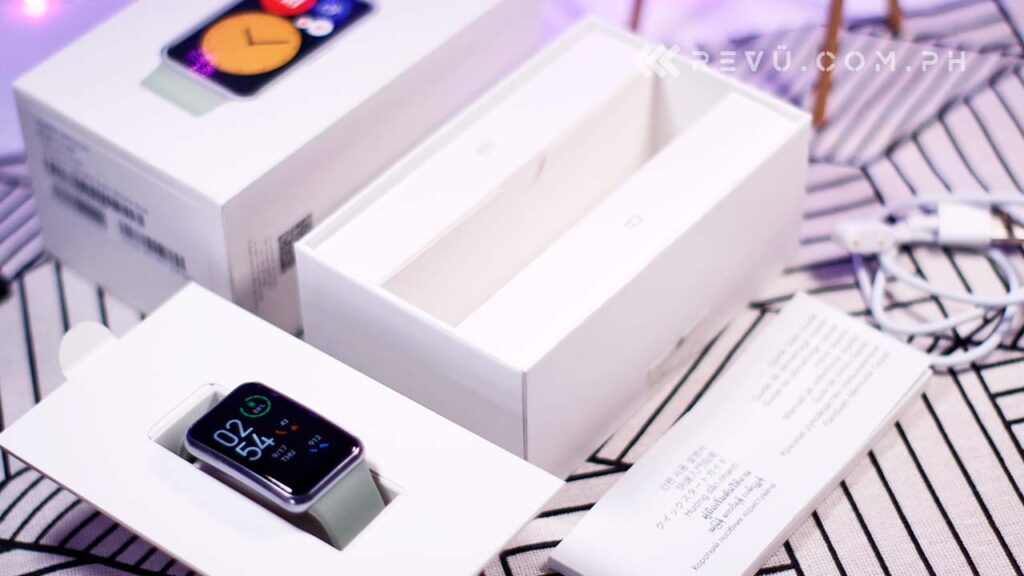 What's inside the box
Huawei Watch Fit
Charging cable
Quick start guide & safety information
Setup and operation
Setting up the Huawei Watch Fit requires Bluetooth pairing with your smartphone and the Huawei Health app. This smartwatch supports Android 5.0 or later and iOS 9.0 or later. We didn't have trouble initially pairing the Watch Fit with an Honor 10 and a Vivo V15. You simply need to follow the instructions on the app to pair. Our unit received a firmware update when we first unboxed it. Make sure to keep your Watch Fit plugged into its charger when you update because it drains the battery as it takes a couple of hours or so to complete.

We found that this wearable frequently disconnects with the non-EMUI-based smartphones, even if we're in the handset's immediate vicinity. We even had to unpair the smartwatch and reset it and the phone to get the two devices to pair. But the only time it really disconnected with the Honor 10 was when we were in another room without the smartphone. (And in case you needed confirmation, it only pairs with one smartphone at a time.)
As for the smartwatch itself, it's plenty responsive when we tap or swipe on it. Raise to wake is quick to respond, too. We tried using it with a first-generation Fitbit Versa on our wrist, and the Watch Fit, most of the time, would recognize the gesture ahead of the Versa.
SEE ALSO: Huawei Store Online Philippines to open Sept 23. Huge discounts here!
Huawei uses its proprietary operating system to power the Watch Fit, which we aren't opposed to. The company adds a lot of features into this wearable. But we wish that its actionable functions were more accessible via swipes instead of having to press on the physical button to get to them. By actionable functions, we mean the features that let us start workouts; measure things like heart rate, stress, and SpO2 levels; and use other functions like stopwatch, flashlight, timer, etc.
Information that's accessible when you swipe from the watch face is limited. We wish the company would swap these two functions. Or at least give us the option to add more of the actionable features to the screen, so we can just get to them with a swipe and tap. It is currently limited to the health-related data it tracks plus access to music control, the weather, and notifications. Reducing one less barrier or action to getting to features we want will be a win in our book.
Performance
In its name alone, you can already tell what the Huawei Watch Fit's focus is on. The smartwatch backs this up with an ample amount of fitness- and health-tracking options. It can track and provide real-time workout metrics for 11 professional sport modes (including running, cycling, and swimming) and monitor 85 custom workout modes (ranging from yoga, high-intensity interval training, belly dance, karate, to frisbee, and so much more). Huawei casts a wide net to make sure the Watch Fit appeals to a vast number of people.
It monitors your real-time heart rate, calories, and duration of the workout. For outdoor runners, the built-in GPS helps you map your run. But it doesn't measure the altitude meter to track your elevation. Don't expect the Huawei Watch Fit to offer the detailed analytics provided by dedicated running watches. It's designed more for beginners or enthusiasts on a budget and just want to get an overall picture of their health and fitness.
For six workout types, the Huawei Watch Fit offers automatic workout detection. These include Outdoor Run / Walk, Indoor Run / Walk, Elliptical, and Rower. So, if you forget to start a workout, the wearable can do it for you.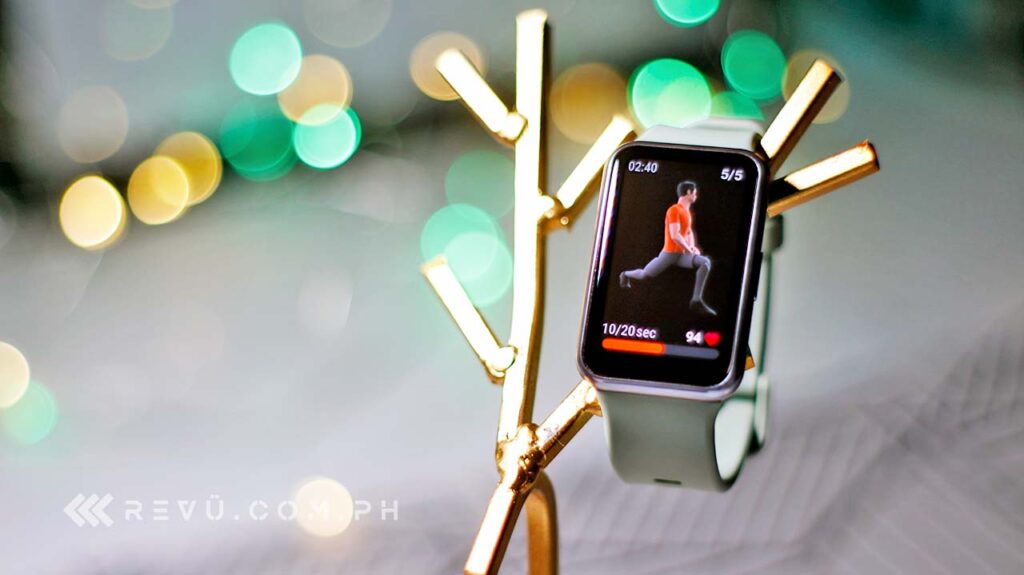 On top of the 96 workout modes, the Watch Fit comes with 12 fitness courses that have animations to guide you through each step of the workout. Some of the courses include full-body stretch, burn fat fast, neck, shoulder relaxation, and ab toning. The smartwatch also has 13 running courses for those who want a digital coach on their wrist while they run.
These courses can prove useful, especially if you don't know what to do when you work out. And if you've been sitting or sedentary for a long time, you can have the wearable remind you to move around. It started the Re-energize course for us when it found us sitting for over an hour. It will be a great differentiator for the Watch Fit if Huawei plans to add more of these courses into the device.
When you finish your workouts, the Huawei Health app can show you more detailed metrics, analysis, and, for some of the features, there's guidance on how to get better. Huawei is quick to remind its users that the health features it offers on the Watch Fit "are designed neither for medical use nor diagnosing, treating, curing or preventing any disease." Instead, they want you to use the data "for personal reference only."
This fitness-centric wearable can also track your fitness throughout the day. It records your steps, active hours, and periods of medium- to high-intensity activities in three colorful circles. So, if you're the type that's motivated by seeing what you've done for the day, this feature will be useful for you.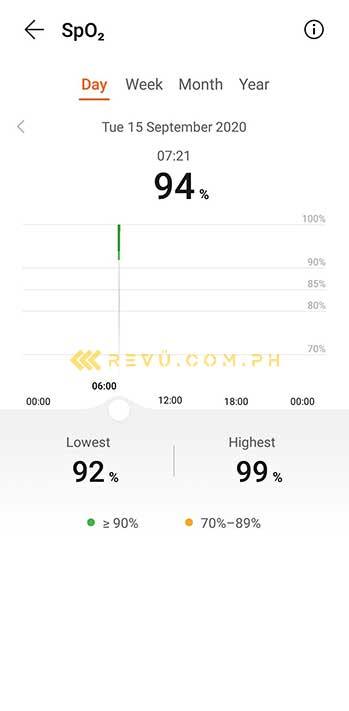 Like the pricier Huawei Watch GT series, the Watch Fit can also track your blood oxygen saturation. It isn't a feature we often see at its price point, so we're happy Huawei included it. SpO2 monitoring helps you decipher your body's overall conditioning, track critical information about your breathing and circulation, how well your respiratory and cardiac health is, and whether you have any underlying issues.
As mentioned, the Huawei Watch Fit can also track your heart rate throughout the day, even while you sleep. For those whose heart rates exceed the normal range, it can alert you of this change. We thankfully didn't have to test this feature out. iOS users, unfortunately, don't get the low heart-rate alert.

For Android users, the Watch Fit and the Health app can also track menstruation cycles and estimate ovulation dates. It can remind you when you're getting your period and help you prepare for these days.
Another thing the device can track is your sleeping habits. With TruSleep 2.0, it promises to record your sleep state precisely and analyze your sleep quality. The app will show a detailed look into how well or poorly you slept and offer advice. Sleep-related advice isn't available in all regions, but we seem to get it on our test unit.
Stress is another aspect the Huawei Watch Fit can monitor. If you're using an Android device, it can even alert you if your stress levels are high. The wearable also offers guided breathing exercises to help calm you down.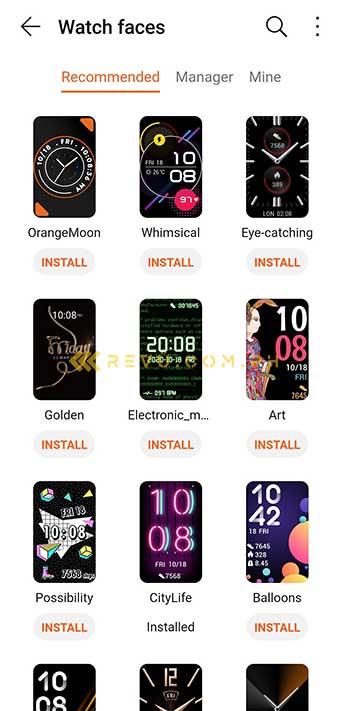 Beyond being a pretty comprehensive fitness tracker, the Huawei Watch Fit has some other smartwatch features you might appreciate having access to. Its watch face is customizable. And we like that you can switch these out on the watch itself. But you get access to more options on Huawei's Watch Face Store accessible through the Health app. For Android users, you can even use your photo of choice to serve as the watch's background.
This smartwatch can also send notifications from your phone, help control your music, and work as a small flashlight and as a remote camera shutter. The remote shutter is pretty limited in use, though, as it only works with phones running EMUI 8.1 or later. We got it to work with our Honor 10, but the function disappears when the Watch Fit is connected to our Vivo V15.
Battery
Huawei is very confident about the Watch Fit's battery life that it even puts the words "Long battery life" on the box. It promises to deliver up to 10 days of battery life in "typical usage," which we're going to believe is possible. This writer was testing this wearable for over three full days before the submission deadline, and the Watch Fit still had 17% battery by the time she submitted this review on the evening of the third day.
Huawei's tests revealed that the 10-day battery life is achievable with the following conditions: Huawei TruSleep feature is enabled; heart-rate monitoring is enabled; the screen is checked briefly 200 times per day; 50 messages, three calls and three alarms reminding in 24 hours; and workout for 30 minutes per week.
Even though you don't reach the 10-day mark, it's still impressive to us how long the Huawei Watch Fit lasts. We haven't precisely timed how often we glanced at the smartwatch, but we've used it for tracking around 20- to 30-minute daily workouts, used its sleep tracking and other sensors, and occasionally used it to control the music playing on our smartphone. We didn't use its Standby Watch Face, which could impact battery life as the display is on the entire time.
Charging to 100% only took us around 50 minutes. Huawei promises you can get a full day's use with just a five-minute charge. The short charging time is useful since the Huawei Watch Fit is the kind of wearable you'd want to put on for most of the day, including your bedtime.
Final thoughts
The Huawei Watch Fit impresses us with its well-rounded features, which is uncommon for its price segment. It's not designed for serious athletes who need a complete analysis and run down their workouts and training. It's more for the budget-conscious fitness beginner or enthusiast looking to kick-start or maintain an active lifestyle.
This wearable can help you stay on top of their fitness goals, especially since it goes days and days before it needs charging. We still think Huawei needs to refine its UI to make it easier to access all the functions this smartwatch offers. Other than that, it's an easy wearable to recommend, mostly if you use an EMUI-powered device since it gets full access to all the Watch Fit's functions.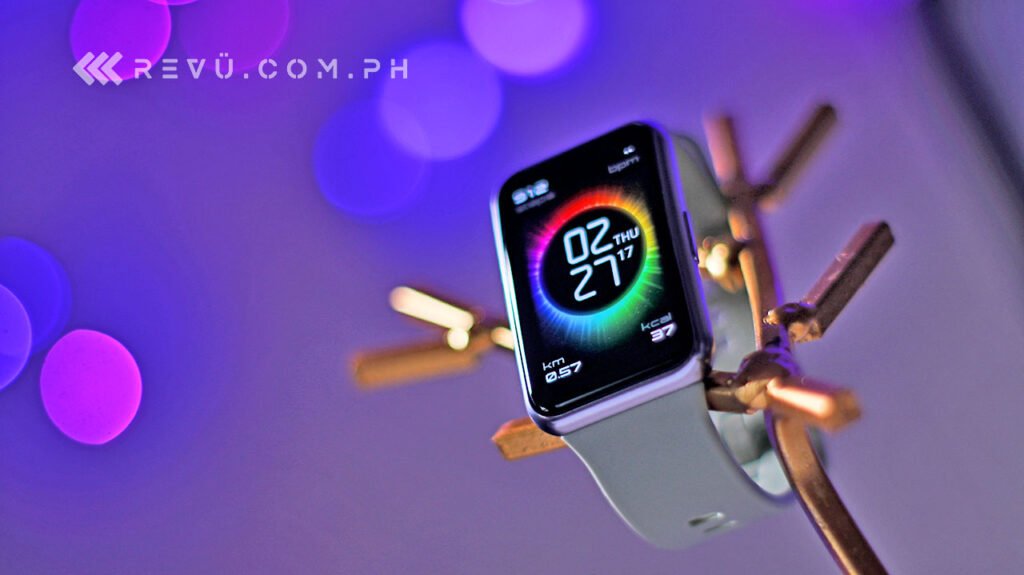 Huawei Watch Fit specs
1.64-inch AMOLED touch display, 456 x 280 HD resolution, 70% screen-to-body ratio
5 ATM water-resistant body
4GB storage
Sensors: 6-axis IMU, optical heart-rate sensor, capacitive sensor, ambient-light sensor
GPS
10-day battery life (typical usage)
Huawei LiteOS (compatible with Android and iOS)
Colors: Mint Green, Cantaloupe Orange, Graphite Black, Sakura Pink (this last one is not available in the Philippines)
---