Like millions of others in the Philippine capital of Metro Manila, we too have been holed up in our house for more than six months and counting.
Not only has the situation made it hard for us to get work done, specifically those that required us to do camera and 5G tests, it has also made it difficult for us to keep fit. At the end of each day, we feel tired from being glued to our computer screens. Somehow, having seven energetic babies as housemates isn't enough, but maybe they're actually more bored than we are.
Cue the Huawei Watch Fit smartwatch, which has recently launched in the Philippines as well as in other parts of the world and received a glowing review from us here at Revü. You actually have a chance of winning one by joining Huawei Philippines' giveaway on Facebook and TikTok. Mechanics can be found below.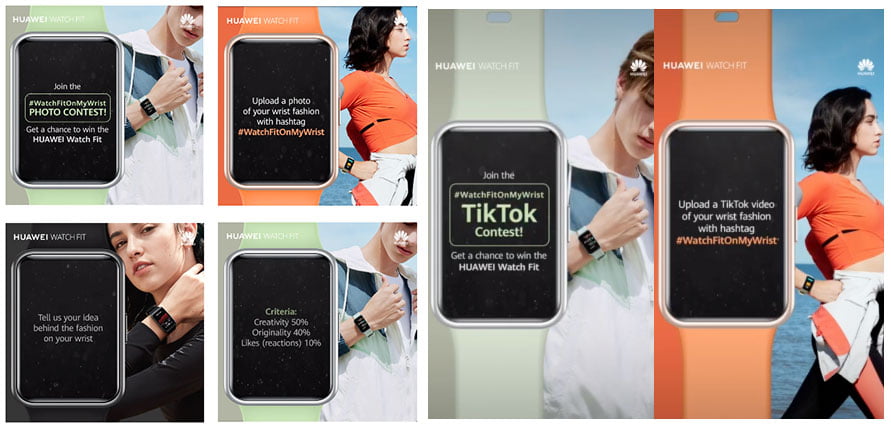 A smartwatch is one of the best accessories you can pair with any smartphone, and impressively, the Watch Fit supports both Android and iOS platforms.
It tracks health stats better than basic fitness bands. Plus its large OLED display is generous for notifications, so you wouldn't need to worry about picking up and unlocking your phone every time an alert pops up. So yes, Huawei's new Watch Fit is perfect for the current norm, because it allows you to multitask more effectively while being more mindful of your physical well-being. The latter can be a big challenge, considering how much time people are spending at home now.
Ever since we started actively wearing the Huawei Watch Fit daily, we've become conscious of our fitness levels and even managed to do some exercises at home — without the use of expensive gym equipment or the help of a fitness instructor. It even has an SpO2 monitor, which measures blood-oxygen saturation in the body and can help users take preventive measures against hypoxia if the blood-oxygen level is too low, or below 90%.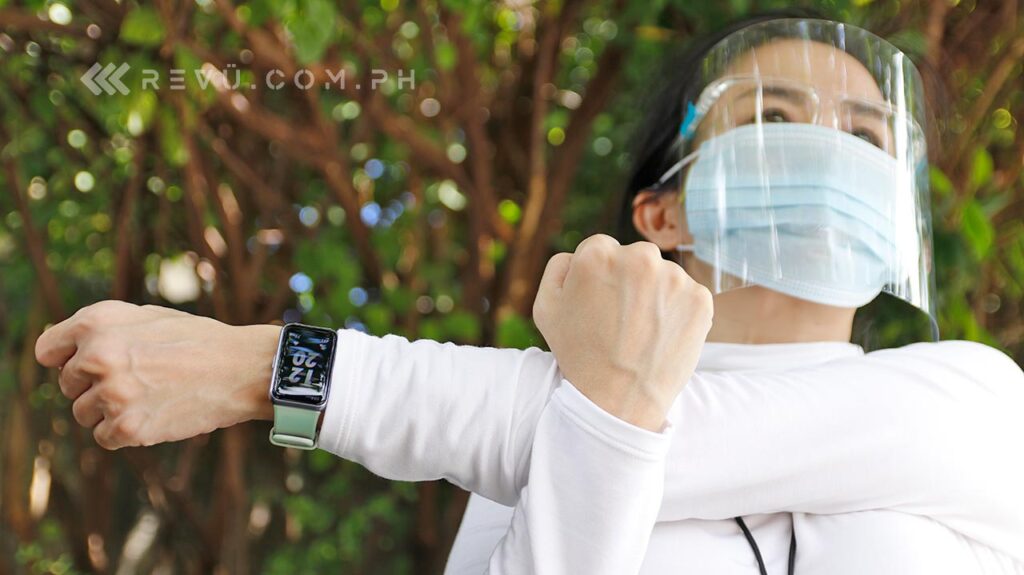 Meanwhile, the watch's brilliant battery life — lasting up to 10 days on a single charge in our tests — and the inclusion of fast charging via a proprietary charging cradle meant almost zero downtimes in between weeks of usage.
In the Philippines, the Huawei Watch Fit is priced at P4,999 or roughly $103, which isn't a lot if you think about all the features the smartwatch offers. You can buy it now in Cantaloupe Orange (online-exclusive), Mint Green, and Graphite Black colors from Huawei Store Online Philippines and other authorized retail channels.
For a limited time, you can purchase the Watch Fit from Huawei's local brand store with a P500 ($10) discount by claiming a free timed voucher released from 12:00 a.m. to 1:00 a.m. daily until October 7. On top of that, every purchase of the device comes with free shipping.
Seenzoned
One of our biggest frustrations with smartwatches and fitness bands in general is the screen. Some use an LCD panel, which can be difficult to read, especially outdoors. Others, on the other hand, are equipped with tiny displays, making it impossible to check notifications and alerts without bringing the device up to eye level.
The Huawei Watch Fit doesn't lack in that department. Incredibly, it features a sizable 1.64-inch rectangular screen — easily one of the biggest we've seen on a smartwatch yet. Even better, it uses AMOLED technology, which translates to a more vibrant picture and greater efficiency at higher brightness levels. This allows us to comfortably read the display at almost any angle.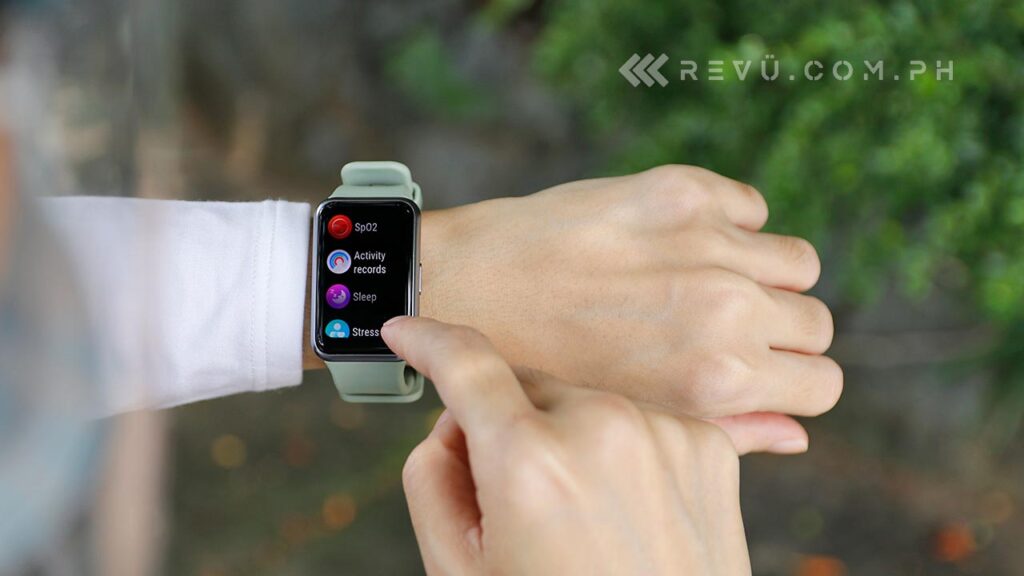 Huawei even throws in always-on functionality, which will allow the Watch Fit to always show the time like a traditional watch when enabled. The shape of the watch face, meanwhile, lends well to displaying long messages and emails, as more text will fit across the screen compared to what rounded smartwatches can accommodate.
We turned on notifications on the watch to get alerts from our Huawei P40 Pro Plus. By doing so, we never missed important emails and text messages, which, in turn, let us focus on getting content for the site done, as opposed to wasting time fiddling with our smartphones while waiting for replies to arrive.
By extension, this also made us less tethered to our phones, letting us focus more on things that needed our attention in the moment, such as when we're spending a leisurely Sunday afternoon with our babies.
Work out at home
One of the coolest things about the Huawei Watch Fit is the addition of 12 animated workout sessions you can view from the watch screen and pull off just about anywhere from the comfort and safety of your home. These not only guide you through the proper posture and movement while exercising, but also show you the volume of repetitions and sets you need to do for a specific exercise, all while monitoring your heart rate in real time.
Huawei even categorizes these fitness courses according to what they do for the body, so non-fitness buffs like us can easily choose which workouts to focus on. There's even a fitness course tailor-made for those who would like to work out at home, and they up the intensity of standard physical activities like pushups and squats that you're mostly familiar with.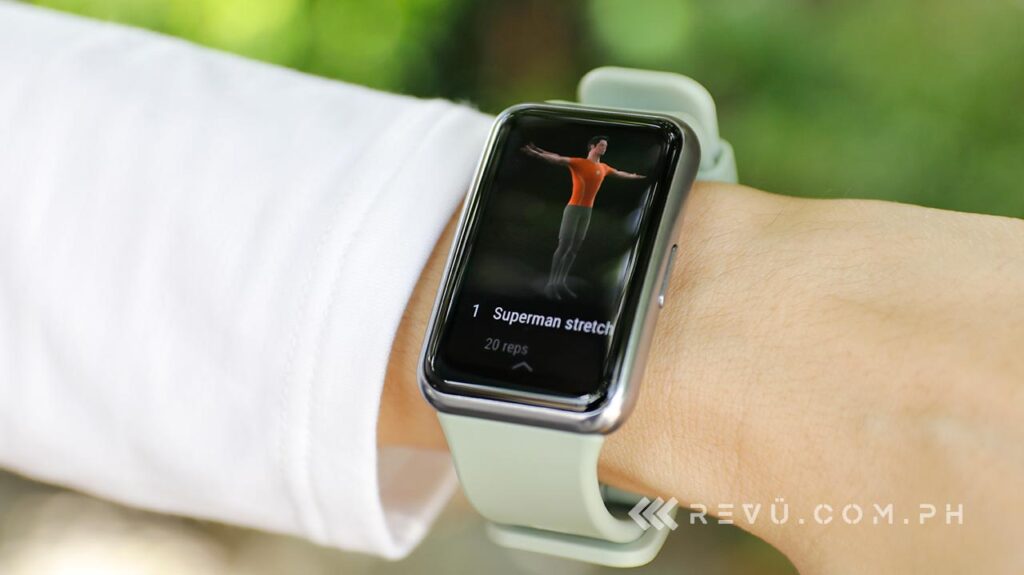 For people who know exactly what they want out of the watch, there are 96 workout modes supported here, plus guided breathing exercises that are designed to help your mind and body unwind with sessions that last up to three minutes.
The Huawei Watch Fit includes its own GPS chip and can also use location data from your phone for more accurate activity tracking. Most fitness bands don't have this feature, and many other smartwatches in this price range skimp on it as well.
On top of that, the Watch Fit offers continuous heart-rate monitoring and sleep tracking, detecting light sleep, deep sleep, and REM sleep. It will even detect breathing disturbances and wake times overnight, which might be crucial to figuring out why you don't feel rested in the morning. The Watch Fit can identify six types of sleeping problems.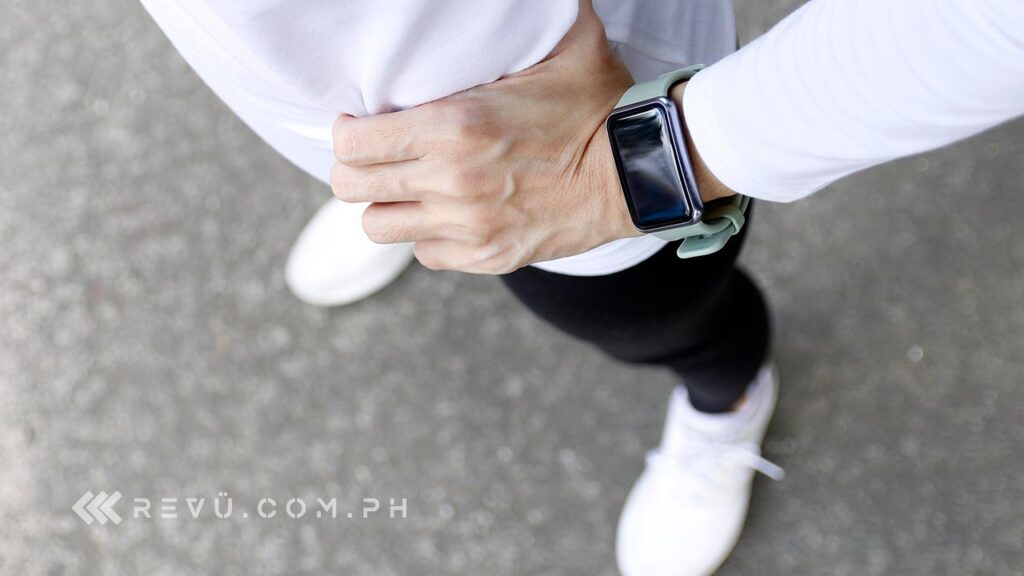 We hardly get enough sleep these days. And even on nights when we've made a conscious effort to tuck in early, we would sometimes still experience difficulty sleeping. The wearable provided us with data that helped us adjust our sleeping patterns and get better rest when we need it most.
The watch can also measure your stress level, which is calculated from multiple readings of your heart rate. Additionally, the Huawei Watch Fit includes an SPO2 sensor that allows for blood-oxygen measurements. The amount of oxygen in the blood is a natural indicator of the condition of a person's respiratory system. On-demand readings are recorded in the Huawei Health app, allowing you to track trends over time and see how your blood-oxygen level changes.
Speaking of, the Health app, which you can download for free from Huawei's AppGallery app-distribution platform, is required to pair the Watch Fit with your smartphone. But more importantly, it stores health data and metrics from the smartwatch, so you can get a better understanding of your fitness levels over time and flag potential health issues that you might want to discuss with a physician.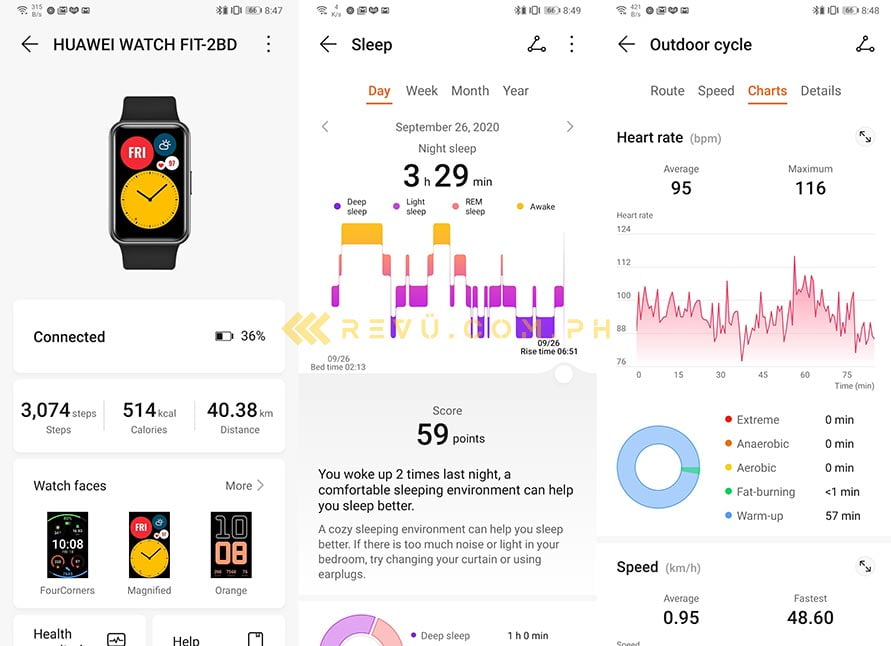 Huawei's Health app is likewise necessary to install new watch faces. There's also the option to use any picture in your gallery as your watch-face background.
If the lockdown has reminded us anything, it's that we should also prioritize our health and find the right balance between work and home life. We all need to indulge in some "me time" to relax and do something fun every once in a while, and even more so now when people are experiencing greater anxiety and uncertainty.
Long-lasting, fast-charging
Unlike most smartwatches that give you hours of continuous usage on a full charge, the Huawei Watch Fit is rated for up to 10 days of normal use. We found this to be accurate with our own testing, with our unit lasting anywhere between 7 to 11 days depending on how much we use the AMOLED screen and the number of fitness-tracking features we allow to work in the background.
Turning on the always-on display option will naturally drain the battery much faster. And if you're doing lengthy workouts every day with the GPS enabled, you'll likely burn through the battery quickly. We went on a couple of bike runs during a week, and the battery held up pretty well.
When it's finally time to charge, you'll be happy to know that the Huawei Watch Fit supports quick-charge technology and can be used for a whole day with just a five-minute top up using the provided magnetic charger.
In many ways, the quarantine has forced us to restructure our lives, both professionally and personally. It has also given us a period to focus on our general health and wellness, which we can improve without the need to go out, as our experience with the Huawei Watch Fit has shown.
Huawei Watch Fit specs
1.64-inch AMOLED touch display, 456 x 280 HD resolution, 70% screen-to-body ratio
5 ATM water-resistant body
4GB storage
Sensors: 6-axis IMU, optical heart-rate sensor, capacitive sensor, ambient-light sensor
GPS
10-day battery life (typical usage)
Huawei LiteOS (compatible with Android and iOS)
Colors: Mint Green, Cantaloupe Orange, Graphite Black, Sakura Pink (this last one is not available in the Philippines)
---