Several weeks ago, OPPO announced local pricing and availability for the OPPO Watch in the Philippines. In case you're not familiar, the wearable is the company's first smartwatch and runs Google's Android-based Wear OS platform outside of China.
Coming from one of the top smartphone brands globally and one of the most popular names on the local mobile scene, the OPPO Watch has some big expectations to meet. Read our full review below to find out whether or not it lives up to the hype and is worth its price.
Price and availability
The smaller 41mm model OPPO Watch is priced at P12,990 (around $268) in the Philippines and now up for purchase offline through all OPPO concept stores and online on ecommerce site Lazada. You have an option to pay for it for up to 12 months at 0% interest using a credit card from one of the company's bank partners: BDO, BPI, Metrobank, PNB, and Citibank.
Unfortunately, it's the only variant that gets a local release; the 46mm model won't launch here anytime soon. The Wear OS-based Watch sold locally is only available with a black silicone strap.
Hardware
OPPO's first smartwatch looks a lot like the Apple Watch, and even its packaging should be familiar to anyone who's ever owned the Apple wearable.
OPPO includes an extra strap loop in the box, which is a nice touch, as it can easily be removed from the strap when you're not wearing the watch. The box also comes with a manual in different languages and a magnetic-pin charger that can plug into your phone's charging brick or a power bank for convenient charging on the go.
A square display isn't used a lot in Wear OS-powered models these days, but it lends well to the operating system's four-corner, swipe-based interface. It's not what the others are offering, but OPPO has made the right choice here.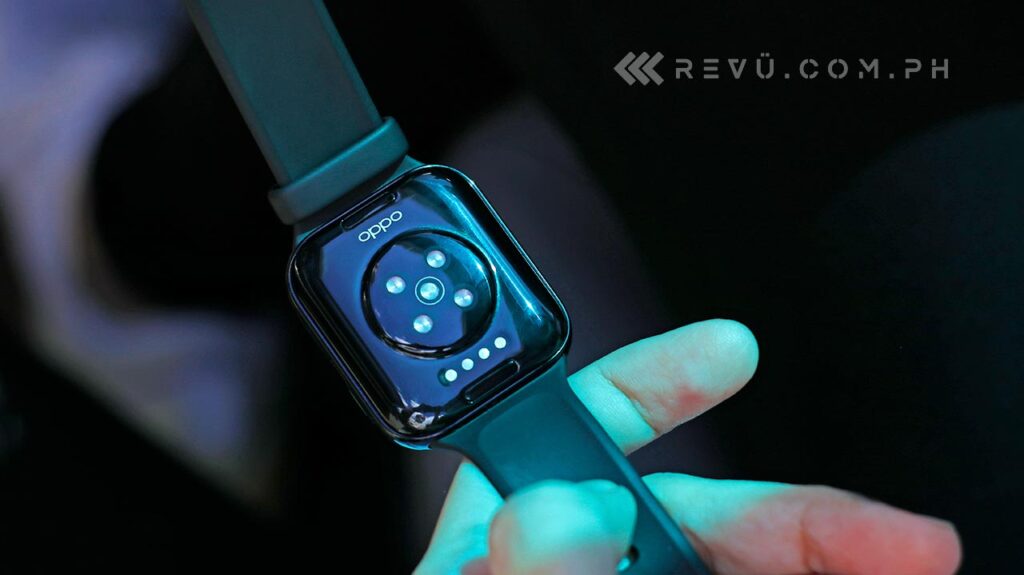 Navigating the touch panel also feels more natural, thanks to the gently curved piece of glass layered on top that flows seamlessly into the frame, which uses 6000-series aluminum around it. The plastic back of the watchcase features rounded corners as well, adding to the comfort factor further.
The 41mm OPPO Watch variant is available in black, rose gold, and silver, while the 46mm variant can be either black or gold. The case has two buttons on the right side and a microphone between the keys for taking calls and voice commands. On the left, there's a couple of speaker holes.
The small built-in speaker doesn't get as loud as phone speakers, but it's good enough for calls and hearing Google Assistant responses. It's not terrible at all. We used it for several calls, so we can say with confidence that it's perfectly usable despite its size.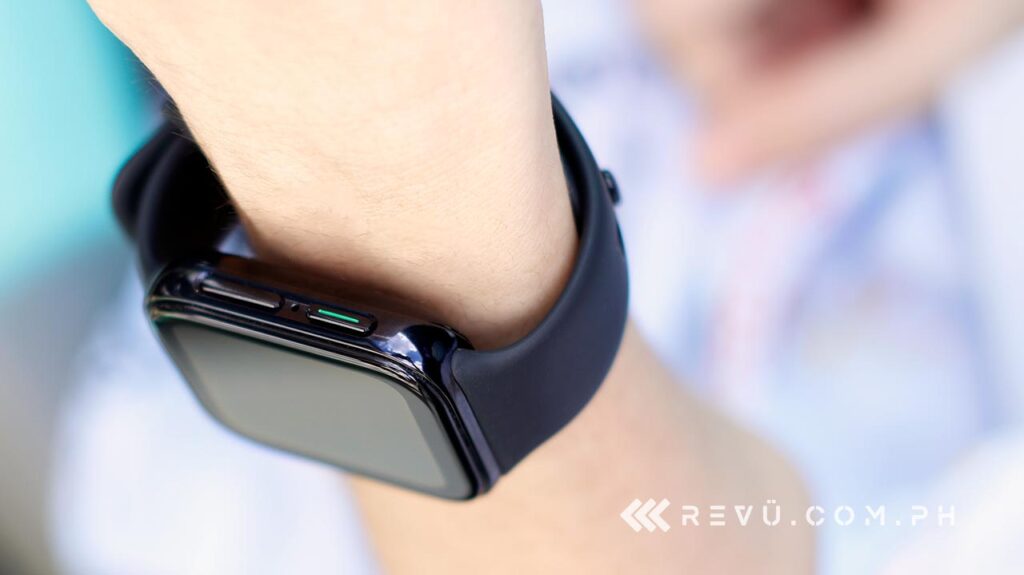 The upper button on the right is used to go back to the watch face or open the app drawer, and the button with a green accent at the bottom can be set as a shortcut to an app or action you want. The programmable shortcut key also doubles as a power menu when you long-press it.
The Watch has a rectangular face and a strap made of a material that OPPO calls Fluororubber. It feels rigid yet comfortable and soft on our wrist. Admittedly, it took a while for us to get the hang of strapping the Watch to our skin. But with daily wear comes familiarity — so much so that wearing it has become second nature to us.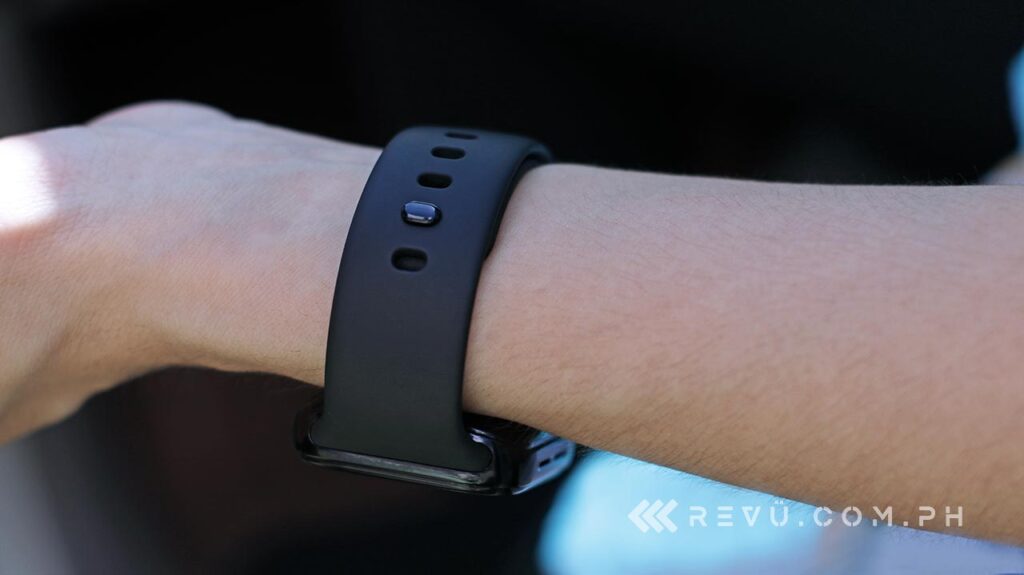 The strap mechanism is proprietary, so you'll need to buy straps designed specifically for the OPPO Watch if you want to change its look.
They're easy to remove, though. Pressing the two buttons at the back releases the bands, and then you can simply plug the new ones into the watchcase. It's quick and convenient, but also easier to do than swapping straps on a regular watch.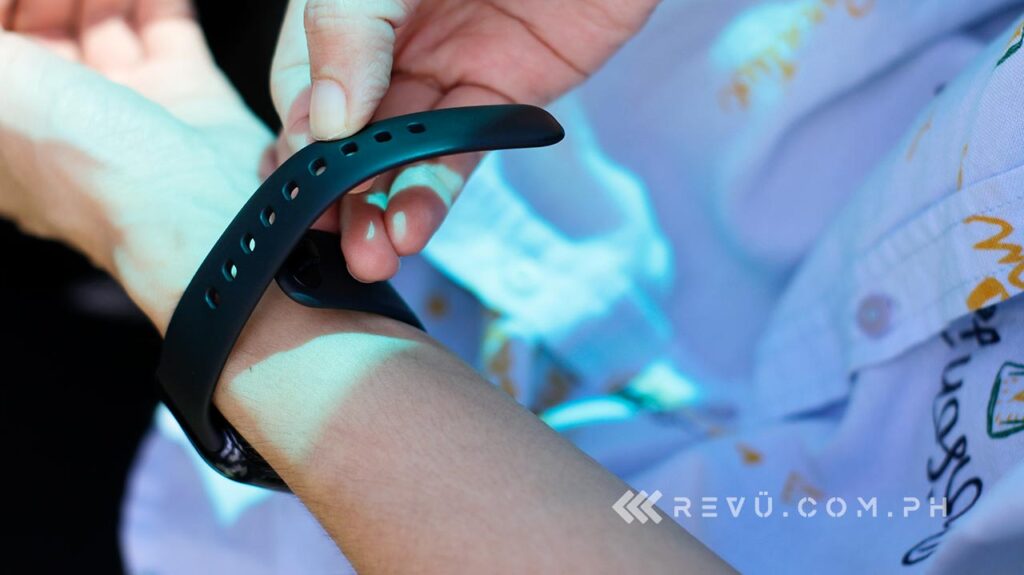 As for the AMOLED touchscreen, it's pretty vibrant and dense. You're looking at a 1.6-inch rectangular display with pleasing screen-to-body ratio and 360 x 320 pixel resolution, resulting in a pixel density of 301 dots per inch.
It's not aggressively curved like the screen on the bigger 46mm variant, though, and that makes for an important distinction over the 41mm model. The display is decently sized for our wrists, but it could be bigger.
SEE ALSO: OPPO ColorOS 11: Rollout timeline, new features
The OPPO Watch has a layer of Corning Gorilla Glass on top for scratch resistance. Always-on functionality is available in the Settings menu as well, albeit at the expense of faster battery drain. You can choose from a variety of always-on watch faces to break the monotony of looking at the same lock screen.
More importantly, the display can get bright at high brightness levels, making it easily visible outdoors. The screen is an important spec for any smartwatch, and overall, we feel that OPPO delivers on that end.
Software
You'll need to install Wear OS from the Google Play Store to pair the OPPO Watch with your Android smartphone. OPPO introduces some changes to the UI, including a custom app launcher with vibrant icons and slick animations in the app drawer.
You can also use the Wear OS app to change the watch face; swap out Tiles, which are like app widgets; choose which notifications appear on the watch; and enable the always-on display option under Advanced settings.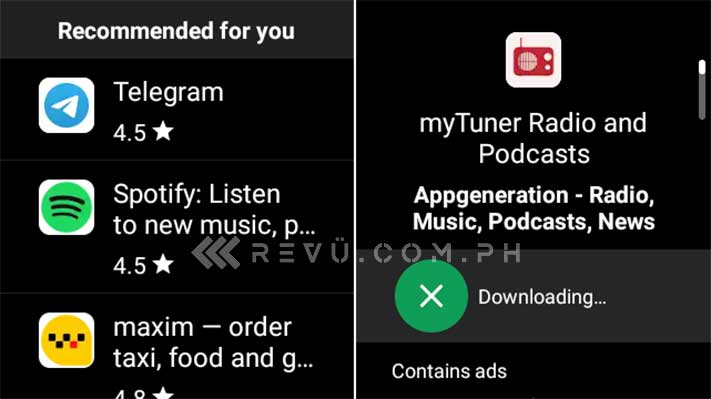 For tracking your stats, the smartwatch uses OPPO's HeyTap Health app to sync heart rate, steps, daily activity, and sleep information with your device.
HeyTap is also required to unlock customization options for certain watch faces, like the one that allows you to turn any picture from your phone into a watch-face background. There's also a watch face that lets you create a custom background based on the color of your outfit.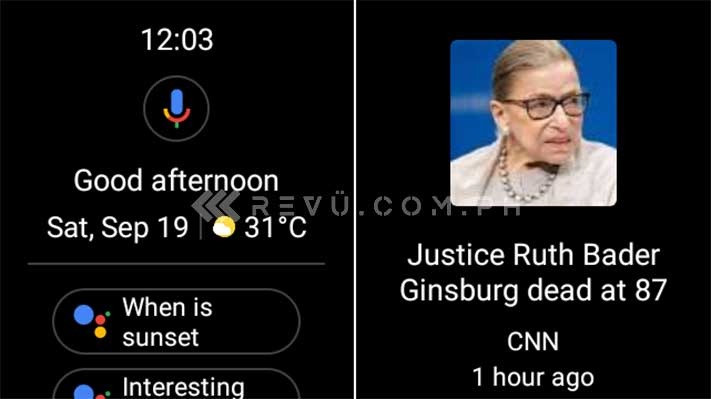 Third-party app compatibility is great on the OPPO Watch. Besides Google Assistant, which is admittedly helpful for showing vital information that you need first and foremost, such as breaking news and the weather forecast for the day, there's support for Facebook Messenger, Twitter, Instagram, Viber, and other social platforms.
That means you'll not only be able to see notifications as they arrive on your phone, but you'll also have the option to reply using the on-screen keyboard, emoji reactions, and voice input. On Twitter, you can retweet and respond to other Twitter users without ever touching your phone.
Performance and battery life
The OPPO Watch is powered by a Qualcomm Snapdragon Wear 3100 chipset and features four Cortex-A7 cores mated to 1GB RAM and 8GB of built-in storage. It's still based on the 28nm Snapdragon Wear 2100 platform from 2016, meaning the Snapdragon Wear 3100 offers similar performance to smartphones powered by Qualcomm's older Snapdragon 400 series processors.
Obviously, a smartwatch doesn't need as much power as a smartphone, and the OPPO Watch pretty much delivers a smooth and slick experience most of the time.
The only time it actually felt slow was when we were trying to switch to a different watch face while a bunch of apps were downloading in the background. It still feels generally more responsive than most other non-Wear OS smartwatches we've used.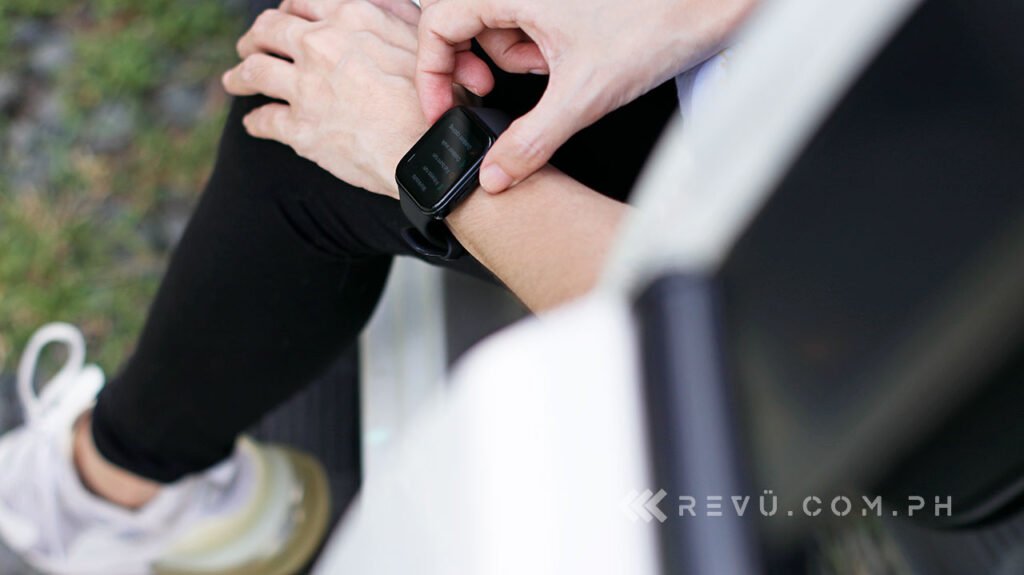 The optical heartbeat sensor and built-in GPS with A-GPS and GLONASS work fine. We tested the OPPO Watch alongside other fitness trackers we own and found that the sensor readings are within range of the other wearables. NFC is also onboard with support for standalone mobile-wallet payments.
As a fitness tracker, OPPO's first smartwatch offers 24-hour heart-rate monitoring, exercise and sleep tracking, as well as multiple workout modes and real-time fitness metrics from Google Fit. You also get some newer smartwatch features, including animated exercise routines with voice instructions and guided breathing exercises.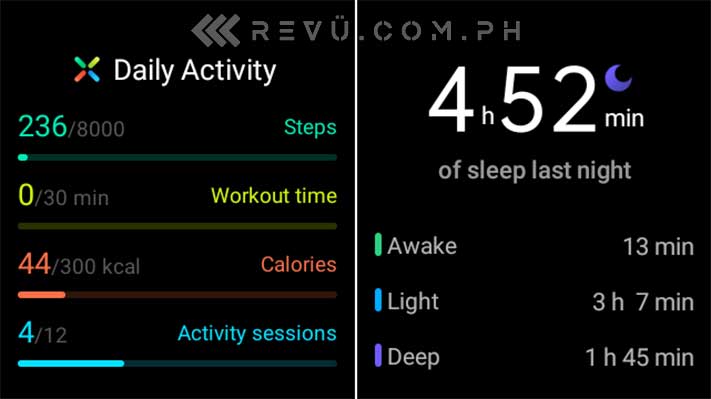 The 41mm version of the Watch provides water resistance up to 3ATM (and 5ATM on the 46mm variant). This means it can't track in the pool and open water, and you have to remove it before taking a shower.
Our unit is powered by a 300mAh battery backup, which supports OPPO's Watch VOOC Flash Charging of up to 7.5 watts using the included magnetic-pin charger. The 46mm model, owing to its bigger watchcase and display, has a 430mAh cell.
It takes a little more than an hour to get the watch to full capacity from a dead battery, but a quick 15-minute charge should give you about 40% battery power. If you don't plan on using the Watch's standard mode, which drains power quickly, you might be able to get away with enough power to cover a full day.
READ ALSO: OPPO's 125W wired charging & 65W wireless charging in action
Which brings us to an important point: The 41mm model of the OPPO Watch doesn't have a big-enough battery to last a work day if you turn on all the bells and whistles and disable power-saving settings.
At worst, you'll need to charge the Watch twice a day, something we never do with any of our mobile devices. And some may find the lack of Qi wireless charging disappointing given the not-so-good mileage.
Then again, most Wear OS devices leave a lot to be desired in the battery department; we haven't seen one that's anywhere close to offering the same battery life as smartwatches on custom lightweight platforms.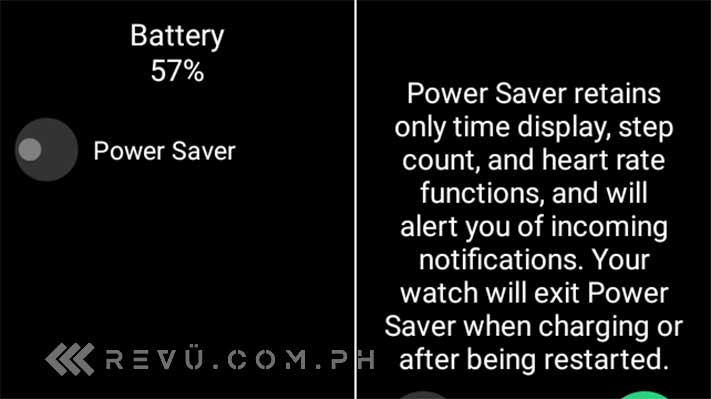 There's Power Saver mode, which OPPO says will give you up to 14 days of usage. The watch will continue to track your heart rate, steps, and show you notifications, similar to how regular fitness trackers behave.
Enabling Power Saver mode will limit some functionalities on the wearable, such as its ability to send replies and access Google Assistant, but at the same time, it's going to stretch the battery life significantly.
Final thoughts
The OPPO Watch is convenient to use and runs on one of the most feature-rich platforms available for smarwatches. It comes with a capable processor, too, plus plenty of features to track all your basic stats, including heart rate and sleep. It's also pretty affordable compared to something like the Apple Watch, with which it shares many similar things.
And with third-party app compatibility and its own version of the Google Play Store, it can certainly do a lot more than most other smartwatches on the local market.
With third-party app compatibility and its own version of the Google Play Store, the OPPO Watch can certainly do a lot more than most other smartwatches in the Philippines
It's basically like a smartphone, but with a tiny screen and a limited number of quality apps. Unlike most smartphones, though, the 41mm model will struggle to last a day for heavy users.
If you're fine with that limitation and don't feel like settling for a wearable that works more like a fitness tracker than a polished smartwatch, the OPPO Watch is highly recommended.
OPPO Watch official product video
OPPO Watch 41mm (Wi-Fi) specs
41 x 36 x 11mm (13mm including heart-rate sensor)
30.1 grams
Aluminum-alloy frame (plastic bottom case)
1.6-inch AMOLED screen, 320 x 360 resolution
Physical home button, multifunction button
Qualcomm Snapdragon Wear 3100 processor
1GB RAM
8GB storage
300mAh battery with 24-hour battery life in Smart mode
Supports magnetic charging (7.5 watts)
Wear OS based on Android
Flourorubber strap
Colors: Black (Pink Gold and Silver Mist are not available in the Philippines)
---