With the holiday-shopping season just around the corner, you're probably looking for a quality smartphone that won't break the bank. One of our suggestions for a true digital native like you? Consider Huawei's latest addition to its Y series, which has grown considerably over the months to give consumers more choices across price tiers.
We're referring to the Huawei Y7a, which is selling for P8,999 or roughly $186 in the Philippines. The handset's local launch marks the introduction of "Y for Youth, Y for You" as the technology giant's philosophy for the lineup. The refreshed brand philosophy centers around "several hallmarks of a youthful design inspiration, both in hardware and software," bringing notable midrange features to the entry-level segment.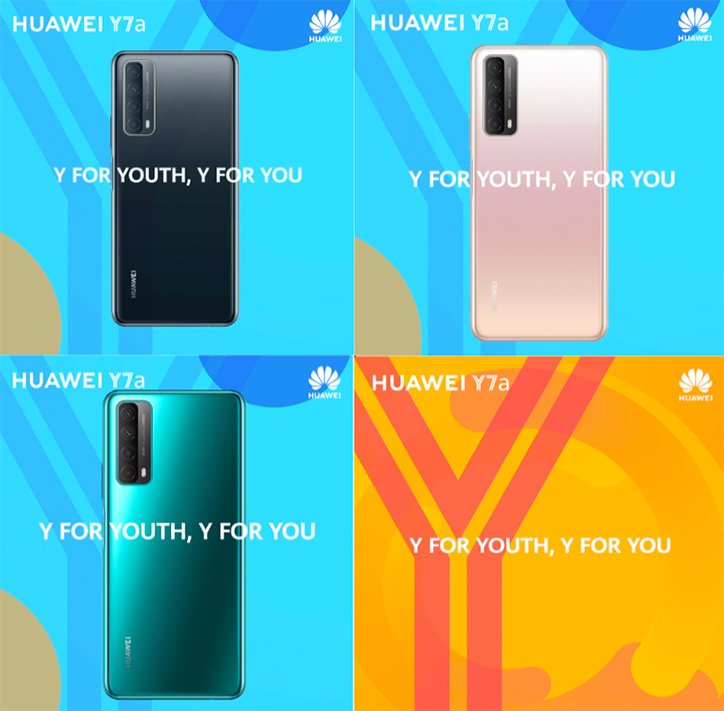 With the Y7a, you get a 48-megapixel AI quad-camera setup with Night mode and a dedicated ultra-wide lens; a 5,000mAh battery that supports wired fast charging up to 22.5 watts; a 6.67-inch FHD+ screen with a high screen-to-body ratio; and an octa-core processor paired with 4GB of RAM and 128GB of local storage. Those are impressive specs given the price, the sort that generally only shows up on phones at the P10,000 ($207) range.
On top of that, the Huawei Y7a flaunts a fashion-forward design language reminiscent of the latest members of the more premium Huawei Nova series. We particularly love the Blush Gold color variant we have. It's one of the most polished phones we've seen in the entry-level category. But if you find it too fancy, the Y7a is available in Crush Green and Midnight Black, too.
Quality quad-camera setup on a budget
We see the younger set create content more often these days. You're probably one of them. We're not surprised; these are extraordinary times, after all. When you have been quarantined for months, attend classes online, and meet up with your friends only in group-messaging chat rooms — basically do things you don't consider "your normal" before the pandemic — we're pretty sure you'll need an outlet to destress while documenting your quarantined life.
It's easy to do just that with the Huawei Y7a because one of the smartphone's biggest-selling points is its 48-megapixel quad-camera system with dedicated sensors for ultra-wide, closeup, and portrait shots. It's equipped with the right hardware to take on pretty much any challenging scenarios, including low-light conditions. Think indoor scenes or in your room at night, where lighting can be spotty, so capturing bright photos is usually out of the question if you don't have a tripod handy.
Thankfully, the Huawei Y7a's main camera boasts a sizable 1/2-inch sensor capable of 4-in-1 pixel binning to deliver 12-megapixel images with bigger pixels by default. This produces better results in dim areas and at night compared with pictures taken using the full-resolution setting.
You may also find Night mode useful. You can access it as one of the quick toggles in the native camera app. With Huawei's multi-frame noise detection, as well as support for up to six seconds of exposure to dramatically increase the dynamic range and brightness in a picture, the Y7a can capture moments even in extreme darkness. This is actually one area where Huawei performs well in general.
Sample pictures taken with the Huawei Y7a: 1) Night mode; 2) Auto; 3) Night mode; 4) Auto; 5) Ultra-wide; 6) 1x; 7) Ultra-wide; 8) 1x; 9) Ultra-wide; 10) 1x; 11) 1x; 12) 2x zoom; 13) Macro; 14) 1x; 15) Macro; 16) Auto; 17) Portrait with fill light; 18) Auto with fill light
The ultra-wide-angle camera, on the other hand, does a pretty good job of capturing subjects in flattering and moody light. The extra-wide camera can be used in Video mode, too — useful if you need to fit more people in the shot without taking several steps back. Say you want to show the people you're locked down in the house with. Your parents, your siblings, your grandparents, your yaya… Or even when you want to share your new room setup, for example.
If you're into toy photography like us, trust that the Huawei Y7a's macro camera is great for extreme closeups, while the depth sensor can make certain photos look more dramatic by blurring the background to bring focus to the subject in Portrait mode. Portrait shots can look particularly good when there is natural or colorful lighting around, so try to take them outdoors during the golden hour or under neon lights.
Big battery with the fastest charging speeds of any phone at its price point
Despite improved efficiency coming from chipsets in 2020, battery life remains a major concern for consumers looking to purchase a new phone. Huawei is well aware of this, so the Y7a comes fitted with a long-lasting, high-capacity 5,000mAh battery that supports the company's 22.5-watt SuperCharge fast charging out of the box over a USB-C port.
The numbers by themselves are attention-grabbing, especially when you consider that the Huawei Y7a is priced under P10,000 ($207). A little over 22 watts is the highest we've seen in the bargain segment, on the local market at least. You'll easily get up to two days of normal use here, and a quick 10-minute charge could provide you with two hours of battery power — enough to finish a movie or two or three episodes of your favorite television show.
Huge screen, huge possibilities
Personally, having a big smartphone screen is important to us because we sometimes use our mobile devices to write articles. A bigger display not only means more space for multitasking, but also more room for typing. We also edit photos and gameplay footage on them using apps that are free to download, such as Adobe Lightroom and CyberLink PowerDirector, to make our workflow more efficient.
The Huawei Y7a features a 6.67-inch, 2,400 x 1,080 screen with small, unobtrusive bezels all around to create a more immersive viewing experience for you. That alone makes the phone ideal for web browsing; video streaming on Netflix, Amazon Prime Video, and other similar apps; reading ebooks and electronic magazines; and gaming, among others.
We admit we've spent several sleepless nights playing games like League of Legends: Wild Rift and Mobile Legends: Bang Bang. We found that the big screen on the Y7a can not just display good to great detail in graphics-intensive titles, but its size also lends well to touchscreen controls.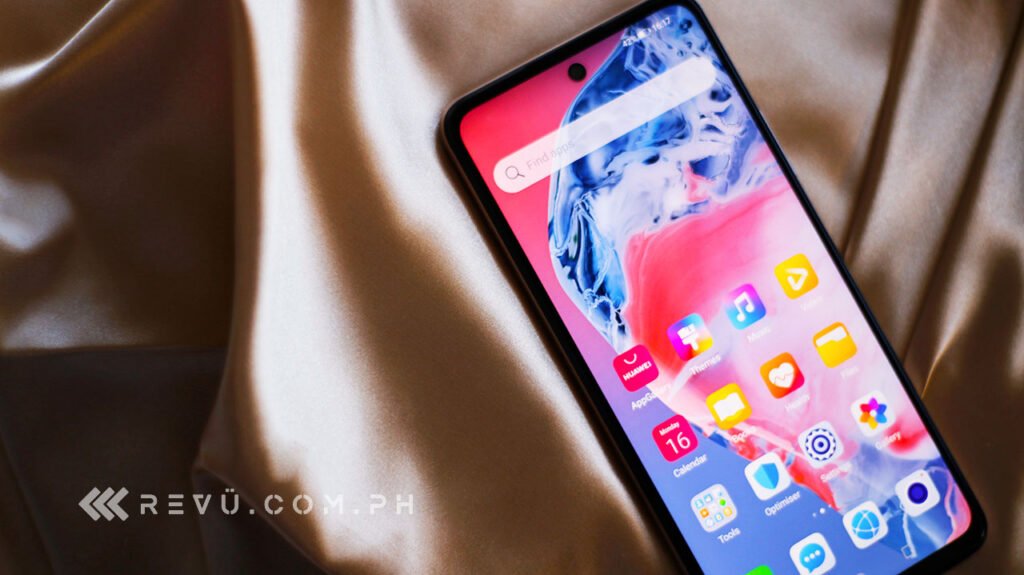 For nighttime viewing, the Huawei Y7a promises lower blue-light emissions courtesy of a TÜV Rheinland-certified Eye Comfort mode that can be enabled in the Display settings menu. Research says blue light can lead to eye irritation, digital eye strain (also known as computer-vision syndrome), or serious conditions that may permanently damage your eyes.
Reducing screen time may not be a realistic option for you, especially when you have classes that require you to be glued to a screen throughout the day and even at night, so the Y7a's certified Eye Comfort mode should give you some peace of mind.
Power to the youth
The Huawei Y7a has plenty of power inside, sporting an octa-core HiSilicon Kirin 710A chip paired with capable Mali-G51 graphics. The smartphone feels smooth and responsive enough for essential daily tasks.
Armed with 4GB LPDDR4x RAM, the octa-core chipset also makes multitasking and UI navigation feel snappy and convenient, allowing you to switch from one app to another without losing progress. It's great for users who frequently check in on social media while busy with another app on the screen.
The 128GB of built-in storage is expandable should you want more space for your apps and files, but on its own, it can accommodate many large video files and photos at full resolution. We usually store Netflix videos we haven't watched on our device's local storage, like the latest season of Star Trek: Discovery, and the Y7a's generous onboard memory is certainly more than enough to hold a show's full season.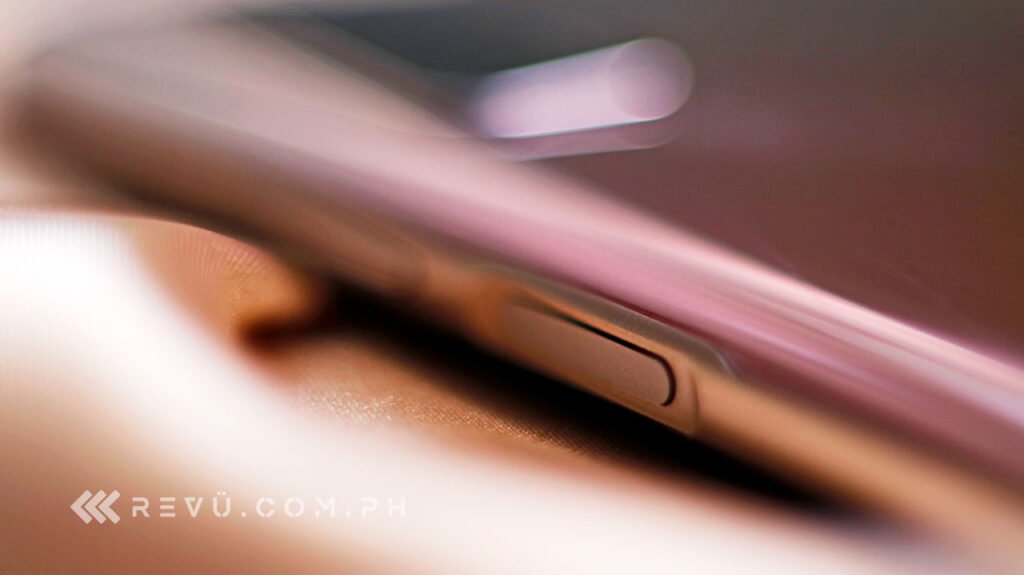 For fast and convenient unlocking, the Huawei Y7a is equipped with a side-mounted fingerprint reader built into the power/wake button.
As with any Huawei phone, the hardware is complemented by fantastic software. The latest Android 10-based EMUI 10.1 overlay is nice to look at and smooth to the touch. It brings a couple of neat features, from Dark mode, which makes the usage experience better during the nighttime, to Multi-Window. The latter allows for seamless split-screen multitasking on supported apps. Think watching a livestream while combing through social media and news sites, something we actually did during the recent U.S. elections.
Huawei's MeeTime video-call app is also supported on the Y7a. The software enables crisp, high-quality calls, perfect for catching up with friends and family during the holidays.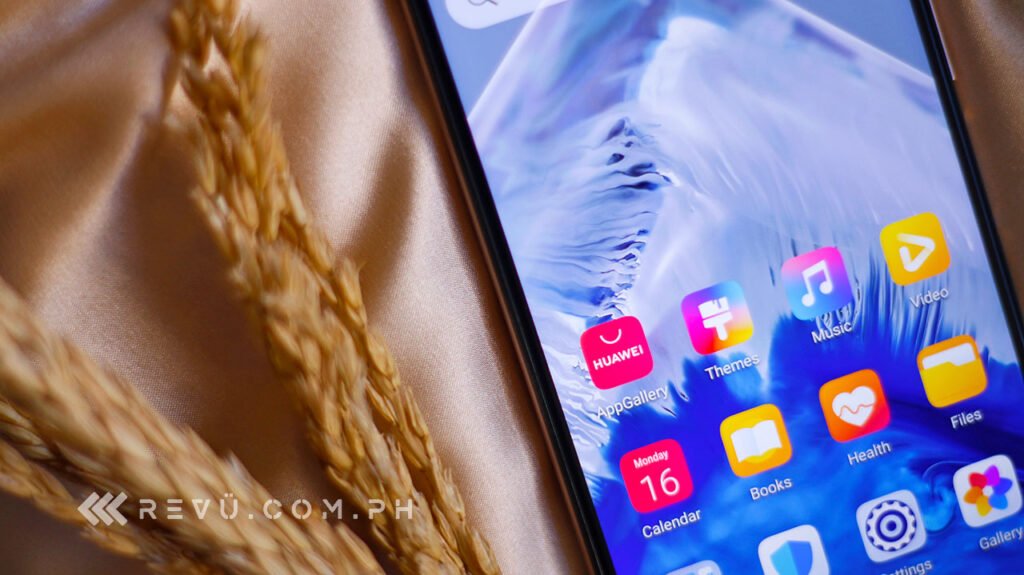 Finally, there's the AppGallery, which is currently the third-largest app marketplace in the world. Huawei's digital storefront boasts more than 1.4 million registered app developers globally and leverages on the company's full suite of Huawei Mobile Services or HMS to provide a one-stop solution for finding apps, downloading and updating them if necessary, and making in-app purchases.
Just because the Huawei Y7a doesn't ship with Google's Play Store preinstalled, it doesn't mean you won't be able to run productivity and e-learning apps on the device. Students like you will find essential productivity software — such as Canva, Microsoft Office, and CamScanner — on the AppGallery, ready to be installed. Meanwhile, other online-learning tools like Zoom, Quipper, Microsoft Teams, Google Meet, and Google Classroom can be downloaded using direct links provided by AppGallery.
Students will find essential productivity software — such as Canva, Microsoft Office, and CamScanner — on the AppGallery, ready to be installed. Other online-learning tools like Zoom, Quipper, Microsoft Teams, Google Meet, and Google Classroom can be downloaded using direct links provided by AppGallery
Popular games and entertainment apps, including Mobile Legends, Free Fire, iFlix, Viu, and TikTok can also be installed to help you pass the time.
Now, suppose the app you're looking for isn't listed on the AppGallery yet. You might find it quickly using the preloaded Petal Search widget. We think it is, by far, the easiest method of getting a bunch of apps installed on your handset without much hassle.
All Huawei phones and tablets, including the Y7a, have it by default. If you need to access your emails, it can be done via the native Huawei Email app, which supports Gmail, Yahoo, and Outlook accounts. You may read our guide here: How to easily install, update apps on Huawei devices using the new Petal Search widget.
Huawei Y7a: Smart companion meant for you
The Huawei Y7a is yet another proof that you don't have to spend much to get midrange specs and features in return. From its highly versatile cameras to its big screen, big battery, and big performance, the Y7a definitely brings a lot of good things to the table. Add to that the phone's upscale design, which is rare in its segment, and you have a solid budget smartphone.
The local launch of the Huawei Y7a comes as the Y series transitions to a lineup specifically aimed at Generation Z users like you who value image quality, screen size, and reasonable gaming performance coupled with long usage times and fast charging. The Y7a offers those — and more — and at a price that won't make you wince.
Huawei Y7a specs
6.67-inch LCD display, 2,400 x 1,080 resolution, 60Hz refresh rate
Octa-core Kirin 710A processor
Mali-G51 MP4 GPU
4GB RAM
128GB storage
Quad 48-megapixel, f/1.8 (main), 8-megapixel (ultra-wide), 2-megapixel (depth), 2-megapixel (macro) rear cameras
8-megapixel, f/2.0 front camera
Fingerprint reader (side-mounted)
5,000mAh battery with 22.5-watt USB-C charging
3.5mm headphone jack
EMUI 10.5 based on Android 10, Huawei Mobile Services
Color options: Crush Green, Blush Gold, Midnight Black
---