Huawei's new EMUI 10.1 update, which launched alongside the Huawei P40 series, brings a flurry of new features, including MeeTime, a new voice and video call option built into the Phone app.
MeeTime will also be available on other devices that run (or will run) EMUI 10.1, such as the Huawei MatePad Pro tablet, which the company released in the Philippines at the same time as the P40 and P40 Pro.
SEE ALSO: How to sign up for EMUI 10.1 beta on your Huawei device
With Huawei MeeTime, users can make voice or video calls up to 1080p over Wi-Fi or a data connection. Even on slower networks, it will use GPU Turbo on EMUI to enhance the picture quality and improve the frame rate. It likewise offers a selection of real-time video filters, as well as an option to brighten the scene in darkened areas without the use of a flash.
READ ALSO: Huawei P40 Pro review: Return of the king and Huawei P40, P40 Pro available now, offered on postpaid, too
MeeTime will even let users stream their calls to compatible devices, such as a Huawei TV and Bluetooth speaker, to enhance the call experience. Perhaps most notably, users can share their screen during a call, opening up plenty of possibilities, especially on devices that support the M-pen stylus like the Huawei MatePad Pro.
Huawei MeeTime in action
To know more about how MeeTime works and to see screen-sharing feature in action, check out the video above.
Huawei MeeTime hotline
On a related note, Huawei Philippines has announced the MeeTime Hotline for device owners in the Philippines, which should allow for a more interactive experience between users and a Huawei after-sales representative. This can make identifying problems as well as proposing solutions much easier than on a voice call or chat box.
Here's how you connect to the Huawei MeeTime Hotline using a compatible device like the P40, P40 Pro, or MatePad Pro.
Register or log in with your Huawei ID, and select "Philippines" as your region.
Book a hotline appointment via the Huawei Support app.
Wait for a MeeTime Hotline representative to call you at your preferred time.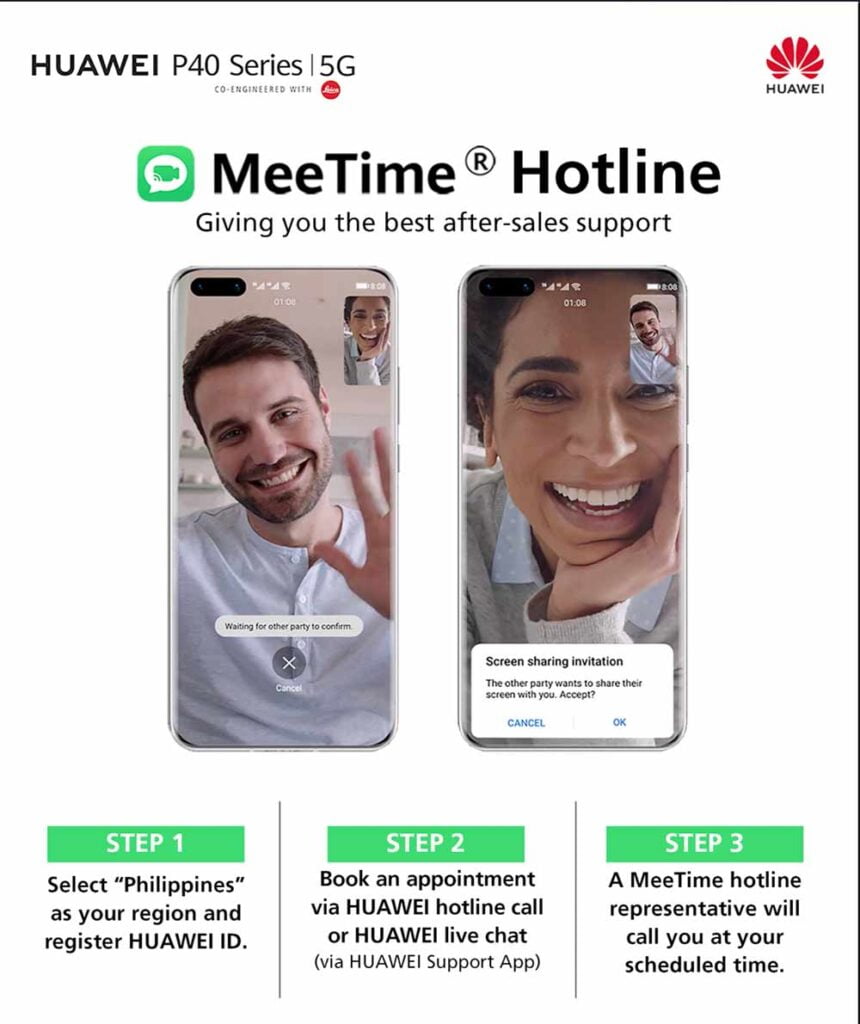 ---