Qualcomm announced its flagship Snapdragon 888 chipset earlier this month, and the 5nm chip is expected to power many of tomorrow's top-end devices — some variants of the upcoming Samsung Galaxy S21 series included. Xiaomi, OPPO, and Realme will launch their own Snapdragon 888-based devices as well.

SEE ALSO: Best-performing flagship, midrange phones in Nov 2020
Of course, the burning question is, how does the Snapdragon 865 Plus successor stack up against Qualcomm's earlier designs and the Apple A14 Bionic chip, the industry's current gold standard? The good news is that none other than Qualcomm has recently published its initial Snapdragon 888 benchmarks, so we don't have to speculate for too long. The results are interesting, to say the least.
Looking at the charts, it seems that the Apple iPhone 12 Pro from 2020 and last year's Apple iPhone 11 Pro are faster than Qualcomm's reference device powered by a Snapdragon 888 chip, despite the fact that the first Snapdragon 888-backed smartphones are not expected until 2021. More worryingly, in Geekbench 5, the scores of the reference device and a Samsung Galaxy Note 20 Ultra with a Snapdragon 865 Plus inside are pretty close.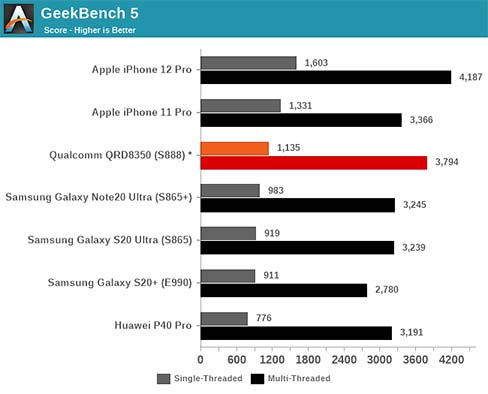 Where it does pull away — and leave the Snapdragon 865 line in the dust — is in graphics-intensive tests, particularly the Aztec Ruins benchmark in GFXBench, where the Snapdragon 888 excels. Its peak fps was 88, as compared with the Galaxy Note 20 Ultra's 59.94 fps.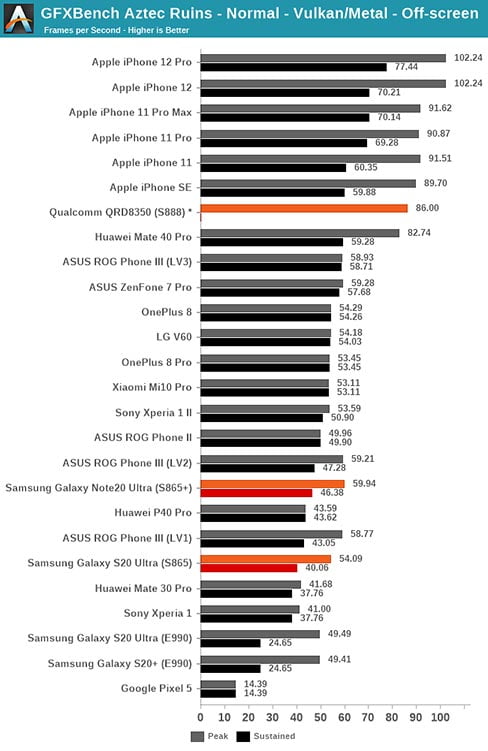 If you recall, the Snapdragon 888 is the first chip to go official with a Cortex-X1 core, which is said to be capable of executing 33% more instructions per clock than the previous generation and runs at 2.84GHz. It also gets a cluster of three Cortex-A78 cores running at 2.4GHz and four Cortex-A55 cores clocked at 1.8GHz. On the GPU side, the Adreno 660 graphics chip of the Snapdragon 888 targets 35% faster rendering performance. Power efficiency is up by 25% as well.
Do note these are initial results, which we can't verify until we get our hands on a Snapdragon 888-powered device next year. And they don't necessarily reflect real-world performance, or efficiency. For all we know, Qualcomm's next flagship chipset might be very power efficient, thanks to its new features and the lower yields of the 5nm process. Still, we won't be surprised if the iPhone 12 series remains at the top of the performance charts after the Snapdragon 888's release.
Via Anandtech
---