Estimated reading time: 7 minutes

Meet the new desktop-and-monitor combo from Huawei. The company's local arm has just launched the Huawei MateStation S and Huawei Display in the Philippines, adding more products to its IOT [Internet of Things] portfolio, alongside its MateBook series of laptops.
(Update, April 8: Huawei's first pre-built desktop and monitor: 👍 or 👎? Read our review of the Huawei MateStation S and Huawei Display now!)
Both are available for preorder locally, with the MateStation S sporting a price tag of P30,999 (around $638) for AMD Ryzen 5 4600G internals, whereas the 23.8-inch Display is priced at P7,999 ($165). The presale ends March 25 and will come with freebies worth up to P14,595 ($300), including a P3,000 ($62) discount.
The preorder bundle includes the following:
Huawei Ultra-Slim Wired Keyboard with a built-in fingerprint scanner and Huawei Share: P2,999 ($62)
Huawei Wired Mouse: P599 ($12)
Huawei WiFi AX3 Modem: P3,999 ($32)
Huawei gift package: P2,999 ($62)
Bluetooth speaker and wired headset: P1,000 ($21)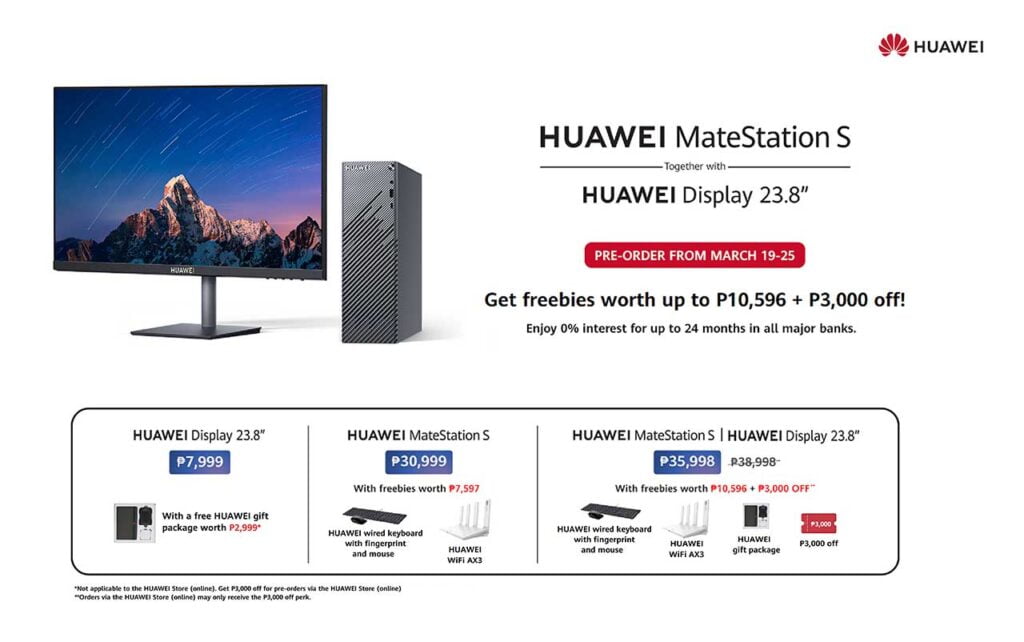 What is the Huawei MateStation S?
The MateStation S is a compact yet full-fledged desktop running Microsoft Windows 10 Home, although the review unit we received had Windows 10 Home Single Language (Chinese) preinstalled, on AMD's 7nm Ryzen 5 4600G CPU. It features a space-saving, minimalist design and a metallic finish for a premium aesthetic. It supports Huawei Share, as well as Windows Hello fingerprint recognition, through the bundled Ultra-Slim Wired Keyboard.
Specs
7mm hexa-core AMD Ryzen 5 4600G APU, 12 threads, 65-watt TDP
Radeon Vega 8 integrated GPU
8GB DDR4 RAM
256GB SSD
USB Type-C (up to 18-watt fast charging), 3x USB 3.2, 2x USB 2.0, HDMI, VGA, RJ45, serial, 3.5mm headphone jack, mic in, line out, line in
Windows Hello login
Huawei Share
300-watt PSU
Microsoft Windows 10 Home OS
What is the Huawei Display?
Huawei's first monitor on the market includes a 1,920 x 1,080 resolution panel with a 90% screen-to-body ratio, 72% NTSC color gamut, plus TÜV Rheinland certifications for low blue-light exposure and flicker-free technology.
Specs
23.8-inch IPS panel, 1,920 x 1,080 resolution
178-degree viewing angle
90% screen-to-body ratio
72% NTSC color gamut
TÜV Rheinland certifications for low blue light exposure and flicker-free technology
First impressions
Let's start with the Huawe MateStation S. It has a nice, slim form factor, which is ideal if you're in the market for a workstation that can sit on even cramped desks or floor spaces. Though much heavier at about 4.2 kg, it's about the same size as a modern gaming console, about one-quarter the size of our own office desktop, so you should be able to squeeze it in somewhere that's too tight for most PC towers.
Huawei says the front cover of the MateStation S takes inspiration from time-lapsed star trails. It's a unique touch that not just adds charm to the tower but also makes the overall design feel more cohesive. At least, based on the marketing materials we saw. Our test unit, for some reason, looks different, but is still quite pleasing to look at nonetheless.
Huawei MateStation S. Click on a thumbnail to launch the gallery
The front panel includes a power button, a standard 3.5mm audio jack, a full-size USB 3.2 port, and a USB-C port that can charge your phone or accessories quickly up to 18 watts while the PC is turned on. Naturally, you get several more interfaces at the back. The more interfaces a home computer has, the more versatile it is, and the Huawei MateStation S, certainly not lacking in this department, includes the following:
Mic in
Line out
Line in
HDMI
VGA
2x USB-A 3.2 Gen 1
2x USB-A 2.0
RJ45 (ethernet)
Serial
There are CPU and system fans blowing hot air out of the side and back of the PC to keep all the internals cool. The MateStation S is shipped with a 2-meter AC power cord, so you don't have to buy one separately, in case you need it. We found the length of the included cable to be sufficient.
In terms of wireless specifications, the product supports Bluetooth 5.0, dual-frequency Wi-Fi, as well as Huawei Share, which allows you to conveniently share files between the MateStation S and compatible Huawei smartphones, including the latest Mate 40 series, with just a tap on the Ultra-Slim keyboard. On top of that, Huawei Share lets you mirror your phone's screen on a monitor.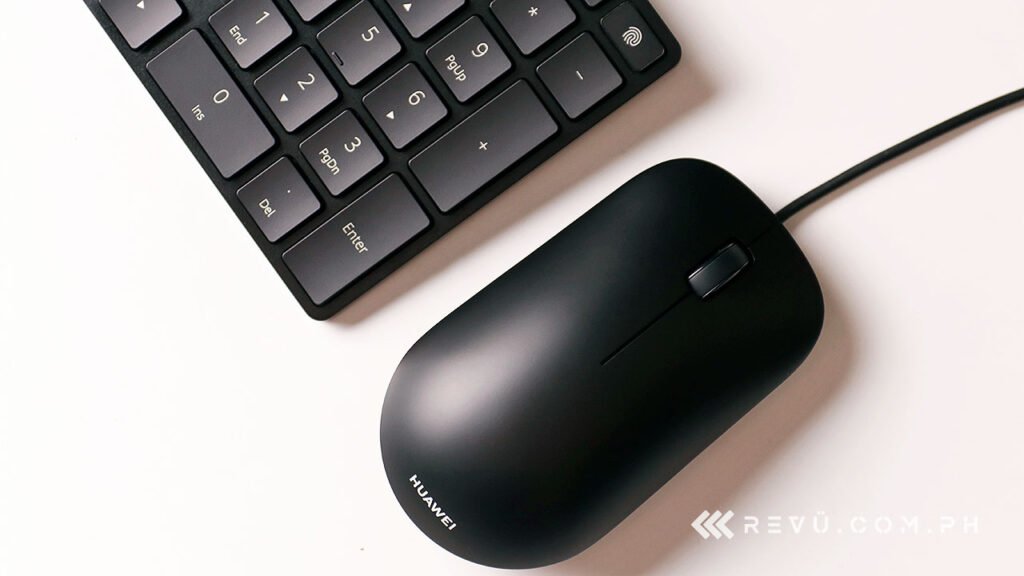 Inside the Huawei MateStation S, you'll find the Ryzen 5 4600G, making it one of the first PCs on the market powered by AMD's latest 4000 series APU. Like other APUs in its generation, the 4600G combines Zen 2 CPU cores with capable Vega 8 graphics. And with a max TDP of 65 watts, it should provide more firepower than what competing laptop processors can offer. It's also worth noting that although AMD announced many APUs for the latest generation, they're not available at commercial retail, putting them exclusively in the hands of OEMs like Huawei, HP, and Dell, among others.
Pairing a CPU with a GPU on the same piece of silicon brings advantages to how quickly the components can communicate with one another, which translates to faster and more efficient performance. For a promising, if extreme, example, look no further than what Apple has accomplished with its M1 chip, though the benefits here are not as astounding since the data in the APU still needs to go off the chip.
SEE ALSO: Huawei MateBook 14 2020 review: Versatile work laptop
The Ryzen 5 4600G comes with six CPU cores and 12 threads. It likewise has seven GPU cores and runs at 3.7GHz with a max boost clock of up to 4.2GHz. The key performance stat of any APU — the 4600G in the Huawei MateStation S included — is whether it can outperform a desktop with an entry-level external graphics card. At the end of the day, what you probably want to know is if this small, APU-based desktop PC can save budget-conscious consumers some money.
The short answer is, it can — based on what we've seen so far, at least. The MateStation S is a pretty capable workstation even with only 8GB of DDR4 RAM. The 256GB of PCIe-based SSD storage could be bigger, considering the price.
Our review system was able to run GreedFall, a fairly demanding action RPG from 2019, at steady frame rates at lower resolutions or reduced detail. And you're going to hit more than 60 fps in less graphics-intensive titles like Dota 2, Rocket League, and Counter-Strike: Global Offensive. When it came to video editing, an obvious use case, the MateStation S processed 4K video smoothly, while color grading was not a problem with LOG or flat footage shot on a smartphone.
Huawei Display
The Huawei Display, on the other hand, is an affordable, well-sized FHD monitor. The IPS panel offers good color reproduction for its price and a 178-degree viewing angle, making it easier to view from different seating positions. It ships with a premium metal base and is easy to assemble without the need for any tools.
The only downside to the monitor is its limited ergonomics. You can only tilt the screen a bit forward or back; there's no way to adjust its height. Another thing: The cable of the power brick that connects to the Huawei Display is woefully short, so you'll probably need to have an extension cord handy just in case.
Check back next week for our full review of the Huawei Mate Station S and Huawei Display once the embargo is lifted.
---