A work laptop needs to be reliable. It has to keep up with the demands of your job, and perhaps even offer a bit more. This is what Huawei proposes with the MateBook 14 2020.
It might seem like this pricier laptop is a bit too similar to its more affordable siblings on the surface. But armed with an AMD Ryzen 4000 processor, there's a lot more happening under the hood.
And we can't wait to share more about our thoughts on this premium laptop in this review.
Price and availability
The Huawei MateBook 14 2020 is available in the Philippines in Space Grey, running on an AMD Ryzen 5 4600H processor and Radeon RX Vega 6, 16GB LPDDR4 RAM, and 512GB SSD. You can get it for P54,999 (around $1,143).
Hardware
At first glance, it will be hard to differentiate the MateBook 14 2020 from Huawei's other laptops. But that's not necessarily a bad thing. It also still maintains that MacBook-like design with its mostly aluminum-alloy chassis. Only the hinge and side covers are made of non-metallic materials.
Available in Space Grey, it maintains that sleek and polished look, making it look like a professional's machine of choice. The only branding you'll see is Huawei's name on the center of the lid and below the display. The device feels sturdily constructed; even the top feels robust.
It's not the lightest laptop around, but we aren't precisely traveling a lot these days. And at 1.4kg and 15.9mm (at its thickest point), it can easily slip into a backpack or laptop bag. The weight isn't evenly distributed, though. The Huawei MateBook 14 2020 is rear-heavy, which will be noticeable if you carry it around with the lid open. (Try not to do that too much.)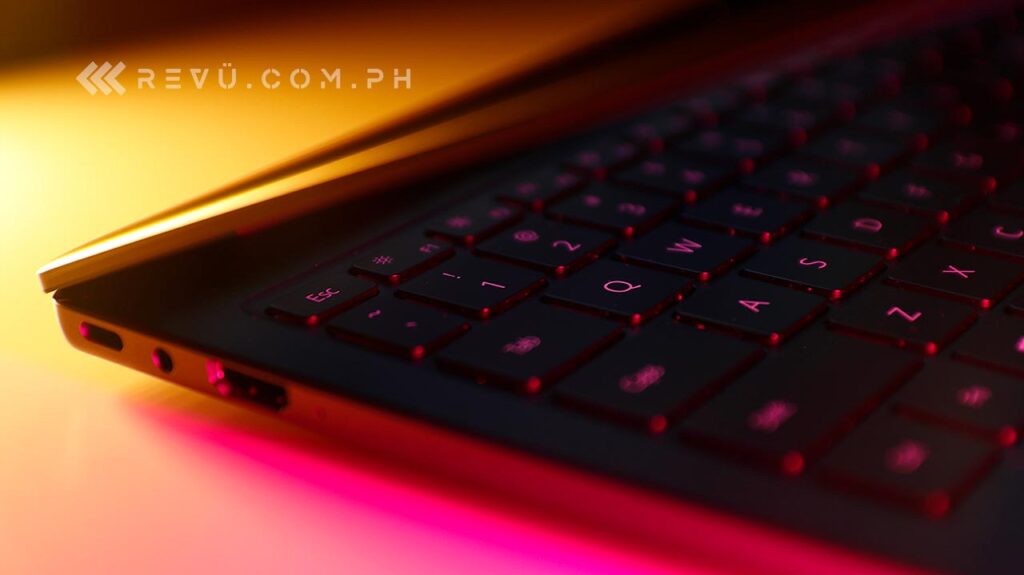 This laptop comes with island-style keys covering the machine's entire width, allowing you to type comfortably. Key travel is on the short side and feels a bit mushy at times. But it wasn't much of an issue for us. We wrote this review on it along with some other articles, and we were able to get the job done just fine. If you're looking for a notebook that has backlit keys, the MateBook 14 offers that with two levels of brightness included.
With its more squarish display, it allows for a larger palm rest and a bigger touchpad. While the touchpad is made of plastic instead of glass, we had no issues with it. It is responsive without being oversensitive to taps and swipes, supports gestures and Microsoft's precision touchpad features, and houses the tag area for the Huawei Share feature at the bottom of the trackpad.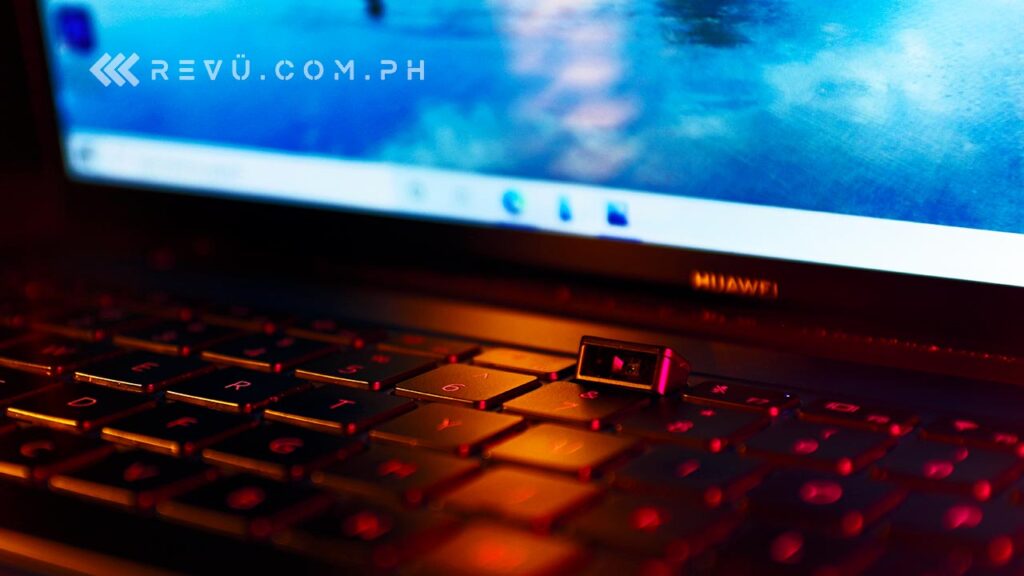 Huawei hid the 720p webcam in the middle of the function keys. From a privacy perspective, it's great that you can hide the webcam when you're not using it. However, it's not a great or flattering position since it's pointing up at you. You'll need to raise the laptop itself for a more flattering shot. Also, when you type, you will tend to cover it with your hands. We get that the company wanted to minimize the bezels on the screen, but we're not fans of this webcam position.
One feature we are a fan of is the integration of the fingerprint sensor into the power button. It makes the sign-in process seamless. With support for memory caching, you can switch the laptop on, wait for it to boot up, and sign you into Windows without having to tap on the button again.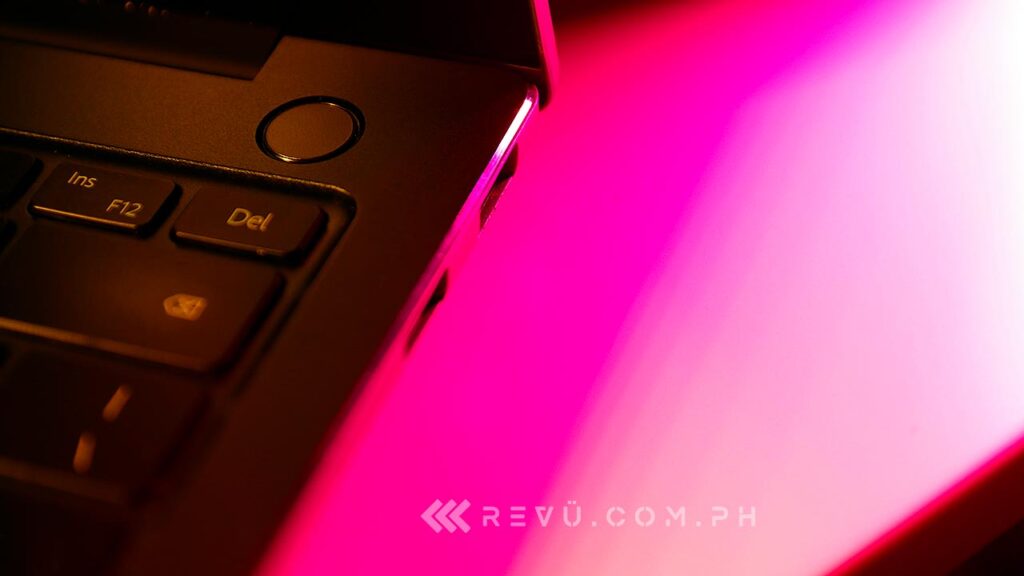 As for ports, there's a USB-C port on the left beside the 3.5mm audio jack and HDMI port, as well as two USB-A 3.2 ports on the right. We wish it came with more USB-C ports. If you want to plug in other USB-C devices and accessories and use the port to charge the notebook, you'll have to take the charger out. Or you'll need to use a USB hub. It's not an ideal solution.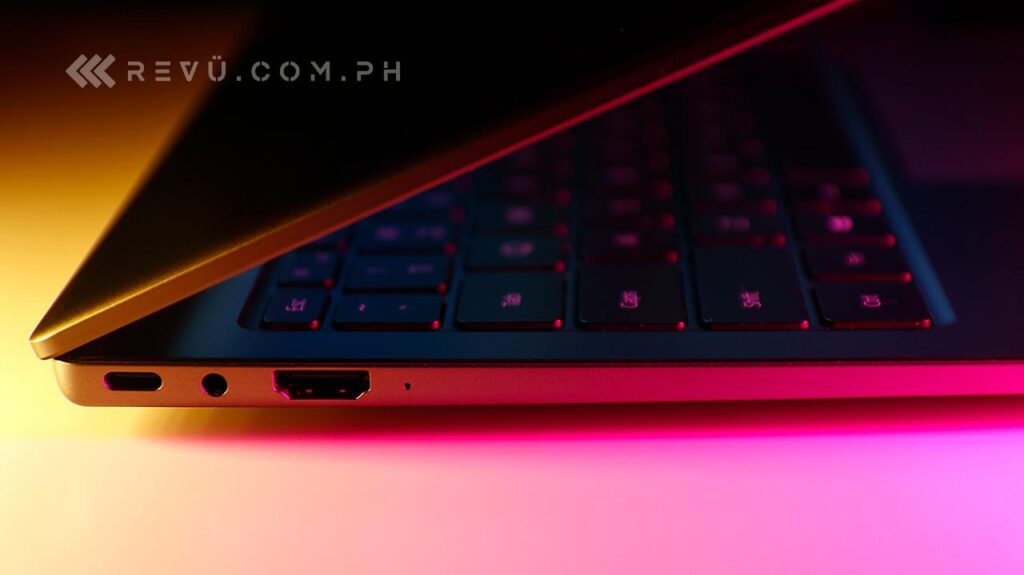 There are two strips at the bottom to elevate the laptop a bit, so air can pass through the grille at the bottom. Dual speakers are also hidden at the bottom, sandwiching the touchpad. It allows the audio to be directed to you when you're listening to music or watching something on the machine.
The audio quality and volume are decent. You can hear a bit of bass. And it can fill a small room easily without it sounding too muffled when you max out the volume.
Screen
The display on the Huawei MateBook 14 2020 is one of its best assets. The 14-inch 2K FullView Display has minimal bezels on all sides and boasts a 90% screen-to-body ratio. Similar to the MateBook X and MateBook X Pro, it's also one of the few that feature a 3:2 aspect ratio, which is best for viewing documents, writing, and browsing since it shows more of the screen. It allows this laptop to have a larger display than other 14-inch machines.
We like that we got to see a lot more of our open documents or websites or any other program we use for work. For videos, expect to see the black bar, as most video content is formatted for the 16:9 aspect ratio.
To get a better idea of how the Huawei MateBook 14 2020's 2K FullView Display looks (and see its other top features), watch the video we made more than two months ago
According to Huawei, the MateBook 14 2020 supports 100% of the sRGB space, offering a comprehensive color coverage. So if you want to do some photo and video editing on the go, then it's possible with this laptop. It will stutter through the real heavy photo and video files, but in a pinch, this MateBook can help you out.
While we wish the display were a bit brighter, it's not horrible. It's still usable even when we have a lamp shining off to its side or when the sun is coming in through the window. The text comes out crisp and easy to read. We tested the non-touch variant, and its screen is a bit more matte, which we prefer since it isn't as reflective.
Performance
The Huawei MateBook 14 2020 is one of the first laptops launched in the country with an AMD 4000 series processor under the hood. It pairs that with plenty of RAM and storage (16GB RAM + 512GB SSD storage), promising more than adequate performance for many users.
Our reviewer for this laptop does a lot of word editing, online research, video and audio streaming, and the occasional video conference, so it served her well during her time with the MateBook 14. It didn't crash or heat up unnecessarily, even while it charges.
We can attribute this to efficient cooling in this laptop, which is an upgraded dual-fan Huawei Shark fit heat dissipation system. The fans remain whisper-quiet, too. We hardly heard them while we were working on this MateBook.
In case you're curious, here are benchmarks posted by our review sample. We believe these are pretty impressive numbers for a midrange CPU with integrated graphics.
Benchmarks (click on a thumbnail to launch the slideshow). Pretty impressive numbers for a midrange CPU with integrated graphics
When it comes to Huawei-specific features on the MateBook 14 2020, its most important function is Huawei Share support. It allows you to connect compatible Huawei devices to the laptop with a simple tap on the touchpad. We've shown you how it works with a Huawei Mate 40 Pro and seamlessly integrates the two devices, allowing us to access the smartphone's screen right on the laptop. This integration will make tasks like file transfers and even document editing on the phone easier.
We also tested it out with a Mate 20 Pro we had on hand. While we got it to connect easily with the laptop, there was some trouble enabling the multi-screen collaboration. We aren't sure if it's an issue with our handset or our test unit. But we, unfortunately, could get the smartphone's screen to be accessible on the laptop. It's a reminder to check if your Huawei (or Honor device, for that matter) can work with the computer — especially if this feature is essential to you. It is a great feature, though, so we think you should be taking advantage of it when you can.
You can access Huawei Share through the company's PC Manager application baked into the system. The program handles all of Huawei's software integrated into the laptop, including fingerprint sensor, drivers, audio, etc. One great thing about the app is it can show you all the installed drivers on the system and inform you when updates are available. It's also a way to check on your machine since it can let you know about any issues.
Battery
Huawei equipped the MateBook 14 2020 with a 56Wh battery that's adequate for a typical workday. We can squeeze out close to six hours on this machine with the brightness maxed out and battery mode in the Better Performance setting. We spent the day using this laptop to work on this review and other articles, with multiple Chrome tabs open while either Netflix or Spotify was playing. It's entirely possible to squeeze more out of this laptop, which is excellent news.
You can get around 2 1/2 hours of use from a 15-minute charge, thanks to the Huawei MateBook 14 2020's fast-charging 65W adapter
In a pinch, you can get around two and a half hours of use from a 15-minute charge, thanks to its fast-charging 65W adapter. We got to 44% from fully drained in approximately 30 minutes, so we're inclined to believe Huawei's claims. A full charge is possible around an hour and a half.
We've mentioned this before, but we really do love that the MateBook 14 2020's adapter can charge other USB-C devices, particularly Huawei phones that support SuperCharge. It lessens the number of accessories and cables we have to carry around with us.
Final thoughts
Versatile and reliable. These are the best descriptors for the Huawei MateBook 14 powered by AMD's 4000 series of processors. We believe in this laptop's ability to be a great work companion for many professions, especially those that require tons of research, reading, and writing. But then it's also there for you when you want to switch off and catch up on your favorite shows or indulge in some casual gaming. It's a machine that helps you accomplish your to-do list with ease and then lets you have fun after.
Huawei MateBook 14 2020 Ryzen Edition specs
14-inch IPS-LCD display (touch/non-touch), 2,160 x 1,440 resolution (200 ppi, 3:2 aspect ratio)
Fingerprint reader (power button-mounted)
AMD Ryzen 5 4600H (version that's available in the Philippines)/Ryzen 7 4800H processor
Radeon RX Vega 6 (for the Philippines market)/RX Vega 7
16GB LPDDR4 RAM
512GB SSD
USB Type-C (1), USB 2.0 (2), HDMI port, and microphone + headphone jack
720p webcam
Dual speakers
Quad microphones
56Wh battery
Microsoft Windows 10 Home OS
---