Estimated reading time: 15 minutes

Last year's Find X2 Pro was an underrated Android phone. It had style and a gorgeous tapered display; it offered powerful cameras; and its performance was at the top of the charts at the time of its release. It was close to a complete flagship and, in our opinion, a better option than its Samsung rival. Yet, for some reason, it didn't get the attention it deserved.
Now, OPPO has launched the Find X3 Pro, a full year after the release of the second-gen model, with improvements across the board led by dual 50-megapixel camera sensors developed with Sony and Qualcomm's latest and greatest Snapdragon 888 chipset. It's priced at €1,149 — or roughly P66,575 in Philippine pesos and $1,375 in U.S. dollars — in Europe, where gadgets are more expensive. Read our review of the Find X3 Pro to find out how it holds up to the previous model and whether it has what it takes to go head-on with the competition at the top, and ultimately give OPPO a shot at redemption.
Hardware
The OPPO Find X3 Pro is a thing of beauty — smooth on the front, with a tall punch-hole display that curves on both sides and is protected by Corning Gorilla Glass 5. The sides are made of metal, while the back can be glossy or matte, depending on the color option. Our Gloss Black review unit features a reflective ceramic appearance that looks really attractive but is a pain to clean off. The Blue colorway flaunts a fingerprint-resistant dual-tone finish; it looks more low-key than the black variant.
The highlight of the back, as usual, is the camera system. But more than that, it's how OPPO managed to fit the square camera layout of the Find X3 Pro to make it look like the camera unit itself is wrapped under a perfectly curved sheet of glass. OPPO says the painstaking process used to manufacture the Find X3 Pro's unique glass panel takes 40 hours to complete. The end result is probably justified; the Find X3 Pro is rather sleek and lightweight for a flagship and has a uniquely elegant aesthetic.
The phone comes with an IP68 rating, too, so you don't have to sweat about liquid damage if you accidentally drop the phone in the pool or aquarium. An IP rating of 68 means the device can handle being submerged in fresh water up to 1.5 meters for half an hour.
The Dolby Atmos-certified stereo speakers of the OPPO Find X3 Pro offer plenty of bass depth and detail. We didn't find the need for external speakers when playing a movie or YouTube video. The extra front-facing speaker in the earpiece is quite easy to block, though, if you're playing a game in landscape mode.
Screen
The curved LTPO AMOLED display on the Find X3 Pro is a technical achievement — hardly surprising considering OPPO's emphasis on 10-bit color depth this year. It's easily one of the best available out there and a worthy upgrade to the Find X2 Pro's 10-bit QHD+ panel.
OPPO calls this generation's screen a True Billion Color Display because it supports 10-bit color depth and 100% DCI-P3 coverage for improved color vibrancy, inky blacks, and true-to-life detail. It arrives with HDR10+ playback certification for online and offline content, too, adding to its entertainment value. Widevine L1 certification is included out of the box, so you can watch high-definition and HDR videos on Netflix and similar platforms.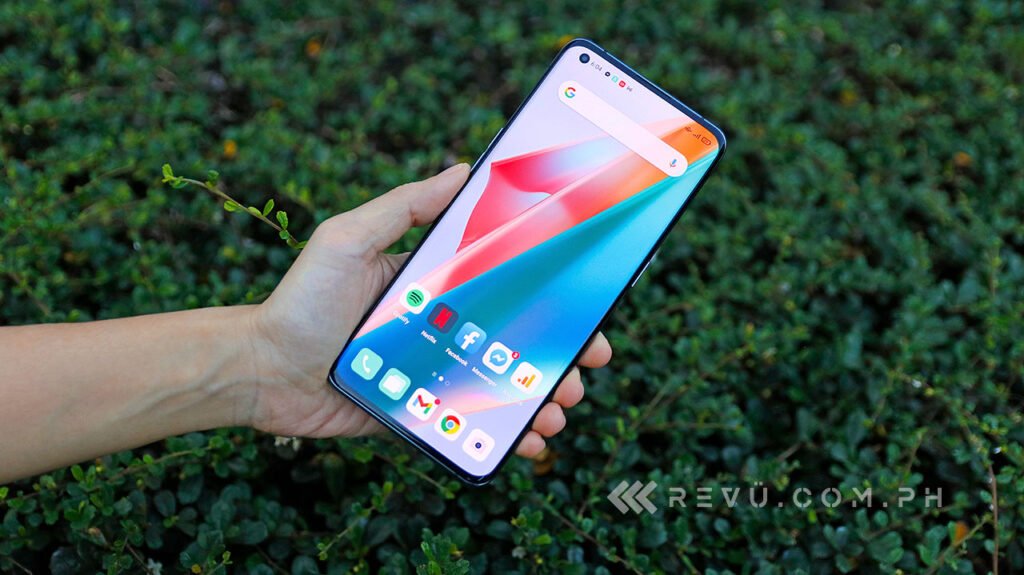 As for color accuracy, the panel boasts 0.4 JNCD [Just Noticeable Color Difference] to rival professional-grade monitors, just like its predecessor. DisplayMate, one of the leading sources for display analysis, describes the OPPO Find X3 Pro's absolute color accuracy as "visually indistinguishable from perfect," awarding it an overall grade of A+ and putting it in the same performance range as the Apple iPhone 12 Pro Max, Samsung Galaxy Note 20 Ultra, and Xiaomi Mi 11.
The display options include Vivid, Gentle, Cinematic, and Brilliant color modes, as well as Color Vision Enhancement, which lets you adjust color saturation and gray level according to your preference. But even if you don't trust your eyes, you can take an enhanced version of the Munsell 100 Hue Test on the phone to help the system determine if it needs to compensate for certain colors on the screen for a punchier image.
DisplayMate, one of the leading sources for display analysis, describes the OPPO Find X3 Pro's absolute color accuracy as 'visually indistinguishable from perfect,' awarding it an overall grade of A+
The 6.7-inch AMOLED offers a QHD+ resolution at 3,216 x 1,440 pixels for a pixel density of 525 dots per inch, alongside 1,300-nit peak brightness, an adaptive refresh rate up to 120Hz on the hardware level, which allows for a variable refresh rate between 5Hz and 120Hz depending on the situation, and up to 240Hz touch sampling.
Enabling High Refresh mode makes everything on the display look more fluid, but consumes more power in the process. Standard limits the refresh rate to 60Hz, in case you want to churn out as much battery life out of your OPPO Find X3 Pro as possible. In addition, the phone has 8,192 levels of auto brightness to save battery power and make nighttime viewing easier on the eyes, especially in dim settings or pitch dark.
Camera
We've already touched on the Find X3 Pro's 10-bit display, but what about its 10-bit cameras? OPPO promises to bring true-to-life images to the fore, opting for quad rear cameras with different viewpoints.
Notably, the primary and ultra-wide cameras are equipped with the same custom 50-megapixel Sony IMX766 sensor developed with the Japanese manufacturer and joined by a 13-megapixel telephoto option offering up to 20x digital zoom and a 60x microlens camera complete with its own ring light. Night mode is supported across all cameras, except on the super-macro shooter.
Zooming in: Ultra-wide, 1x, 2x zoom, 5x zoom, and 20x zoom
We'll start with the dedicated zoom camera. It performs well enough in daylight, but not so much in the dark. It helps that a smaller viewfinder will pop up off the side of the screen to guide you where to point the camera as soon as you go above 15x magnification. Most other phones, including those with higher zoom specs, don't offer that.
Unfortunately (and unsurprisingly), anything higher than 5x zoom introduces noise and artifacts become more evident the darker the scene is that you're trying to photograph.
The microlens unit, which uses a 3-megapixel sensor and capable of 2x magnification plus 1080p video, is a revelation. It's actually the most interesting camera here, if you ask us, even though it pales in comparison to the 50-megapixel cameras at the back in terms of picture quality. Not even close.
Can you guess what these are? 😀 Shots taken in Microscope mode: 1) 1x – cloth; 2) 2x zoom – cloth; 3-4) 1x – small ball; 5) dried flower; and 6) shorts
Similar cloth in the 1st and 2nd pictures
The lollipop-sized ball in the 3rd and 4th photos
It does have unique utility for anyone taking interest in extreme closeup photography, and the end results are interesting. Fittingly, the camera only works in Microscope mode. You will find it under the More tab at the bottom of the viewfinder.
When taking pictures or shooting video, you'll probably spend most of your time with the main and ultra-wide cameras. They share the same sensor and same resolution, and they have been optimized to offer consistent colors and detail across the main and 110-degree ultra-wide lenses, although the wider lens lacks optical or hardware image stabilization and doubles as a macro camera as well with a 4cm range.
More images captured on the OPPO Find X3 Pro: 1) 1x; 2) 2x zoom; 3) 1x; 4) 2x zoom; 5) Auto; 6) with built-in filter; 7) Auto; 8) with built-in filter; 9) Auto; 10) with built-in filter; 11) Portrait; 12) HDR; 13) 1x; 14) ultra-wide; 15) RAW; 16) edited RAW; 17) 1x, Auto; 18) 1x, Night; 19) ultra-wide, Auto; 20) ultra-wide, Night; 21) ultra-wide, Auto; 22) ultra-wide, Night; 23) selfie, Auto; 24) selfie, Portrait; 25) selfie, Night; 26) selfie, Auto; and 27) selfie, Portrait
Both can save RAW files for later processing. More impressively, the Find X3 Pro introduces OPPO's enhanced RAW+ image format, which offers even more image information than standard RAW images. You also get All Pixel auto-focus that OPPO introduced in the Find X2 Pro. This camera tech uses all the pixels of a sensor for both focusing and imaging, resulting in faster auto-focus and better low-light focusing performance.
When it comes to video, you get 60 frames per second at up to 4K resolution, slo-mo at 720p or 1080p, and Dual-View video courtesy of the front and rear cameras. More interestingly, the OPPO Find X3 Pro can shoot video in HDR and LOG in Movie mode at an extra-wide aspect ratio that fills the viewfinder with content from edge to edge. The phone's Ultra Steady and Ultra Steady Pro features, on the other hand, makes handheld shooting easier, even with sudden movements. Video quality is great in daylight in both 1080p and 4K, and access to LOG shooting is a big plus for users who wish to color grade their work before showing them off.
A compilation of short videos shot on the OPPO Find X3 Pro. No gimbal used!
Performance
Like most other top-shelf handsets released so far this year, the OPPO Find X3 Pro is built around Qualcomm's Snapdragon 888 chipset, coupled with Adreno 660 graphics, 12GB RAM, and 256GB of native storage. For connectivity, you get dual-SIM 5G and 5G dual reception on 13 5G bands globally, NFC, plus Wi-Fi 6 that brings faster and more reliable data speeds at home or in the workplace. You can also use a Wi-Fi connection and 5G data at the same time to, say, download two apps simultaneously, one over each network.
The Find X3 Pro unit we tested worked as well as we could have hoped for on Globe's 5G network, with average download speeds of about 250Mbps and a ping of 10 to 15 milliseconds at Bonifacio Global City's business hub.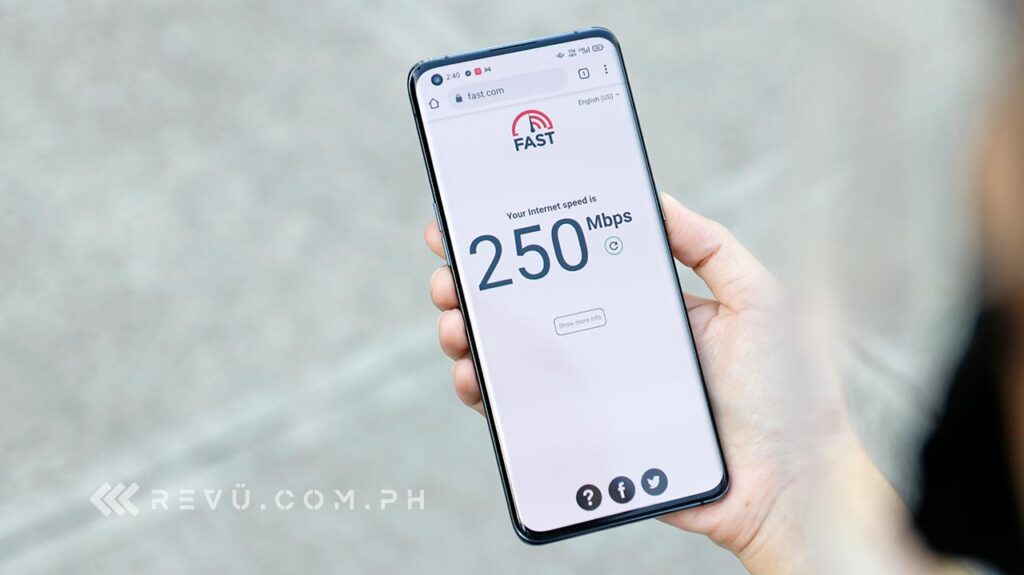 The Snapdragon 888 is the first Snapdragon silicon that uses a 5-nanometer process and debuts the Cortex-X1 core, which is said to be capable of executing 33% more instructions per clock than the Cortex-A78, operating at up to 2.84GHz in the OPPO Find X3 Pro. The chip also has a cluster of three Cortex-A78 cores running at 2.4GHz, plus four Cortex-A55 cores clocked at 1.8GHz. Compared to its predecessor, the Snapdragon 865, the Snapdragon 888 is said to offer a 35% improvement in graphics performance and is 20% more energy-efficient, too.
Couple that with a generous serving of RAM and fast built-in storage, and you're looking at an entertainment and productivity powerhouse that will appeal to all kinds of users. If you care about benchmarks, our review sample posted an impressive score of 713,725 points in Antutu Benchmark. It's the highest we've seen on an Android phone yet, a little more than what our Xiaomi Mi 11 unit can deliver in a similar setting and room temperature.
To put that achievement into context — and borrow what we said in previous articles — most devices launched last year and early this year struggle to break the 650,000 mark in Antutu Benchmark, let alone get close to the Find X3 Pro's high score.
When it comes to real-world scenarios, OPPO's newest flagship doesn't let up one bit. With 120Hz mode enabled, it's easily one of the smoothest and most responsive devices we've used to date. There's no lag at all when we're going in and out of apps, scrolling through menus and websites, and navigating OPPO's new custom user interface based on Android 11, to name a few scenarios. Of course, the handset's slick and responsive performance extends to gaming.
SEE ALSO: Best-performing midrange, flagship phones in Feb 2021
While it isn't marketed as a gaming phone per se, the OPPO Find X3 Pro is more than capable of running the latest and most demanding titles out there at the highest settings and smoothest frame rates available. All the games we tested — with the understandable exception of Genshin Impact, which we think is the most graphics-intensive Android game ever made — ran without stuttering with all details maxed and the refresh rate turned up to the highest setting.
We found the extra heat generated during long gameplay sessions to be tolerable, perhaps in large part thanks to the large 0.35-millimeter vapor chamber running across the battery and motherboard.
Battery life and charging
The OPPO Find X3 Pro packs a 4,500mAh dual cell that supports up to 65 watts wired charging using the latest SuperVOOC 2.0 standard and 30-watt wireless charging via the company's proprietary AirVOOC technology. Reverse wireless charging up to 10 watts is onboard as well. A 65-watt SuperVOOC 2.0 charger is included in the box.
OPPO says you can recharge the battery of the Find X3 Pro to about 40% capacity after just 10 minutes plugged in. In our case, we were able to get our unit up to 42% in 13 minutes, which is still impressive. A full charge from 0% to 100% takes around 35 minutes, based on our testing. That's exceptional for any flagship and on a par with today's top-of-the-line Androids, with the exception of a handful of devices. We also noticed after that neither the phone or charger ever gets too hot to hold while charging.
The battery life isn't the greatest, though. It isn't good enough to last through a full day and night, especially with the screen set to QHD+ and 120Hz refresh, and Always-On Display active most of the time. It's a "one and done" affair with our usage involving streaming videos, taking pictures, and playing games online.
By nighttime or post-dinner hours, our unit's battery level is either near zero or critical. And that's without 5G data. With heavier use and mobile data enabled for several hours throughout the day, expect shorter mileage and a quicker trip to the socket.
Our review sample managed 8 hours and 42 minutes in the PCMark battery test, which is one of the lowest marks we've seen from a modern flagship, but is nonetheless a fairly accurate depiction of our day-to-day usage.
As we've seen with other top-specced devices like the Xiaomi Mi 11, the power-hungry Snapdragon 888 coupled with a high-res, high-refresh screen can be a problematic pairing for users who want longevity to go along with raw performance. Sadly, you won't find both here, but the silver lining is that the OPPO Find X3 Pro can fill up its battery much faster than you can drain it, from zero to max or near-max capacity over the length of a TV episode.
Comparing the Find X3 Pro to our iPhone 12 Pro, the battery life is pretty similar to Apple's premium smartphone. However, you won't find too many users complaining about the latter, which is to say the Find X3 Pro's disappointing efficiency shouldn't be a deal-breaker and isn't really that big of a deal when you take a look across the entire smartphone landscape, including Apple's walled garden.
Final thoughts
We waited a while for OPPO to bring a full-fledged sequel to the Find X series. Now that it's here and we've reviewed it, we can say that it is well worth the wait. Like the last generation, the OPPO Find X3 Pro is absolutely astounding, a near-perfect flagship that provides pretty much everything most users would want in the segment.
The OPPO Find X3 Pro improves on an already-impressive top-end handset and easily ranks among the best camera phones we've tested to date. It received the highest benchmark scores of any Android device we've used, and its 10-bit screen, another cornerstone feature, is top grade, too. So go check it out; it would be a shame to miss out on a device as good as this.
OPPO Find X3 Pro specs
6.7-inch LTPO AMOLED display, QHD+ resolution, 120Hz variable refresh rate
Octa-core Qualcomm Snapdragon 888 processor with 5G
12GB RAM
256GB storage
Quad 50-megapixel, f/1.8 (main), 50-megapixel, f/2.2 (ultra wide), 13-megapixel, f/2.4 (telephoto), 3-megapixel, f/3.0 (microlens) rear cameras
32-megapixel, f/2.4 front camera
Fingerprint reader (under-display)
4,500mAh battery with 65-watt USB-C charging
ColorOS 11.2 based on Android 11
Colors: Gloss Black, Blue
---