Estimated reading time: 18 minutes
We've been using the Apple iPhone 12 Pro as our daily driver for more than two months now, and we have a lot of thoughts.
Our unit came weeks before the official launch of the iPhone 12 series in the Philippines, which hit stores only last month. We decided on the smaller Pro variant because the iPhone 12 Mini is too small, too basic for us — and, apparently, for many other people as well, based on its shockingly low sales worldwide — while the iPhone 12 Pro Max is simply too big for comfort.
The iPhone 12 and iPhone 12 Pro, on the other hand, share many similarities — the same screen size and processor with 5G capabilities, for instance. In the end, we went with the Pro because it could potentially take better pictures in standard and Apple ProRAW formats. Fast-forward to now, and we think we've made the right choice.
Price and availability
The pricing of the iPhone 12 Pro in the Philippines at Apple's official online store is as follows:
128GB: P62,990 (around P1,311 converted)
256GB: P68,990 ($1,436)
512GB: P80,990 ($1,685)
You can also pick up the iPhone 12 Pro with a Globe Telecom or Smart Communications data plan.
Hardware
There are two big, noticeable changes to the latest iPhones. First and foremost, they look different, showcasing a more squared-off, chiseled appearance that seems to have been inspired by the iPhone 4 from 2011. Second, the iPhone 12 Pro, like the rest of the units in the lineup, is powered by the fastest chipset on the market right now. And the Apple A14 Bionic translates to incredibly smooth motion on the screen regardless of what you're doing, and much more.
The latter, we'll get to in a moment. But the chassis, same as always, is extremely well made and gorgeous to behold. The glossy sides of the iPhone 12 Pro's surgical-grade stainless-steel frame provide a nice contrast to the matte glass on the back, while the front is flat and uses what Apple calls Ceramic Shield. It is made by Corning, the same company behind the chemically strengthened Gorilla Glass used on most flagships.
Apple says Corning's Ceramic Shield material offers "four times better drop performance" and is "tougher than any smartphone glass," including Gorilla Glass Victus, which protects top-end phones like the Samsung Galaxy Note 20 Ultra and Xiaomi Mi 11. Of course, without proper testing — something we're reluctant to do — it's impossible to determine if the Ceramic Shield on the iPhone 12 Pro is indeed tougher than Gorilla Glass Victus, and by how much.
And though the iPhone 12 Pro is less curvy than its predecessor, it (unsurprisingly) retains many of the previous model's details, including the flat front panel with a wide notch that occupies about half the top bezel. Meanwhile, the frosted glass back features the iconic Apple logo at the center, plus a triple-lens camera unit in a square-shaped module that's identical to the previous design.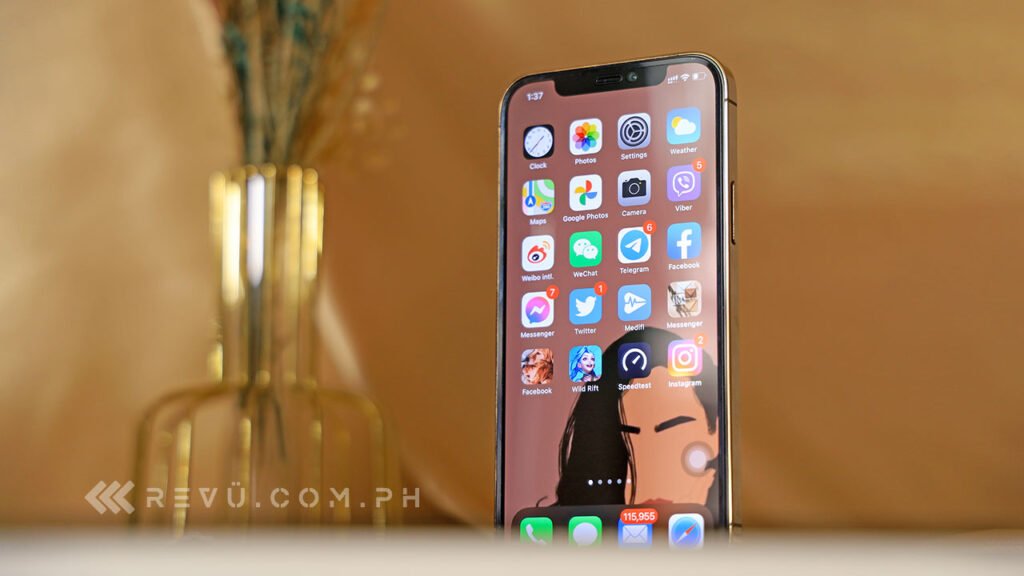 It's still water-resistant. But this time around, Apple claims the iPhone 12 Pro can withstand water immersion for up to 30 minutes in up to six meters of water, from four meters with the iPhone 11 Pro. And the placement of the side buttons, ring/silent switch, and Lightning port for charging and file transfer are unchanged.
Compared with many Android flagships, the iPhone 12 Pro (as well as the iPhone 12 Pro Max, since they mostly share the same aesthetic) is nothing spectacular when it comes to design. It's actually flatter, more angular than what came immediately before, which is something other manufacturers, with the exception of Sony, generally avoid. So in a way, at least on a surface level, you can say that the iPhone 12 Pro is against the trend and remains bullish on not reinventing the wheel.
SEE ALSO: iPhone 12 bestselling 5G phone in Oct despite late launch and Protect your iPhone 12 with these OtterBox cases
Here lies the genius of Apple: By making the iPhone 12 Pro (and the iPhone 12 family it belongs to) less conventional-looking, less curvy-flashy, it manages to stand out more. And the more we look at it, the more time we spend with it as our daily driver, the more it becomes clear that the iPhone 12 Pro is probably the most well-executed smartphone we've used so far.
It's also clearly built for one-handed use; though at 189 grams, the Pro is somewhat heavy for its size. Holding the phone with one hand, most users will not have a difficult time pulling off Apple's native navigation gestures and reaching the upper portion and corners of the screen. If Back Tap — a new accessibility feature on iOS 14 — is enabled, you can likewise double-tap the back of your iPhone to open the camera or lock the screen, or triple-tap to take a screenshot.
You get dual speakers on the iPhone 12 Pro — there's one at the bottom, next to the Lightning port, and one inside the display notch. The audio is plenty bassy and loud for a phone and provides rich sound even at high volume levels.
The iPhone 12 Pro unit we got came from Hong Kong, so it has two physical nano-SIM slots. Units from China and Macao can likewise house two SIM cards in the same card tray. The retail variants sold in the Philippines are also dual SIM, but with a nano-SIM and an eSIM, which is a digital SIM that lets you activate a data plan from an operator without having to use a physical SIM.
5G continues to be a big topic among telecom operators and device manufacturers alike, and Apple has joined the conversation with the launch of the iPhone 12 lineup. All models in Apple's latest iPhone range — from the Pro and Pro Max down to the Mini — are equipped with a 5G modem.
Our device supports local 5G networks even though it was bought outside of the Philippines. We can't say the same for all iPhone 12 variants from other markets. However, we found that if we wanted to connect to a 5G network, we'd have to disable Dual SIM mode on the iPhone 12 Pro first to get a 5G signal. Local coverage on Globe Telecom's 5G network is good, but not the best; we enjoy faster speeds on our Huawei Mate 40 Pro and Realme X50 Pro in the same exact location.
5G speed tests on the Apple iPhone 12 Pro
Using 5G on the iPhone 12 Pro will significantly drain the battery, not to mention generate a lot of heat on the rear panel. It's the case for most other 5G handsets, but the Pro's 2,815mAh cell makes 5G usage way less desirable, especially when you're down to less than 50% battery life.
Another thing that's completely new to the iPhone 12 series is Apple's MagSafe feature, which uses the latest iPhones' built-in magnets to conveniently snap on accessories, including cases and wireless chargers. Though it's likely by design, the strength of the magnet in the iPhone 12 Pro leaves a lot to be desired. We've had a couple of lackluster experiences with some third-party MagSafe gadgets. Obviously, it's too early to tell given the recency of MagSafe on the iPhone. But at this point in time, based on the accessories we've used, it feels like a tough sell.
Screen
Apple has given the iPhone 12 Pro a 6.1-inch Super Retina XDR display, which is noticeably bigger than its predecessor's, without making it feel taller and wider in the hands (technically, it is), all thanks to smaller bezels. The OLED screen packs more pixels, too, with a 2,532 x 1,170 pixel resolution at 460 pixels per inch. So, not only is it bigger than the panel on the iPhone 11 Pro, it's also sharper, thus making it better for watching content and gaming, especially with the presence of HDR and True Tone technologies.
Then there's the notch that houses the selfie camera and sensors for Apple's very reliable Face ID. Like iPhones of recent times, the iPhone 12 Pro has the widest notch of any modern flagship, which makes it look rather old-fashioned. If it's something you're not used to, it can get in the way of your viewing experience. Hiding it with a black border that completely covers the cutout will also give you less screen real estate to work with.
It is unclear when Apple will ditch the obnoxious iPhone notch for good. We think that day is a long way off. But if companies like Huawei can make phones, such as the Huawei Mate 40 Pro, with advanced face-recognition tech that doesn't take up a huge chunk of screen space, then there's no excuse for the richest company in the world.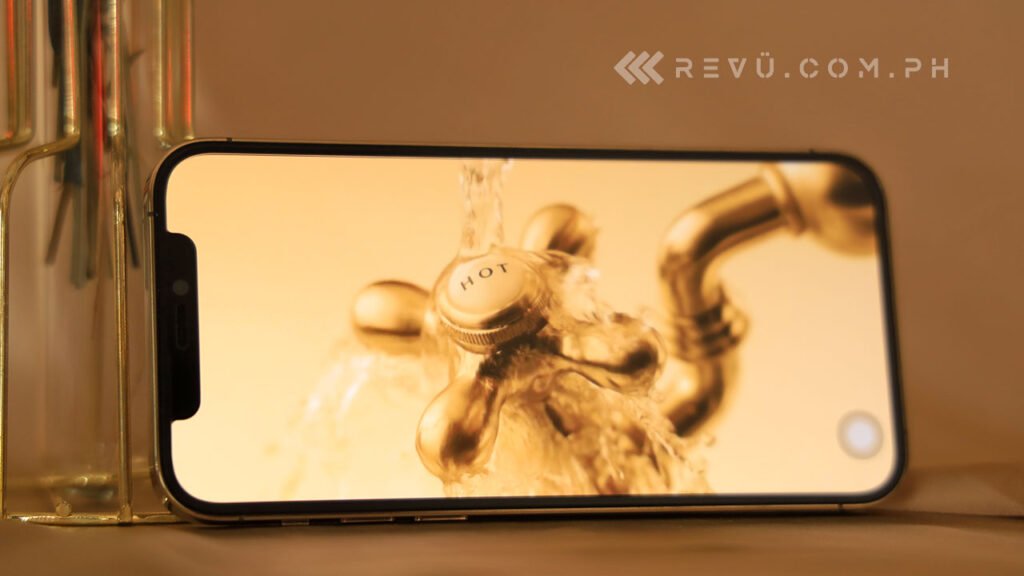 As for the panel itself, the iPhone 12 Pro's Super Retina XDR display is simply amazing. It is one of the best screens on a smartphone today, period. Icons seem to float on the display; colors are vivid; black levels are excellent; viewing angles are consistently wide; and brightness isn't an issue, though it could be brighter for outdoor use.
The refresh rate is 60Hz, not 144Hz, 120Hz, or even 90Hz. On paper, that seems like a big drawback, but we're happy to tell you it's really not, especially with 120Hz touch sampling onboard. Thanks to the mighty A14 Bionic and an operating system designed to maximize Apple hardware, the iPhone 12 Pro runs like a dream and is super responsive and fluid — even when you have a ton of apps in the background. Scrolling up and down isn't always as smooth as on a high-end 120Hz or 144Hz panel, but when it comes to day-to-day use, including navigating the home screen and switching between apps, the iPhone 12 Pro doesn't feel lacking in any way.
Of course, moving to a higher refresh rate is always a welcome upgrade. However, to say that not having it at all on the iPhone 12 Pro is a bummer would be misleading. If anything, our experience with the latest iPhone has proved to us that having a fast-refreshing screen isn't necessary for a first-rate user experience. 60Hz should be sufficient as long as the phone's hardware and software are mostly always on the same page.
Camera
Apple hasn't historically been as experimental with its smartphone camera, and not even the iPhone 12 series, including the Pro models, change that. The iPhone 12 Pro packs triple 12-megapixel cameras, same as the previous generation, with dedicated lenses for ultra wide and telephoto.
The most notable differences between the Pro and Pro Max are that the latter boasts a slightly larger primary sensor and allows for higher levels of zoom; the optical and digital zoom goes up to 5x and 12x, from 4x and 10x on the standard Pro. The Pro Max likewise introduces sensor-shift optical image stabilization to the iPhone, which moves the sensor instead of the lens, compensating for shaky hand movement and helping the handset put out sharper and more detailed shots, particularly in dim environments.
Both the iPhone 12 Pro and Pro Max have a rear-mounted LIDAR scanner for better portraits and faster auto-focus, unlike the iPhone 12 and Mini. And they can shoot images in Apple's new ProRAW format that packs in more color and brightness information, and more, to give you all the flexibility you need for editing pictures so they look as good as possible. Your RAW shots will be saved as a DNG file, which is widely supported by most of the photo-editing apps available on iOS, including Adobe Lightroom.
By default, Apple ProRAW is disabled on the iPhone 12 Pro. To enable it, go to the iOS Settings app, select Camera and Formats, and then toggle the ProRAW switch to "On." A tiny RAW button in the Camera app will appear the next time you use your iPhone's camera. Tap it to turn the feature on or off.
But even without the help of editing tools, a larger sensor, and sensor-based image stabilization, the iPhone 12 Pro generally captures color and detail accurately, and we feel that it does a much better job as a camera compared to what most Android flagships can manage with their multi-lens systems. It can definitely hold its own against the Huawei Mate 40 Pro, which many in the industry — including us — consider the best camera phone on the market right now. Its HDR and low-light performance is, by far, the best of any iPhone we've used.
How the iPhone 12 Pro performs when shooting videos: A compilation of sample clips
The ultra-wide and zoom cameras are good, but we recommend sticking with the main camera. Not only is it technically superior, sensor-wise, it also takes the best pictures. There are a few new camera settings you should know about. You can now turn off lens correction, so the edges appear a little less distorted in wide-angle pictures. And you can disable Smart HDR and Scene Detection if you don't want the phone to automatically expose a shot correctly. The iPhone 12 Pro can record 4K video at 60 fps in Dolby Vision HDR, whereas the non-Pro iPhone 12 models are restricted to 30 fps.
Like the cameras on the back, the front-facing camera of the iPhone 12 Pro has a 12-megapixel sensor as well. It can shoot portraits, too, and 4K video up to 60 fps (or Dolby Vision HDR at 30 fps). Animoji and Memoji are supported as well. All four cameras on the Pro can do Night mode, including the one for selfies. In daylight, the selfie camera performs very well and delivers what we've come to expect from an iPhone's front-facing unit: true-to-life tones and more honest facial detail than we're comfortable with.
Click on a thumbnail to launch the slideshow: 1) 2x zoom; 2) 1x; 3) Ultra-wide; 4) 10x zoom, Auto mode; 5) 10x zoom, Night mode; 6) 1x, Auto mode; 7) 1x, Night mode; 8) 2x zoom; 9) Ultra-wide; 10-12) Auto mode; 13-15) Portrait mode; 16-18) Selfies
Performance
The iPhone 12 Pro is headlined by Apple's newest and most advanced A14 Bionic chip, which also appears in the iPhone 12 Mini, iPhone 12, and iPhone 12 Pro Max, as well as in the fourth-generation iPad Air. In terms of CPU performance, it is said to be up to 40% faster than the A12 and 16% faster than the A13, while graphics is up to 30% faster than the A12. It likewise includes an improved 16-core neural engine that is twice as fast. By the numbers, the A14 is easily the fastest processor Apple has produced. More importantly, it translates well to the end-user experience.
Everything we threw at it — every app, every game — just powered through it, unfazed. Genshin Impact is a bit of an exception, if only because we saw some stutters when we ran the game with every graphic setting maxed out. Otherwise, 60 fps gaming is achievable at slightly lower detail in one of the most demanding mobile games today. Multitasking is equally buttery smooth, and having a bunch of apps open all the time won't slow the system down.
Watch our League of Legends: Wild Rift gameplay on the Apple iPhone 12 Pro
For anything from multitasking to gaming and beyond, the Apple iPhone 12 Pro delivers the smoothest experience you can get at the moment — even compared with the fastest and most expensive Android flagships we've reviewed so far. Yes, that includes gaming-focused devices with overkill specs like the top-end ASUS ROG Phone 3.
The iPhone 12 Pro ships with iOS 14.1, same as the other models in the series. The update includes visual changes to widgets and the App Library folders, enhanced privacy tools, and Apple's new Translate app. You can expect upwards of five years of software support in line with all other iPhones, which is longer than what other manufacturers offer. Three years is considered generous in the Android space.
Battery and charging
The battery life on the iPhone 12 Pro is mostly average, a one-and-done affair. We charge our unit daily, but then again, we're used to Apple's one-day battery mileage on our previous non-Max iPhones. Idle battery drain is now consistent and not terrible, thanks to a recent iOS 14 update. Again, using 5G to browse the web and stream video will eat up your battery faster than before, so you may want to turn off 5G on your iPhone 12 Pro if you don't need the extra speed.
The iPhone 12 Pro supports wired fast charging up to 20 watts and MagSafe and Qi wireless charging up to 15 and 8 watts, respectively. You can forget about the latter if you're after short charging times; wireless-charging options on the iPhone 12 Pro (though you can say the same about the rest of the series) are not compelling enough to be worth the money and effort. Our unit can get to around 50% capacity in 30 minutes with a 20-watt Power Delivery or PD adapter, while a full charge normally takes 90 minutes.
While certainly not the fastest around, those results are respectable. However, keep in mind that today's Android flagships, as well as other devices well below the iPhone's price range, can recharge faster from zero to full. They usually come with a power brick, too. Apple's latest iPhones, including the iPhone 12 Pro, unfortunately don't. (Plus, there are no wired earphones packaged with the iPhone 12 series.)
You do get a USB-C-to-Lightning cable, but you can't connect it to older iPhone chargers and MacBooks that are lacking USB-C input. Having said that, if you're going to spend extra on a charger, ensure that you pick up a 20W or faster PD adapter. Or you can purchase Apple's USB-C adapter for P1,190 ($25) from Apple's official online store in the Philippines.
Final thoughts
With the launch of the iPhone 12 series, Apple has another winner in its hands. And while the iPhone 12 Pro sits in the middle of the pack in terms of size and price, it is by no means less important and less compelling. It's just the right size, and you get nearly all the perks of the larger iPhone 12 Pro Max without forking a lot more cash upfront. For us, it is the best option in the series since we care more about image quality than the average smartphone user. If you don't need the improved cameras, the LIDAR scanner, and other extra features, you may want to get the iPhone 12 instead.
Apple fans need not be worried about the other side of the fence — for now, at least. The iPhone 12 Pro is close to being the new gold standard for smartphones. If you ask us, it's actually just a full screen, a faster wired-charging standard, and a couple of better secondary cameras away. Those shortcomings notwithstanding, we are very, very impressed.
It's a no-brainer for long-time iPhone owners who are looking to upgrade to the latest model. But what about Android users? Their decision is much less straightforward, especially those who haven't owned an iPhone in years — or ever. We will say this, though: There is nothing about the iPhone 12 Pro's hardware that will make them really regret their decision if they give it an honest shot. That many Android users will be okay with all the hassles of moving to iOS despite no shortage of cheaper Android alternatives is perhaps the best compliment we can give the iPhone 12 Pro.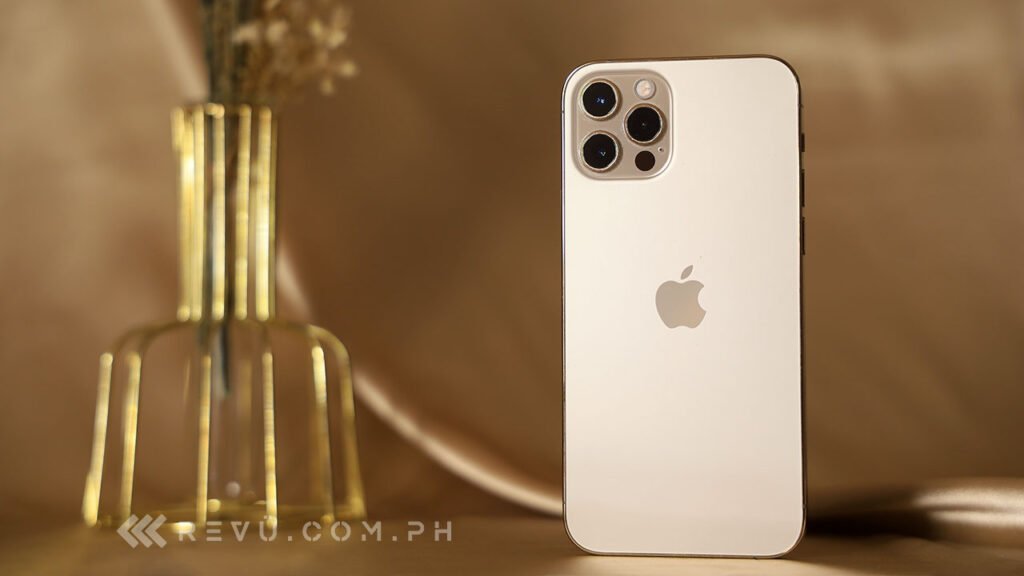 Apple iPhone 12 Pro specs
6.1-inch Super Retina XDR OLED screen, 2,532 x 1,170 resolution, HDR and True Tone support
Ceramic Shield glass front
Apple A14 Bionic with 5G (5nm)
128GB/256GB/512GB
Triple 12-megapixel, f/1.6 (main), 12-megapixel, f/2.4 (ultra-wide), and 12-megapixel, f/2.0 (telephoto) rear cameras, optical zoom up to 4x, digital zoom up to 10x, 4K at 60 fps/HDR at 60 fps
LiDAR scanner
12-megapixel, f/2.2 front camera
Face ID (front camera system)
Up to 17 hours video playback
MagSafe wireless charging up to 15 watts
Qi wireless charging up to 7.5 watts
Wired fast charging up to 20 watts
IP68 rating for maximum depth of 6 meters up to 30 minutes
iOS 14
Colors: Silver, Graphite, Gold, Pacific Blue
---