Estimated reading time: 2 minutes
According to IDC's report, OPPO was the top smartphone vendor in the Philippines in the fourth quarter of 2020. In another market-research firm's tracker, there was a different No. 1 — but it's a brand that's still part of the same conglomerate that owns OPPO.
The Counterpoint Research Q4 2020 Channel Share Tracker, shared just recently, shows that Vivo had the most number of units shipped in the last quarter of 2020, capturing 21% of the market. It was followed closely by OPPO, which managed to take 20% of the shipment share, and Realme and Samsung, with 19%.
Counterpoint Research senior analyst Glen Cardoza had this to say about Realme, though: "Realme has had a whirlwind two years since its launch, and momentum is gaining for the upstart. It had 68% year-on-year shipment growth in Q4 2020 to secure the No. 3 spot for the year. Moving into 2021, it is in a great position, especially considering its strength online."
Landing fifth in the same period was Xiaomi, whose shipments accounted for 7% of the total smartphone-market share in the Philippines.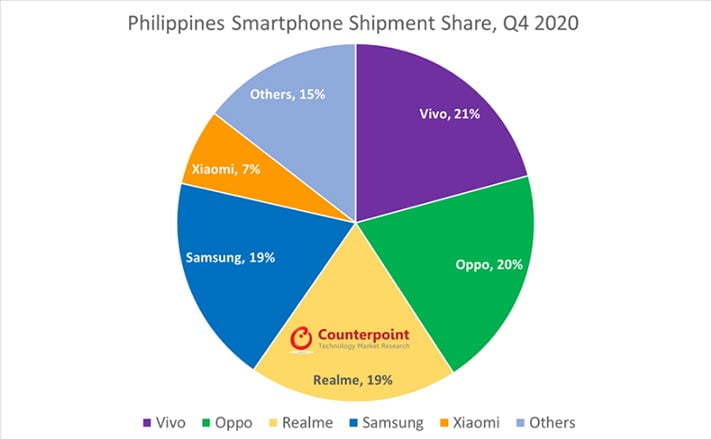 While Counterpoint did not share an analysis of each brand's performance, it did talk about the overall performance of the market. The research company disclosed that the local scene struggled in 2020, with overall shipments falling 8% on an annual basis.
One detail of note is the online channel's strong growth. Apparently, it handled more than 50% more units in 2020 than in 2019.
"The Philippines reflects what we're seeing in other markets across the region: Consumers are going online by necessity. What will be interesting to see is if they stay for the convenience. At least for the short term, we expect online channel share to continue rising, especially through the first half of 2021 with the second wave of infections bringing more lockdowns," according to Cardoza.
You can read more about Counterpoint Research's report here.
---