Estimated reading time: 13 minutes

Gaming phones are no longer novel to the market, with many presenting themselves as compelling alternatives to do-it-all flagships that cost about the same or more. While some of them push the boundaries of smartphone design more than others, with a couple of models even going as far as incorporating an actual spinning fan into the chassis, they all offer better performance, especially in gaming, than their average counterparts.
ASUS is one of the biggest names in the PC and mobile-gaming industry, and the Taiwanese manufacturer is no stranger to handsets tailored for hardcore gamers with money to burn. The ROG Phone 5 series is ASUS' fourth attempt in the niche segment and has improved in ways that will matter to most users. Notably, this year's ROG-branded smartphone packs a faster processor, a bigger screen, and faster-charging tech in a fancier package (at least, the Pro and Ultimate editions do, anyway).
SEE ALSO: Top-performing flagship, midrange phones: March 2021, global
If you are in the market for a top-tier gaming-focused handset, then read our review of the ASUS ROG Phone 5 Classic to find out how it performs both in terms of synthetic and real-world tests. But before that, let's talk about pricing and availability in the Philippines.
In case you missed our launch article, the ROG Phone 5 line is priced as follows:
ASUS ROG Phone 5 Classic

8GB/128GB: P39,995 or roughly $824

Available April 2021 in Phantom Black color only. The Storm White variant will arrive in stores from May 2021
Comes with free Aero Active Cooler 5 and AeroCase worth P2,495 or $51

16GB/256GB: P49,995 or $1,030

Same availability as the base model
Comes with free ROG Kunai Gamepad and ROG Akira oversized tee worth P10,485 or $216

ASUS ROG Phone 5 Pro

16GB/512GB: P54,995 or $1,133

Available within May 2021
Comes with free Aero Active Cooler 5 and AeroCase worth P2,495 or $51

ASUS ROG Phone 5 Ultimate

18GB/512GB: P59,995 or $1,23

Available within May 2021
Comes with a free gift box worth P5,990 or $123
The basics
Like previous iterations and most other gaming smartphones, the ASUS ROG Phone 5 is a big, hulking sandwich of aluminum and glass with an aggressive design and customizable LED lighting at the back. There's Gorilla Glass Victus — Corning's latest and toughest protective glass yet — on the front and Gorilla Glass 3 at the back. Given the handset's extraordinary overall footprint, one-handed use is almost entirely out of the question for most people.
The fourth-generation gaming phone, as expected, also has a pair of AirTrigger touch sensors on the right edge that act like L1/R1 buttons on a game-console controller when the unit is held in Landscape mode. You can even adjust the amount of pressure necessary to activate the triggers. However, it's worth mentioning that the Classic edition is missing the extra AirTrigger sensors on the back panel that the Pro and Ultimate versions have.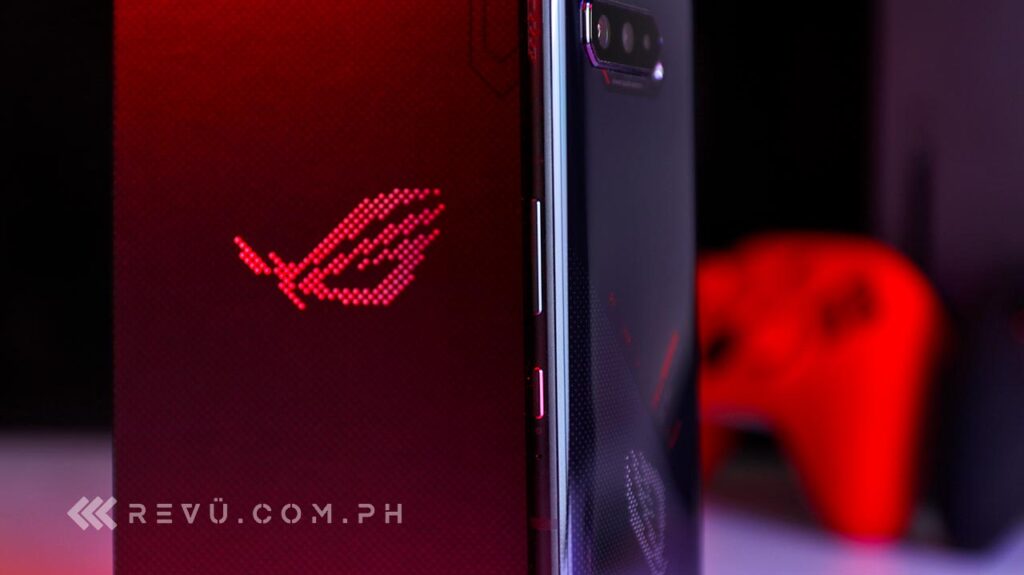 There's also one key spec the ROG Phone Classic is lacking: ASUS' new ROG Vision. The rear-matrix display is available only on the Pro and Ultimate models and can be customized to show user-generated animations in tune with your device's status. The ROG Phone 5 Pro has a color ROG Vision display, whereas the ROG Phone 5 Ultimate features a monochrome version, matching its white-and-black colorway.
The ASUS ROG Phone 5 has a 3.5mm audio jack and two USB-C ports — one on the side and another at the bottom. The extra USB-C port is meant for charging the device while gaming in landscape orientation. Right next to it, you'll find connector pins for the AeroActive Cooler 5 accessory with a built-in fan to blow out warm air away from the chassis.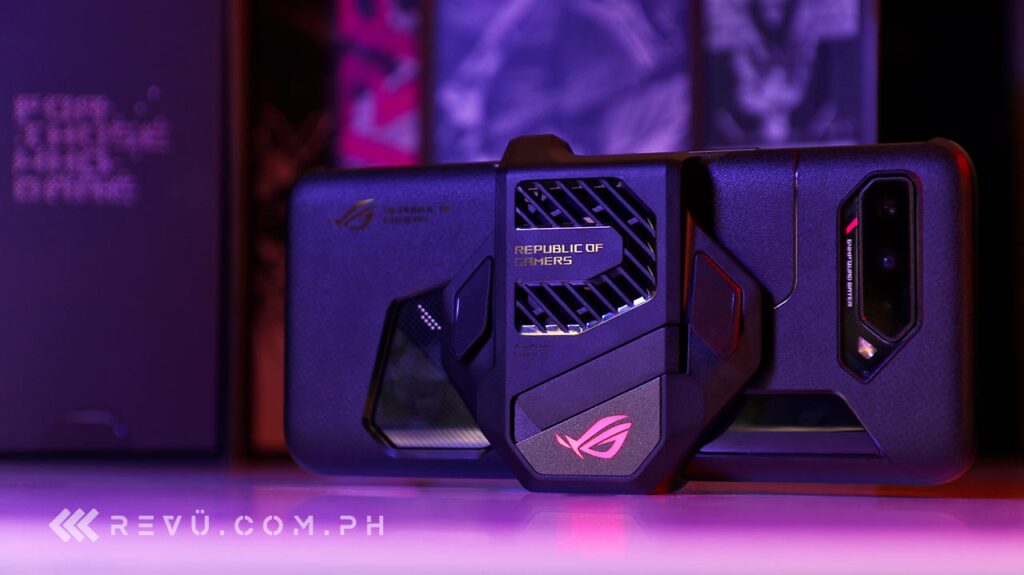 To prevent the connector pins from being exposed when not in use, the ROG Phone 5 comes with a tiny rubber plug that covers the pins as well as the side USB-C port. Unfortunately, ASUS didn't tether the plug to the body, as it has failed to do in previous versions of the ROG Phone, so it's easy to lose if you don't keep your eye on it. We'll have more about the cooler clip-on and whether it actually does make a difference in a bit.
To keep the lights on, the company has opted for the same battery capacity of earlier models, giving the ASUS ROG Phone 5 a massive 6,000mAh cell. This time around, though, the device houses two 3,000mAh batteries, to allow for faster charging up to 65 watts using a proprietary charger. ASUS claims the ROG Phone 5 can be fully recharged from zero in 52 minutes, or 70% in 30 minutes. That's a tall claim given the high battery capacity we have here.
In our testing, we found that it takes 1 hour and 32 minutes to fill our ROG Phone 5 Classic back up to 100%, while a 60-minute top-up can recharge it up to 66%. Mind you, those are our fastest charge times. So, even in the best of scenarios, it's going to take longer than advertised for this gaming phone to reach full capacity.
On a more positive note, ASUS is once again giving users the option to schedule charging times when plugged in and set a charging limit to prevent the battery from always charging to full, which can minimize battery-capacity loss over months or years of usage. Ideally, you should set the limit to 80% or 90%.
Also: The battery life impresses as long as you lock the refresh rate to Auto or 60Hz, though doing so will make the device feel significantly slower. In PCMark's battery benchmark, our ROG Phone 5 Classic lasted 12 hours and 25 minutes with the display set to 144Hz. As always, lowering the refresh rate when not needed should help with battery performance.
The screen of the ROG Phone 5 is basically a bigger and slightly improved version of the panel used by the ASUS ROG Phone 3. The screen measures 6.78 inches diagonally, but it's still a 1080p affair with a 144Hz refresh rate, HDR10+ support, plus always-on functionality. It's a much brighter display compared to what we saw last year, though, boasting up to 1,200 nits of peak brightness in auto mode. You also get Widevine L1 certification out of the box for HD playback in Netflix and other similar apps.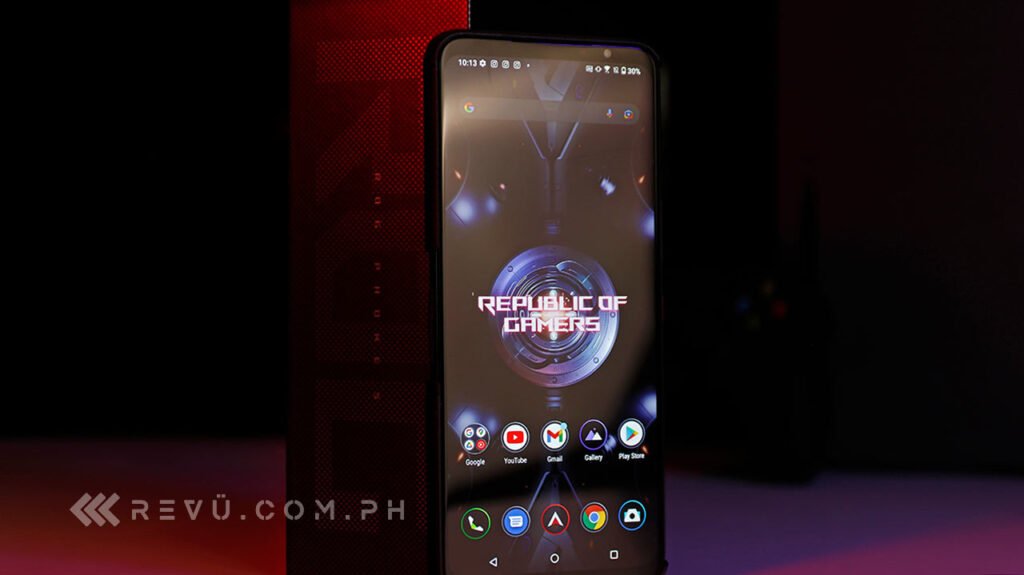 For taking pictures and videos, the back of the ROG Phone 5 is equipped with triple cameras. The main sensor is a 64-megapixel Sony IMX686 sensor, the same Quad-Bayer unit used by the ROG Phone 3. And similar to what we got last year, the secondary and tertiary cameras include ultra-wide-angle and macro lenses. Video recording hasn't improved on the ROG Phone 5, with the handset still capable of recording up to 8K footage at 30 frames per second and 480 fps slo-mo at 720p.
That being said, the ASUS ROG Phone 5 may be a tough sell if you're after image-quality improvements; but then again, we don't expect gaming phones to go toe to toe with the best camera phones in the business since that's not what makes them so attractive to a certain subset of smartphone users. Which brings us to our next point.
Benchmark king
This early, we're crowning the ASUS ROG Phone 5 as the king of Android benchmarks. This phone is an absolute beast when it comes to synthetic tests — even without X Mode/X Mode+ activated or the Aeroactive Cooler 5 attached to its back. Needless to say, with X Mode+ enabled when the cooling fan is tethered to the phone, the ROG Phone 5 transforms into a benchmark monster capable of rampaging through various testing platforms, including the latest version of the Antutu app.
Our unit with 16GB LPDDR5 RAM and 256GB of UFS 3.1 storage registered a high score of 816,295 in our Antutu test, easily smashing previous highs we recorded on the OPPO Find X3 Pro and Xiaomi Mi 11, which are both powered by the Qualcomm Snapdragon 888 SoC the ROG Phone 5 uses to blow the competition out of the water.
For comparison's sake, consider that the Snapdragon 865 Plus-based ROG Phone 3 with the same amount of LPDDR5 RAM but double the storage we reviewed the previous year posted 644,000 points in Antutu. Running the Geekbench 5 and 3DMark apps on the ROG Phone 5 notched up another set of impressive results, regardless of whether X Mode/XMode+ was active or not.
But more impressively, the ASUS ROG Phone 5 is the only Snapdragon 888-powered device we've tested that can run the CPU Throttling Test app for 60 minutes without the CPU going below 80% of its max performance. Considering how much heat the ROG Phone 5's mighty processor generates under heavy load, that's an achievement ASUS should rightly be proud of.
That's not to say the ROG Phone 5 doesn't heat up like a microwave burrito while playing graphics-intensive games like Genshin Impact; it does — and that's a sign the phone's internal cooling system is doing a good job of conveying the heat generated by the chipset to the chassis, seeing how effective it is in preventing throttling, as our benchmarks show.
Gameplay: Genshin Impact, Honkai Impact (2:01 mark), Brawl Stars (4:01 mark), Dead Cells (6:01 mark), Titan Quest (8:01 mark), and NBA 2K20 (10:01)
Power overwhelming
Of course, no review of a modern gaming phone would be complete without the requisite Genshin Impact runs. Unsurprisingly, the ASUS ROG Phone 5 Classic can run the most demanding game on Android at around 60 frames per second with all the graphics settings maxed out. It's not a lock at 60fps — not even while X Mode+ is enabled — but this phone does deliver the smoothest gameplay experience we've seen on an Android device.
And because we were curious, we tried to find out how long the ROG Phone 5 can keep Genshin Impact running with the graphics turned all the way up without heating up to the point that it's no longer comfortable to hold the device, much less operate its huge touchscreen.
While your mileage may vary depending on your tolerance level, we found that the game became unplayable within 45 minutes, not because it froze or the performance took a nosedive (it still ran at about 60fps), but because the temperature of our phone reached 60 degrees Celsius and warmed up beyond our comfort levels. In 45 straight minutes of gameplay, our unit's battery level dropped by 28%.
If you have other GPU-intensive games in mind, it bears mentioning that any variant of the ROG Phone 5 will likely play them smoothly with all the eye candy set to high, too. Just don't expect them to take full advantage of the series' 144Hz screen because there are still few mobile games that support high-refresh displays. Just in case you need help finding them, simply open ASUS' Armoury Crate app, and then check out some of the games that are playable at higher than 60 fps under the Featured tab.
Aeroactive Cooler 5: Worth the money?
The short answer is probably. It all depends on the games you'll be playing on your ASUS ROG Phone 5. The accessory can make a huge difference when playing heavy games like Genshin Impact, where our unit's temperature never went above 50 degrees Celsius even after 45 minutes of play time.
Remember our test earlier? The temperature shot up to 60 degrees Celsius after playing the same game for about the same amount of time. The difference between those two scenarios is profound. We probably could have played the game much longer with the cooler accessory clipped onto the back of our phone.
Besides seeing lower temperatures, the other advantage the Aeroctive Cooler 5 brings is the two extra physical trigger buttons you can use while playing Genshin Impact, Asphalt 9, Call of Duty: Mobile, and more. It also has a kickstand, which helps the phone stay upright when being used on a flat surface.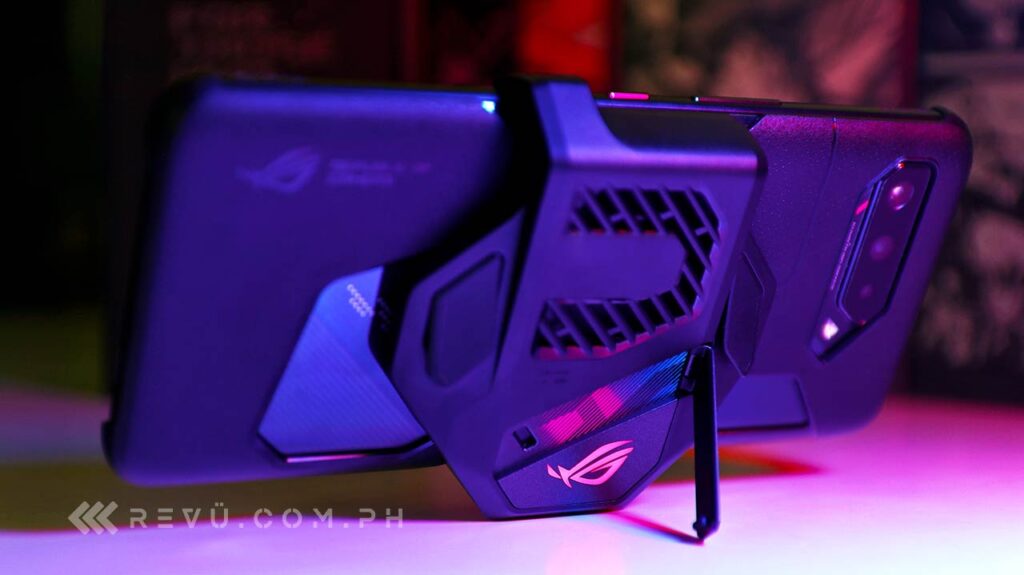 Final thoughts
The ASUS ROG Phone 5 is a near-perfect gaming phone. There's no question it's a super-elite performer — certainly the smoothest and most powerful Android we've ever used — and the ecosystem of accessories ASUS has introduced alongside it seems worthwhile. If money isn't a huge concern and gaming is what you want to use your next smartphone mostly for, then this year's release is a no-brainer. ASUS has set the gold standard once again.
The ROG Phone 5 Classic is a super-elite performer, and the ecosystem of accessories ASUS has introduced alongside it seems worthwhile
ASUS ROG Phone 5 Classic specs
6.78-inch Super AMOLED display, 2,448 x 1,080 resolution (20.4:9), 144Hz refresh rate, 300Hz touch sampling 1ms, 1,200 nits peak brightness, HDR10+ and DCI-P3 support
Octa-core Qualcomm Snapdragon 888 with 5G
Up to 16GB LPDDR5 RAM
Up to 256GB UFS 3.1 storage
Triple 64MP main (Sony IMX686), 13MP ultra-wide, 5MP macro rear cameras
24MP front camera
Fingerprint sensor (under display)
6,000mAh dual battery with 65-watt USB-C fast charging
Android 11 with ROG UI
---