Estimated reading time: 6 minutes

This pandemic can make you feel lonelier than you've ever felt in your life. Which is why meaningful human interaction is more important now as we continue to navigate this reality where social distancing and isolation are commonplace. It's no surprise then that our reliance on video-call apps has heightened immensely this past year with lockdown restrictions and the work-from-home movement.
One of the best and most useful apps we use to communicate online is the free MeeTime app, which is available on Huawei devices running at least EMUI 10.1. It's undeniably easy to use and packed with benefits, such as unlimited 1080p video calling over mobile data or Wi-Fi.
But first, what is Huawei MeeTime?
The straightforward answer is that MeeTime is Huawei's native video-chat app that can be accessed across its ecosystem — smartphones, tablets, and laptops mostly — and some third-party hardware, with more connected products lined up to launch the service soon.
And in case you didn't know, the hallmark feature of MeeTime is that it's powerful enough to host a stable video call at up to 1080p without charging you extra for it. It's free to use and won't hijack you with hidden paywalls and intrusive ad formats. Screen sharing is another huge plus, as it can unlock new possibilities in remote work and school arrangements, allowing users to effectively communicate their ideas sans any physical contact.
Huawei MeeTime is currently available in the Philippines and several other countries and regions on Huawei devices running EMUI 10.1 based on Android 10, and you can divert calls between a range of supported devices, including smart TVs and speakers.
By default, the MeeTime video-call option should appear in your Phone app, but you can also download it for free on Huawei's AppGallery app storefront. If it's not available on your EMUI 10.1 device, we suggest changing your Huawei ID's country/region to a location that can access MeeTime at present. Of course, you'll need an active Huawei ID with your phone number linked to it to initiate a video call or answer one.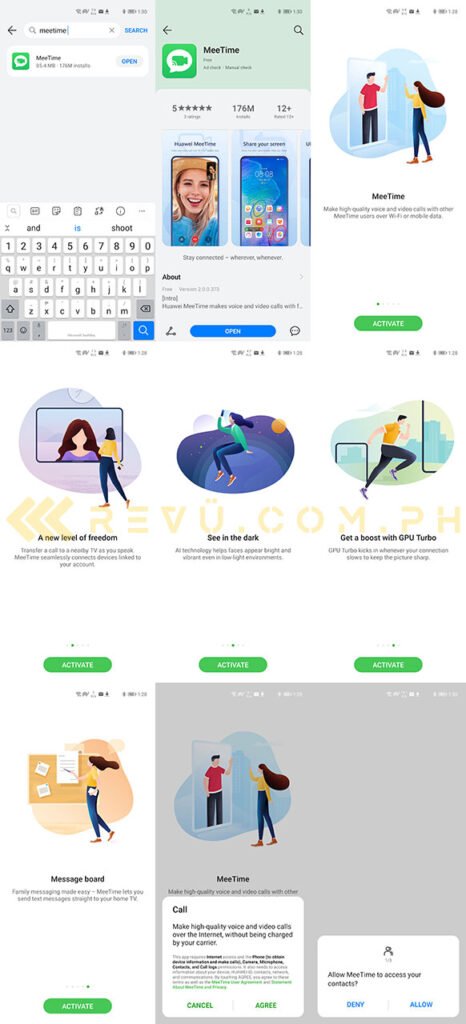 Huawei MeeTime's top features
So, now that we got the basics out of the way, let's take a closer look at MeeTime's best features and how you can benefit from each of them.
As we mentioned earlier, the app offers easy full-resolution video calling at zero cost. That, combined with the excellent smartphone cameras on modern Huawei devices, including the flagship Mate 40 series, is what makes MeeTime such a great and valuable tool for everyday communication.
Additionally, the app leverages Huawei's industry-leading imaging technologies and smartphone expertise to incorporate picture-quality enhancements within the app that can boost brightness, soften faces, and dynamically optimize video resolution when your connection speed drops to ensure a smooth video call. In other words, this is not just any video-chat app, it's the one we recommend to Huawei users.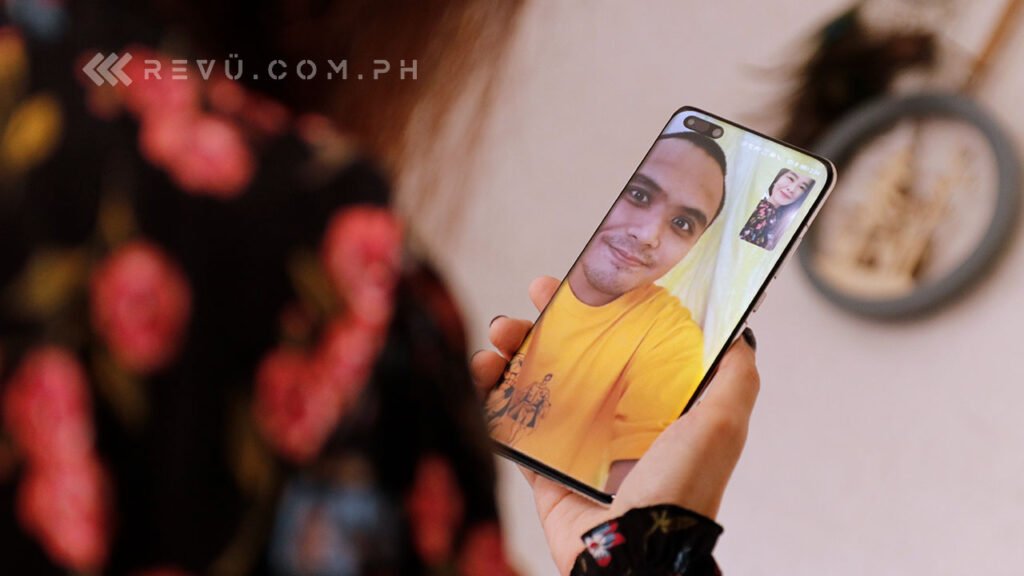 Most of us have spent an inordinate amount of time holed up in our homes, working remotely and isolating from friends and family as much as possible, and only going out when it can't be avoided. One thing you might have realized during this pandemic: The lighting in your room-slash-temporary-office and the lighting in your office building couldn't be more different.
Office spaces tend to have a lot of big, industrial-grade lights and/or multiple windows that provide good natural lighting. It's probably darker in your room than in your area at the office. This is where MeeTime's brightness enhancement comes into play. It uses Huawei's advanced algorithms to brighten the overall picture and improve clarity in low-light conditions. That way, even if you're hosting a video call in a room with poor lighting or at night, the other person on the line will still see you clearly as though you are in a well-lit setting.
And while other video-call apps also support dynamic-resolution scaling, just like MeeTime, Huawei takes things to another level with the introduction of Super Resolution technology. In non-tech speak, that means the app can natively upscale video resolution, compensating for picture-quality loss when connection speeds drop below a certain threshold, while maintaining a smooth experience at both ends of a call.
If you absolutely can't initiate a video call due to poor connection or you simply don't want the other party to see you, MeeTime also allows for voice calls using the same dynamic-scaling and upsampling technologies for clear, high-quality audio without killing your bandwidth allowance.
Screen Sharing is another highlight, especially for work and academic contexts. With this feature, you can easily collaborate and share ideas with a colleague or a potential client by letting that person see your device's screen in real time
Screen Sharing is another highlight, especially for work and academic contexts. With this feature, you can easily collaborate and share ideas with a colleague or a potential client by letting that person see your device's screen in real time — with little lag in between swipes and touches. You can even watch a video together and draw on the screen for the other party in the call to see. That last bit is particularly helpful if you want to use MeeTime to instruct someone, say, your technology-challenged grandparents, on how to do something on their handset or tablet.
MeeTime is built on Huawei's distributed technology, which allows hardware capabilities to be virtualized and shared among a variety of connected devices, including hardware from third-party manufacturers. Huawei's 1+8+N all-scenario ecosystem is all about collaboration, after all. The ecosystem of non-Huawei devices that can conduct video calls via MeeTime is expanding as we speak and now includes the KanDao Meeting 360-degree all-in-one conference camera and Drift Ghost series action cameras.
Who should use Huawei MeeTime?
Anyone who owns a compatible device should use MeeTime as their go-to video-chat app for communicating with other Huawei users. But it's especially useful for getting work done without the need to meet physically and showing instructions and annotations to others online.
The application's collaborative features also make it attractive for school use, while its low-bandwidth requirement is a godsend for students who rely on mobile data and live in rural, remote areas.
We don't talk a lot about software on this website. Nonetheless, we'll be the first to admit that software should play an important role in any device purchase. Huawei's free MeeTime app proves that even in the most competitive market, there's always room to innovate and give users more value for their hard-earned money.
Revisiting our earlier Huawei MeeTime preview video. Still got questions or want to connect with the Huawei community? Join the group here
---