Estimated reading time: 2 minutes
The latest numbers from internet analysis and testing company Ookla are in, and the results show that nationwide mobile and fixed-broadband speeds have improved a bit. The Philippines moved up two ranks for mobile and a rank for fixed broadband in Ookla's Speedtest Global Index for April 2021.
In terms of cellular-network speeds, the country now ranks 84th out of 134 countries, offering download speeds of 29.12Mbps. Meanwhile, its fixed terrestrial speeds of 49.31Mbps were good enough for 80th place globally, ahead of Mexico, South Africa, Egypt, Greece, and Turkey.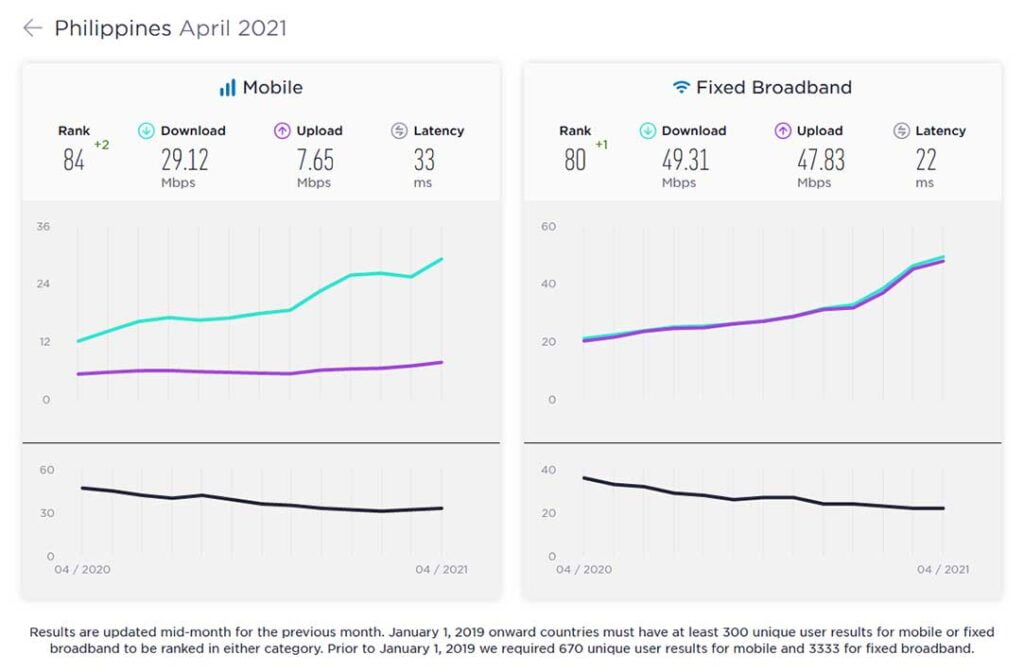 Ookla also confirmed local operator Globe Telecom as the Philippines' most consistent network for the first quarter of 2021, with a nationwide consistency score of 70.43. This metric is used to identify networks that provide a consistent quality of service. It reflects the percentage of a provider's data samples that meet minimum thresholds for download and upload speeds. For Globe, that means around 70% of its mobile and fixed-broadband services managed to meet expectations last quarter.
According to the telco, this achievement is in line with its aggressive network-improvement projects across the country. In Manila and Quezon City alone, a total of 363 site builds and upgrades were completed under the One Globe Education program, resulting in a 19% increase in "good experience" among customers based on data between October 2020 and April 2021.
Unfortunately, we couldn't find separate speed-test results for Globe and Smart for the same period, although previous Ookla reports had declared Smart as the faster (but not necessarily more consistent) network.
Do you agree with the latest Speedtest index, as well as the Philippines' place in it? Let us know in the comments.
---