Estimated reading time: 10 minutes
Huawei recently updated the MateBook family in the Philippines to feature 10th and 11th Gen Intel processors, dropping AMD for the biggest American chipmaker in the process. Included in the series is the MateBook D15 2021, which is aimed at students and young professionals looking for a stylish productivity laptop loaded with powerful collaboration and connectivity tools.
Locally, the Huawei MateBook D15 2021 with an 11th Gen Intel Core i5 processor has a suggested retail price of P52,999 (around $1,110), while the 10th Gen Intel Core i5 model costs P42,999 ($901). Both laptops are now available at select stores nationwide and online at the Huawei Store Online Philippines and Huawei flagship shops on Lazada and Shopee.
The unit we have boasts an 11th Gen CPU that's kitted out with Iris Xe graphics, 16GB RAM, and 512GB of SSD storage. And as the name suggests, it's got a 15.6-inch screen, similar to the original MateBook D15. Is this year's entry any good, though? Read our full review of the 2021 edition to find out.
Huawei's own MacBook?
Perhaps the most prominent design feature here is the silver color of our unit and how much the new MateBook looks like Apple's 16-inch MacBook Pro — and, to an extent, last year's Ryzen-based MateBook D15. Huawei calls the color variant Mystic Silver, but it's no mystery where the company got its inspiration from.
There is the Huawei branding on the lid, whereas the rest of the chassis is mostly plain. It doesn't have speakers to the left and right of the keyboard area; instead, the MateBook's stereo speakers are located at the bottom, which isn't what you want if you plan on using the laptop on a flat surface without anything to raise the screen at eye level.
SEE ALSO: Top features of the Huawei MateBook 14 2021 with Intel 11th Gen CPU + 16GB RAM
The plastic body has a matte finish and feels quite nice to the touch. However, it does give off a bit of a plastic feel that's clearly helped to shave off some grams. According to the company's website, the Huawei MateBook D15 2021 weighs a reasonable 1.56 kilograms and measures only 16.9mm at its thickest point when the lid is shut.
It's about the same size and weight as last year's MateBook D15, and that's hardly surprising given how visually similar they look. That also means the MateBook D15 2021 is fairly portable and isn't a chore to fit in a standard-sized laptop bag alongside books and other devices.
As a bonus, due to the choice of construction materials, the chassis doesn't heat up that much even under heavy load. You can use this notebook on your lap without any major discomfort, or frying said lap.
Port selection is standard fare, but it's about as good as it gets on a Huawei laptop. Higher-end MateBooks have fewer ports, likely for size reasons. To the right, you have two USB 2.0 ports and a 3.5mm headphone and microphone 2-in-1 jack.
You also get a power button that doubles as a fingerprint sensor for Windows Hello login. We found it to be accurate and a good addition for easier and faster unlocking. It can store multiple fingerprints at once, too, so you can have some flexibility in how you unlock this machine. Other people can easily log into it as well using their own fingerprint. On the opposite edge, the USB 3.2 Gen 1 port, USB-C port, and HDMI output are housed along the left-hand side.
Additionally, anyone who owns a compatible Huawei smartphone like the P40 Pro or Mate 40 Pro will find the MateBook D 15 2021's Huawei Share feature a godsend. This allows you to easily connect your phone to your laptop via an NFC tag and quickly transfer files.
The size of the keyboard lends itself well to fast typing, while the chiclet-style keys are big enough and well-spaced for typists to appreciate and provide a decent amount of feedback.
One notable downside is the lack of backlighting, which is crucial if you're constantly traveling, or if you sometimes work in dark environments. And like other MateBooks, this laptop skips a number pad, as well as the Page Up/Home and Page Down/End keys in favor of a more compact design. Those omissions are fine, as Huawei has struck a good balance between functionality and comfort here.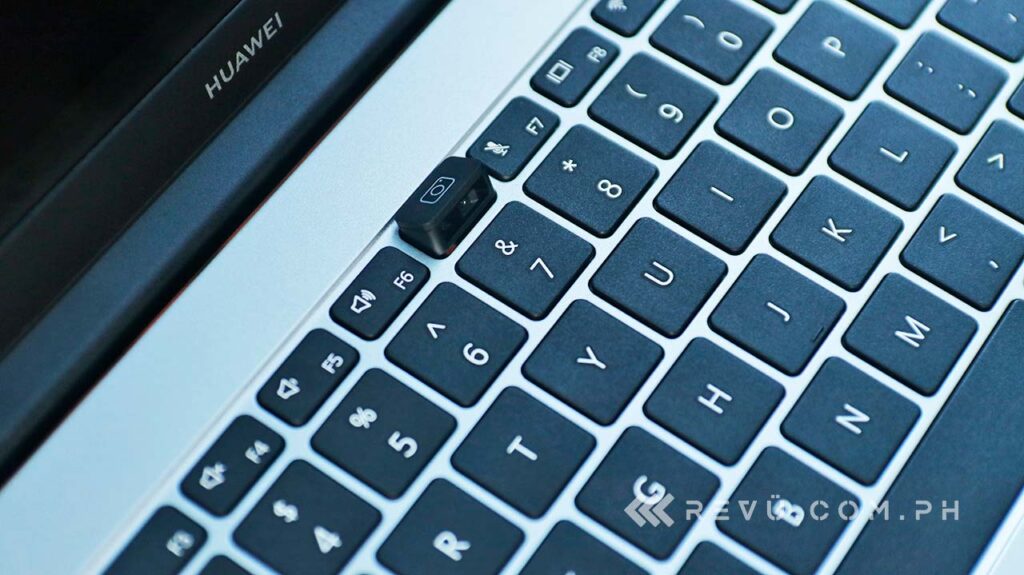 As usual, Huawei has stashed a pop-up webcam for selfies and video chats between the F6 and F7 keys. This unique placement not only makes the top bezel a lot smaller, because you don't have any camera components inside the bezel, but it also aids in privacy when you're not using the webcam.
Pressing the button along the function row reveals the webcam, pointing it directly up at your face. It's serviceable for its intended purpose, but its video quality falls short of what we would consider ideal for tutorials and online classes. Also, the placement of the front-facer can lead to unflattering selfies as you look down at the keyboard island, so we recommend that you get a laptop stand.
The touchpad feels nice to operate and adequately large for precise navigation and multi-touch gestures. And it doesn't have any physical buttons or a visible separator for left- and right-mouse clicks to make it look more seamless. We never experienced issues with palm rejection during our time testing the Huawei MateBook D15 2021.
Nice and wide display
Elsewhere, the Huawei MateBook D15 2021 packs a pretty sizable 15.6-inch LCD display with small bezels all around, except at the bottom where the Huawei branding is etched, resulting in an impressive 87% screen-to-body ratio. It's not a touchscreen, though, which is a given for most notebooks at this price range.
The display boasts an aspect ratio of 16:9, though, which should make side-to-side scrolling a little bit easier as you explore those data-heavy spreadsheets. Naturally, this also means there is more screen to work on.
The panel itself is well-calibrated out of the box and has reasonably accurate colors, wide viewing angles, and decent black levels for an LCD. Huawei lists the typical contrast ratio as 800:1. And while the maximum brightness is 250 nits — which is standard fare for the category — the display could certainly be brighter for outdoor use.
For working in dim environments, the MateBook D15 2021 supports Windows 10's Night Light mode. This feature filters out blue-light components out of the display to protect your eyes from screen fatigue and encourage healthier sleeping habits.
It obviously could be better, but for general use, including casual gaming and streaming movies and series, as well as productivity work, the display is alright. The lack of touch input is understandable; however, we did miss using the Huawei MateBook 14 2021, which has a touchscreen, during our time reviewing the MateBook D15 2021.
11th Gen Intel Core i5 put to the test
Visually, the MateBook D15 2021 may be indistinguishable from last year's release, but the internals couldn't be more different. Huawei has swapped out the AMD Ryzen 5 3500U CPU of the previous generation for a 10th or an 11th Gen Intel Core i5 processor, coupled with an integrated Iris Xe GPU, 16GB of LPDDR4 RAM, and 512GB of fast NVMe PCIe SSD storage.
The RAM and SSD have been doubled from last year's specs, and the extra storage has rightly paved the way for Huawei to drop the HDD of the original MateBook D15, while also shaving some weight off the 2021 refresh.
Inside, you're looking at an Intel Core i5-1135G7 chip, which powers the local variants of the MateBook 14 2021 and MateBook X Pro 2021 as well. That alone should tell you how capable the new Core i5 CPU in the MateBook D15 2021 is — and sure enough, it's a significant upgrade compared to the old Ryzen 5.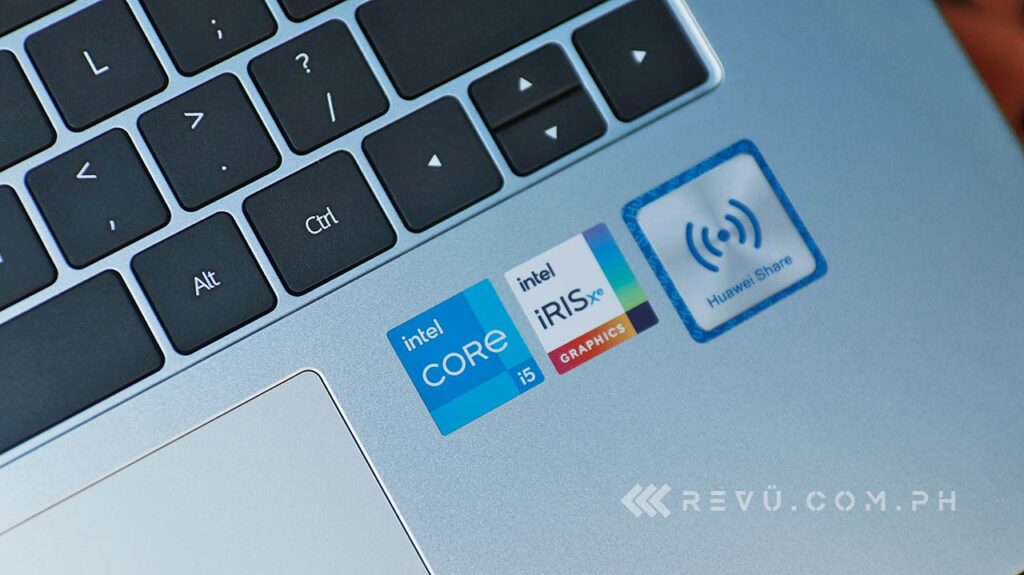 The brains behind this machine is built on a 10nm process and features four cores with eight threads with a max turbo frequency of 4.2GHz and a TDP of 28 watts — both of which are a big jump from the Ryzen 5 3000 series and last year's Core i5 for laptops. The architectural gains here directly translate to better performance.
Intel's in-house graphics can handle modern games, as well as basic photo and video edits. Of course, it's not designed for gaming at high resolutions and virtual reality, and that's fine considering this laptop's price point and overall footprint. If you temper your expectations, though, you could find yourself having a great time playing some AAA titles on the Huawei MateBook D15 2021.
NBA 2K21, Yakuza 6, and Nier Automata are just a few games that ran smoothly on our review unit with the resolution and detail settings lowered. Day-to-day performance outside of gaming felt similarly snappy.
The latest MateBook boots Microsoft Windows 10 Home and arrives with a couple of bundled software preinstalled. This includes Huawei PC Manager, a handy tool that lets you monitor the health of your notebook and download the latest drivers for hardware components with a single click.
If you are interested in synthetic benchmark tests, you can check out the scores posted by our unit below. Take note that we're using the Huawei MateBook D15 2021 variant with an 11th Gen Core i5 processor.
Benchmarks: Geekbench, PCMark, 3DMark, and CineBench
The new Huawei laptop fits a 42Wh non-removable battery. It's not as large as we expected given the screen size, but it will give you somewhere between six to eight hours of constant use at lower brightness and power settings.
More intensive computing will deplete the battery faster. Thankfully, Huawei has thrown in a 65-watt rapid-charging power brick that can charge the laptop much faster than you can drain it. The charger also includes a detachable USB-C to USB-C cable for easier storage, and you can use it for charging other USB-C devices and transferring data.
Huawei says you can expect two hours of use from a 15-minute charge. We found it to be accurate throughout our testing. Our review unit takes about an hour to go from zero to full. You can also use a compatible USB-C powerbank to fast-charge the notebook if you forgot to bring the power brick with you.
Final thoughts
It doesn't look different, but it should feel different in a positive way. And though the latest Huawei MateBook D15 2021 comes with a higher price tag, the improved specs and faster performance across the board offset the added cost. Built around Intel's 11th Gen CPU, this is one of the most powerful Huawei laptops available in the Philippines, and it isn't hard to recommend outright to people who are looking for a solid productivity machine.
Huawei MateBook D15 2021 (11th Gen version) key specs
15.6-inch 1080p FullView Display, 16:9 aspect ratio, 250 nits
11th Gen Intel Core i5-1135G7 CPU
Iris Xe integrated graphics
16GB RAM
512GB SSD
Hidden pop-up webcam
Built-in fingerprint reader
Microsoft Windows 10 Home
Color: Mystic Silver
---