Now the second-largest smartphone vendor in the world, trailing Samsung and ahead of Apple, Huawei has set its sights on becoming a big player in the laptop industry, with Microsoft Windows as its operating system and the backing of its smartphone retail channels.
With the release of the 13-inch MateBook a year ago in the Philippines, we saw what the company is bringing to the table — which is plenty — despite having little experience in the business of PC hardware. So, when we heard about the launch of the cheaper Huawei MateBook D 15 in the country, we were admittedly interested to see if it can live up to the caliber of its smaller cousin.
Well, it's here now. Which brings us to the question: Does this 15-incher meet the hype that comes with being Huawei's latest, most affordable, and most accessible laptop offering in the local market? More importantly, should you buy it? Here's our review of the Huawei MateBook D 15.
Price and availability
The Huawei MateBook D 15 is officially priced at P37,990, or around $746 converted, in the Philippines, and comes in Mystic Silver and Space Gray colors. It is already available for preorder online and offline, with shipping on February 15 for online bookings. Those who pre-purchase early will be entitled to the following freebies worth P9,990 ($196):
Huawei backpack; and
Huawei Bluetooth mouse.
Hardware
Built to impress, with a polish and attention to detail that very much emulates a pricier MacBook, the MateBook D 15 has an aluminum unibody shell with a chrome Huawei logo centered on the lid. It feels durable and reassuring, there's little flex on the lid and keyboard island. And it doesn't pack a lot of weight at 1.62kg, despite sporting a sizable screen and pairing SSD storage with a physical hard drive.
Huawei lists this MateBook as being 16.9mm at its thickest point when the lid is shut, making it portable and quite easy to travel with. Its slim profile also means it can fit in most laptop bags without occupying too much space. However, as a downside, the MateBook's profile doesn't lend a good amount of travel to the full-sized chiclet keyboard. The function keys include dedicated shortcuts to turn on/off Wi-Fi and quickly open Huawei's PC Manager application.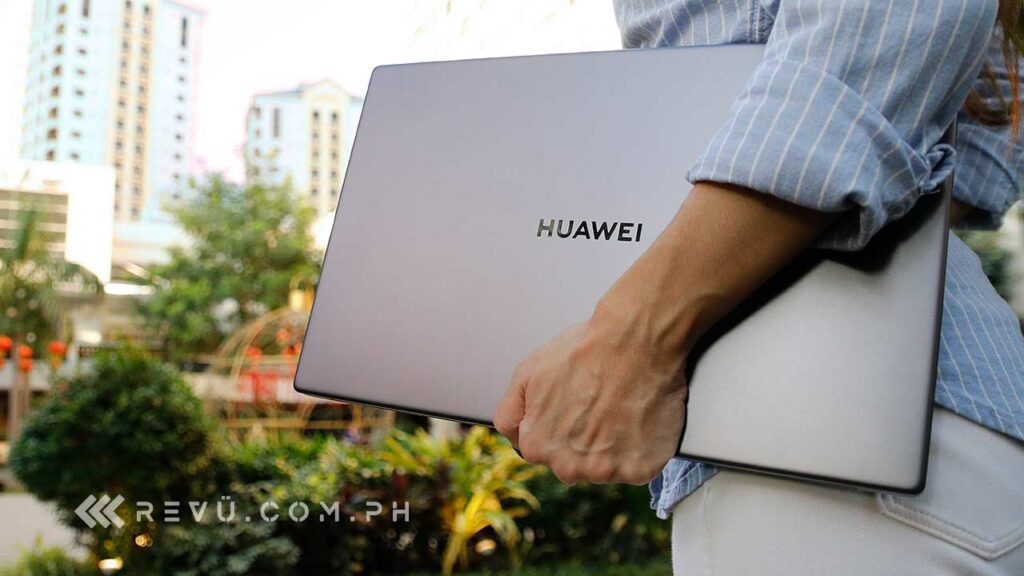 And speaking of the keyboard, it lacks backlighting, which is crucial if you're constantly traveling, or if you like to work in dim environments. It likewise skips a number pad, as well as the Page Up/Home and Page Down/End keys for a compact design. Those omissions are understandable, especially as Huawei has struck a good balance between functionality and comfort with the MateBook D 15's keyboard design.
Importantly, Huawei has stashed a pop-up webcam for video chat and Windows Hello logins between the F6 and F7 keys, similar to what the company did with earlier MateBook models. This unique placement not only makes the top bezel smaller, because there are no camera components hidden in the bezel, but it also aids in privacy when you're not using the camera.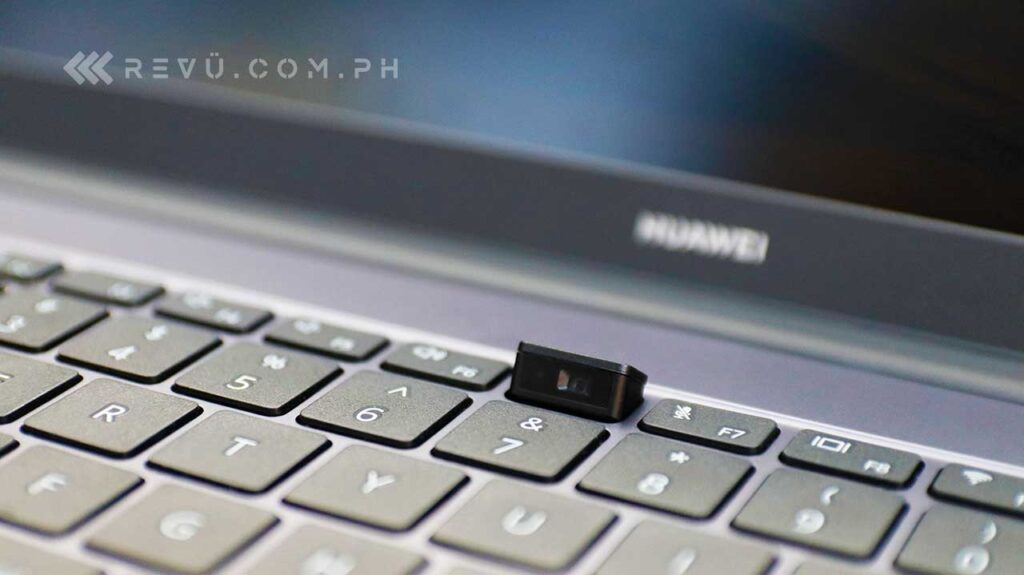 Pressing the camera button within the function row reveals the webcam, pointing it directly up at your face. The webcam is serviceable for its intended purpose, but its video quality falls short of what we would consider ideal for tutorials and online courses. Also, the placement of the front-facer can lead to unflattering selfies, even if you look down at the keyboard area.
The touchpad is smooth to operate and adequately large enough for precise navigation and multi-touch gestures. We never experienced issues with palm rejection during our time testing the Huawei MateBook D 15 so far. It doesn't have any physical buttons or a visible separator for left and right mouse clicks.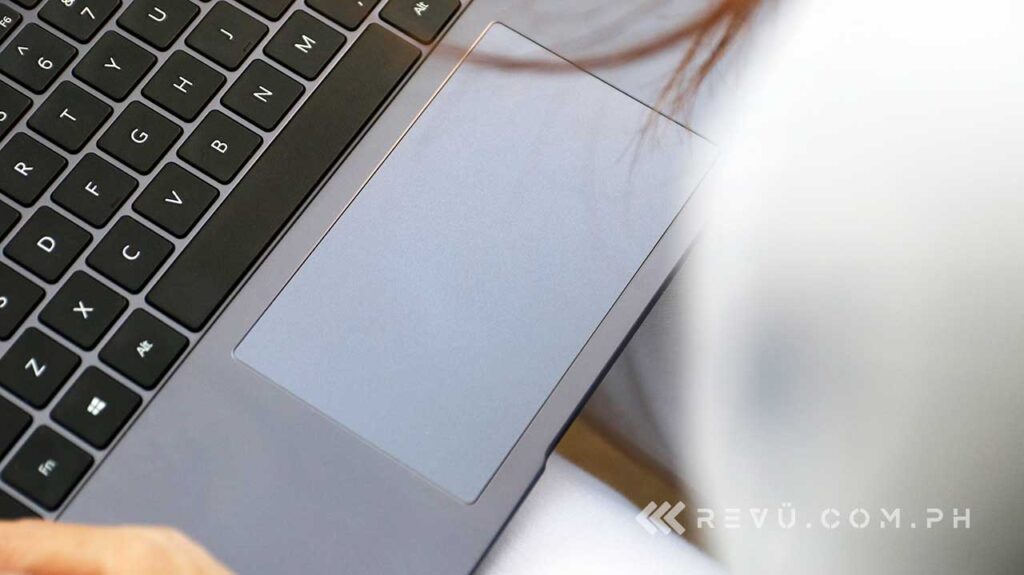 Another item of note near the keyboard area is the round power button with an embedded fingerprint reader that works flawlessly with Windows Hello to verify your identity without needing to type in a password or PIN. It can store multiple fingerprints at once, so you can have some flexibility in how you unlock the machine. Other people can easily log into it as well using their own fingerprint.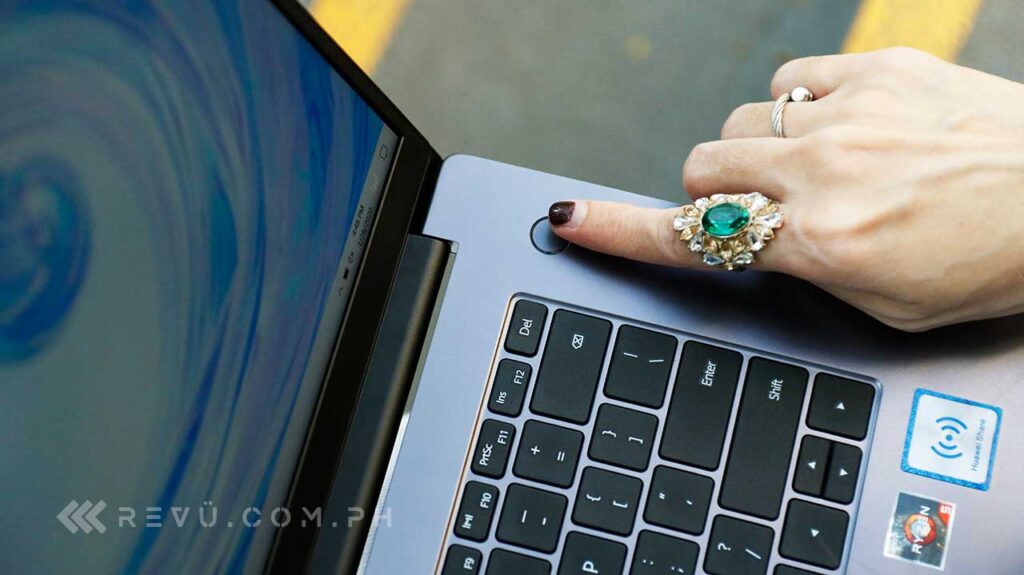 The MateBook's built-in dual microphones can pick up normal speaking tones, so you don't need to raise your voice when using Cortana, Microsoft's voice assistant.
The stereo speakers located at the bottom of the chassis are satisfyingly loud, clearly audible even in crowded places, and deliver richer audio than what you'd normally get from a regular notebook.
The bass performance isn't exceptional, but the speakers are perfectly fine for watching movies, TV series, and YouTube videos. But if you need to listen to music or a podcast while working, you may want to plug in wired headphones to the headphone jack or connect a wireless pair over Bluetooth.
SEE ALSO: New devices part of Huawei Philippines' February 2020 promo
You won't have problems connecting most of your peripherals to the Huawei MateBook D 15, but anyone requiring a Thunderbolt 3 port for data transfer and connecting external monitors will be disappointed.
The laptop's left edge features a USB-C port, a full-sized USB port, and an HDMI input. The other side houses two full USB connectors and a headphone/mic combo jack. Unfortunately, none of the ports are properly labeled, but it bears noting that only one out of the three USB inputs is USB 3.0. There's no SD card reader, which is a bummer if, like us, you frequently use your laptop to edit images from a camera.
On a related note, anyone who owns a high-end Huawei phone like the Mate 30 Pro or Mate 30 Pro 5G will find the MateBook D 15's Huawei Share feature a godsend. Huawei Share allows you to connect to a compatible handset using NFC, Bluetooth, and Wi-Fi and quickly transfer files from your phone to your laptop and vice versa. Pairing takes less than a minute and works by simply tapping your phone against the Huawei Share NFC tag on the laptop.
Huawei Share makes life easier
Huawei Share is great for backing up pictures, videos, and other media across Huawei devices, and you can use it to seamlessly move files from the MateBook to your phone if you need to leave the laptop plugged in.
And if you own an NFC-capable handset running the latest EMUI 10 software, Huawei's Multi-Screen Collaboration is another tool that can improve your productivity. Multi-screen Collaboration creates a mirror screen of your phone on your laptop when connected. This allows you to navigate your phone and operate apps using the MateBook's keyboard and touchpad. It even lets you drag and drop files and texts between devices.
Screen
The Huawei MateBook D 15 packs a 15.6-inch LCD display with compact bezels all around, except at the bottom where the Huawei branding is etched. And thanks to the laptop's slim bezels, the screen-to-body ratio is an impressive 87%, and you'll benefit from all the extra real estate by not having to scroll as much through web pages and long emails. Of course, this also means there is more screen to work on.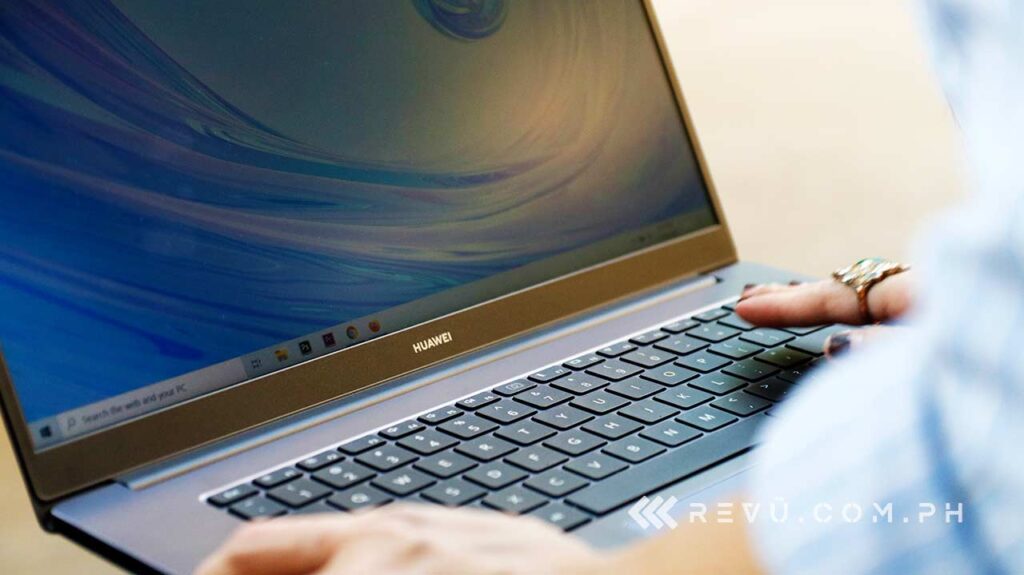 The panel itself seems well-calibrated out of the box, has great colors and decent black levels for an LCD. Huawei lists the contrast ratio as 800:1. And while the maximum brightness is 250 nits — which is standard fare for the category — the display could definitely be brighter for outdoor use, especially since there's no backlighting under the keyboard.
For working in dim environments, the Huawei MateBook D 15 supports Windows 10's Night Light mode. This feature filters out blue-light components out of the display to protect your eyes from screen fatigue and encourage healthier sleeping habits.
Performance
Instead of going with an Intel CPU, Huawei has opted for AMD's Ryzen 5 3500U, which is a quad-core, eight-thread mobile processor with a 2.1GHz base clock and a 3.7GHz max boost clock.
The GPU is a Radeon RX Vega 8 that will handle casual games, as well as basic photo and video edits, much better than most mainstream notebooks. It is not designed for serious gaming and VR, though, and that's fine given the price point and overall footprint of the Huawei MateBook D 15.
The MateBook D 15 can handle casual games, as well as basic photo and video edits, much better than most mainstream notebooks
It will run older games smoothly, but not at high resolutions and detail settings. It's worth mentioning as well that the Vega 8 is faster than Nvidia's GeForce MX230 discrete graphics chip.
Thermals aren't too much of an issue despite the metal construction, but you will notice that the MateBook D 15 gets a bit hot while playing games and running benchmarks. As always, if your laptop gets too hot during use, try to make sure that it is getting enough ventilation to its intake fans by placing it on a flat surface; refrain from putting it on top of a pillow or on your lap.
This MateBook adopts a flexible configuration to give you a generous amount of storage space without bumping up the price with a large — and expensive — SSD
For better multitasking, Huawei has included 8GB of dual-channel DDR4 memory. The usable RAM is around 7GB, with 1GB reserved for the GPU. In terms of storage, this MateBook adopts a flexible configuration to give users a generous amount of storage space without bumping up the price with a large — and expensive — SSD.
The latest MateBook runs Microsoft Windows 10 Home and comes with a couple of bundled software including Huawei PC Manager and ByteFence anti-malware software. PC Manager is a handy tool that lets you monitor the health of your laptop and download the latest drivers for hardware components with a single click.
If you are interested in synthetic benchmark tests, you can check out the scores posted by our review sample below. Take note that we're using the Huawei MateBook D 15 variant with a 256GB SSD and 1TB HDD storage combo.
Benchmark test results
Battery life and charging
The Huawei MateBook D 15 fits a 42Wh non-removable battery. It's not as large as we expected given the screen size, but it will give you somewhere between 5 to 6 hours of constant use at lower brightness and power settings. In our video-loop test, our unit clocked around 7 hours of 1080p video playback.
The Huawei MateBook D 15 lasts between 5 to 6 hours with constant use at lower brightness and power settings. It can hit 53% capacity in 30 minutes using the bundled 65-watt power brick
More intensive computing will deplete the battery quickly within the day, but thankfully, Huawei has thrown in a 65-watt power brick that can charge the laptop much faster than you can drain it. The charger also includes a detachable USB-C to USB-C cable for easier storage, and you can use it for syncing and data transfer between USB-C devices.
Huawei claims the MateBook D 15 can hit 53% capacity in 30 minutes using the bundled quick charger. We found it to be accurate throughout our testing. Our review unit takes about an hour to go from zero to full. You can also use a compatible USB-C powerbank to fast-charge the battery if you forgot to bring the power brick with you.
Final thoughts
The new Huawei MateBook D 15 is an impressive 15.6-inch laptop that combines a beautiful aluminum body with fairly portable proportions and above-average processing power courtesy of an AMD Ryzen 5 CPU.
The SSD and HDD combo storage provides plenty of space for your media files and apps; the 65-watt power brick can bring the battery to full in about an hour; and the proprietary Huawei Share feature is a huge boon to people who own a Huawei smartphone.
For under P40,000 ($787), this laptop is about as good as it gets if you don't need a powerful workstation or gaming-class performance.
Huawei MateBook D 15 specs
15.6-inch FullView IPS-LCD display, 1,920 x 1,080 resolution (16:9 aspect ratio)
Fingerprint reader (power button-mounted)
AMD Ryzen 5 3500U processor
Radeon Vega 8
8GB LPDDR4 RAM
256GB SSD + 1TB HDD
USB Type-C (1), USB 2.0 (2), USB 3.0 (1), and microphone + headphone jack
1MP webcam
Dual speakers
Dual microphones
---