Huawei recently took the wraps off the P40 series at a virtual event that replaced the usual global launch in Europe.
(Update, May 29: We compared this phone with Samsung's flagship! Read Huawei P40 Pro vs Samsung Galaxy S20 Ultra: Ultimate flagship showdown.)
As you'd expect, the primary focus this year is photography and 5G performance, and the P40 Pro (and P40 Pro Plus) fully embody the company's push to develop new and exciting hardware with significant impact to users. Most of us want to take better pictures with our mobile devices; we want better-looking selfies. Fast cellular data is likewise important to many, especially for those who travel for work.
The Huawei P40 Pro easily ticks those boxes, but there's a whole lot more to it than just its camera and 5G chipset. Read our in-depth review to find out what else this phone does or does not do well. But first, let's go over the Pro's local pricing and preorder options.
Huawei P40 Pro price and preorder details
In the Philippines, the Huawei P40 series is now available for preorder until April 24, with some great freebies thrown in to sweeten the pot and entice consumers to purchase online. The Huawei P40 Pro is priced at P50,990 (around $1,010 converted), and if you get it from Lazada or MemoXpress, you will get the following items valued at P12,285 ($243) for free:
Huawei Freebuds 3: P8,990 ($178)
Huawei Band 4: P1,890 ($37)
50GB cloud storage for 1 year: P588 ($12)
GCash voucher: P70 ($1.40)
PayMaya credits: P50 ($0.99)
GMovies discount: P100 ($1.98)
Booky Prime membership for for 3 months: P597 ($12)
Now, if you get it from Shopee during the pre-purchase period, you will be entitled to free items worth a total of P10,395 ($206):
Huawei Freebuds 3: P8,990 ($178)
50GB cloud storage for 1 year: P588 ($12)
GCash voucher: P70 ($1.40)
PayMaya credits: P50 ($0.99)
GMovies discount: P100 ($1.98)
Booky Prime membership for for 3 months: P597 ($12)
You'll basically get the same set of freebies as the one for Lazada and MemoXpress customers, except there's no Huawei Band 4.
What's in the box:
Huawei P40 Pro
Silicone case
40-watt wall charger
USB-A/USB-C cable
USB-C headset
User guide
SIM-eject tool
Hardware
Our first impression of the Huawei P40 Pro is that it's a phone you'll want to have in your hands without a case or adhesive skin on, without anything getting in the way of the phone's surface and your fingers. It's so pleasant to touch and use, with its smooth glass body and curvier-than-usual front.
It just feels incredible to hold and operate, and the build quality is on a par with the very best that Apple and Samsung currently offer. Even the buttons on the side — the P40 Pro sports traditional physical power and volume keys — don't wobble in their housings and provide a satisfying click when pressed. There's also a nice red accent on the power button to easily distinguish it from the volume rocker.
At around 209 grams with the battery included, the device does feel a little heavy, but that's expected given the premium chassis and high-end components inside. One-hand operation isn't a problem despite the 6.58-inch OLED on the front, and the curvature on the sides makes the Pro easy to grip and, again, hold for long without digging into your palm.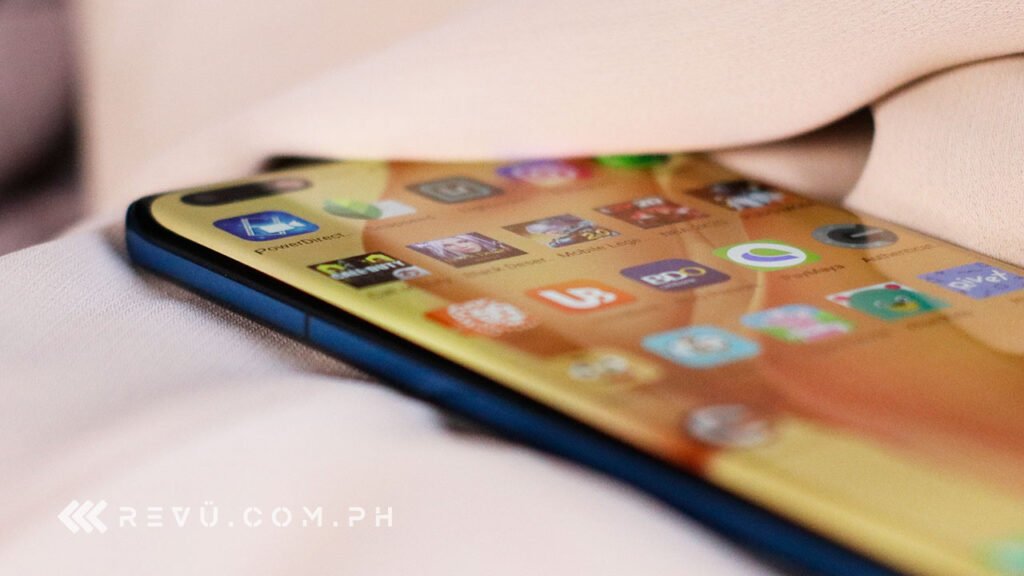 Unlike last year's Huawei P30 Pro, this new flagship features an "overflow display," which is essentially a quad-curved screen glass that slightly tapers to meet the sleek, color-matching metal frame that holds the body together. This is the first Huawei handset that bends on the top and bottom as well as on the sides, giving it a full-screen design with narrow bezels.
The P40 Pro has seven visible antenna bands all around the frame, which is justified considering the phone comes with high-speed 5G and supports Wi-Fi 6 Plus technology that takes advantage of gigabit-plus wireless speeds on compatible networks.
What's also unique is the pill-shaped cutout that houses the Huawei P40 Pro's dual front-facing cameras and suite of sensors for face unlock. The main selfie shooter sits alongside a depth-sensing IR camera and ambient and proximity sensors, which allow for gesture controls — similar to those on the Huawei Mate 30 Pro — as well as 3D face scanning. The P40 Pro brings advanced gesture features for scrolling and taking a screenshot hands-free, although the latter works much more consistently and in dark environments, too.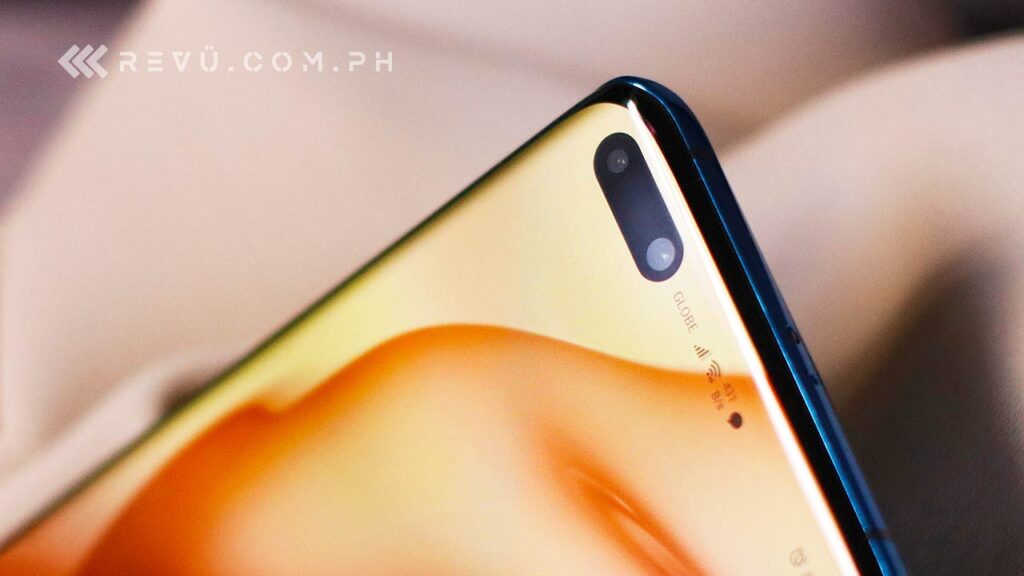 While the cutout is a bit on the wide side, it's impressive that Huawei was able to fit a number of components close to the edge of the display. As you may recall, the Mate 30 Pro from last year comes with a large notch at the top of the display. Now, consider that the P40 Pro carries a better front camera, but packs the same nifty tech for face unlock and gestures in a cutout that's not too wide and not too distracting.
Face detection on this new Huawei is, quite simply, phenomenal — it's one of the device's best features. It works well across different environments, even in pitch-black darkness, which is a huge plus that makes it a far more convenient alternative to the under-screen fingerprint reader. The option to add another face data is also welcome, especially if you've given someone else open access to your phone.
As on the P30 Pro before it, the Huawei P40 Pro doesn't have a traditional earpiece speaker; instead, it has an "electromagnetic levitation" speaker that vibrates the top of the screen to produce sound. Phone calls sound excellent at both ends; cellular reception, as expected, is outstanding, too.
Like its predecessor, the top edge of the P40 Pro packs an infrared blaster for controlling appliances like TVs and stereo systems. Huawei's IR blaster app can even control the shutter of your digital camera with the touch of the screen, something we don't usually see on similar software. While IR blasters on phones aren't particularly new or exciting, it is still great that Huawei managed to incorporate it into its latest flagship.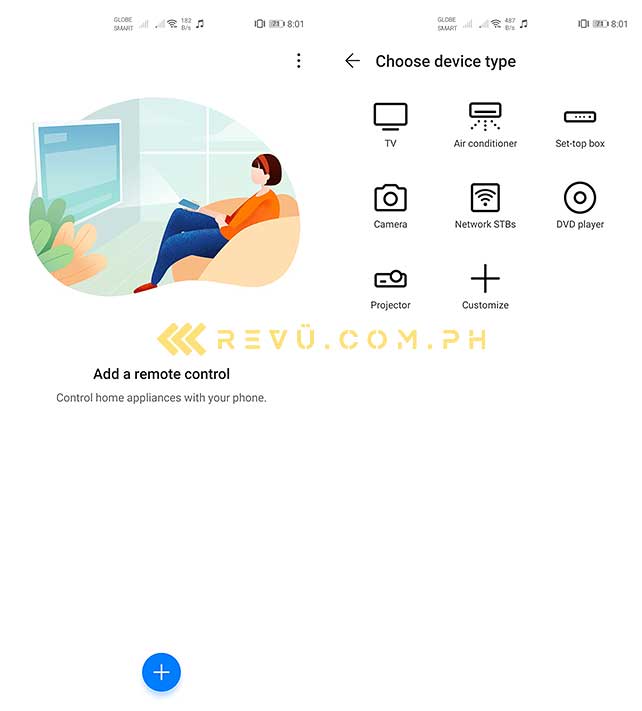 Unfortunately, there is also no notification LED. To get visual notification alerts you can easily see without unlocking the screen, you can turn on the Pro's Always On Display feature. It's much improved on EMUI 10.1, allowing scheduled on and off times, as well as the ability to download paid and free AOD designs to make your phone stand out from others.
Around the back, the Huawei P40 Pro has a pretty sizable rectangular module for its quad cameras, color spectrum sensor for ensuring accurate white balance, in addition to an "Octa PD" system that improves auto-focus. We'll dive into the camera specs later, but it's worth mentioning that the camera bump is quite significant. It's not as huge and distracting as the bump on the Samsung Galaxy S20 Ultra, but it does cause the device to wobble when set on a flat surface.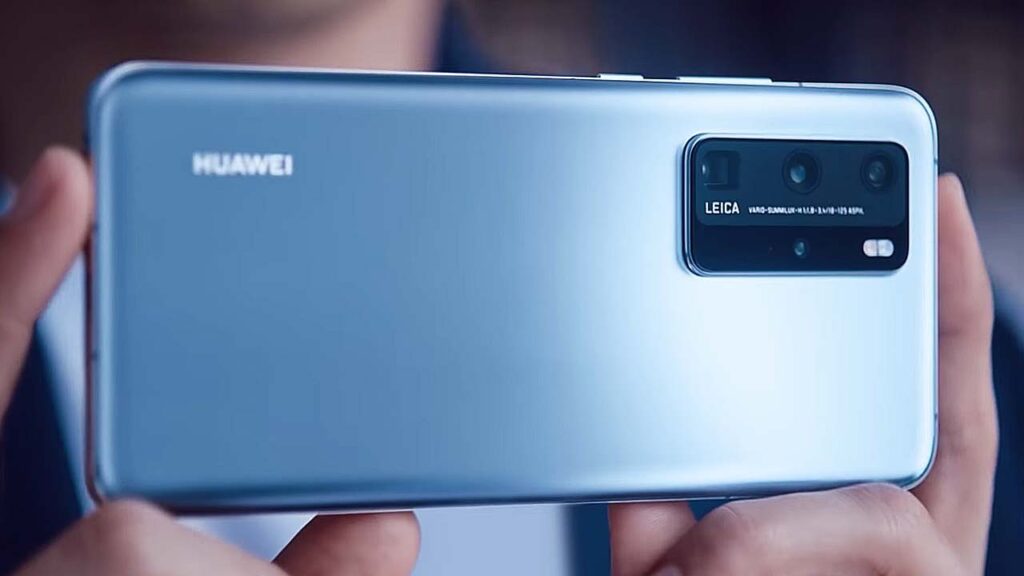 The P40 Pro, like the regular P40, is available in multiple color options — Black, Blush Gold, Deep Sea Blue, Ice White, and Silver Frost. The review unit we received is the Deep Sea Blue variant, as you can tell. It looks nice and adds to the appeal of the phone as a whole, but it must be noted that Huawei has skipped gradient finishes entirely, so don't expect to see fancy colorways for the series this year.
At the bottom, the a USB-C port is flanked by a loudspeaker and a hybrid tray for two nano SIM cards or one SIM card plus an NM SD card for additional storage. The primary SIM slot supports 5G, while also supporting older standards as well; the secondary SIM slot, if you are planning on using it, handles up to 4G LTE only.
The primary SIM slot supports 5G, while also supporting older standards as well. And the secondary SIM slot handles up to 4G LTE only
As for the bottom-firing speaker, it can get loud enough to fill a small room and doesn't excessively distort at full volume. However, it lacks the depth of external speakers and headphones. Speaking of external audio, we tried the included USB-C headset; you shouldn't expect anything out of the ordinary from it.
If you want better sound, you may want to purchase Huawei's FreeBuds 3 true wireless earphones, which are excellent and, not to our surprise, pair well with the P40 Pro. They're included in the pre-purchase bundle, so that's one more reason to be an early adopter.
The Huawei P40 Pro carries an IP68 rating, meaning it can survive being submerged in up to 1.5 meters of water for at most 30 minutes. That being said, it should be able to withstand a full dunk in the sink (or toilet — because, you know, it happens sometimes). The included silicone case will bring some peace of mind, especially if you have butterfingers.
Screen
Again, the screen is a sizable OLED unit. 6.58 inches diagonally, with 2,640 x 1,200 max resolution, resulting in a pixel density of 441 dots per inch and a tall aspect ratio of 19.8:9. The display also runs at 90Hz, which provides a smoother, more responsive feel than what you may be accustomed to on a smartphone.
You can lower the resolution and refresh rate to HD+ and the standard 60Hz, respectively, but then again, doing so won't give you your money's worth. Huawei could have opted for a sharper and faster screen, but the company insists it made the right call and says the Pro offers the best balance between performance and battery consumption.
Simply put, a better screen will drain the battery faster. Which is, of course, correct. We also feel that longer battery life is more important and appealing than having the best screen money can buy. A 90Hz refresh rate is adequate for most smartphone tasks, while the resolution is good enough for the screen size. Even small text looks clear — not perfect, but perfectly legible.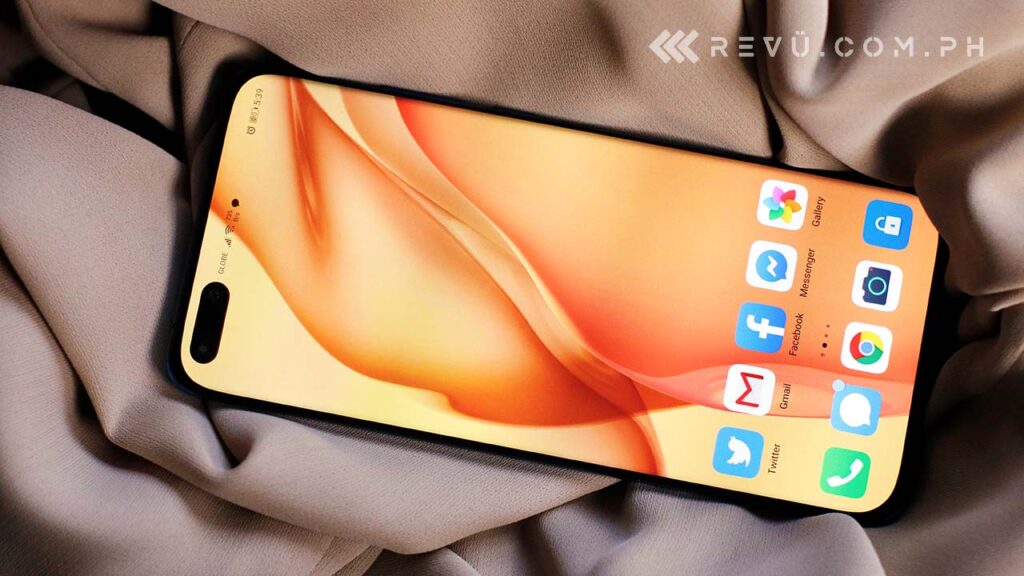 Now, let's talk about picture quality. The screen on the Huawei P40 Pro doesn't particularly stand out in any one metric, but it looks good at most angles regardless. Colors are generally rendered nicer out of the box than on previous models, and the brightness is adequate for outdoor use under sunlight.
It supports HDR10+ content as well, which isn't surprising on a flagship, though it can't play HDR content on Netflix and other streaming apps because it doesn't ship with Widevine L1 certification.
Huawei's EMUI 10.1 provides the option to hide the punch hole in the Settings app under Cutout if you want an unobstructed view during video playback. However, we prefer to show the punch hole to make full use of the available screen real estate. This can be manually enabled in Settings as well, and we recommend that you set all your video-streaming apps to "Show cutout" for a more immersive viewing experience.
Cameras
The P series has always been about bringing the best camera technologies to a compact form factor, and the Huawei P40 Pro not only retains the promises of its predecessor, the P30 Pro, but looks to elevate mobile photography to new heights.
On the back, the Pro has four cameras in its rectangular module. It uses 50 megapixels for the main shooter; 40 megapixels for the ultra wide; 12 megapixels for the periscope telephoto with up to 5x optical zoom and 50x digital zoom; and a Time of Flight or ToF sensor to assist when shooting portraits.
SEE ALSO: Huawei P40 Pro earns best DxOMark scores for rear, front cameras
The centerpiece of the system is a 50-megapixel Ultra Vision Wide RYYB sensor that sits behind f/1.9 lens. It boasts a larger sensor size than the average smartphone camera and can reach ISO 409,600 for pictures — much higher than the 12,800 ISO of the latest iPhones. The ISO goes up to 51,200 while shooting video. This means the Pro can basically see at night and lets in a generous amount of light, which is vital in camera performance.
In fact, in one slide shown during the product launch, Huawei claims the P40 Pro can outperform the night modes of the Apple iPhone 11 Pro Max and Samsung Galaxy S20 Ultra in auto mode.
The P40 range also introduces Huawei's new Golden Snap feature, which uses AI to automatically select the best set of images in a burst, allowing you to capture sports and wildlife without a professional camera. It can also apparently eliminate unwanted reflections in a photo and remove passersby caught in the frame.
The best moments come when you least expect them. That's why you need the #HuaweiGoldenSnap. Watch how we use AI to freeze your best memories. #EMUI10.1 #HuaweiP40 pic.twitter.com/7tXu1Mokpv

— EMUI (@HuaweiEMUI) April 6, 2020
AI Best Moment
Don't let reflections come in the way of your perfect shot. Explore the AI capabilities of Huawei Golden Snap on the #HuaweiP40 series. #EMUI10.1 pic.twitter.com/HLPzeq0K1G

— EMUI (@HuaweiEMUI) April 8, 2020
AI Remove Reflection
Passersby getting in the way of your perfect shot? HUAWEI Golden Snap has new intelligent photo-editing capabilities to help you. #EMUI10.1 #HuaweiP40 pic.twitter.com/fH1XIzzTxU

— EMUI (@HuaweiEMUI) April 1, 2020
AI Remove Passersby
Golden Snap will roll out in a future software update for compatible devices; unfortunately, our review unit hasn't received the update yet.
Golden Snap will roll out in a future software update for compatible devices. Unfortunately, our unit hasn't received the update yet
For videos, the P40 Pro can shoot up to 4K resolution at 60 frames per second. There's also super slo-mo video recording at a whopping 7,680 fps.
Slo-mo videos shot on the Huawei P40 Pro
In general, we found that the P40 Pro performs better than other flagships we've used, both in terms of stills and video.
The dynamic range is the widest we've seen yet on a mobile device, while the color reproduction and exposure are spot on most of the time. Image noise is barely visible when shooting in daylight, and isn't overwhelming indoors and in low-light conditions. There's also good bokeh in portrait shots.
Autofocus performance is some of the best we've seen in a phone camera, accurate and fast to lock, but expect to see a bit of delay when taking photos of small objects. On top of that, the zoom function is powerful enough that at 50x, pictures are still usable for social media (see our moon shot).
The front camera packs 32 megapixels and snaps sharp images with accurate colors and bokeh, even in the dark corners of our office-slash-home. Portrait selfies also look natural in terms of how the background is blurred to allow the foreground to stand out.
Huawei hasn't exactly been a leading figure in the selfie space, but the P40 Pro is arguably at the top of its class based on what we've seen so far. Our only complaint is that, compared with the options available for the rear system, the Pro's selfie shooter doesn't offer a strong selection of shooting modes and features.
Pictures taken with the Huawei P40 Pro. Moon shot is 50x
Sample photos from our hands-on of the Huawei P40 Pro, posted around two weeks ago: 1) Selfie — portrait shot; 2) Auto mode — cropped; 3) 1x; 4) 50x; 5) Night mode; 6) Auto mode; and 7) Auto mode, but this one's taken with a new 64-megapixel phone from a different brand
Performance
Powering the Huawei P40 Pro is the latest Kirin 990 5G chipset, which feels ever slightly more capable than the standard Kirin 990 found inside the Mate 30 and non-5G Mate 30 Pro. The 5G version is built on a 7nm+ process node that utilizes EUV lithography technology; the Kirin 990, by contrast, is a regular 7nm design.
More notably, the newer chip fully integrates an in-house 5G modem in the same silicon as the CPU and GPU for better power consumption compared to its competitors in the market that also offer 5G connectivity, such as the Qualcomm Snapdragon 865.
READ ALSO: Watch: 5G and 4G speed tests on the Huawei Mate 30 Pro
Huawei claims up to 31% better power savings than Qualcomm's top-of-the-line chipset when using 5G. That's something worth highlighting, especially considering the strain 5G will put on the battery.
Meanwhile, in terms of computing and graphics performance and overall usability, the Pro delivers a satisfying flagship experience, particularly when the 90Hz refresh rate is turned on. You won't notice any slowdowns from the handset while running a bunch of apps and graphics-intensive games, like Black Desert Mobile, Call of Duty Mobile, and NBA 2K20, and the Kirin 990 5G has zero issues in day-to-day use. Mobile Legends supports High Frame Rate Mode for smoother gameplay.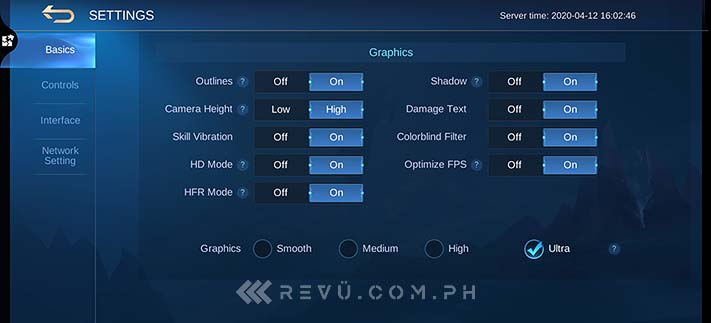 The benchmark scores are not the highest we've ever seen on a smartphone (with the exception of the Antutu AI Benchmark numbers), but they're more than respectable. Also, it should be noted that our benchmarks came from a review sample with 8GB RAM and 256GB of fast UFS 3.0 storage.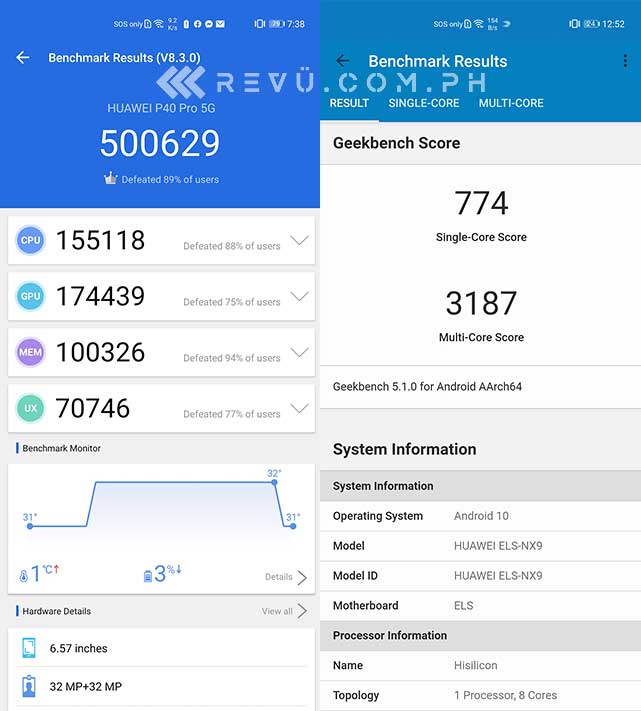 Huawei has put a 4,200mAh battery in the P40 Pro and added 40-watt wired fast charging and 27-watt fast wireless and reverse-wireless charging, although the latter needs to be enabled in the Settings to work. It should be mentioned, too, that you'll need to purchase a specific wireless fast charger from Huawei to achieve the fastest charging speeds.
The Pro includes a Smart Charge feature, which will evaluate your charging routine and may delay charging the device to 100% to prevent battery deterioration. This is helpful if you're the type of user who frequently keeps devices plugged in overnight or on the wireless charging pad for too long.
SEE ALSO: Huawei Mate Xs foldable now available in the Philippines and Huawei Mate Xs: Specs, sample pictures, first impressions
So, how long does it take to charge the Huawei P40 Pro? Getting the 4,200mAh battery to a decent capacity won't take a whole lot of time. It reaches around 80% after 30 minutes of charging; a full charge from zero takes approximately 50 minutes.
The P40 Pro's battery life is great, and Huawei's tweaks to Android seem to add to the device's efficiency. This Huawei averages about 8 hours and 30 minutes of screen-on time on a single charge, with around 5% of juice left. In PCMark's battery-life test, our unit yielded 12 hours and 6 minutes with the 90Hz option active.That's impressive for any premium smartphone, let alone one with the internals and screen size the Pro has.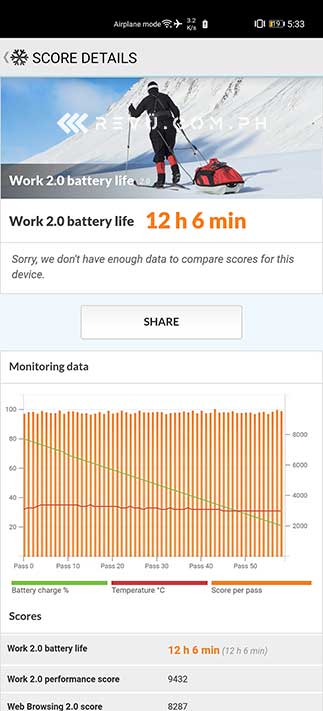 The battery lasts us close to two days before we plug the phone into a charger, even with 90Hz enabled. Our daily usage includes multiple email accounts on sync; constant use of the web browser and messaging and social media apps; streaming videos and music for at least three hours; gaming for an hour or two; Bluetooth connectivity with a fitness band or smartwatch; and 8 hours of AOD.
Switching to a lower resolution and 60Hz refresh rate guarantees longer usage times, and enabling EMUI's power-saving mode and managing how different apps launch and run on your device will stretch the battery life even further.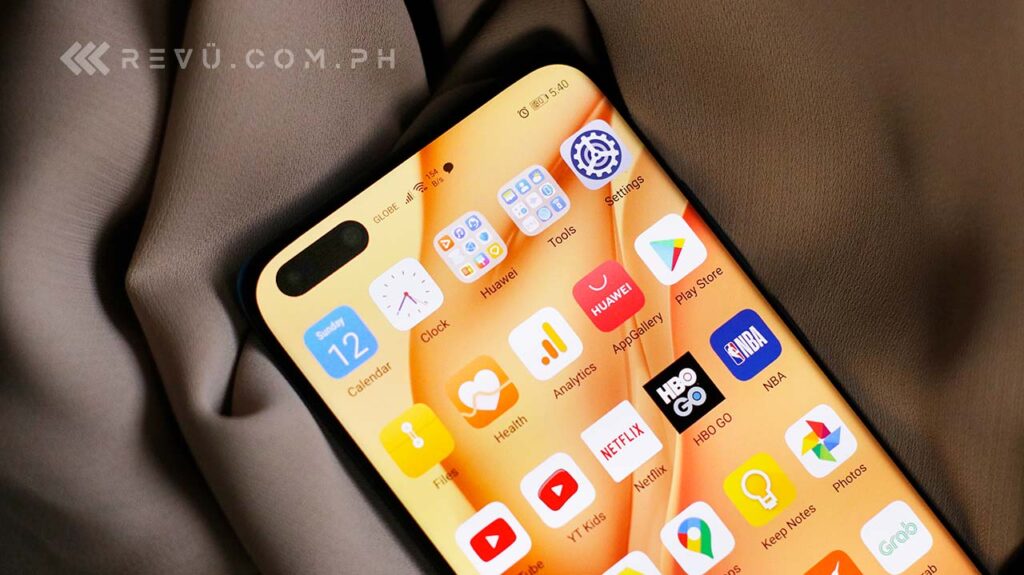 On the software side, the Huawei P40 Pro runs EMUI 10.1 based on Android 10 with Huawei Mobile Services, an ecosystem of the company's services, which includes its digital storefront for Android apps, AppGallery. A growing marketplace for apps with 1.3 million developers on board and more than 400 million monthly active users, AppGallery is the third-largest app store around.
Meanwhile, Huawei's latest EMUI 10.1 software includes better AOD designs for the OLED panel; the all-new "Hey Celia" digital assistant; a Multi-Device Control Panel function to let you seamlessly share screens and files between the Pro and other Huawei devices you own, and more. EMUI 10.1 also allows for easier split-screen multitasking by swiping from the edges.
Final thoughts
The P40 Pro is easily Huawei's best mobile device ever. It's also a clear standout contender for the "smartphone of the year" title. Its cameras on the front and back are the most impressive we've seen from a handset yet, while the rest of the hardware is topnotch, headlined by a well-sized, quad-curved OLED screen that can run at a smooth 90Hz rate without draining the battery too quickly. The 4,200mAh battery backup can last two days on a charge and offers close to nine hours of screen-on time while forcing the 90Hz setting across the interface and apps.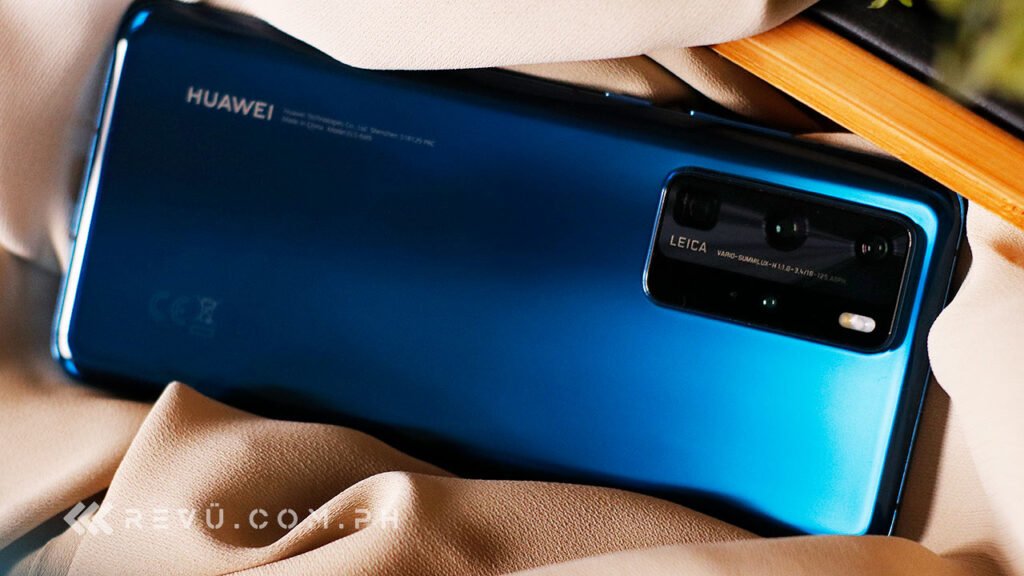 It's easy to describe the new Pro as the best camera phone money can buy today. And while there's certainly nothing wrong about that, you'll be happy to know that the other not-so-exciting things that make it whole are either bright selling points in their own right or par for the course for a 2020 flagship. There's little to complain about here without diving into nitpicking.
That being said, we'll make it simple for you: If you can live your smartphone life sans Google apps and the services that rely on them — which isn't impossible with millions of Android apps that can be downloaded outside of the Play Store — then the Huawei P40 Pro is highly recommended. But even if you're on the fence, we would still urge you to consider it. This phone is as close to worth its price tag as possible, and that says a lot.
Huawei P40 Pro specs
6.58-inch OLED display, 2,640 x 1,200 resolution with 90Hz refresh rate
Octa-core HiSilicon Kirin 990 processor
5G connectivity
8GB RAM
128GB/256GB/512GB storage
Quad 50-megapixel, f/1.9 with OIS (main), 40-megapixel, f/1.8 (ultra wide), 12-megapixel, f/3.4 with OIS (telephoto with 5x optical zoom), 3D ToF camera (depth) rear cameras
Dual 32-megapixel front camera, depth sensor
Fingerprint reader (under-display)
4,200mAh battery with 40-watt fast charging, 27-watt fast wireless charging
EMUI 10.1 based on Android 10 with Huawei Mobile Services
---