It was only on September 22 that Realme launched the popular GT Neo2 in China. But come October 19, there will be another member of the GT series.

The brand has confirmed that the Realme GT Neo2T — a product of its collaboration with sportswear and sports-equipment company Li-Ning, which was founded by a former Olympic gymnast — will debut in its home country next week. Even better, it has already shared images of the smartphone. There are two color variants shown at the time of posting this article, and we're not sure yet if there will be more.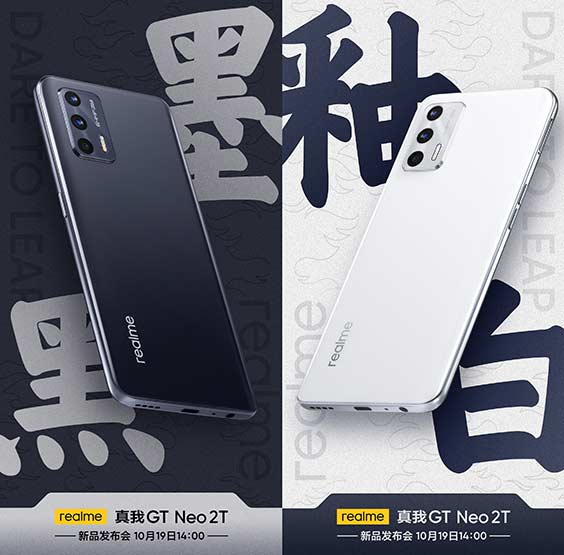 Above, you can clearly see that the Realme GT Neo2T adopts a minimalistic design, with the back panel housing only a 64-megapixel triple camera on its upper-left side and the branding at the lower left. At the bottom edge are a speaker, a USB-C port, a microphone, and a 3.5mm headphone jack. The SIM-card slot and volume keys are on the right frame — at least when viewed from the rear — and the power button is on the left.
SEE ALSO: Realme GT Master Edition review: Flying high on design
Realme has not teased the specs of the phone just yet, but word has it that the GT Neo2T is powered by a MediaTek Dimensity 1200 processor paired with up tp 12GB of RAM and a maximum of 256GB of storage. It supposedly features a 6.43-inch AMOLED display with an fingerprint sensor underneath it, as well as a 16-megapixel selfie camera and 8-megapixel ultra-wide and 2-megapixel macro rear sensors.
We're pretty sure the brand will be posting teasers of the Realme GT Neo2T's key specs in the coming days, so stay tuned. As for its availability in other countries, including the Philippines, that's something we're waiting for as well.
---