All the market-research firms that released local smartphone data were unanimous in saying that Realme was the No. 1 phone brand in the Philippines last quarter. But how about in the tablet category?
According to the International Data Corporation, Samsung Electronics Philippines dominated the tablet space in the country in the second quarter of 2021. The manufacturer captured almost half of the market — 45.4%, to be exact — up from 18.8% in the same period last year.
Lenovo was a far second with its 16.4% market share, and homegrown brand Cherry Mobile ended up in third place with a share of 9.1%. Former top tablet vendor Huawei slipped to the fourth spot; its percentage of the total number of shipments last quarter decreased to 6.5% — same as China's Haier — from 19.4% in Q2 2020.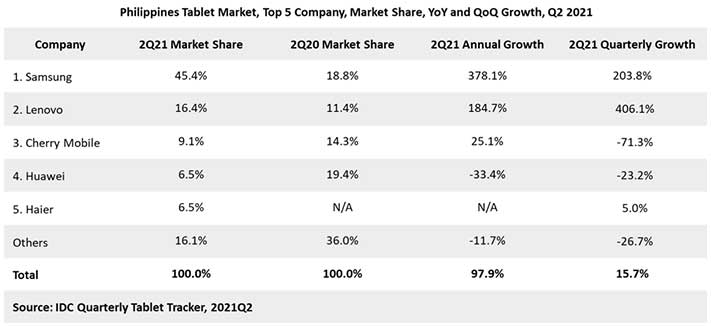 Unlike smartphone shipments, tablet shipments were driven by local governments units' demand, which surged during the second half of 2020 when the 2020-2021 school year began in September.
IDC Philippines client devices market analyst Angela Jenny Medez said that "tablet shipments continued to be driven by the education sector due to large tenders from several LGUs to provide tablets for public school students in preparation for the school year. Face-to-face schooling remained suspended, compelling some schools to shift to online learning."
Tablets were sought-after because of they are cheaper than laptops and desktops, but can still run educational platforms, apps, and other productivity tools.
However, IDC does not expect the demand for tablets to have the same momentum as last year. "Some LGUs prioritize the rollout of vaccinations. New procurements will be from other cities outside of Metro Manila," Medez said.
---