Realme has brought its sub-brand DIZO to the Philippines, with a bunch of new audio and fitness-focused products in tow. One of the most interesting devices at launch is the DIZO Watch 2, which should not be confused with the Realme Watch 2 despite their namesakes and similar Apple Watch-inspired looks.
We'll be upfront with you now: The DIZO Watch 2 looks slightly more attractive and has a more solid build quality than Realme's own affordable smartwatch. And the latter is older. So there's that, too. Does that mean DIZO's first smartwatch in the Philippines is actually worth the money, or are you better off picking another bargain-basement wearable? Read our review of the DIZO Watch 2 to find out.
One of the things that immediately stands out about the DIZO Watch 2 is its watch body. The rectangular zinc-alloy frame features smooth, curved edges and is sandwiched by a matte rear panel housing multiple sensors and 2.5D rounded glass that seamlessly blends with the metal. It definitely lends a premium vibe to the hardware, and we like it a lot.
It's understated yet appealing in a no-nonsense manner, which are also words we'd use to describe the white box the smartwatch ships in. The standard packaging, in case you're wondering, contains the smartwatch, strap, and magnetic charging connector that plugs to a USB-A port.
The DIZO Watch 2 isn't too thick by entry-level-watch standards. And while not the lightest around, officially coming in at 52 grams with the strap, it isn't a burden to wear either. DIZO also says it's 5ATM water-resistant, and is therefore suitable for use in a pool and in the shower. No need to remove it before hitting the water, unless you're about to do some diving.
There's only one button on the watch, and it's located along the right edge in the middle. The tactile feedback from the button feels nice and gives you another clue as to how put together the DIZO Watch 2 actually is. Pressing it once will turn the screen on or off; a long press will switch it off completely or turn it on from a shutdown state.
As you can tell, our review unit is the Classic Black colorway that comes with a color-matching silicone strap with the DIZO branding on the loop. The material of the strap feels durable, and compared with many other wearables out there, this one is more comfortable to wear throughout the day. It is easy to wear and remove, plus it has plenty of holes for precise adjustment and should fit snugly on smaller wrists.
The band also comes with quick-release lug bars, has a 20mm diameter, and can be swapped out with other 20mm straps if you're looking for a more formal one or just a different material. We're okay with how our all-black unit looks, but it seems much more premium now after swapping out the included band with a leather one.
The rectangular touch display of the Watch 2 measures 1.69 inches across, making it larger than the one on the Realme Watch 2 (1.4 inches), and outdoor visibility is respectable at 600 nits of peak brightness. It's a TFT-LCD screen that delivers surprisingly decent colors, contrast, and sharpness for its price point. The display bezels are likewise pleasingly uniform throughout. And because they're identical, they give the illusion of being smaller than they are when you switch to a predominantly black watch face.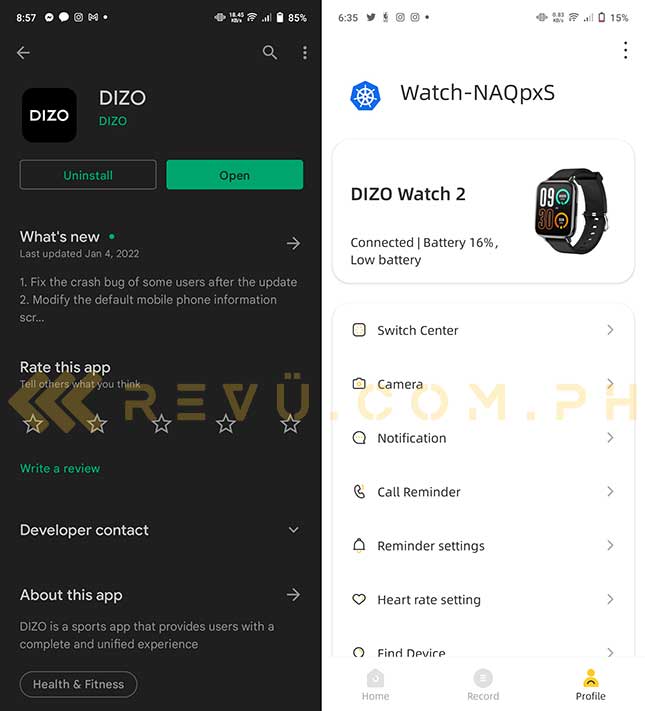 Speaking of which, there are loads of free and interesting watch faces to choose from in the DIZO companion app, which works on both modern Android and iOS devices. You can download the app on the Google Play Store and iOS App Store, and we highly recommend that you use it to pair the Watch 2 with your phone the moment you boot the smartwatch.
Besides using it to set up watch faces on your device — we currently have 14 dials installed on our phone — and switch between them (you can only store one watch face of your choosing on the watch), the DIZO app is also needed to pull firmware updates and control system settings, including notification features. In addition, it's useful for checking the battery level of the smartwatch, since it only moves in 10% increments.
We're happy with the current selection of dials for the Watch 2, and the fact that you don't have to spend anything to download as many watch faces as you like is a huge plus. If you want to get creative, you can create your own watch face as well by uploading a photo from a paired device through the DIZO app.
One thing to note here is that the application doesn't allow you to change the font size of notifications shown on the watch, which is unfortunate because the text looks too small to be legible from an arm's length away. If you are long-sighted or you frequently suffer from eye strain, increasing the brightness level of the display won't help. You also can't reply to messages on the watch's display.
As a fitness tracker, the DIZO Watch 2 doesn't disappoint. The brand says it can monitor 15 different indoor and outdoor activities, ranging from walking, running, cycling, swimming, and strength training to popular sports such as basketball, football, and badminton, although there's no built-in GPS here. You don't get assisted GPS, where the watch uses a paired phone's GPS radio for location-based tracking, either.
In our testing, we found the wearable to be reasonably capable of accurately tracking our jogging and running metrics, which is quite impressive given the lack of GPS and A-GPS features. The DIZO Watch 2 also sports a PPG heart-rate sensor and can monitor your heart rate every 10 minutes with All-day Monitoring enabled in the companion app.
The watch is equipped with an Sp02 sensor as well, and the blood-oxygen levels we saw were within the range of what other entry-level smartwatches gave us. But then again, we wouldn't pick a fitness tracker over a conventional pulse oximeter for accurate readings.
On top of the usual fitness features, the Watch 2 gives you the ability to control media playback on your paired device and remotely activate the shutter on its camera, making group photos that much easier to capture.
DIZO claims the Watch 2 should be able to last 10 days with typical use on a single charge. We found that estimate to be pretty spot on, if not entirely accurate. We managed to get close to 10 days out of a full charge with the brightness level set to three, notifications enabled, and some short workouts squeezed in our busy schedules. Also, keep in mind that we wore our unit to bed daily during our testing.
Final thoughts
The DIZO Watch 2 delivers on the essentials, while offering superb battery life and a bright 2.5D display on a metal body. Look no further if you're after a stylish smartwatch on a budget.
In the Philippines, the DIZO Watch 2 has a suggested retail price of P1,999 or around $40 converted — with an introductory price of P1,599 ($31) until February 14. Available in Classic Black, Ivory White, and Golden Pink colors, you can buy it from DIZO's flagship store on Lazada, as well as DIZO stores and partner retailers nationwide.
DIZO Watch 2 specs
1.69-inch, 2.5D curved TFT-LCD touch display
52.5 grams including the strap
20mm strap
PPG heart-rate sensor, blood-oxygen sensor
Over 15 sports modes
260mAh battery with magnetic charging (up to 10 days battery life)
5ATM water resistance
Bluetooth
Android 5.0 or later, iOS 10.0 or later
Colors: Classic Black, Ivory White, Golden Pink
---