It's easy to assume every new flagship smartphone is extra large. Consumers want big phones, and manufacturers are well aware. So it comes as a breath of fresh air to see the Xiaomi 12. It's surprisingly compact, yet as powerful as its Pro counterpart.

The Xiaomi 12 is the brand's smallest high-end smartphone in several years. Although the 6.28-inch 1080p AMOLED screen seems substantial on paper, its curved edges make the body feel more compact. Small doesn't mean slow, however. In fact, it's one of the fastest Android devices you could buy today.
For hands of all sizes
The Xiaomi 12's frame feels great, no matter the hand size. Those with small hands would appreciate the reachability of every corner. For larger palms, the phone is thick enough to fit snugly in one's grip. The included clear case improves the handling, but doesn't add enough to make it seem like a bigger handset.
If you opt to disregard the bundled case, you'd enjoy the smooth, matte back. It doesn't attract fingerprints, and there are three color options to choose from: purple, blue, and gray. We've become so accustomed to dramatic color combinations on phones that monotonous colors are a welcome reintroduction.
An obtrusive lens protrudes from the 50-megapixel main camera sensor. It causes significant wobble on flat surfaces and collects lint from our pockets. On top, we have Xiaomi's signature infrared blaster; the right side holds both the power button and volume control.
Aside from the perfectly sized body, we love the stereo speakers. The Harman Kardon-branded loudspeakers take up actual space on the top and bottom parts of the frame, rather than share a spot with the earpiece. Holding the phone in landscape orientation with the selfie camera on the right gives the speakers enough room to release clear-cut audio even at the highest volume.
A bundle of power
After reviewing the Xiaomi 12 Pro, the regular Xiaomi 12's 6.28-inch screen does feel cramped while watching videos or playing games. Icons that would normally be easy to tap on displays larger than 6.5 inches are sometimes a challenge here. Even though it offers a 120Hz refresh rate and touch sampling rate of 480Hz, accidental touches are bound to happen because of the curved sides.
Once you get used to its handling, the 1080p AMOLED is a sight to behold. Like its Pro counterpart, the blacks are truly black and the dynamic range is exquisite. Colors pop if you choose Vivid or Saturated under display options. You also have the choice of a full-time always-on feature or accessing it with a single tap while the phone's on standby. From there, you may use the accurate under-display scanner to unlock the phone.
Sticking to its flagship status, the Xiaomi 12 is equipped with Qualcomm's top-shelf processor, the Snapdragon 8 Gen 1. It's the same chipset found in the Xiaomi 12 Pro, but the execution is slightly different. Although the Xiaomi 12 matches its pricier Pro sibling in the PCMark Work 3.0 and Geekbench 5 benchmarks, other apps paint a different picture.
We noticed significant throttling on both demanding and light games. On medium to high graphics settings, Genshin Impact would stutter and fall below 30 frames per second when there's too much action. We experienced the same on the less-intense Pokemon Unite, wherein we'd see frame drops toward the end of a match. To our surprise, its 3DMark benchmark scores were much lower than what we got on the Xiaomi 12 Pro despite them having the same chip.
Benchmarks
We suspect the Xiaomi 12 holds its processor back before it hits 40 degrees Celsius. The Xiaomi 12 Pro, in comparison, allows its Snapdragon 8 Gen 1 to go past this threshold and simply maintains the frame rates. To the Xiaomi 12's credit, it runs much cooler during long gaming sessions at the expense of some performance. And yes, we had performance mode turned on under the Game Turbo settings.
The good news is the Xiaomi 12 has much better battery life than the Pro version. We achieved a score of 10 hours and 56 minutes on PCMark's battery test, proving our all-day usage with the 4,500mAh battery was no fluke. The more pocketable 67-watt charger and its 42-minute full charge time were also close to the advertised 39 minutes.
Two and a half cameras
In addition to the 50-megapixel main camera we mentioned earlier, the Xiaomi 12 owns 13-megapixel ultrawide and 5-megapixel telemacro cameras on the rear. In case you're wondering, the telemacro shooter has a macro lens and not a telephoto unit, which means it doesn't add any optical zoom.
We had a grand experience with the main camera. Its motion-tracking focus was always spot on, and would adjust exposure as soon as its sights were on a subject. Colors would appear overly saturated at first, but we later realized it was a result of the AMOLED display. Viewing the photos on a desktop monitor revealed more accurate color rendition. Output was sharp as well, thanks to the built-in image stabilization.
In spite of the 50-megapixel sensor, the default photo resolution is set to 12 megapixels. This helps maintain sharper images with less noise at night. The main camera's video recording was equally high in quality, as long as we stayed at either 1080p or 4K resolution. Its 8K recording was too inconsistent for our taste; plus, it's limited to 24 frames per second.
Sample shots. Click on a thumbnail to launch the gallery
The ultrawide camera was helpful when we needed to fit more into the frame. It causes distortion around the corners, so it must be used wisely. The telemacro camera is less impressive. While it does improve macro photography, we would've preferred a dedicated telephoto lens like the one found on the Xiaomi 12 Pro. In the Pro model's case, its telephoto camera was automatically used in Portrait mode to smoothen the background blur.
The single 32-megapixel front-facing camera performed as expected: great in daylight, so-so at night. Selfies were generally bright and strong in colors. The app had a tendency to soften our faces, but mostly in low-light environments. Portrait mode once again makes an appearance for the selfie camera, offering an adjustable beauty mode to remove blemishes and marks.
A giant among competitors
Those in need of a smallish phone should seriously consider the Xiaomi 12. Despite its size, it offers a long list of desirable features: perfectly sized screen accompanied by high-quality speakers, decent battery life with a fast charger in the box, and reliable cameras. We consider P39,999 (around $780) a fair price for the variant with 8GB of RAM and 256GB of storage.
Its few faults won't affect the majority of users. The Xiaomi 12 can't sustain peak performance during heavy loads and the telemacro camera should've been a telephoto unit instead. If these do bother you, the Xiaomi 12 Pro is your best bet. It's better for mobile gaming and offers a true telephoto lens, but you'd have to deal with the heftier proportions and weaker battery life.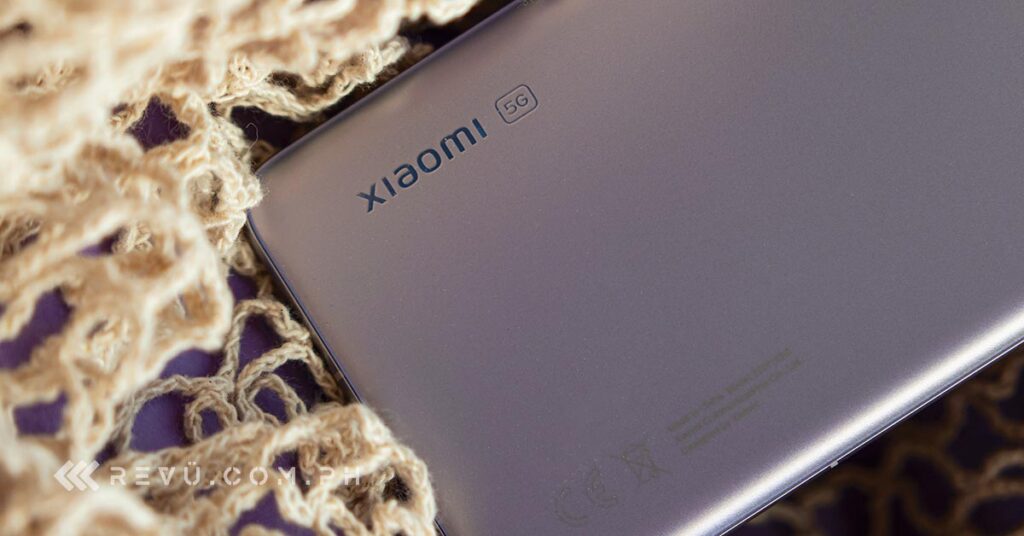 Looking elsewhere, the Samsung Galaxy S22 is the closest alternative. Its cameras are more versatile, and Samsung's One UI may be friendlier than MIUI 13. Xiaomi's latest Android ROM tends to be too in-your-face with software features and shortcuts. We had enough of the wallpaper carousel and app-cleanup offers after a week. It would take more time to personalize and ensure each of your apps functions properly.
We hope the Xiaomi 12 will resonate with consumers, because we need more flagship smartphones at this size. Large phones are fun to use, but we also need devices that don't stick out of our pockets.
Xiaomi 12 specs
6.28-inch 1080p AMOLED display, 120Hz refresh rate, 480Hz touch sampling rate
Qualcomm Snapdragon 8 Gen 1 processor with 5G
8GB RAM
256GB storage
50-megapixel main, 13-megapixel ultrawide, and 5-megapixel telemacro cameras
32-megapixel front camera
Under-display fingerprint reader
Stereo speakers tuned by Harman Kardon
4,500mAh battery
67-watt wired charging, 50-watt wireless charging, 10-watt reverse wireless charging
MIUI 13, based on Android 12
Gray, purple, and blue color options
Where the Xiaomi 12 is available for purchase
Xiaomi 12 (8+256GB) | Php 39,999
Lazada: https://t.co/9nJbGCJAxw
Shopee: https://t.co/A5NeoTvC41

Xiaomi 12 Pro (12+256GB) | Php 48,999
Authorized Xiaomi Stores: https://t.co/EWyxoXUl0V

— Xiaomi Philippines (@MiPhilippines) April 4, 2022
---