As we continue to move away from strict isolation and quarantine guidelines and more doors open for travel and recreation, it's now easier than ever for people to start or continue their journey into an active lifestyle. And if you love gadgets and are looking to get back into shape fashionably, smartwatches are a must.

Fortunately for you, Huawei has recently unveiled its latest line of smartwatches, which includes the HUAWEI WATCH FIT 2. The second-generation watch boasts improved tracking and health-management features, as well as a larger and sharper Huawei FullView Display powered by AMOLED technology. We think it's an excellent smartwatch for the active and fashionable.
But how does it compare with currently one of the most popular and feature-rich watches, the Apple Watch SE?
In this article, we're going to explore the similarities and differences between the WATCH FIT 2 and Watch SE. Hopefully, this can help you decide which smartwatch to get if you're in the market for one now — or in the near future.
Pairing
Pairing the Watch SE with an Apple smartphone starts by simply pressing and holding the side button until you see the American technology giant's logo and bringing the two devices close to each other with Wi-Fi and Bluetooth enabled. Wait for the Apple Watch pairing screen to appear on your iPhone, then select Continue. Alternatively, you can open the Apple Watch app on your iPhone, and then tap on Pair New Watch. It's simple, straightforward, and works as intended on practically any iPhone.
Sadly, Android users are out of luck. When it comes to pairing Apple products with accessories, there's really no better option than opting for the same brand.
If you own a compatible Huawei phone and have the Health application already installed on your device, then you can expect a similarly convenient pairing process with the WATCH FIT 2. For Android and iOS phones, the pairing process is a little more complicated and requires the user to install the latest version of the Health app and scan a QR code on his or her device. But hey, at least the HUAWEI WATCH FIT 2 ensures wider compatibility with other brands and operating systems, unlike the Apple Watch SE.
Hardware
The original WATCH FIT arrived in a rectangular metallic body, so it's not surprising that its successor, the HUAWEI WATCH FIT 2, does, too. It could pass as a dress watch, unlike most other smartwatches, especially since it comes with a variety of high-quality and fashionable strap options, including leather and metal.
The Moon White variant we're using pairs a gold case with a leather band. The front case uses aluminum, while the back is made from polymer. Despite its premium build, the watch face is lightweight and slim, so it feels good around the wrist. The strap can be easily replaced, as it comes with the traditional pin mechanism.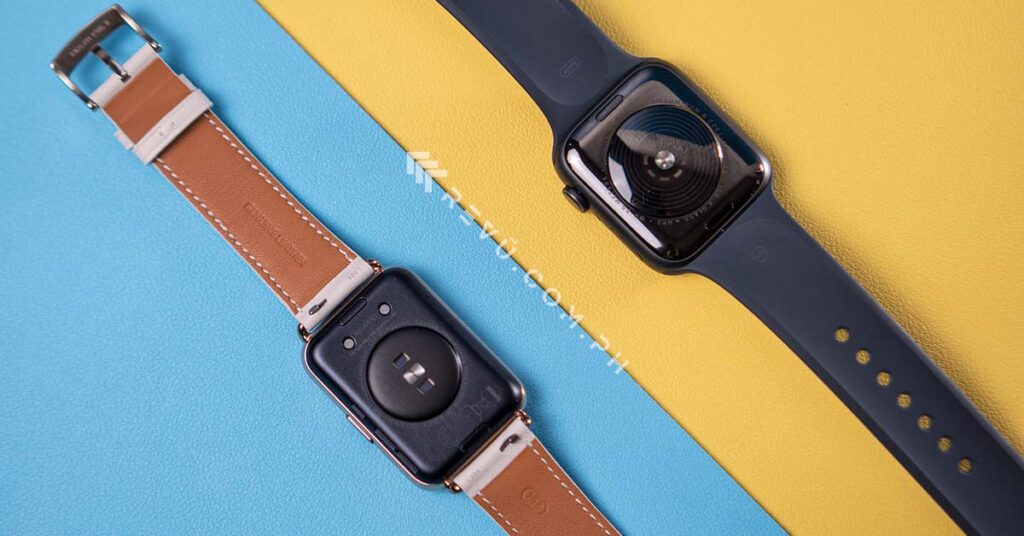 The Apple Watch SE, on the other hand, gets a hefty and chunky aluminum watch face with a rotating crown. Compared with the WATCH FIT 2, it has a noticeably more premium design. And Apple offers several case and strap options to go along with the watch, perfect for mixing and matching with your outfit for the day. We also like that you can easily swap bands on the go – no need for tools and professional assistance.
Both watches have built-in speakers and microphones, allowing you to answer calls and play music directly from the device. We found the ability to take calls without opening your phone to be such a convenient feature, as it lets us continue our workouts during or after receiving a call. It's a godsend for us, as well as users who routinely have to make and take quick calls throughout the day.
Both models are 5ATM-rated for water resistance as well and offer magnetic charging as the default charging option.
Display
Huawei has equipped the second-gen WATCH FIT model with a vivid 1.74-inch AMOLED touchscreen with a 480 x 336 resolution, which translates to a pixel density of 336 dots per inch. Unlike regular watches with a round-dial design, this one packs a rectangular screen, making it better suited for showing alerts, notifications, and messages.
Crucially, the display here supports always-on functionality, which will display limited information at a glance, ideal for people like us who use a smartwatch to take some of the burden off our phones when it comes to basic tasks.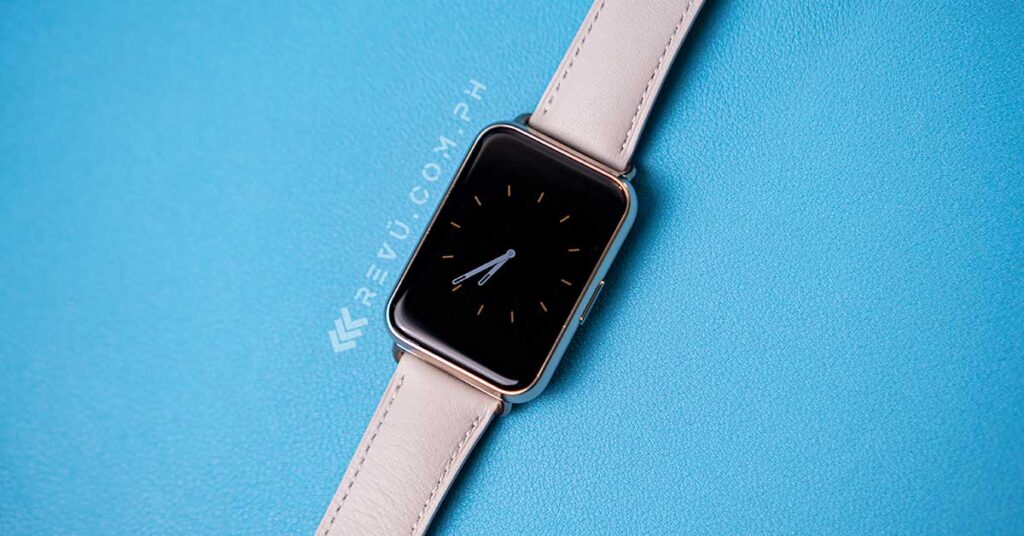 You don't get an always-on lockscreen on the Watch SE, despite its much-higher price tag and the fact that it has a similar display as the regular Watch. This Apple model's 1.78-inch LTPO OLED screen is bigger and brighter, though, and its square face with perfectly rounded edges is a joy to look at.
Both displays are adequate and deliver a pleasant viewing experience regardless of the task — whether it's telling the time, mirroring your notifications, or displaying information about your health and fitness.
Smart features
The HUAWEI WATCH FIT 2 notably comes with Huawei Assistant Today. There's also the Huawei Health app, which you can download for free on the Huawei AppGallery, Google Play Store, and App Store for iOS devices. Following a recent update, the app now includes the new Healthy Living feature that lets you choose fitness goals and set daily tasks.
The WATCH FIT 2 supports Bluetooth-based voice calling, plus access to quick-reply templates for WhatsApp users who want to keep up with their conversations while engaging in physical activities.
Impressively, there's also built-in GPS and support for the dual-band, five-system GNSS feature that the pricier Huawei Watch GT Runner has. This should lead to a more accurate tracking of your outdoor activities, such as runs, bike rides, and hikes. It makes the HUAWEI WATCH FIT 2 a more well-rounded fitness tracker than many other sports watches in the same price segment.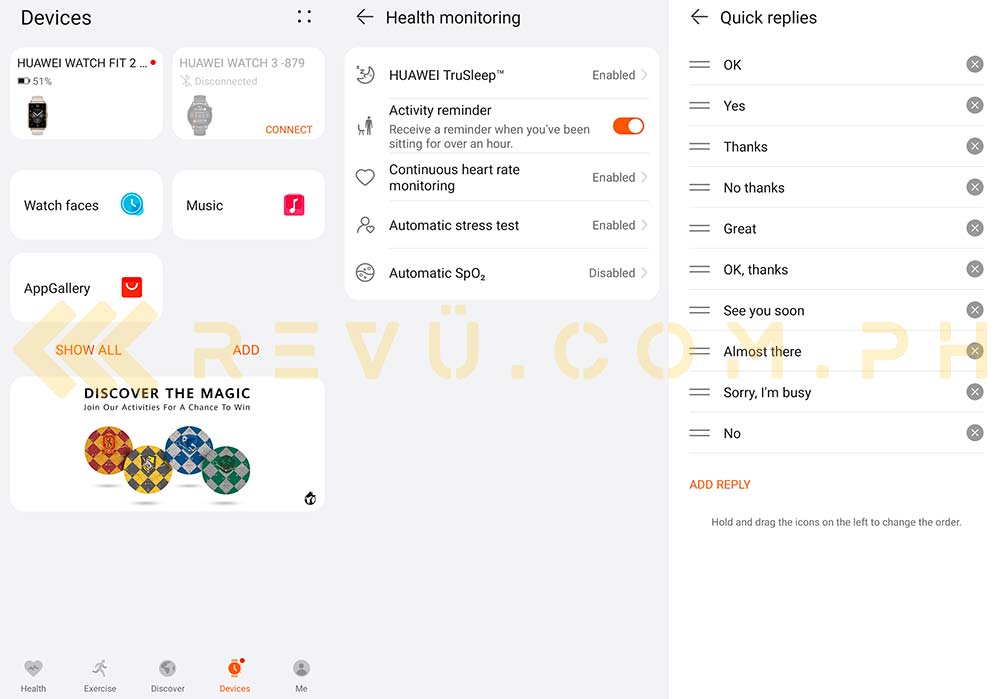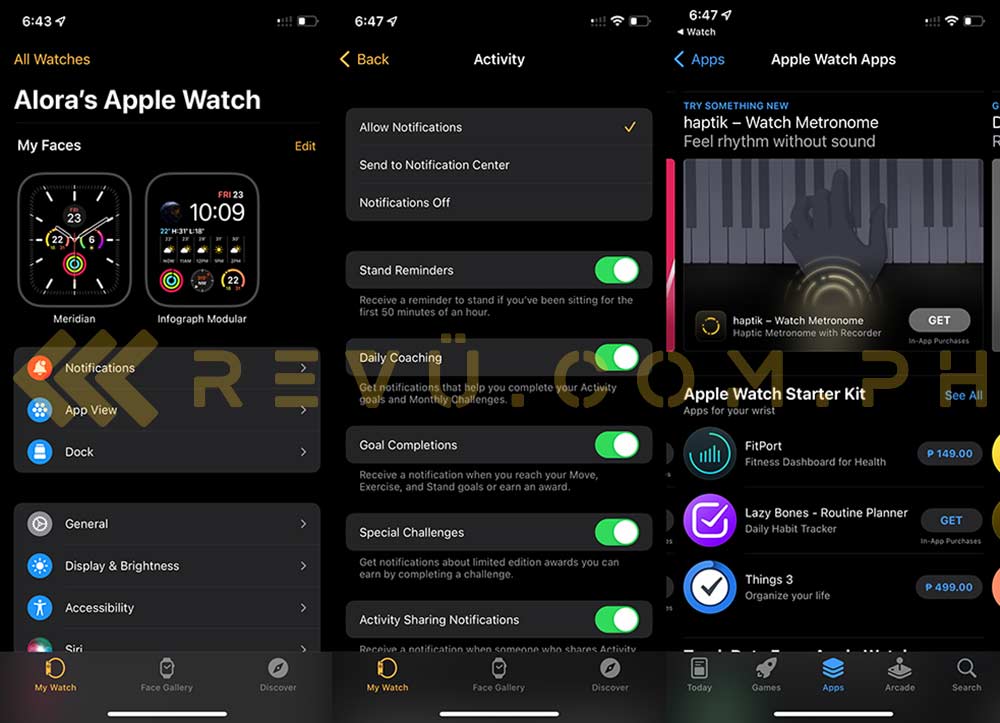 As expected, the Watch SE boasts the same smart features the WATCH FIT 2 offers, including Bluetooth calling and chat reply, to go along with an array of sensors for fitness and GPS tracking. The Apple smartwatch even lets you compose messages directly from your wrist, as opposed to sending short and canned replies. And unlike on the WATCH FIT 2, the ability to write messages on the Watch SE is not limited to WhatsApp; it works with Messenger, Apple's native Messages app, and more.
Like an iPhone, the Apple Watch SE has access to a rich ecosystem of software that runs well, thanks to its powerful 64-bit processor. By comparison, the WATCH FIT 2, while fast and responsive, can't run third-party apps.
Health management
The HUAWEI WATCH FIT 2 offers a wide range of health features, such as heart-rate tracking, all-day SpO2 measure, scientific sleep monitoring, stress monitoring, and menstrual-cycle monitoring for women. It also comes with 97 built-in workout modes, as well as guided breathing exercises and an animated fitness coach for seven exercise modes, offering easy-to-follow audio instructions and demonstrations, so that absolute fitness neophytes can choose which workouts to focus on. Huawei pulled no stops with the WATCH FIT 2's fitness and wellness capabilities, and it's great to see so many features on a smartwatch that costs a lot less than most.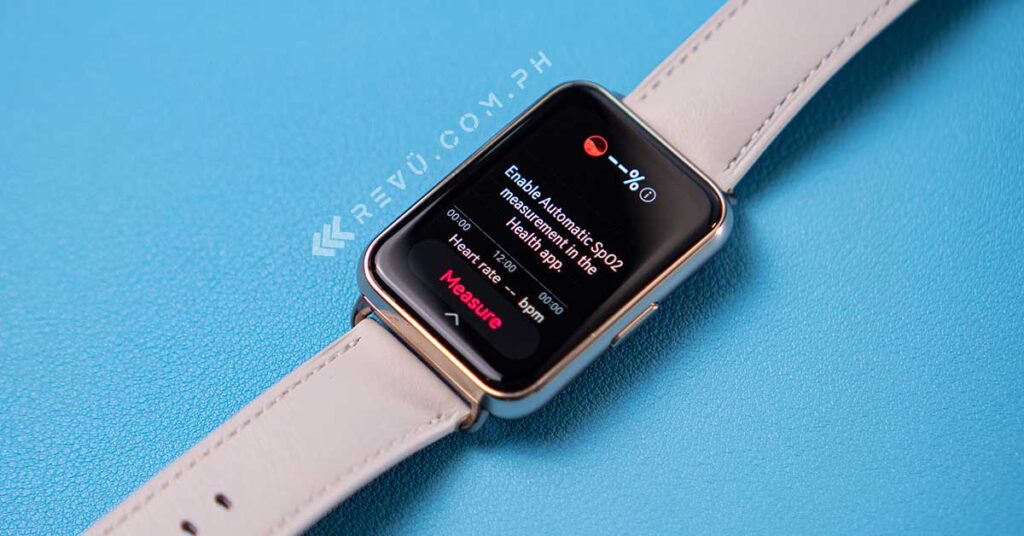 The Apple Watch SE offers the same breadth of tools as Huawei's watch. Heart rate, steps, sleep, stress — this Watch tracks them all. And although its Workout app has fewer workout options to choose from, its accuracy when it comes to tracking both standard exercises like running and cycling and more advanced activities such as high-intensity interval training or HIIT is likely second to none.
The Watch SE skips a blood-oxygen monitor and an animated fitness coach baked into the software, though the latter can easily be offset by dozens of similar apps you can download and use on the Apple watch.
Final thoughts
After weeks of testing, we can confidently say that the HUAWEI WATCH FIT 2 and Apple Watch SE are both capable smartwatches that offer plenty of benefits to the active and stylish youth. The Watch SE lives up to the bill as a bar-setter in the category, but we can't help but think that the WATCH FIT 2 isn't too far behind in terms of aesthetics and function.
Huawei's latest smartwatch shares a lot of the Apple device's main attractions, including the ability to answer calls via Bluetooth and reply to messages directly on the watch. Its tracking and health-management features are among the best in its price class. Not to mention, you can use it with devices running Android, iOS, and, of course, HarmonyOS. If you don't own an iPhone, the Watch SE — or any Apple Watch, for that matter — isn't for you.
We think that the price difference — a very big difference, we should note — is a potential swaying point for many users as well. In the Philippines, the HUAWEI WATCH FIT 2 is priced from P6,499 (roughly $123), while the basic Apple Watch SE starts at P15,990 ($302). Let's say you get the Apple smartwatch. Are you getting twice as many features for more than double the cost of the WATCH FIT 2? Definitely not.
That said, we highly recommend the HUAWEI WATCH FIT 2 to users who want an attractive, fitness-focused smartwatch that boasts many of the same hardware specs and features found in the Apple Watch SE, but want to have money to spend elsewhere.
HUAWEI WATCH FIT 2
---
Automatic pairing available on Huawei devices; compatible with HarmonyOS, Android, and iOS devices
Active Edition: aluminum (front) and polymer (back) watch case; Classic Edition: polymer watch case; 5ATM-rated water resistance; silicone, leather strap options; built-in speaker and mic
46 x 33.5 x 10.8mm; 26-30 grams
1.74-inch AMOLED touch display with 336ppi and AOD or always-on display
HarmonyOS (no apps); Bluetooth app connection; Bluetooth calling; and smartphone notifications and alerts
GPS; Bluetooth 5.2; no Wi-Fi and cellular option
Optical heart-rate sensor; SpO2 monitor; accelerometer; ambient-light sensor; gyroscope sensor; compass
Up to 10 days battery life with magnetic charging
APPLE WATCH SE
---
Automatic pairing available on iOS devices; compatible with iOS devices only
Aluminum watch case with ceramic or sapphire crystal back; 5ATM-rated water resistance; silicone, leather, and metal strap options; built-in speaker and microphone
44 x 38 x 10.7mm; 36.20-36.36 grams
1.78-inch LTPO OLED touch display with 326ppi (no AOD)
watchOS with access to apps; Wi-Fi/Bluetooth app connection; cellular/Bluetooth calling; smartphone notifications and alerts
Built-in Wi-Fi; GPS; Bluetooth 5.0; cellular option
Optical heart-rate sensor; accelerometer with fall detection; ambient-light sensor; gyroscope sensor; compass; altimeter; NFC for Apple Pay
Up to 18 hours battery life with magnetic charging
---