Mobile gaming is no longer limited to premium smartphones. As we've evaluated in our recent reviews, the latest lower-end phones are capable enough to handle most mobile games. Their processors are now up to par, while their RAM and storage configurations match flagship standards of past years.
(Update, July 6: Can the Vivo T1 5G game? See how the phone handles even some of today's most demanding games in this gaming test!)
The Vivo T1 5G is the newest evolution in budget-friendly, gaming-oriented smartphones. For those who aren't familiar, Vivo's T-series targets gamers who don't have deep pockets. At P16,999 ($320), the T1 5G packs a lot of power for the price.
SEE ALSO: Pro imaging? It's easier than you think with the just-launched vivo X80 series
Our early impressions have been mostly positive. The T1 5G's processor is one we'd normally see on pricier devices, and its speedy charger fills up the battery in less than an hour. So, how does it fare once the honeymoon phase is over?
'Blast from the past' design
We certainly didn't expect an old-school notch on a smartphone of this caliber. It brings back the waterdrop design we had seen on smartphones over two years ago. It's a sore sight after experiencing punch-hole cameras on cheaper phones, but we got used to it after a few days of use.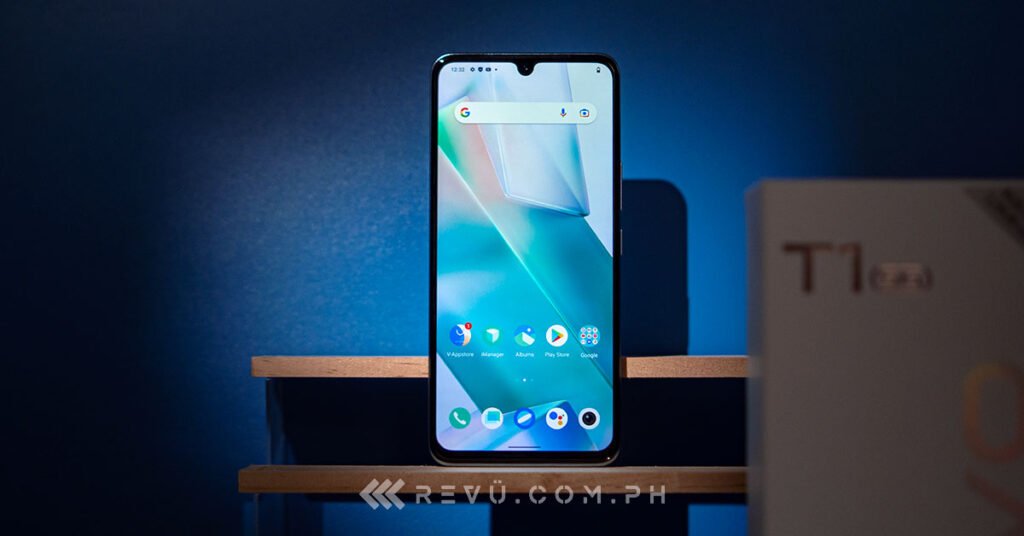 Considering the gamer-focused approach, we were saddened to see no stereo speakers or 3.5mm audio port on the Vivo T1 5G. Again, these are features we've become accustomed to on affordable handsets. On the bright side, the single loudspeaker gets extra loud when pushed beyond the 100% volume level using Vivo's software.
Ignoring these minor shortfalls, the T1 5G has its aesthetic highs with either a Turbo Black or Turbo Cyan-colored plastic back and eye-catching rear cameras. The camera bump protrudes to the point of causing significant wobble on a table, but the included clear case lessens instability.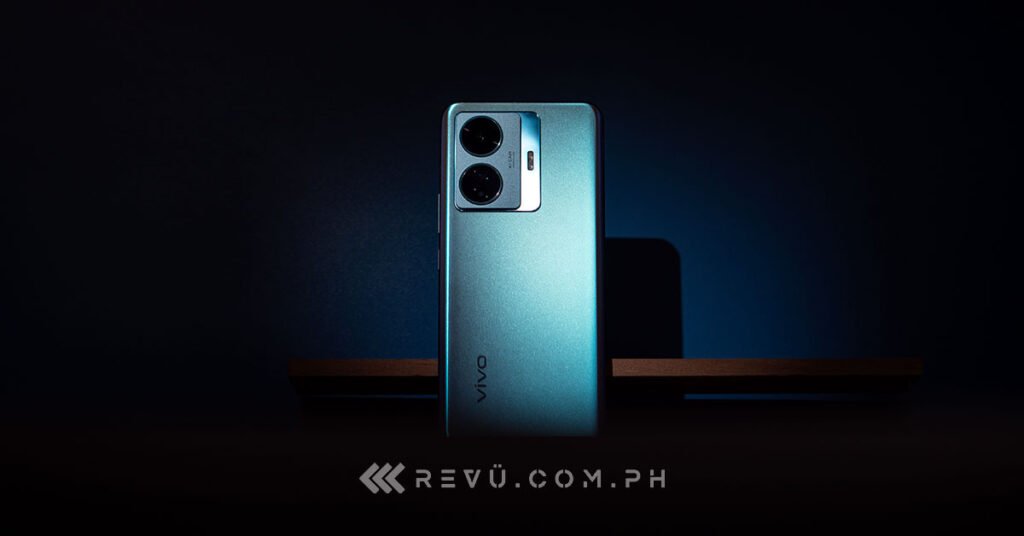 Future-proof in other aspects
The Vivo T1 5G's strengths are mostly on its specs sheet. Its 6.44-inch 1080p AMOLED display is the perfect size for different hand sizes. It's neither too big for a tight pocket, nor too small for enjoyable handheld gaming. The refresh rate is limited to 90Hz instead of the more ideal 120Hz on other gaming phones, but anything beyond 60Hz is a welcome feature.
You'll find the fingerprint reader under the display. It's surprisingly fast, unlocking the smartphone as quick as facial recognition would do. This was helpful when we'd accidentally turn off the screen while playing games; getting back into the action was consistently fast. It helps that the handset's Funtouch OS 12, based on Android 12, is well-optimized and feels light once you uninstall the preinstalled bloatware.
We also appreciated the 5G connectivity. It provides fiber-level speeds whenever your home Wi-Fi lags out. Of course, 5G availability depends on your area, but it's nice to have once it becomes more commonplace and 4G turns into the new 3G.
A new standard for midrange gaming
The Vivo T1 5G's real edge lies in its Qualcomm Snapdragon 778G processor. In spite of its model name, it's faster than many Snapdragon 800-series chipsets from past years. In fact, it's more powerful than the Snapdragon 845 and matches the Snapdragon 855 in some benchmarks. With an efficient power draw, the Snapdragon 778G can handle practically any mobile game for long periods.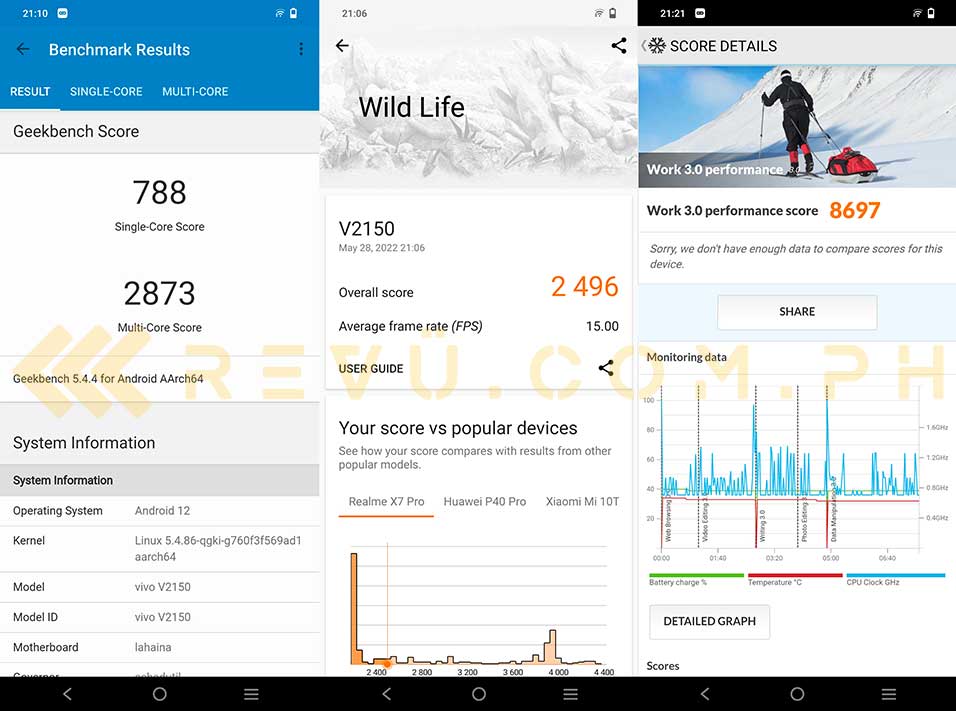 Naturally, the chipset helps the phone blitz through light games such as Mobile Legends. The newly released Diablo Immortal can also run at near-max settings without much trouble. As usual, Genshin Impact pushed the processor to its limits. We recommend sticking to either low settings at 60fps or medium settings at 30fps to maintain steady frame rates.
The Vivo T1 5G stayed quite cool while gaming
To our delight, the T1 5G stayed quite cool while gaming. Vivo credits this level of cooling to its vapor chamber system, which works wonders with the Snapdragon 778G chip. On top of that, the configuration offers a generous 8GB of RAM to complement the 128GB of base storage. The Extended RAM feature adds another 4GB, but we didn't feel it in day-to-day usage.
There's an Ultra Game mode to improve performance. Activating Esports mode within its settings optimizes the controls, display, and frame rate for a smoother experience. More importantly, you can disable notifications and certain touch gestures to prevent unneeded distractions. It just lacks a temperature monitoring function.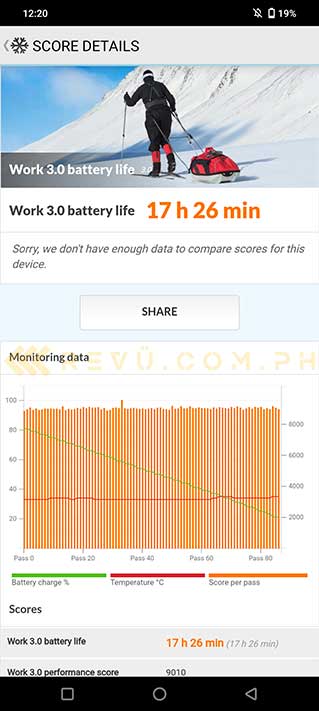 PCMark battery-endurance test result
You'd think the Vivo T1 5G's 4,700mAh pales in comparison to the 5,000mAh or more of competing models, but it's actually a cut above the rest
You'd think the Vivo T1 5G's 4,700mAh pales in comparison to the 5,000mAh or more of competing models, but it's actually a cut above the rest. We hit a score of 17 hours and 26 minutes in PCMark's battery endurance test. Along with high marks in Geekbench and 3DMark, the T1 5G is deserving of its gamer-centric recognition. As for charging, it takes approximately 55 minutes to bring it to full using the bundled 80-watt charger, although you can utilize only 66 watts on the unit.
A photographic powerhouse as well
The impressive performance doesn't end there; the Vivo T1 5G can excel at the camera department, too. There are three cameras on the rear: a 64-megapixel main shooter inside one circle, plus an 8-megapixel ultrawide and 2-megapixel macro unit sharing another space below. We have a standard 16-megapixel selfie camera within the waterdrop notch.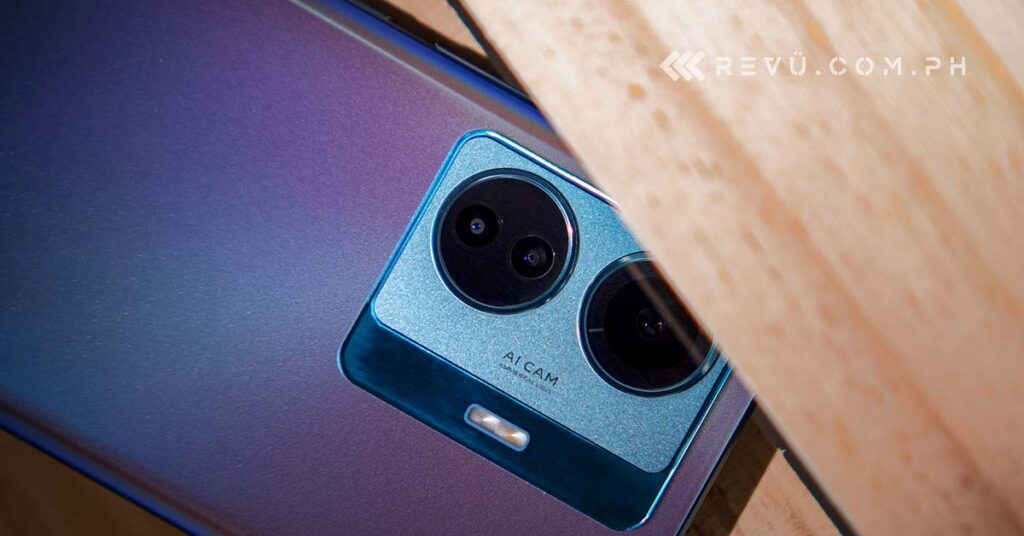 Overall, their output was sharp and the colors punchy for both pictures and videos. There was consistency in the general look between the main and ultrawide cameras, and the macro camera didn't falter in different lighting conditions. The front-facing camera was equally great, producing selfies that were crisp with the subject and blurry with the background. Nighttime photography obviously caused some issues, such as loss of detail and mushy portions, but not enough to hurt the final results.
Sample shots
Our one gripe was the slow camera app. It took a second or more to switch between the different modes. Even worse, we'd wait a whole second to go from wide to ultrawide or zoomed in. We recommend trying other camera apps from Google Play to see which one works best for you.
Final thoughts
For all the power the Vivo T1 5G offers, we'd say the price is more than fair. For P16,999 ($320), you get a chipset that rivals higher-end models, an impressive set of cameras, and a battery that performs beyond its capacity. As long as you can look past the outdated design and lack of external features, it's a solid bet in the midrange market.
It's especially attractive once you check out the competition. Other Snapdragon 778G-equipped smartphones like the Samsung Galaxy A73 5G are priced significantly higher, and the Xiaomi 11 Lite 5G NE doesn't lean as heavily on the gaming angle.
The Vivo T1 5G is especially attractive once you check out the competition. Other Snapdragon 778G-equipped smartphones like the Samsung Galaxy A73 5G are priced significantly higher
With the Vivo T2 lineup on the horizon, we wonder how long the T1 5G would stay relevant. For now, it has proven itself to be a worthy starting point for the new series.
#vivoT15G's gorgeous AMOLED display offers stunning colors & detail, with lifelike graphics & texts in razor-sharp clarity.

Plus, a high refresh rate of 90Hz makes everything appear super smooth.

Get yours now for P 16,999!https://t.co/o3xB9SFkI3 #vivoT1Series #GetSetTurbo pic.twitter.com/HZJlzylyTY

— vivo_phil (@Vivo_Phil) June 8, 2022
Click on the link in the tweet if you want to purchase this Vivo phone
Vivo T1 5G specs
6.44-inch 1080p AMOLED display, 90Hz refresh rate
Qualcomm Snapdragon 778G 5G processor
8GB RAM
128GB storage
64-megapixel main, 8-megapixel ultrawide, 2-megapixel macro rear cameras
16-megapixel front camera
Under-display fingerprint reader
4,700mAh battery
66-watt charging
Funtouch OS 12, based on Android 12
Color options: Turbo Black, Turbo Cyan
---