TWS earbuds are more widely available — and cheaper — than ever before, making wireless audio an excellent experience and appealing option for many, especially with more and more manufacturers opting not to bundle a set of wireless earphones with their smartphones and tablets.
Enter the Realme Buds Q2s, an ultra-affordable set of wireless buds that promise quality features and performance without breaking your budget. It's out now in the Philippines for P1,490 or $25, but you can probably get it at an even lower price during sale events. And although many TWS earphones offer similar functionality, we've narrowed down our favorite features to help you decide if the Realme Buds Q2s are the right fit for you.
Built for hours and hours of entertainment
Impressively, the Realme Buds Q2s offer 30 hours of battery life with the carrying case, and you can expect around seven hours of individual use from each bud. That's about four hours of audio playback each day without having to recharge, making the Q2s ideal for on-the-go listening and long travels. For comparison, last year's Q2, the Q2s' predecessor, offered a 20-hour battery life on a single charge.
The case also features a USB-C charging port that supports "fast enough" charging to give the buds enough juice for three hours after just 10 minutes plugged in, up from two hours on the previous model. Indeed, the Buds Q2s allow you to charge less and listen more. You can even say goodbye to your microUSB cable, in case you still carry one around exclusively for topping up your old TWS earphones.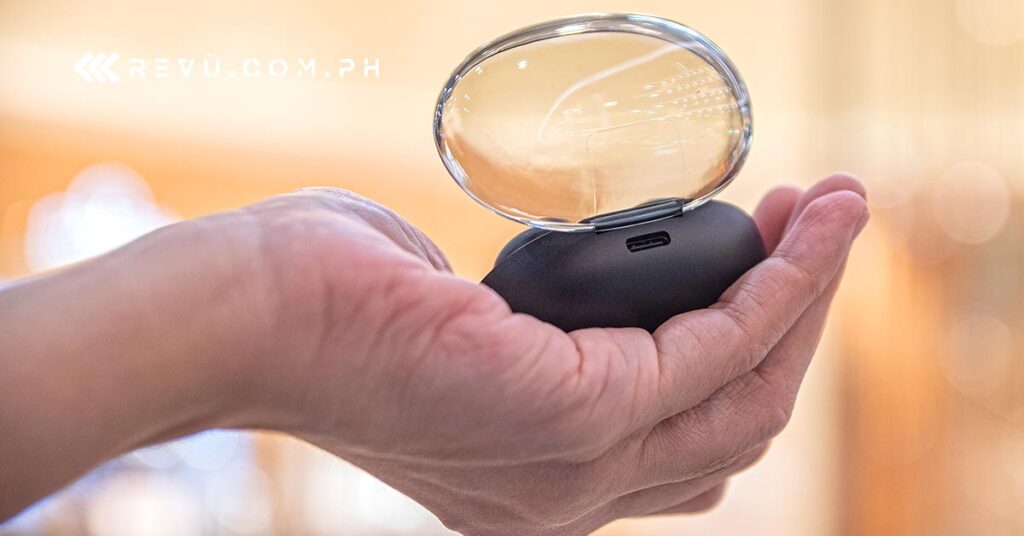 Noise cancellation minus the loud price
Like their predecessors, the Realme Buds Q2s boast an AI-powered noise-cancellation feature or ENC for clearer voice chats. It only works for calls, though, unlike active noise cancellation or ANC. Still, it's better than nothing, especially considering the price. It also helps that the silicone ear tips provide a natural seal to block out external noise.
Realme says the Q2s' noise-cancellation algorithm can accurately separate ambient noise and human voices while optimizing voice quality based on your environment during calls. Each earphone comes equipped with an HD microphone to ensure your words are heard loud and clear.
All about that case…
Modern and trendsetting, the buds are encased in an arc-shaped matte-plastic charging case with a transparent lid. The case is available in three attractive colors as well — Paper White, Paper Green, and Night Black — and comes with an LED indicator and USB-C port at the back. The transparent upper looks nice, especially on the white and green models, and it opens and shuts with a satisfying snap.
As for the earphones, they're made of the same matte plastic found on the case and sport a glossy, glass-like finish on their touch controls. This unique texture provides a nice contrast to the plastic body and silicone ear tips.
You also get great connectivity features, such as Bluetooth 5.2 and support for quick pairing, which automatically connects the earbuds to your playback device when the case is opened. The IPX4 rating, meanwhile, brings sweat and splash resistance, making the Realme Buds Q2s ideal for workouts and use in tropical climates.
…and bass
The earphones pack Dolby Atmos technology for a more immersive listening experience, to go along with 10mm dynamic drivers, which are reasonably large for the price. More impressively, they use a polymer-composite diaphragm and have been tuned for punchier bass using Realme's new Bass Boost Plus solution for higher-quality sound that simulates a stereo space.
We recently gave the Q2s a spin, and found the audio quality to be better than average for the category. Serious audiophiles probably won't be impressed with their overall sound, but for workouts and bass-driven casual listening, these earphones should be more than adequate.
Designed with low-latency gaming in mind
For heavy gamers and users who regularly watch movies and TV shows on their mobile devices, you can turn on Game Mode to give the buds latency as low as 88ms for a lag-free gaming or streaming experience.
This feature is particularly important for earbuds that use a Bluetooth connection, as audio lag can get in the way of immersion. While we can still hear a bit of delay after activating the dedicated gaming mode, the latency does seem better than a lot of pricier earphones we've tested recently.
Great all-around TWS at a great price
And then there's the price. In the Philippines, the Realme Buds Q2s carry a suggested retail price of only P1,490 ($25), making them one of the most affordable TWS earphones with all the features listed above. They're an excellent fit — both in-ear and on-budget — for individuals looking for an entry-level TWS with effective noise cancellation and good bass, thanks to their fairly large drivers.
The earbuds themselves fit nicely when in-ear and offer a snug seal to deal with plenty of background sound outdoors. The Q2s also ship with three sizes of silicone tips for different ear-canal sizes to provide you with the right fit. We found them to be a worthy successor to the Q2 at an equally attractive price tag.
---