Popular benchmark app Antutu has posted the most recent lists of best-performing Android smartphones released in China. So, which flagship, sub-flagship, and midrange devices figured in the September 2022 rankings?
Unsurprisingly, the top-of-the-line category was dominated by handsets powered by Qualcomm's most powerful chipset to date, the Snapdragon 8 Plus Gen 1 — from the OnePlus Ace Pro to the Xiaomi MIX Fold 2.
But sitting at the top was the ASUS ROG Phone 6D Ultimate with a whopping average benchmark score of 1,123,036. At the heart of the gaming smartphone is the 4nm MediaTek Dimensity 9000 Plus, which adds a more powerful primary core with a higher 3.2GHz clock speed. We've been using this ROG model for close to a month now, and if you're curious about our thoughts, you can check out ROG Phone 6D series debuts. Here are our first impressions [Video]. This unit will probably be released in the Philippines.
The sub-flagship category belonged to MediaTek, with nine of the 10 smartphones on the list powered by either a Dimensity 8100 Max or a Dimensity 8100. It was headlined by the OnePlus Ace with an 821,025 average benchmark score on Antutu for the month of September. The lone Qualcomm-based entry was the Vivo S15, which uses a Snapdragon 870 processor.
However, no MediaTek-powered phones made it to the top 10 of the midrange space. All handsets here are based on Snapdragon 778G Plus, Snapdragon 778, Snapdragon 7 Gen 1, and Snapdragon 780G chips. Heading the group last month was the iQOO Z6.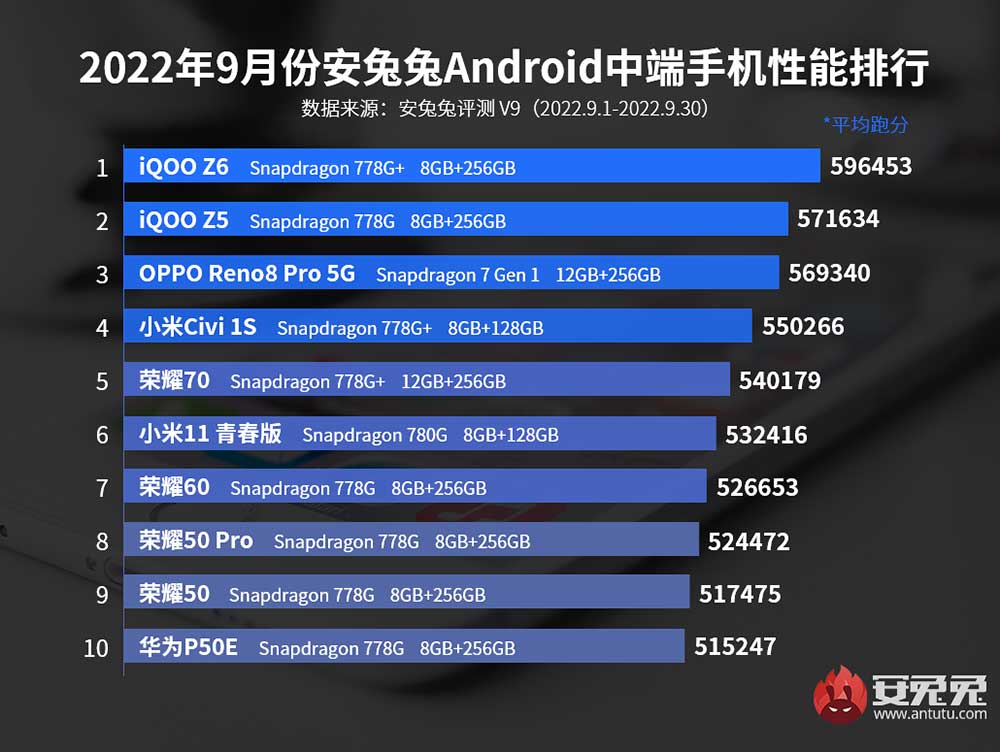 ---