Following the local debut of the standard Realme 10 in November, the Philippines' top smartphone brand has officially introduced the Realme 10 Pro 5G and Realme 10 Pro Plus 5G on the local market.
We've already published our review of the standard Pro variant, so now, we're turning our attention to the more expensive and physically attractive model in the latest offering from Realme's number series.
One look at our review unit, and you may get the idea that the Realme 10 Pro Plus 5G is an exciting piece of tech. A large part of that can easily be attributed to the phone's front panel, which debuts the first 120Hz curved AMOLED screen on a Realme device. The company didn't skimp on the internal specs, either.
As usual, Realme promises to deliver excellent value for your money. But does the Realme 10 Pro Plus 5G live up to the hype? Let's take a closer look at this premium midranger and see how it stacks up to its claims. From the curved display to the camera to the performance, we'll cover all the key aspects to help you decide if this is the right smartphone for you.
Realme 10 Pro Plus 5G and Realme 10 Pro 5G preview that we posted last February 13. For more of our videos, subscribe to our YouTube channel
In the Philippines, the Realme Pro Plus 5G starts at P19,999 (around $361 converted) for the base variant with 8GB RAM and 128GB storage, while the top-end version with 12GB RAM and the same amount of storage is priced at P24,999 ($451). Realme won't be offering the 8GB/256GB model we tested for this review on the local market. You may check out the freebies here.
Unlike the regular Pro version that takes a basic, flat approach, the Realme Pro Plus 5G introduces a curved AMOLED screen with a 120Hz refresh rate to the midrange segment. The display offers FHD+ resolution as well as full DCI-P3 coverage, and is surrounded by slim bezels, with the chin being only 2.33mm thick — the thinnest yet on a Realme smartphone.
Additionally, the display uses double-reinforced glass to protect it against bumps and scrapes, but we would not recommend drop-testing it, as the plastic frame might suffer significant damage when dropped. At least, we can independently confirm the display glass' toughness, although not intentionally (if you know what we mean).
Other notable features for the panel include Always-On Display; 16x HyperPrecise Touch, which takes note of areas your fingers would normally touch for a more precise touch experience particular when gaming; X-Touch Anti-Touch Algorithm to avoid unintended taps; and HDR10+ certification for the screen. The latter will come in handy when streaming HDR content on YouTube. The in-display fingerprint reader is accurate, responsive, and well placed. It doubles as a heart-rate sensor, too.
This screen boasts automatic 2,160Hz high-frequency dimming as well and should minimize discomfort when viewing the panel at low brightness levels — useful if you tend to browse the web and scroll through social media before falling asleep.
Another obvious highlight here is the design. Our variant of the Realme 10 Pro Plus 5G flaunts the brand's eye-catching Hyperspace Design, which is exclusive to the Hyperspace Gold colorway. According to Realme, the design was inspired by "the scenic visuals of going through a hyperspace tunnel," and it really does look stunning in person, sporting a glittery gold finish at the bottom matched with an equally flashy upper section with a prism-like effect on top of all the sparkle. It's a visual tour de force unlike anything we've seen before in the category, though the glossy finish also leaves the phone prone to fingerprints and smudges. Note that the back cover is made of plastic, not glass.
The Realme 10 Pro Plus 5G, just like its predecessor, has stereo speakers, with the top-mounted channel pulling double duty as an earpiece. Interestingly, the top speaker features two sets of cutouts — one embedded in the upper bezel and one along the top. The loudspeaker quality is above average and certainly adequate for watching movies and listening to podcasts. It helps that the volume level of the Realme 10 Pro Plus 5G can go up to 200% in Ultra Volume mode, which is nice if you're sharing your media with a group or someone else, as long as you don't mind the muffled low and mid-tones.
For taking pictures and videos, the back of the Realme 10 Pro Plus 5G is equipped with triple cameras in a dual-ring layout, which is popular among Chinese smartphone brands these days. Notably, the main sensor is a 108-megapixel Samsung ISOCELL HM6 with 0.64μm-sized and the company's own nine-pixel binning technology to produce sharp results even in low-light conditions. This also allows the camera to retain its image quality after being zoomed in three times. For marketing purposes, Realme calls the 108-megapixel unit a ProLight Camera to really home in on its ability to capture bright and clear pictures when the lighting isn't adequate.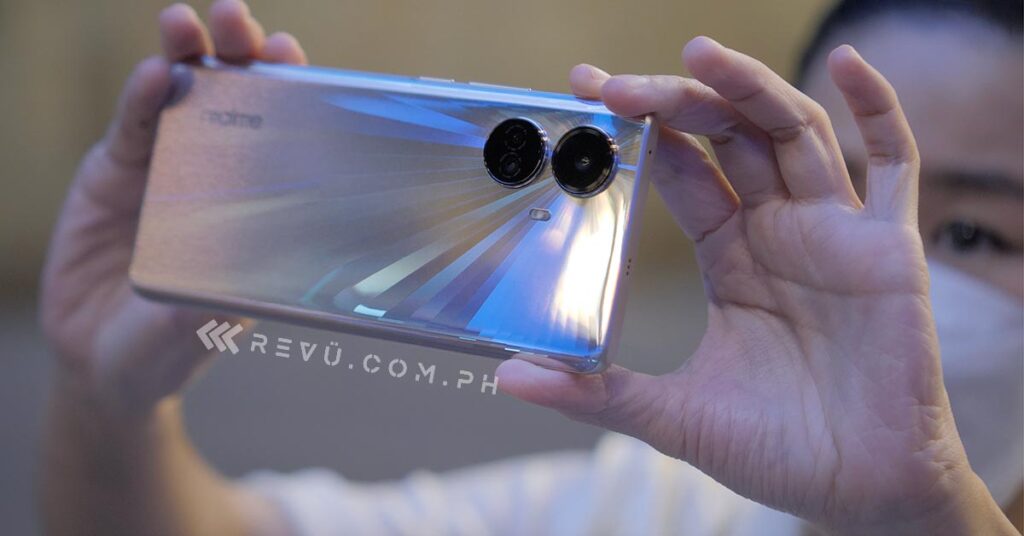 And though the megapixel count is up from last year's 50-megapixel primary camera on the Realme 9 Pro Plus 5G, Realme opted to skip optical image stabilization this time around, which does seem to affect handheld shots at night and in dim environments.
The secondary option includes an 8-megapixel sensor for ultrawide photos, while the tertiary shooter has a 2-megapixel sensor for macro shots up to distances of 4cm. A variety of video-recording options are available for you to choose from: 4K at 30 fps, 1080p at up to 60 fps, and 720p at up to 960 fps when shooting slo-mo footage, along with built-in video stabilization and beauty filters.
The front cam still packs a 16-megapixel sensor with a Quad-Bayer filter that merges four adjacent pixels to deliver brighter pictures with vibrant colors. It outputs 16-megapixel photos, though, instead of 4 megapixels, so dynamic range and indoor and nighttime photos aren't among its strengths.
Meanwhile, portrait-style selfies captured on the front camera looked good in daylight and showed satisfying separation between the subject and the background. In some cases, the fake blur was also pleasing to look at.
Below are some pictures we've taken with the Realme 10 Pro Plus 5G. Note the colors and contrast preserved by the 108-megapixel HM6 sensor, especially in good lighting. Naturally, the phone can shoot bright night shots while retaining a rich level of detail and dynamic range, too.
Sample shots
Inside, the local variant of the Realme 10 Pro Plus 5G is powered by MediaTek's Dimensity 920 5G chipset, unlike in other markets where the device is built around the newer and faster Dimensity 1080 platform. You might recall that last year's global Realme 9 Pro Plus uses a Dimensity 920 chip as well, and though it's a highly capable and efficient processor, we would have preferred to see an upgrade under the hood, especially considering the phone's positioning in the midrange mix.
The chip is paired with up to 12GB RAM and 128GB or 256GB of internal storage. The base version with 8GB RAM and 128GB storage can utilize up to 8GB of virtual RAM for a total of 16GB, whereas the 12GB/256GB config has up to 24GB of dynamic RAM, courtesy of an option for an additional 12GB of virtual memory expansion. Bear in mind that the Realme 10 Pro Plus 5G doesn't have a microSD card slot, so you may want to skip the 128GB storage model if you're planning on playing several heavy games, such as Diablo Immortal and Genshin Impact, on your handset.
As expected, the Dimensity 920 5G chip in our unit handled day-to-day tasks like a champ, and multitasking was a breeze, thanks to the 16GB of dynamic RAM. Mobile Legends constantly hit 60 fps on the High graphics preset, which is the highest graphics settings the Realme 10 Pro Plus 5G supports. Similarly, less-intensive games like Dead Cells and Alto ran at a smooth 60 fps with small frame drops.
Like other Realme models, though, the smartphone doesn't allow gameplay above 60 fps — even if the hardware, particularly the screen and chipset, can technically handle it. The most demanding app we tested was Genshin Impact, and we found the game to be playable at around 30 fps with the graphics set to Medium.
Plus, excessive heating isn't an issue here, so you can play games for extended periods without experiencing choppy visuals. Our device was able to run the CPU Throttling Test app for 30 minutes without the processor going below 80% of its max performance. That's a sign that the Realme 10 Pro Plus 5G's cooling system is doing a remarkable job of conveying the heat generated by the chipset to the chassis, seeing how effective it is in preventing throttling, which is something many premium phones are not capable of.
As for the battery, the 5,000mAh battery inside is pretty generous and doesn't add much to the phone's overall thickness. It supports SuperVOOC fast charging up to 67 watts, enabling the battery to achieve a full charge (from zero) in less than an hour, or about 50% after 20 minutes plugged in. Also: Realme's Optimized Night Charging feature, which decelerates battery ageing by limiting the charging speed for a specific duration, is enabled on the handset by default; you'll need to disable it to take advantage of the fast-charging speeds available with the included power brick and USB-C cable.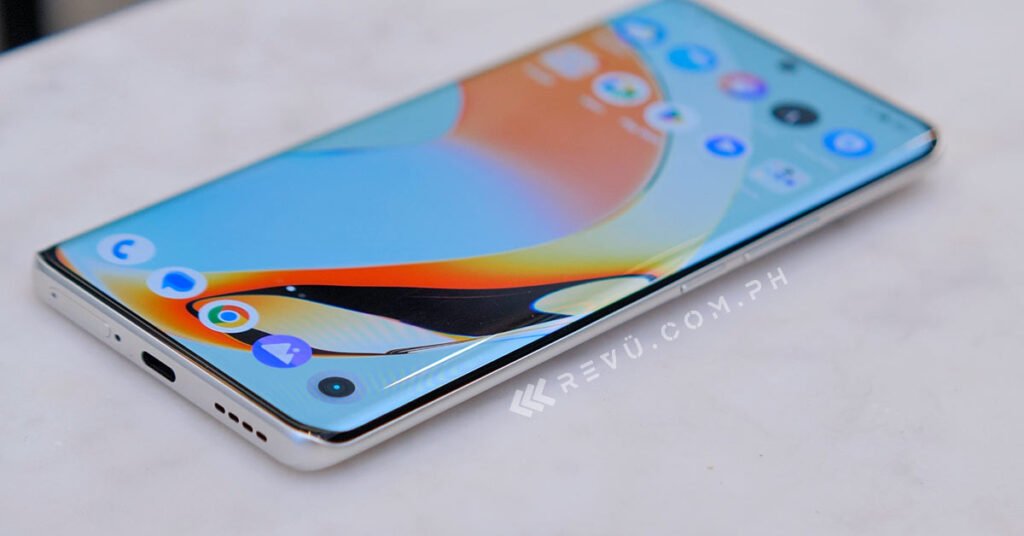 The battery life impresses, especially if you lock the refresh rate to Auto or 60Hz. However, doing so will make the device feel slightly slower and less responsive. In PCMark's battery benchmark, our Realme 10 Pro Plus 5G lasted 15 hours and 46 minutes with the display set to 120Hz. It's quite a feat, considering the refresh rate and screen size. That said, expect around two days of usage in the real world. As always, lowering the refresh rate when not needed should help with battery performance.
You can also enable Power Saving mode in Android 13-based Realme UI 4.0 to minimize apps running in the background and extend the phone's battery life. There's the option to optimize the standby behavior as well. In Ultra Standby mode, the device will automatically close some background apps to reduce battery consumption. Enabling this may cause delays in receiving messages, though, so we don't recommend leaving it on during the day. App Quick Freeze, meanwhile, will freeze idle apps, preventing them from using power, sending and receiving messages, and accessing the phone's data in the background, among other things.
Final thoughts
Another year, another addition to Realme's mainstream smartphone range. Sporting a curved AMOLED display with more screen real estate and a 120Hz refresh rate, a sharper main camera, loud speakers, and capable internals coupled with a long-lasting battery that can be replenished in under an hour, the Realme 10 Pro Plus 5G bursts into the midrange scene as a compelling option for those with a little bit more money to spend.
There's obviously a lot to like here, but we were pleasantly surprised with our unit's battery stamina. If you prefer a more affordable alternative, you can opt for the standard and non-curved Pro model with a slower 5G chipset but similar specifications for the front and rear cameras. Locally, the Realme 10 Pro 5G is priced at P16,999 ($308), but for a bit more cash, you can definitely get better value with its pricier sibling.
Realme 10 Pro Plus 5G specs
6.7-inch curved Super AMOLED punch-hole display, 1080p resolution, 120Hz refresh rate, 2,160Hz dimming
6nm MediaTek Dimensity 920 processor with 5G
Mali-G68 MC4 GPU
8GB/12GB RAM
128GB/256GB storage
Triple 108-megapixel main, 8-megapixel ultrawide, 2-megapixel monochrome rear cameras
16-megapixel front camera
Side-mounted fingerprint reader
5,000mAh battery with 67-watt fast charging
Realme UI 4.0 based on Android 13
Colors: Hyperspace Gold, Dark Matter, Nebula Blue
---