The Samsung Galaxy A54 5G, the company's latest offering in the premium midrange segment, will be available in the Philippines starting tomorrow, March 31.
Locally, the phone starts at P24,990 (about $460 converted) for the base model with 8GB of RAM and 128GB of internal storage, while the 8GB/256GB configuration is priced at P26,990 ($496) if you need more space for your apps and files.
Beyond its flashy colorways — there are four to choose from, with the Awesome Lime and Awesome Violet colors being our favorites — we discovered some noteworthy features of the device. However, not everything ended up in our good books. Here are the pros and cons of the Samsung Galaxy A54 5G.
What's hot
The Samsung Galaxy A54 5G's megapixel count has dropped from 64 megapixels to 50 megapixels on this generation, but that's not to say the new model is not decent when it comes to taking pictures and videos; it is actually a great companion for content creators. The new sensor has a larger pixel size as well as better optical image stabilization for brighter and sharper low-light shots. It's not all about the pixels, after all.
Portraits and daylight photos look great in most scenarios, as the device manages to preserve a lot of detail while offering a wide dynamic range as well. The phone's HDR performance is commendable, too, even with heavy backlighting. In certain situations, we noticed a lens-flare issue when shooting images at night. While this is not a deal-breaker, it is worth mentioning.
Sample shots
The Samsung Galaxy A54 5G downsizes the previous generation's Super AMOLED screen, but retains its FHD+ resolution, vivid colors, and protective layer of Corning Gorilla Glass 5 on top of the panel to prevent it from being cracked or broken. The 6.4-inch display is brighter this time around, though, with the brightness going as high as 1,000 nits in the Adaptive Brightness mode.
It also maxes out at 120Hz — same as the Samsung Galaxy S23 series phones — though it can only go down to as low as 60Hz to strike a balance between battery efficiency and user experience. As far as gaming is concerned, the A54 will allow you to unlock the high-refresh option for games that are known to go above 60 fps.
Another plus is the material used on the rear panel. The Galaxy A54 5G upgrades to a full glass back, which adds some heft to the unit. You also get dual speakers for stereo output, with the earpiece pulling double duty as a secondary speaker and joining the main one located along the bottom edge.
Importantly, this device boasts IP67 dust and water resistance — a nice bonus for users who live in the Philippines and other countries with a tropical climate. This should protect your smartphone when you get caught in the rain or accidentally get water into it.
The Exynos 1380 chipset inside the Galaxy A54 5G uses Samsung's latest 5nm manufacturing process and boasts four Cortex-A78 cores running at up to 2.4GHz and four Cortex-A55 cores. There's also a five-core Mali-G68 GPU that can run the most demanding games at reasonable settings. Gaming performance is decent, but we expected higher frame rates given the price of the Samsung Galaxy A54 5G.
You can install the Perf Z and GPU Watch apps if you want to monitor your device's in-game performance, including FPS as well as CPU and GPU stats. With these tools, which are both free to download, we're able to make a more objective assessment of the A54's gaming prowess.
Genshin Impact is playable with the graphics set to Medium or High, but we recommend dialing down the settings to Lowest and enabling the 60 fps option for the best experience. Doing so will allow the game to run at around 50 fps, which is great as long as you don't mind the significant drop in graphics quality. Mobile Legends, on the other hand, hovers between 100 fps and 120 fps when set to the High graphics preset.
During a 30-minute run of the CPU Throttling app, our unit dropped to 74% of its max performance on average and went below 80% on numerous occasions.
Going into the test, we expected the Samsung Galaxy A54 5G to run cooler than devices powered by the 6nm Qualcomm Snapdragon 778G chipset due to the Exynos 1380 more advanced 5nm process, but that was not the case.
For day-to-day use and multitasking, the smartphone runs admirably and offers more than enough power for most users.
For day-to-day use and multitasking, the Samsung Galaxy A54 5G (the one with the glossy finish) runs admirably and offers more than enough power for most users
What's not
Personally, the most disappointing feature is also the most obvious. While our Galaxy A54 5G stands out in its Awesome Violet paint job and the overall design is inspired by Samsung's flagship Galaxy S23 line, the plastic body itself scratches easily on the back. It's also a bit chunky, coming in at 8.2mm at its thickest point, and the protruding camera lenses prevent the phone from lying flat on its rear side.
Now, let's talk about the display bezels. They're thick, making some affordable devices like the HONOR X9a 5G and Realme 10 Pro Plus 5G look more appealing than this Galaxy model by comparison. Samsung should probably revisit the design of its latest A series phones.
The South Korean technology giant has fitted a sizable 5,000mAh battery in the Galaxy A54 5G. It's larger than those of the Galaxy S23 and Galaxy S23 Plus and has the same capacity in the battery that's found in the top-shelf Galaxy S23 Ultra.
That sounds pretty promising. But in practice, we found the battery life of this midranger to be average, despite Samsung's claim of two days of usage on a single charge. Basic tasks like browsing social media and streaming videos on Netflix and YouTube for an hour drained 8% of the battery, while 45 minutes of playing Genshin Impact at high brightness used 15%.
The 25-watt fast charging isn't anything to rave about, either. Getting the battery to 100% usually takes about one hour and 40 minutes, and that's not good enough, considering most phones in its price bracket can get a full charge — or close to it — in less than 60 minutes.
Should you buy the Samsung Galaxy A54 5G?
It depends on how much you value the brand and its ecosystem, because there are certainly cheaper options out there. The Samsung Galaxy A54 5G has been favorably described as a "more affordable Galaxy S23," largely due to its rounded look and floating camera design. However, those are where the similarities end.
If you do pick up the Galaxy A54 5G, expect a good midrange smartphone that takes nice pictures for the price, delivers solid overall performance, and can be updated to the most recent Android OS four times and get five-year security updates. Go purchase it from the brand's stores and retail partners and official online platforms, including Samsung's online shop.
Samsung Galaxy A54 5G (and Galaxy A34 5G) specs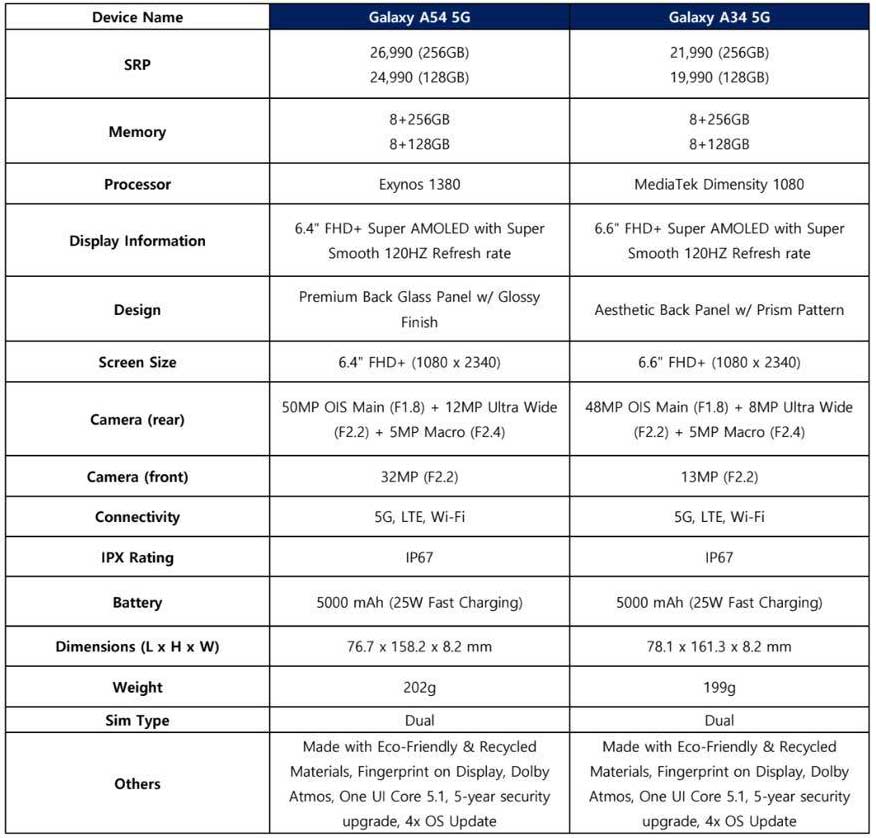 ---