Apple's iPhones may be on the premium side, but they had always figured in bestseller lists. In 2022, things took an upturn for the American technology giant.
According to Counterpoint Research's Global Monthly Handset Model Sales Tracker, eight of the top 10 bestselling smartphones last year were all iPhones, making Apple the first brand to achieve the feat. This is in line with the gradual focus shift of affordable segment players to premium products — the "premiumization" trend that the market-research firm has observed over the years.
Contributing 28% of iPhone sales, the Apple iPhone 13 took the top spot in the latest ranking. It was the most popular handset in China, the United States, the United Kingdom, Germany, France, and other major markets and remained in first place each month from its launch in September 2021 until August 2022. And with Apple dropping the prices of its older iPhone models after the debut of the iPhone 14 series in September 2022, iPhone 13 sales in developing markets boomed.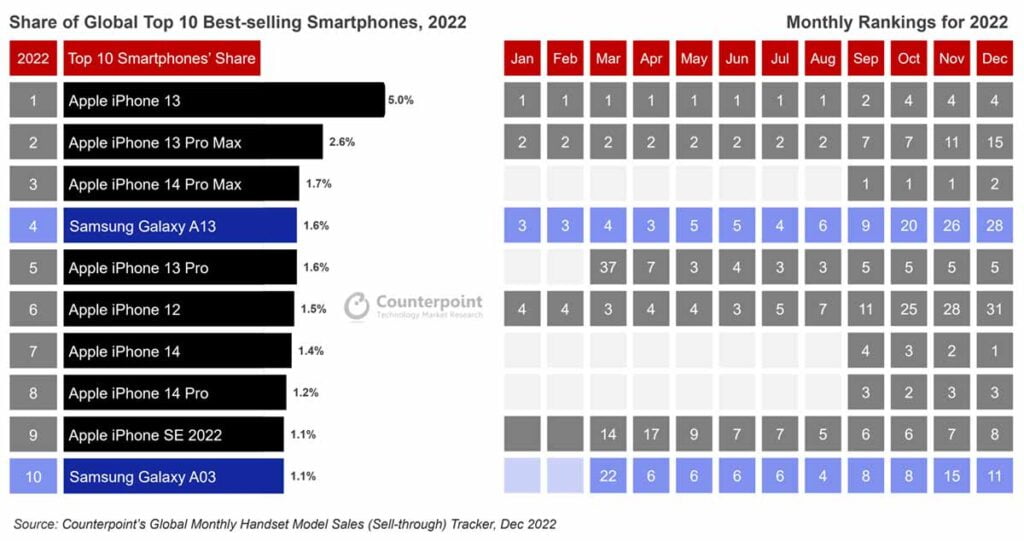 There are two other key Apple iPhone-related things to take note of here: that for the first time, consumers opted for a Pro Max version than its Pro and base counterparts and that 2021's bestselling smartphone, the iPhone 12, ended up in sixth place even though it was the oldest model in the top 10 last year.
Counterpoint Research said of the latter: "The price cuts with each year's new iPhone launch increased [the iPhone 12's] value proposition, while its 5G capability also played an important role."
Only two Android phones entered the 2022 list, and they were both from the world's top smartphone brand, South Korea's Samsung. The Samsung Galaxy A13 and Galaxy A03 entry-level handsets took the fourth and 10th spots, respectively. They were the only non-5G devices that made it to the most recent bestseller list. To read the full report, click on this link.
---