As in the past last quarters of each year, at about the time it has long-established to introduce new iPhones, Apple reclaimed the top spot in the global smartphone-vendor rankings in the fourth quarter of 2022.

According to market-research firm Canalys' latest report, the American technology giant hit its highest quarterly market share ever at 25%. This, despite Apple facing reduced demand as well as manufacturing issues in Zhengzhou, China, which led to the company's failure to deliver iPhone 14 Pro and iPhone 14 Pro Max models ordered in December.
Former No. 1 Samsung settled for second place with a 20% market share, but was still the largest smartphone vendor for the full year. China's Xiaomi held onto the third spot even if its share dropped from 14% in Q3 2022 to 11% in Q4 2022, mainly because of its problems with the Indian government. Chinese conglomerate BBK Electronics' OPPO and Vivo completed the top five with 10% and 8% market shares, respectively.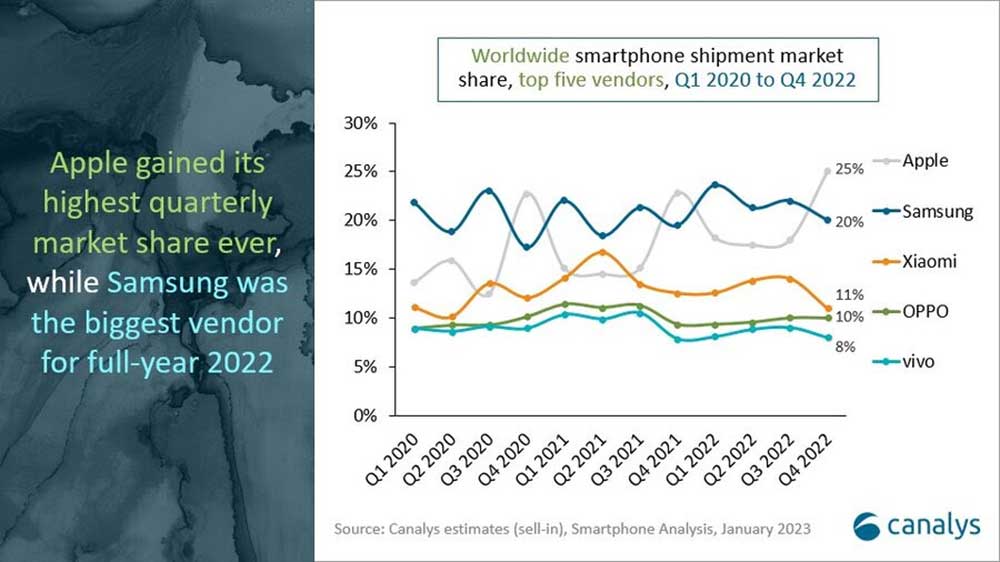 In a period that saw worldwide smartphone shipments fall 17% year on year last quarter, Canalys research analyst Runar Bjørhovde revealed that Q4 marks the worst annual and Q4 performance in a decade. With brands struggling in a difficult macroeconomic environment throughout 2022, "the channel is highly cautious with taking on new inventory, contributing to low shipments in Q4."
Conditions are expected to remain tough, hence the flat-to-marginal-growth forecast for the smartphone market this year and the expectation that vendors will approach 2023 cautiously, prioritizing profitability and protecting market share.
---