Popular benchmarking software Antutu's July 2023 performance rankings for the Chinese market are in, listing the best-performing Android phones in the flagship and sub-flagship categories.

Which models made it into the lists, and what chips do they use? Let's take a look at the results of each segment.
Top 10 flagship smartphones
Garnering a 1,599,488 rating, the MediaTek Dimensity 9200 Plus-powered vivo X90s dropped from first place to the fifth spot, behind the Qualcomm Snapdragon 8 Gen 2-powered iQOO 11 Pro and iQOO 11. Taking over its position was the RedMagic 8S Pro, which racked up a whopping average benchmark score of 1,633,002 last month. It's based on an overclocked version of the Qualcomm Snapdragon 8 Gen 2.
Interestingly, the rest of the devices in the top 10 — from the iQOO 11S to the OnePlus 11 — rely on Qualcomm's flagship chipset, proving once again how dominant the American chip maker is in the premium space. Only the vivo unit uses a MediaTek processor.
Top 10 sub-flagship smartphones
This segment was almost unchanged in July. Xiaomi's Redmi Note 12 Turbo with Snapdragon 7 Plus Gen 2 once again ruled the charts with a benchmark score of 1,150,430. Hot on its heels was the realme GT Neo5 SE with 1,131,196 points, which is also powered by the same chipset that's inside the Redmi model. The two devices are the only models on the list to cross the one-million mark.
The other eight phones that were included in the latest ranking use chips from Taiwanese manufacturer MediaTek. Four of them are equipped with a Dimensity 8200; two are powered by a Dimensity 8200 Ultra; and two are based on a Dimensity 8100-Max.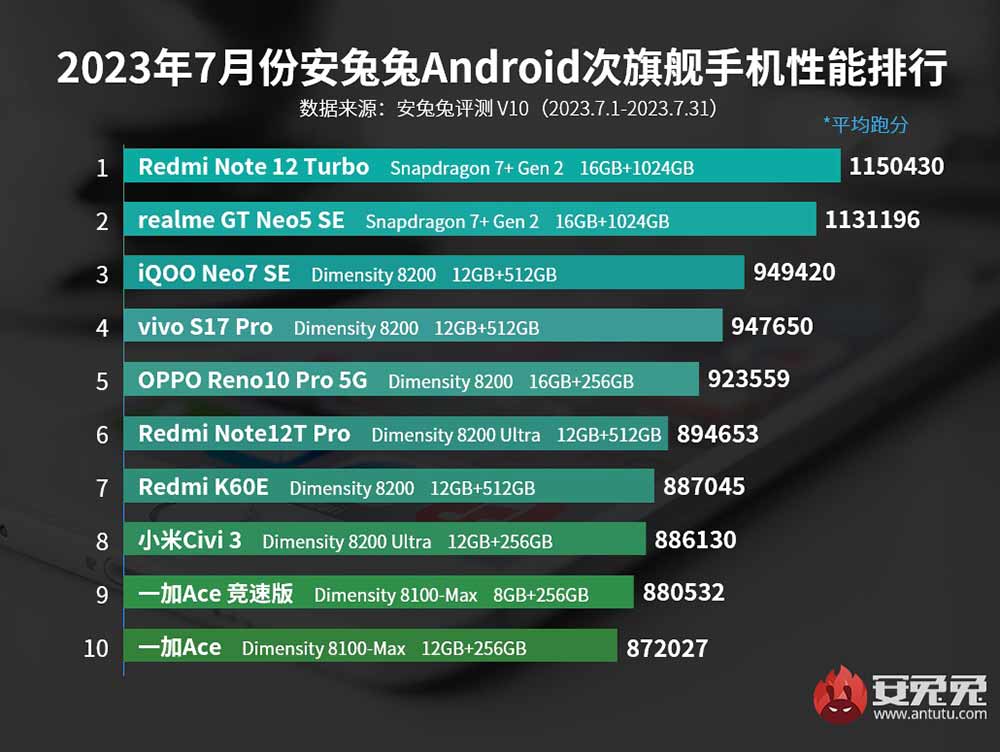 ---