Last month, OPPO announced the Reno10 Series 5G in the Philippines, bringing three new models — the OPPO Reno10 Pro+ 5G, OPPO Reno10 Pro 5G, and OPPO Reno10 5G — to the local market and ushering a new chapter in the brand's #ThePortraitExpert campaign.

Of the three, the OPPO Reno10 Pro+ 5G stands out as the current lineup's most advanced smartphone, offering flagship-level specs like a 4nm Qualcomm Snapdragon 8 Plus Gen 1 chipset coupled with up to 24GB of dynamic RAM as well as SUPERVOOCTM Flash Charge that goes up to 100 watts using the included power brick and cable.
OPPO says this is the fastest-charging Reno device yet. It should be able to go from zero to 50% battery capacity in about 10 minutes; a full charge usually takes 28 minutes based on our testing. That means you can top up the phone while taking your snack break and have enough battery to last you the entire day and perhaps more by the time you unplug from your charger.
There's more: OPPO's Reno10 Pro+ 5G has a 6.74-inch curved AMOLED display with a 120Hz refresh rate, HDR10+, and a 93.9% screen-to-body ratio — the highest ever on a Reno model. The screen also serves 1,400 nits of peak brightness, making it easily visible under direct sunlight and bright indoor areas. There's even ProXDR Smart Display Control; it adds dynamic range to photos by natively increasing the screen brightness in HDR mode. The effect is hit and miss and really depends on the scenario. If you don't like it, you can opt to disable it by going to Settings in the Photos app.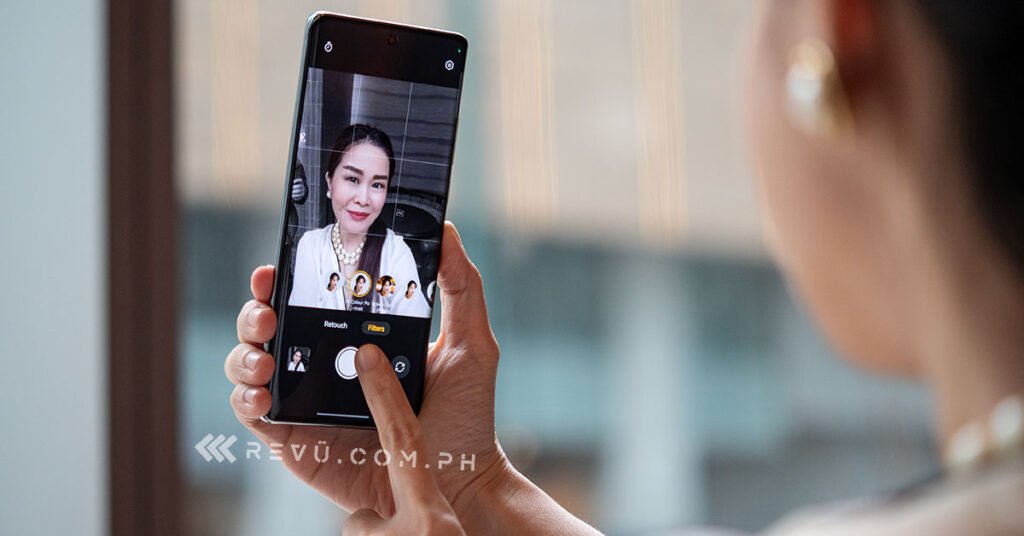 There's a lot to like here. But perhaps our favorite spec on the OPPO Reno10 Pro+ 5G is its flagship-grade rear camera system, which can deliver great shots in both day and night scenarios. And true to the company's #ThePortraitExpert tagline, this top-end Reno phone can take portraits with impressive detail and DSLR-like background blur using its longest focal length.
The Telephoto Portrait camera on this model sports a 64-megapixel 1/2-inch image sensor that offers optical image stabilization as well as up to 3x lossless zoom in photos. You also get up to 120x hybrid zoom. According to OPPO, this is the sharpest telephoto-portrait camera in the industry.
The sensor sits behind an f/2.5 aperture lens with 25cm as the closest focus distance, to give you more freedom in composition when shooting with a 71mm-equivalent focal length. The device's periscope module is also 0.96mm thinner than those on other handsets in the category, maintaining its sleek and stylish aesthetic. With a thickness of 8.28mm, it's probably among the slimmest smartphones we've reviewed that has a periscope camera.
Sample portraits
In practice, we found the OPPO Reno10 Pro+ 5G to be a fantastic option for portrait photography — on a par with some flagships we've tested — and its 3x telephoto lens lets you capture portraits from a distance, just as you would do if you were taking pictures with a mirrorless camera. This allows for better facial proportions and should help you avoid mild fish-eye distortions that occur when shooting with a smartphone camera that lacks a dedicated telephoto lens.
In good lighting, the telephoto-portrait camera of the OPPO Reno10 Pro+ 5G provides mostly accurate edge detection, while the bokeh that separates the subject from the background to add depth in photos looks convincing enough — provided you switch to a higher aperture setting. OPPO also gives users the option to adjust the background-blur effect after pressing the shutter key by opening the in-house Photos app and tapping an image with the aperture icon on the bottom left. Unfortunately, you can't specify where the phone should snap into focus, so refocusing on a different person or subject is not possible on this phone.
As expected, the OPPO Reno10 Pro+ 5G comes preloaded with a variety of filters in Portrait mode to make your photos stand out, including the company's signature AI Color Portrait and Bokeh Flare Portrait styles. The latter gives you the ability to isolate your subject in the foreground in color and turn the background black and white. The compromise is that you'll lose the option to adjust the background blur after taking a picture.
Both rear and front cameras offer the same set of filters when shooting portraits, and you can adjust the intensity of background blur in portrait-style selfies, too.
When not taking pictures of people, we found the 64-megapixel camera's 3x optical zoom to be quite handy for everyday scenes, such as passing cars and pedestrians walking. You can also get up to 6x hybrid zoom while retaining image quality, thanks to the brand's own In-Sensor Zoom technology, which is also found on its flagship Find X6 series.
In keeping with its camera-centric pedigree, the OPPO Reno10 Pro+ 5G boasts two other cameras to complement its telephoto-portrait shooter. The primary camera is equipped with a 50-megapixel, 1/1.56-inch Sony IMX890 image sensor with a large sensor size for improved light intake. Like the zoom option, it also supports OIS as well as all-pixel omnidirectional focus for added stability and clarity.
For night shots, the Reno10 Pro+ 5G features OPPO's new TurboRAW2.0 color-calculation engine, which improves the process speed for nighttime photography by 54%, the capture success rate of snapshots by 7%, and the dynamic range by 11% for richer colors when compared to the previous generation. This probably accounts for the phone's speedy performance when taking pictures in low light, especially with Night mode enabled.
The main camera does an excellent job both in the day and night, serving crisp, detailed, and color-neutral results. Most of our photos did not look oversaturated and vibrant to the point that editing them in post-production would be a problem. Meanwhile, the tertiary ultrawide shooter uses an 8-megapixel, 1/4-inch sensor to produce bright and crisp shots even in dim environments. Unless you're really into landscape photography, this is probably the last camera you'll use on the OPPO Reno10 Pro+ 5G, but it's still a decent option that gets the job done.
Sample shots captured on the rear camera system
Finally, you get a 32-megapixel Sony IMX709 sensor with a wide lens and autofocus for selfies and precise facial recognition. This sensor adopts the RGBW arrangement, increasing the amount of light it captures by up to 60% when compared to regular RGGB sensors. And with a wide focal length, you'll be able to fit more of the background or capture selfies with another person in the shot. The front-facing camera delivers detailed, natural-looking skin tones in ideal lighting; shooting against the light will likely produce a halo effect in HDR mode, so it's not recommended.
After using the OPPO Reno10 Pro+ 5G as our Android daily driver for weeks, we think it's a top-notch camera phone, particularly for portrait photography. And while it won't replace our professional camera for work, it's easier to use and more versatile than any dedicated camera we own. It definitely beats carrying around a bulky DSLR camera if all you need is a quick portrait shot for social media or TikTok video.
In the Philippines, the OPPO Reno10 Pro+ 5G has a suggested retail price of P39,999 (around $706 converted). Exclusive benefits await early Reno10 Series 5G adopters who are first to redeem the following on the MyOPPO App:
65 gift sets from Sacred Being
200 Ayala Malls Cinemas movie passes worth P500 ($9)
The OPPO Reno10 Series 5G is available via Globe postpaid plan starting at Plan 1799 without cash-out. The Reno10 5G and Reno10 Pro 5G are also available via Smart postpaid plan starting at Plan 999 with cash-out. Home Credit is offering 0% installment options for all the latest Reno models with 6-, 9-, 12-, 15-, and 18-month plans in all OPPO stores partnered with Home Credit nationwide. Additionally, the OPPO Reno10 Series 5G is available in 6- and 12-month installment plans at 0% interest for all credit cards.
To know more about OPPO Reno10 Series 5G, visit OPPO Philippines' official website or its official Facebook page.
Experience #ProPowerInPortrait with the #OPPOReno10Series5G's flagship-level 64MP Telephoto Portrait Camera.

Learn more about #ThePortraitExpert:https://t.co/xJ2vRxNPaY pic.twitter.com/7mkUYikIRs

— OPPO Philippines (@OPPOPhilippines) September 12, 2023
The OPPO Reno10 Pro+ 5G is available offline and online
OPPO Reno10Pro+ 5G specs
6.74-inch curved OLED display, FHD+ resolution, 120Hz refresh rate, 10-bit colors, 1,400 nits peak brightness
4nm Qualcomm Snapdragon 8 Plus Gen 1 with 5G
Adreno 730 GPU
12GB RAM
256GB storage
Triple 50-megapixel main, 64-megapixel telephoto portrait, 8-megapixel ultrawide rear cameras
32-megapixel front camera
Under-display fingerprint reader
4,700mAh battery with 100-watt fast charging
ColorOS 13.1 based on Android 13
Colors: Glossy Purple, Silvery Gray
---