The OPPO Find N2 Flip accomplished a large margin in the market in mere months since its launch early this year. This incredible feat was testament to its premium build, impressive cameras, and first-class performance, but the top feature Find N2 Flip users loved above all others was its cover screen. When the foldable was released, its 3.26-inch cover screen was the largest of any flip phone.

Now, with the launch of Find N3 Flip, OPPO has overhauled the cover screen experience to deliver improved usability and best-in-class camera performance. Not only that, the OPPO Find N3 Flip certification of folds has been updated from 600,000 to 1,000,000 for a more seamless crease even for a long-term use.
'The OPPO Find N3 Flip certification of folds has been updated from 600,000 to 1,000,000'
At the heart of the device's flagship features is its impressive vertical cover screen. Its tall orientation is instantly familiar, mirroring the smartphone experience everyone knows. By being vertical, the Find N3 Flip's cover screen creates the horizontal space needed for a best-in-class camera system, and it also previews photos with almost no crop.
There are so many ways the OPPO Find N3 Flip's powerful cover screen helps it strike a perfect balance.
Here are some things you should know about the upgrades from the Find N2 Flip, how cover screen apps elevate the flip phone experience, and how the vertical cover screen makes a world-class camera possible.
From Find N2 Flip to Find N3 Flip
The Find N2 Flip demonstrates why a vertical cover screen makes sense with the simplest tasks.
Every time you look at your notifications, it displays more on its tall cover screen, and when browsing text messages and adjusting quick settings, there's less scrolling than on smaller or square displays. OPPO even includes built-in and customizable quick replies, as well as speech-to-text support to add even more functionality, which allows you to use the phone even when the cover is closed.
The OPPO Find N3 Flip brings back all the Find N2 Flip's advantages over alternative cover screens, while simultaneously overhauling and upgrading the experience from the ground up.
Easier to use than ever, the Find N3 Flip's cover screen introduces a familiar apps menu — just swipe from right to left to pull it into view — so if you've used an Android phone with an apps tray, expect zero learning curve when navigating its interface.
OPPO has also upgraded the vertical cover screen's home screen, adding support for up to three dynamic widgets, so you can quickly access handy features like your camera, voice notes, weather, or even shortcut straight to a messaging app.
It isn't all about productivity, though, with the Find N3 Flip bringing back interactive cover screen pets and upgrading them from 2D to 3D. This time, there are also more pets to pick from, including a bird, cat, dog, hamster, koala, panda, rabbit, and tiger. These animated fur babies reflect what you're doing — listening to music or sleeping, for example — or they just get on with what they do best: looking playful and charming.
Cover screen apps
The OPPO Find N3 Flip also upgrades the cover screen with another much-requested feature, support for third-party apps.
The vast majority of Android apps are optimized to work on a vertical screen, just like the screen of a typical smartphone. That means apps are natively oriented to look great on a tall display, just like the Find N3 Flip's cover screen.
To make sure every detail is on point and to perfect how each app looks and functions on its front display, OPPO worked with Google and other partners to fine-tune the experience for the most popular Android apps.
The native Google Phone app, Maps, Keep, and Gmail are all ready to go for cover screen use, as are popular social media apps for short-form video and short-form posting services. When displaying these apps, the foldable's taller screen shows more emails, messages, and posts than more square alternatives — mirroring your phone's main display for a more intuitive view.
The OPPO Find N3 Flip can natively control currently playing music from the cover screen, irrespective of which app's playing back content, but it's also been optimized for the most popular music streaming app with a fully featured interface so you can access your playlists and discover new music.
If you're traveling, you can even access maps and car-hailing services without opening your phone, and when hunger strikes, quickly order food in moments, all from the Find N3 Flip's front display.
The best camera on a flip phone
Have you ever wondered why the camera sensor on a phone is normally the same orientation as its main display? It's so you can see the fullest picture possible when previewing your photos and videos. This same logic extends to cover screens.
OPPO makes the only flip phones with a cover screen that's also the same aspect ratio as the camera sensor, so when you're using the Find N2 Flip or Find N3 Flip's front display to take a selfie or a group shot, your preview has almost no crop.
By contrast to the Find N3 Flip's seamless selfie experience, photos taken on square cover screen flip phones produce a significant crop by default, using a smaller portion of the camera sensor and taking a lower-quality photo.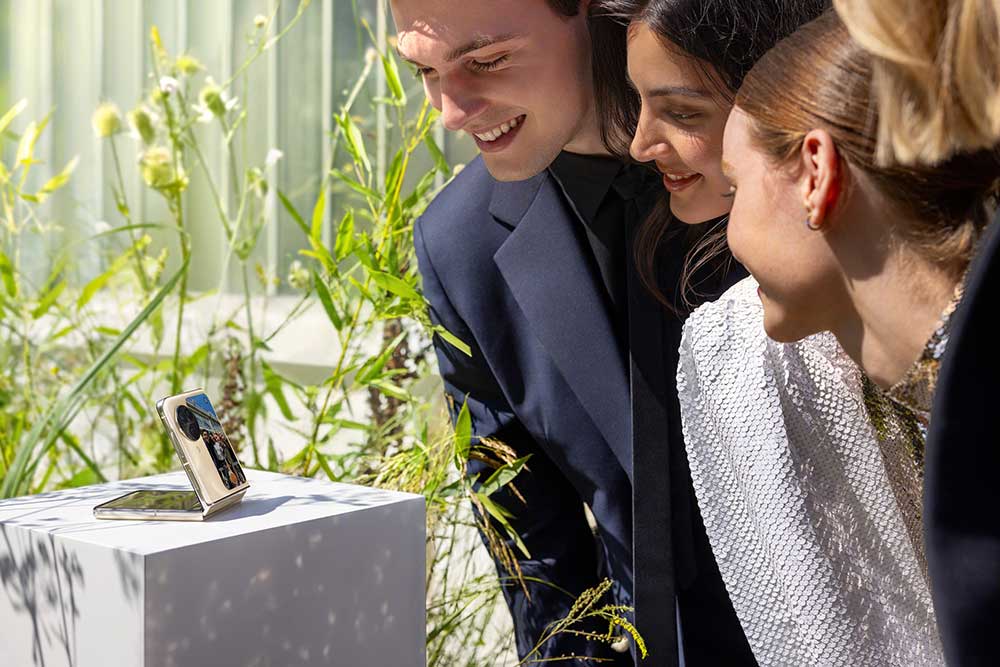 There's another reason the vertical cover screen helps make the cameras the best flip phone imaging system possible: space for quality camera hardware. What does this mean? World-class camera hardware requires space for large camera sensors and high-quality optics. Square cover screen flip phones push the cameras to the side or squeeze them within the display. This results in lower-quality camera hardware.
The Find N3 Flip is the world's first flip phone with a triple camera system, and the world's first flip phone with a telephoto camera. It also has the largest sensors of any flip phone across all three of its cameras. By bringing back its large vertical cover screen and crafting the striking Cosmos Ring camera system, OPPO has created the most compromise-free flip phone camera possible. Handy, but without sacrificing the usability of your most crucial smartphone features.
So whether you need to quickly reply to a message or call, navigate to a meeting or hail a cab, or send a perfectly framed, portrait-perfect selfie to a family group or loved one, you won't even need to open the device to flow through your day in a compromise-free way.
Ultimately, the OPPO Find N3 Flip refines an already iconic experience, taking the Find N2 Flip's large, 3.26-inch vertical cover screen, adding a wealth of features to it, and enhancing the camera system to create a supremely balanced flip phone.
The OPPO Find N3 Flip is now available
The OPPO Find N3 Flip is now available to purchase for P64,999 (around $1,169) in selected OPPO authorized offline concept stores, e-commerce, and multi-brand stores nationwide.
MyOPPO app users can also redeem exclusive perks with every purchase of the Find N3 Flip. The first 50 users can get 5,000 Mabuhay Miles. The first 100 users can also claim a one-time free access to any PAGSS Premium lounge. Last but not the least, exclusive gift sets from either MAC Cosmetics, Jo Malone London, Estee Lauder, Origins, or Clinique can also be redeemed until supplies last.
E-commerce

Shopee,Lazada, and TikTok Shop

Free OPPO Enco Air3 (worth P3,999 or $72) and OPPO Band2 (worth P3,999) with every purchase
100% free shipping
0% interest installment via SPayLater
0% interest installment via LazPayLater

Operators

Globe

Available via Globe Plan 1499 with P34,000 ($629) cash out
Free OPPO Enco Air3 (worth P3,999) and OPPO Band2 (worth P3,999) with every purchase

Smart

Available via Smart Postpaid Plan 1999 with cash out
Free OPPO Enco Air3 (worth P3,999) and OPPO Band2 (worth P3,999) with every purchase

Installment plans

Home Credit

Available in installment plans of 6/9/12/15/18 months at 0% interest
Lowest monthly payment of P1,676 ($30)/month in all OPPO stores partnered with Home Credit nationwide

Credit card

Available at 6 or 12 months installment at 0% interest for all credit cards
Finally, those who will purchase the OPPO Find N3 Flip will be entitled to exclusive after-sales benefits when you visit any authorized OPPO service center, including a Premium Lane, International Warranty Service, Exclusive Hotline, Door-to-Door Service, and Customer Service Check-up.
Enjoy the present with OPPO Philippines
Spread holiday cheer and enjoy exclusive promos when you purchase OPPO smartphones this Christmas. Make the most out of special discounts and freebies, exclusive benefits and gifts, and exciting festivities until January 7, 2024, for a merrier, more meaningful celebration.
Learn more about the new OPPO Find N3 Flip by visiting this page or its official Facebook page.
Now's the time to #EnjoyThePresentwithOPPO!

This holiday, get ready to shop for your favorite OPPO gadgets with our amazing deals, promo bundles, price drops & exclusive freebies!

Stay tuned to our page for more details & announcements on our exciting offers!#EnjoyThePresent pic.twitter.com/7IlWrjnYHZ

— OPPO Philippines (@OPPOPhilippines) November 15, 2023
Enjoy exclusive promos this Christmas!
(A release from OPPO Philippines)
---