A few years ago, big-battery phones were unattractive, unfashionable, and bulky to the point some of them could inadvertently double as bludgeoning weapons. One of the first smartphones we tested that promised days, not hours, of usage on a charge had a 6,500mAh battery and didn't look like it would fit in anyone's jeans pocket particularly well.
SEE ALSO: Vivo phones up to 50% off at Vivo Super Day sale in PH
Smartphone makers have obviously been working hard to erase that image with newer models that don't look and feel different from what we're used to, and Vivo's latest attempt fits the bill of an updated handset with super-long battery life.
READ ALSO: Vivo iQOO Snapdragon 855 gaming phone in the flesh
The Vivo Y17 packs a whopping 5,000mAh cell that should last more than a day — and it charges quickly, too. It has other things going for it as well. Available in Mineral Blue and Mystic Purple color variants, the phone is currently priced in the Philippines at P11,999 (roughly $235 converted). Here's our review of the Vivo Y17.
Design and build
No surprises here. The Vivo Y17 opts for the typical modern smartphone design — tiny, waterdrop notch at the top; plastic rear panel sporting three cameras and a fingerprint reader; and glossy, glass-like finish around the back to make the device more appealing to the masses. It's noticeably thicker than most phones we've tested recently. However, there's a good reason for that: a 5,000mAh battery backup that is more than capable of all-day heavy usage.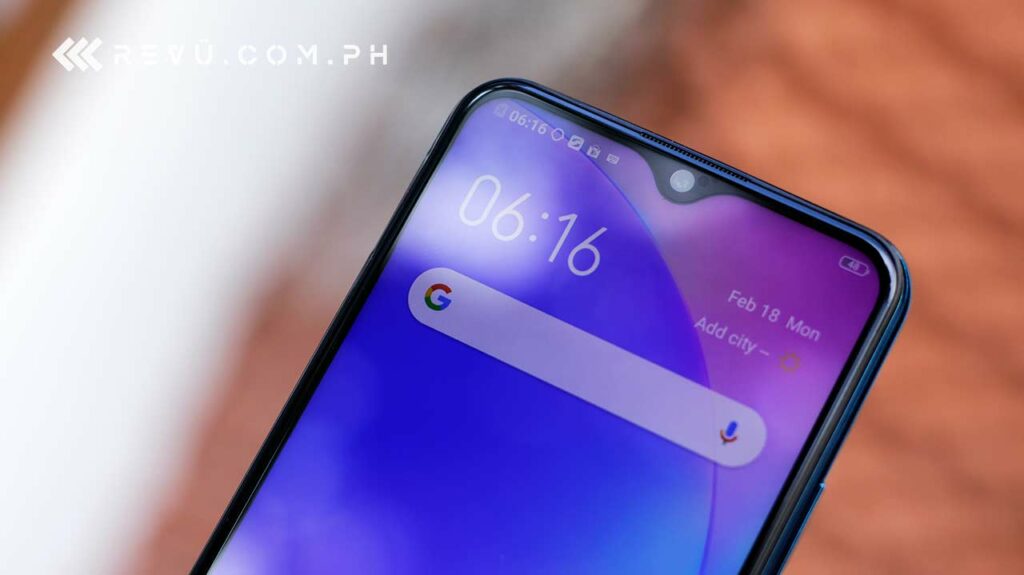 The thickness of the Y17 combined with its screen diagonal of 6.35 inches make the handset a bit harderto operate one-handed than the photos would have you believe, but it's manageable. It helps that the bezels up top and on the sides are satisfyingly slim in real life and the frame that holds the front and rear panels together is rounded. The bottom chin is thicker in comparison with the overall bezel design, but is still fairly minimal.
Moving over to the back of the smartphone, there's a triple-lens setup with an ultra-wide camera, a depth sensor, and bronze-accent frame on the camera lens. The capacitive fingerprint area is quite large, so we had no problems using it, and the sensor has been quick to recognize our stored fingerprint data, too.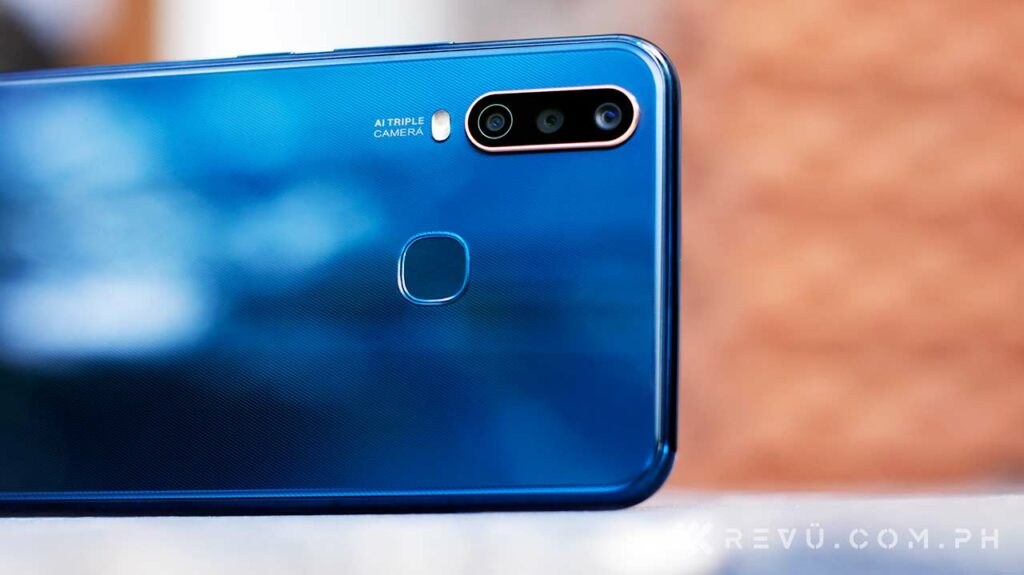 The rear design also gives the Vivo Y17 a more upmarket exterior, though the shiny plastic picks up smudges easier than we'd like. Still, it's refreshing to see the effort and work that went into making this model stand out a bit more.
The side buttons, all located on the right edge, are nice and clicky. Meanwhile, the base of the Y17 features a microUSB port for charging and file transfer, a headphone jack, and a downward-firing mono speaker. The speaker isn't bad, but it isn't great for critical listening either. Plus, it can get muffled easily when you hold the phone in landscape orientation.
Screen
The Vivo Y17 has a 6.35-inch LCD touchscreen running at 1,544 x 720 resolution at an aspect ratio of 19.3:9, which is not something we normally see on mobile devices. Nothing wrong with it, though, and we're happy to report that most of the games we tried — Mobile Legends included — occupied the entirety of the display while in full-screen mode.
The Y17 also supports swipe gestures for navigating Vivo's custom user interface in lieu of software buttons at the bottom of the display. Unsurprisingly, Vivo's gesture system is similar to OPPO's, with the exception of an iOS-inspired control center that you can bring up by — surprise, surprise — swiping up from the base of the screen.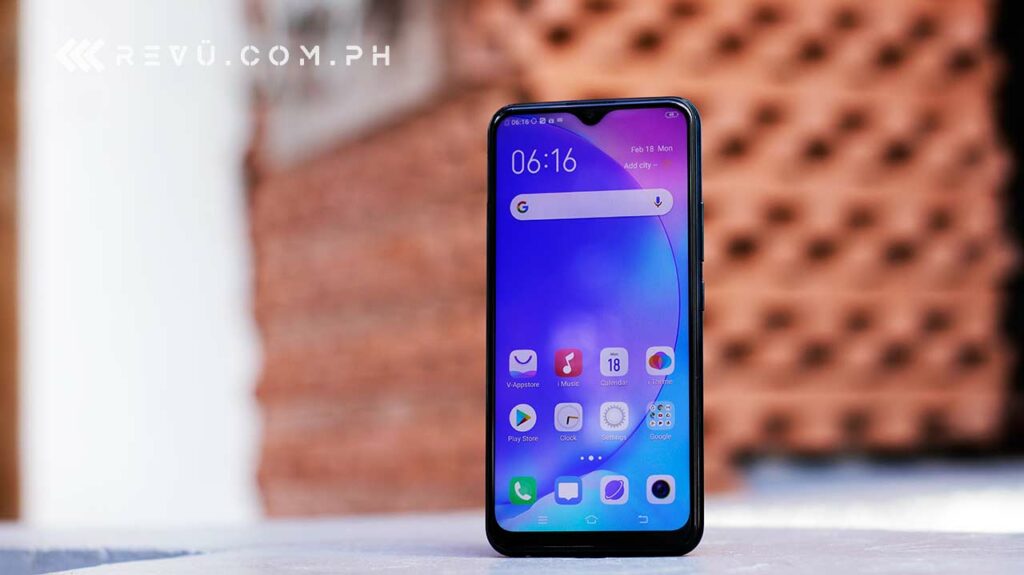 Picture quality is decent at this price point. You get nice colors (if you want them on the cool side of the spectrum) and wide viewing angles, and images, text, and interface elements appear sharp enough on the panel, despite the resolution not being full HD. That being said, if you're worried about the number of pixels this phone manages to cram in, don't sweat it.
Cameras
Following a common trend in modern smartphones, the Vivo Y17 has three cameras on the back. There's a 13-megapixel main camera with f/2.2 lens; an 8-megapixel, f/2.2 ultra-wide camera; and a 2-megapixel, f/2.4 depth sensor for bokeh.
Food shots
The latter is only used for edge detection when taking pictures in Portrait mode. It does a pretty decent job with objects and people, and the overall image quality doesn't seem overly processed. The Y17 doesn't have an optical zoom lens, but it offers 10x software zoom if you really need to get close to your subject.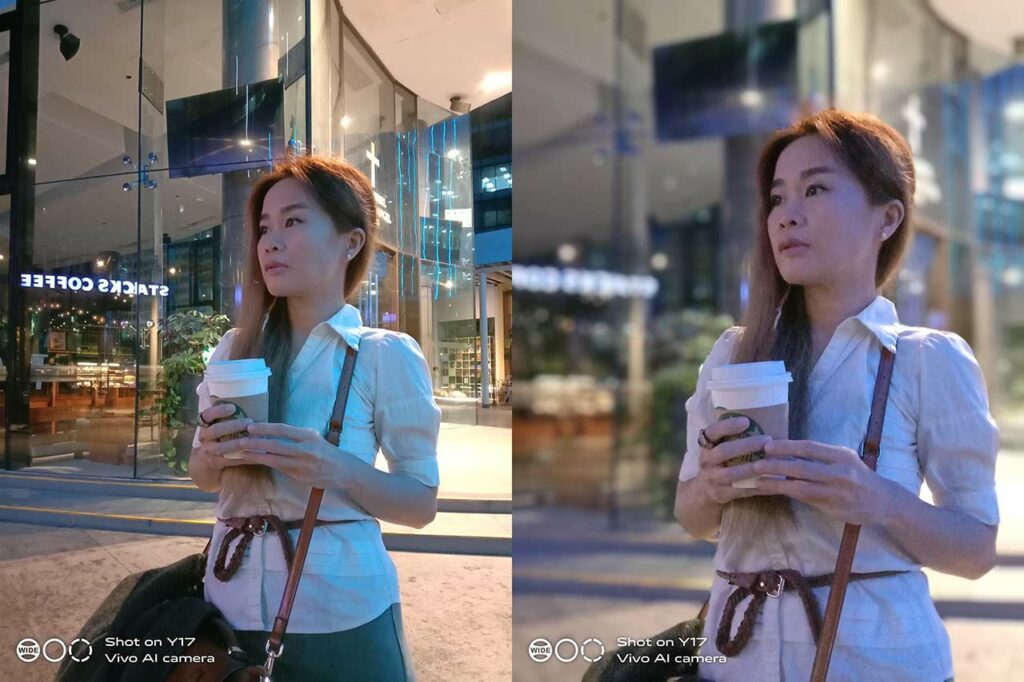 The wide camera is good and has HDR and tap-to-focus functionality, but it can be inconsistent in low light. Still, it's nice that it is there, because you never really know when you might need a wider lens to fit more people in the frame, or capture a scene without taking a few steps back.
Ultra-wide vs 1x: From night to day
The primary camera captures the best images — as it should. And although the Y17 doesn't have a dedicated mode for night shots, you can enter Professional mode in the camera app and set the shutter speed between 2 and 5 seconds to capture brighter images with the help of a tripod.
Selfies taken from night to day
The front camera is 20 megapixels and has f/2.0 lens. It can snap some pretty good selfies — with and without filters. Skin tones look accurate enough, and closeups retain a lot of detail and facial texture when beauty mode is turned off.
Performance
Vivo has equipped the Y17 with an octa-core MediaTek Helio P35 spec backed by 4GB of RAM and 128GB of storage, which you can expand by using a microSD card that fits into a dedicated slot.
The P35, if you're not familiar, features two groups of Cortex-A53s. One design runs at 2.3GHz, while the other is built for less intensive tasks and maxes out at 1.8GHz. The same PowerVR GE8320 graphics bundled with the Helio P22 and Helio A22 can be found here, but it runs at a higher clock speed, so it's said to be faster.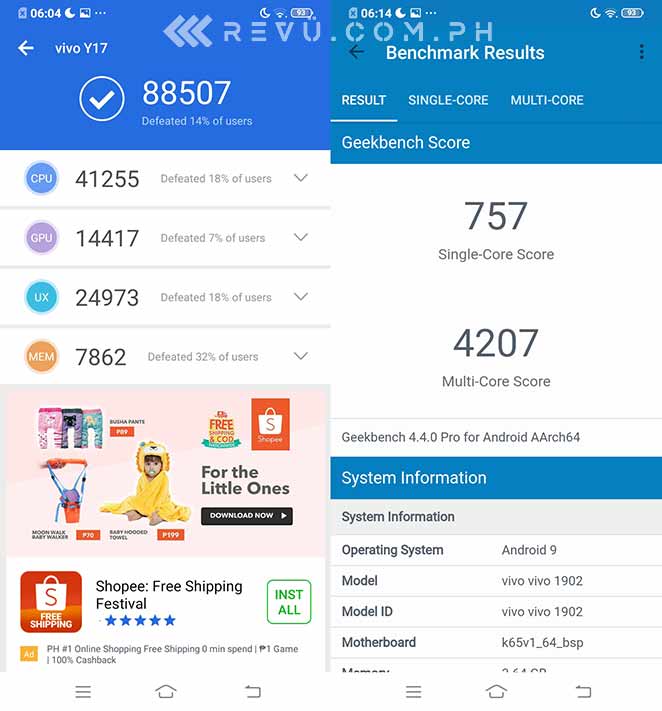 The Vivo Y17 is generally smooth in the real world and will have no problem running most games at reasonable settings. It doesn't offer High Frame Rate mode on Mobile Legends, but that's probably because the Helio P35 is a fairly new chip on the market, and not a lot of manufacturers use it at the moment.
SEE ALSO: Boracay through the lenses of the Vivo V15 Pro: A camera review and Vivo V15 Pro gaming review: One of the best in the segment
However, if you're looking for mid-level gaming performance — something the Vivo V15 and other more expensive handsets provide — you won't find it here. The 4GB of RAM, though, ensures that apps open without any annoying delay and having several of them in the background won't cause excessive lag.
Gaming on the Vivo Y17: PUBG Mobile and Mobile Legends (5:00 mark)
Another thing we found helpful is Vivo's dedicated gaming mode, which optimizes the performance of the device and blocks notifications and calls while playing games. It's also said to provide a more stable frame rate by allocating system resources and bandwidth to specific apps.
Battery life and charging
The Vivo Y17 is equipped with a generous 5,000mAh battery backup, which is more than what most other handsets in the same price range offer. That said, expect the phone to comfortably last more than a day on a single charge, even if you're a heavy user.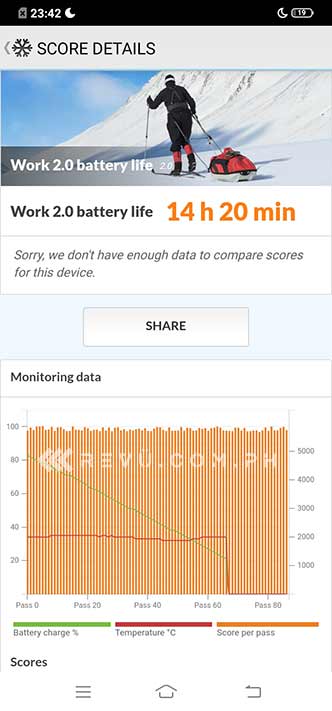 Using the Y17 for social media, email, video streaming, and gaming, we were able to get two days of moderate usage out of our unit, with games taxing the battery the most. For example, playing PUBG Mobile for 60 minutes drained the battery by 19%, whereas watching a full-length film reduced it to 20% from 32%. The battery hardly runs down at all while the phone is asleep, which is great for users who don't activate their phone every few minutes.
Using the Vivo Y17 for social media, email, video streaming, and gaming, we were able to get two days of moderate usage out of our unit, with games taxing the battery the most
Fast charging is available over a microUSB connection, and Vivo has included an 18-watt charger in the box to quickly juice up the Y17's massive battery. From zero, it usually takes about 1 hour and 50 minutes to get the handset to 100%. That's quite impressive considering the capacity we're looking at here. Most phones in the category take about as much time to fill up a much smaller battery.
Final thoughts
The Vivo Y17 has a couple of things going for it, including a long-lasting battery that juices up in under two hours and a versatile camera system that can do portraits and landscape shots on top of the usual stuff. The unit itself looks good — glossy and attractive, with a modern notch design, rounded edges, and bronze trim around the main camera module.
Perhaps the only thing that keeps it from being genuinely compelling, in our opinion, is its processor. For the price, you can certainly do better than the Helio P35, but then again, the P35 isn't bad, especially for non-power users.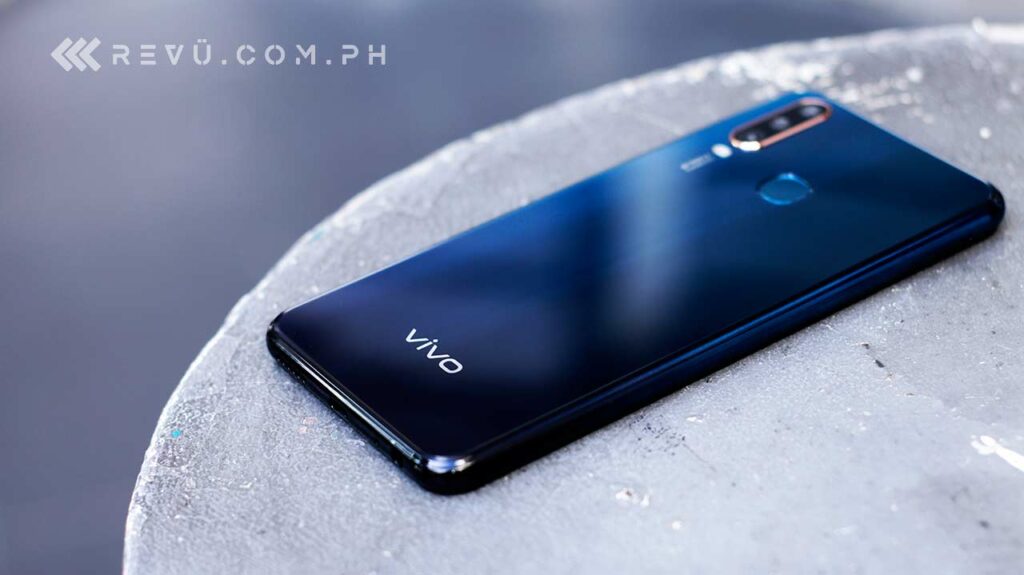 Those who consider battery life a top priority should easily find the Vivo Y17 adequate, but it has more going for it than that.
Vivo Y17 specs
6.35-inch LCD display, 1,544 x 720 resolution (19.5:9)
Octa-core MediaTek Helio P35 processor
4GB RAM
128GB expandable storage
Triple 13-megapixel, f/2.2 rear camera, 8-megapixel, f/2.2 ultra-wide camera, 2-megapixel, f/2.4 depth sensor with LED flash
20-megapixel, f/2.0 front camera
Fingerprint reader (rear-mounted)
5,000mAh battery with 18-watt fast charging
FunTouch OS 9 based on Android 9.0 Pie
---