The OPPO A9 2020 is now officially available in the Philippines. It's the first model under the A9 series released in the country, and it likely won't be the last. 
SEE ALSO: Official: OPPO A9 2020, A5 2020 with quad rear cameras
It also grabs attention as the first OPPO launched locally with four rear cameras headlined by a sensor that can take 48-megapixel photos and 4K video. On top of that, the A9 2020 gets a 5,000mAh battery that can be used to top up other devices using reverse charging, plus an extra-tall screen with a 20:9 aspect ratio.
All those specs and more for P15,990 (around $308) sounds like a great deal. So, is the OPPO A9 2020 really worth the money, especially considering what's out there? Check out our review to find out.
Design and build
The OPPO A9 2020 is made of plastic and looks pretty identical to most other midrange phones on the market, especially next to OPPO's recent releases in the same price range. But there are two things that stand out, as you might be able to tell from the photos.
The first is that the back boasts a quad-sensor setup with a 48-megapixel camera behind f/1.8 optics and dedicated cameras for ultra-wide-angle and portrait shots. The A9 2020 is OPPO's first midranger with four cameras on the rear, making it quite special, and we'll talk about it more in a bit.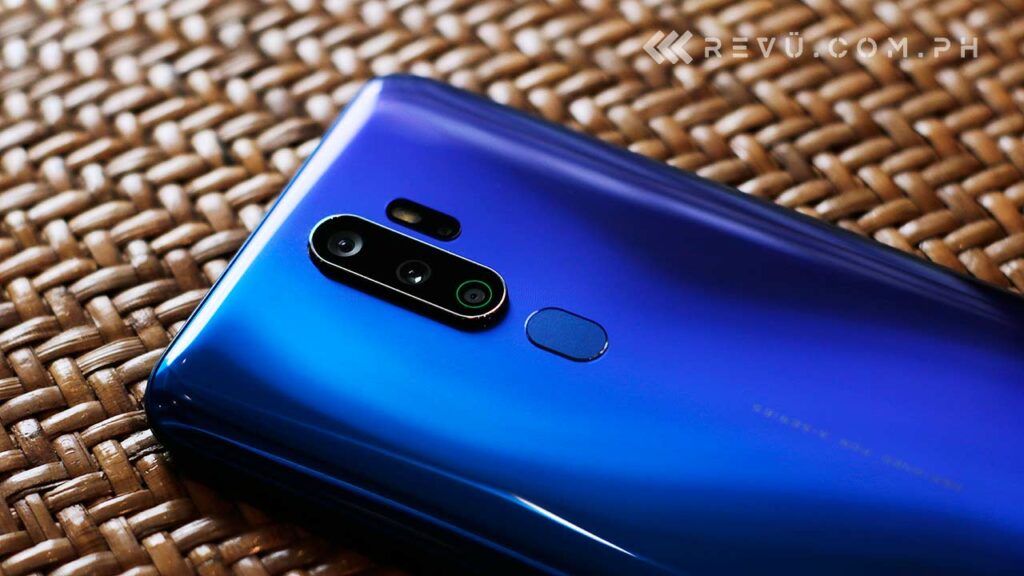 Second, the screen is slightly longer (or wider in landscape mode). It has an aspect ratio of 20:9, making it suitable for games and video playback because it gives you a wider field of view in apps that support it. 20:9 is the same ratio you'll find on the Samsung Galaxy A70 and OnePlus 7T, plus a few others.
It's definitely a nice addition — and the OPPO A9 2020's small display notch up top does not get in the way when gaming or watching videos —  but it also gives the handset extra height, which can make it almost impossible to pocket if you wear skinny jeans.
READ ALSO: Official: OPPO Reno 2, Reno 2Z, Reno 2F with quad cameras
It might be more at home in your bag, but then you'll need to need to make space for it and ensure it has enough space around it to prevent accidental scratches. OPPO does not mention what kind of cover glass it used to protect the screen, but it's safe to assume there's no Gorilla Glass or Dragontrail glass on top.  
The back of the smartphone gets glossy curved plastic with gradient coloring and curved lines in an S pattern underneath. The A9 2020 looks good regardless of which color you choose (Marine Green and Space Purple are your only choices), and the design choices here should appeal to many.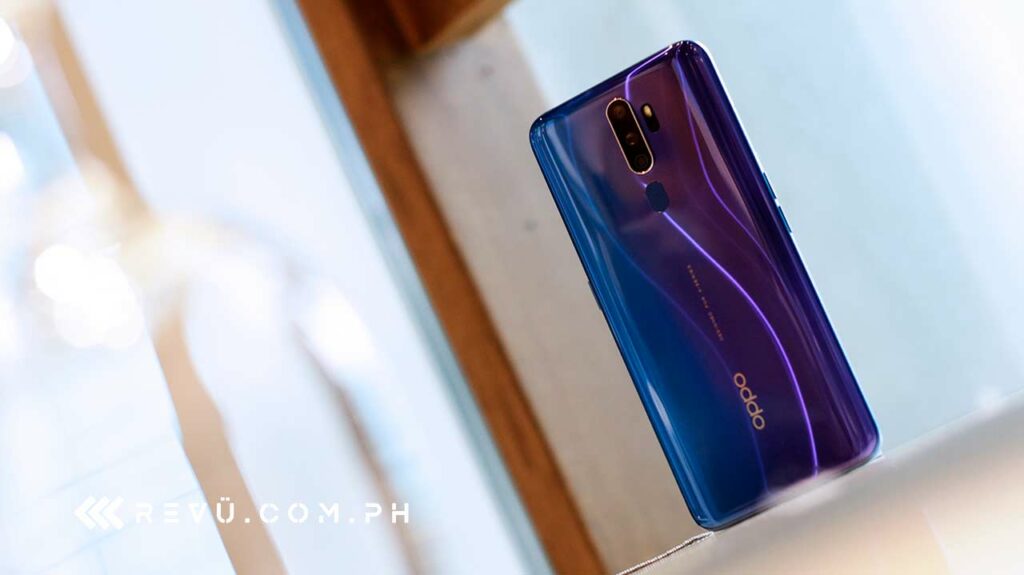 The physical fingerprint scanner is on the rear as well. It's a smaller oblong shape compared to what we're used to and has a matte finish to differentiate it from other elements on the panel. Both don't seem to affect its performance, as the sensor manages to read our fingerprints well and unlock the handset quickly.
The power button on the right has a metallic green accent, which, we suppose, is meant to make it more visible. There are separate up and down volume buttons to the left of the screen.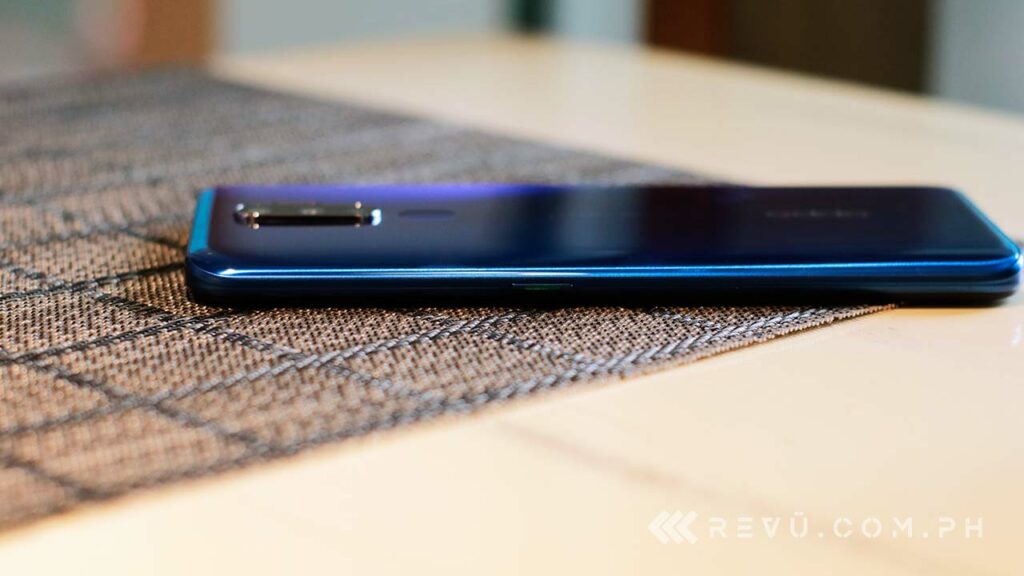 All the side buttons of the OPPO A9 2020 run along the middle of the frame to make them easier to access at all times. This shows great attention to detail, something you expect from a flagship device, not a midranger.
The A9 2020 comes with dual stereo speakers with Dolby Atmos enhancement for better sound. The speakers, which are located above the display where the earpiece sits and at the base of the phone, next to the USB-C port, are loud enough that they can fill a small room with dialogue in a video. They don't sound stale at high volumes, too, although they could use more bass presence.
Music listeners who care about sound quality will also like the device's ability to play high-resolution audio files. However, you'll need to own high-res music and compatible headphones — yes, there's a headphone jack — to hear the difference.
Screen
The OPPO A9 2020 sports a 6.5-inch HD+ waterdrop display with a 1,600 x 720 resolution. It can reach up to 480 nits of brightness and has a screen-to-body ratio of 89%, which is fine, especially considering the huge bezel along the bottom of the screen.
The best feature of the display is also the most obvious. The taller aspect ratio of 20:9 allows you to see more content in one view. This can be particularly useful when you're sifting through emails, reading longs texts, or browsing the web. We also like that it is fully compatible with games like NBA 2K20, Mobile Legends, and PUBG Mobile, so no black borders at the top and bottom.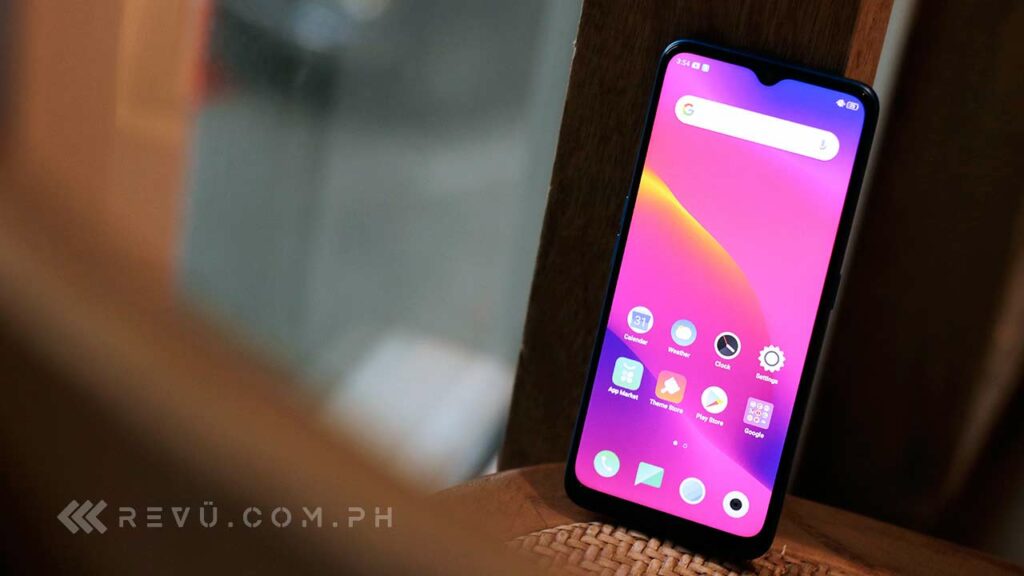 The overall quality of the panel itself is decent, but nothing to be really excited or concerned about. Colors appear natural, with satisfactory contrast and saturation in this price segment, and there is minimal color shift when viewing images at an angle.
You can navigate the OPPO A9 2020 with intuitive swipes from the sides and below the display. Gesture navigation is disabled by default, but you can enable it in the Settings app. The on-screen navigation buttons, which should be familiar to anyone who has used an Android device, are quite difficult to use on a screen this long.  
Camera
The banner feature of the camera system is a 48-megapixel sensor, which takes 12-megapixel photos by default for brighter images in low light. Need even brighter shots? Activate OPPO's Ultra Night Mode 2.0 mode in the camera app by swiping through the interface.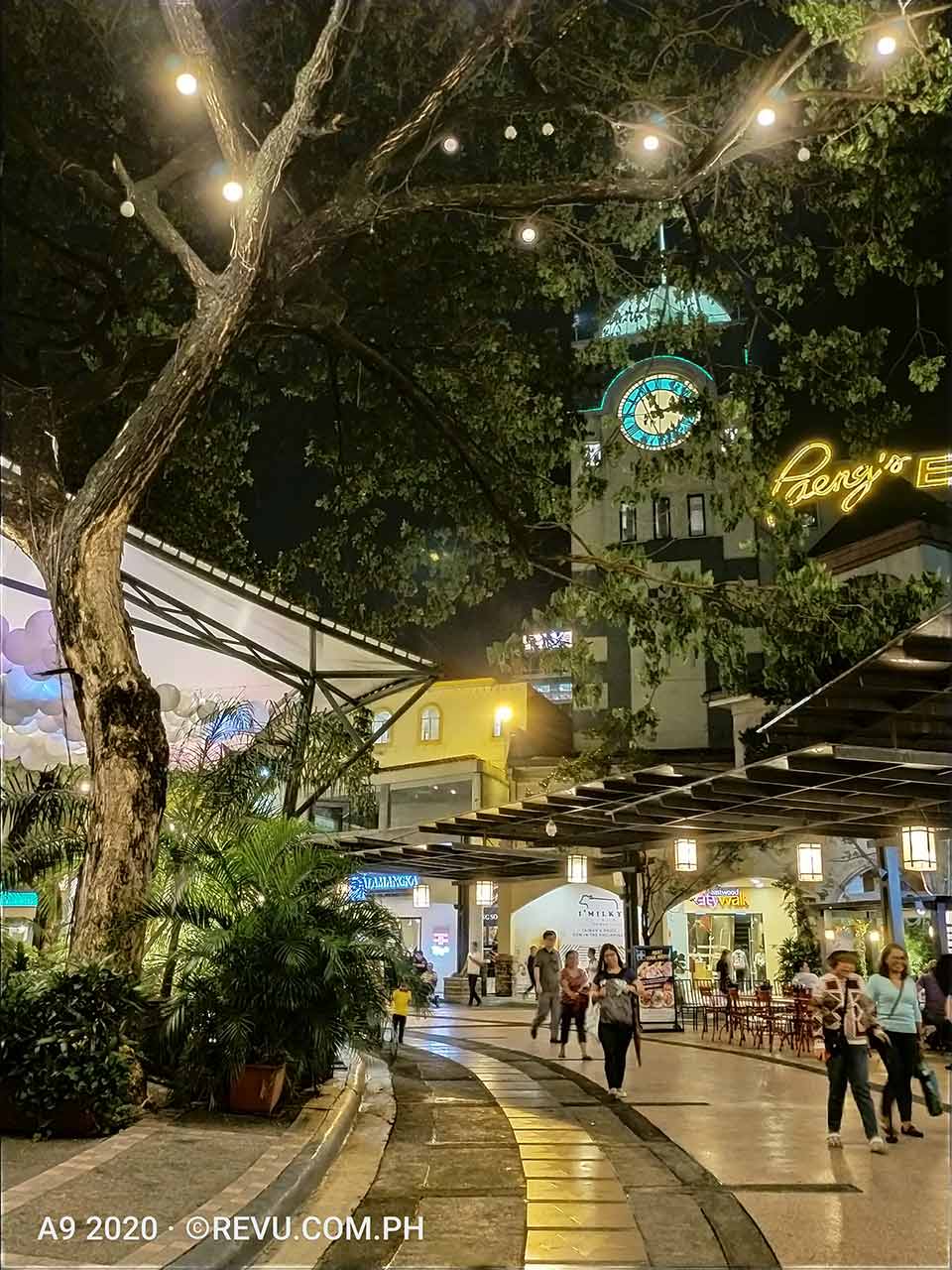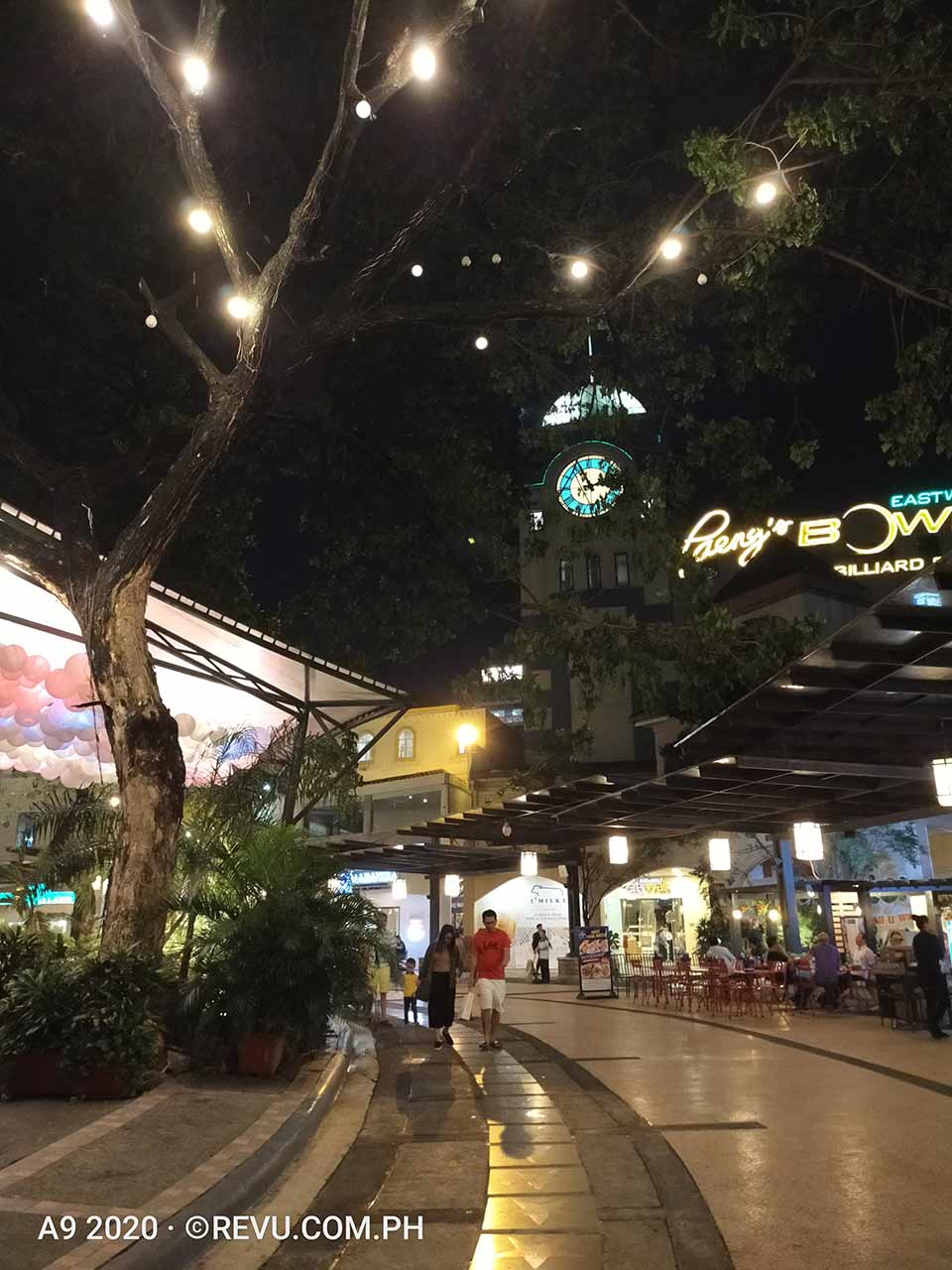 Activate OPPO's Ultra Night Mode 2.0 mode if you need even brighter shots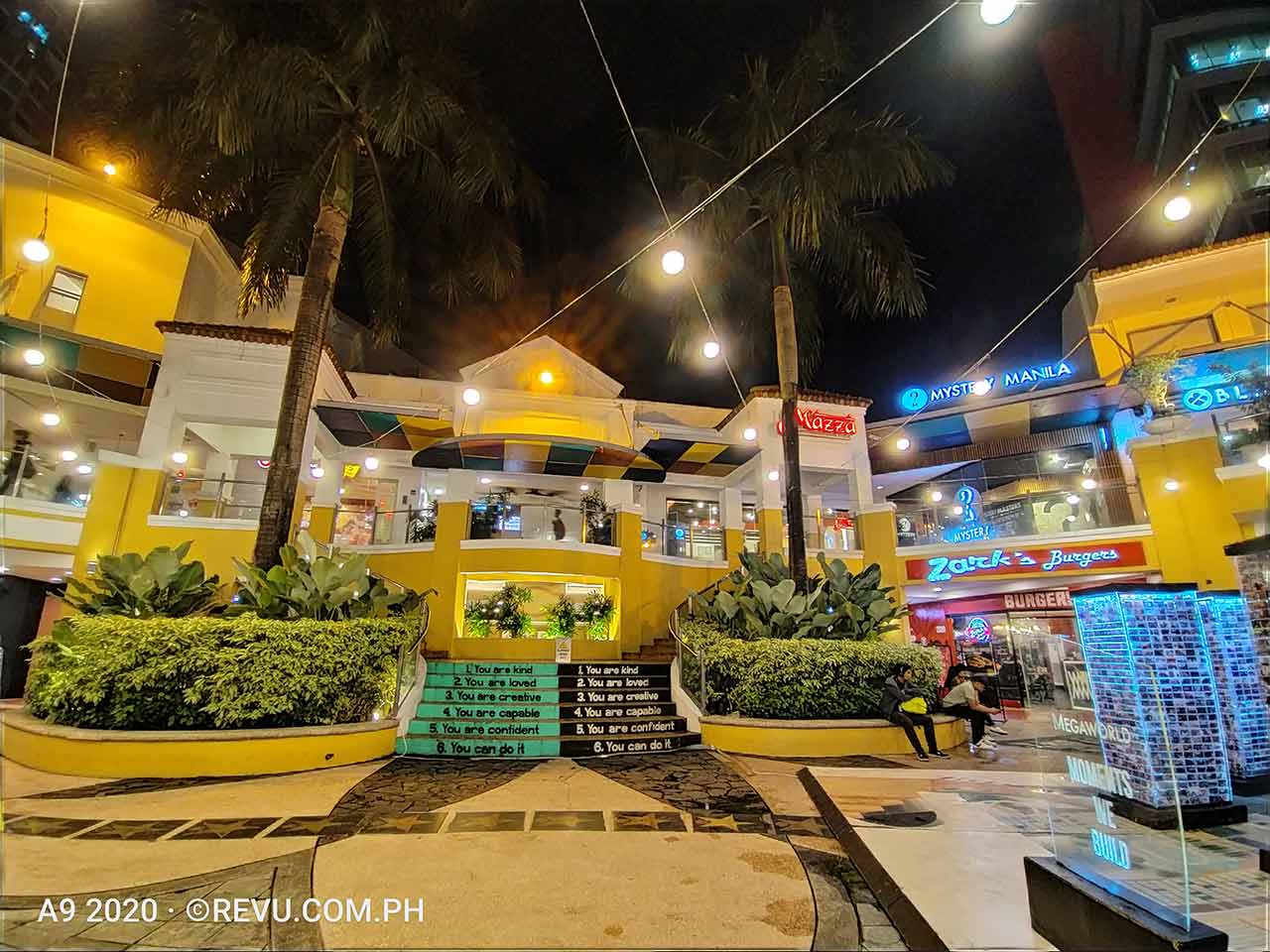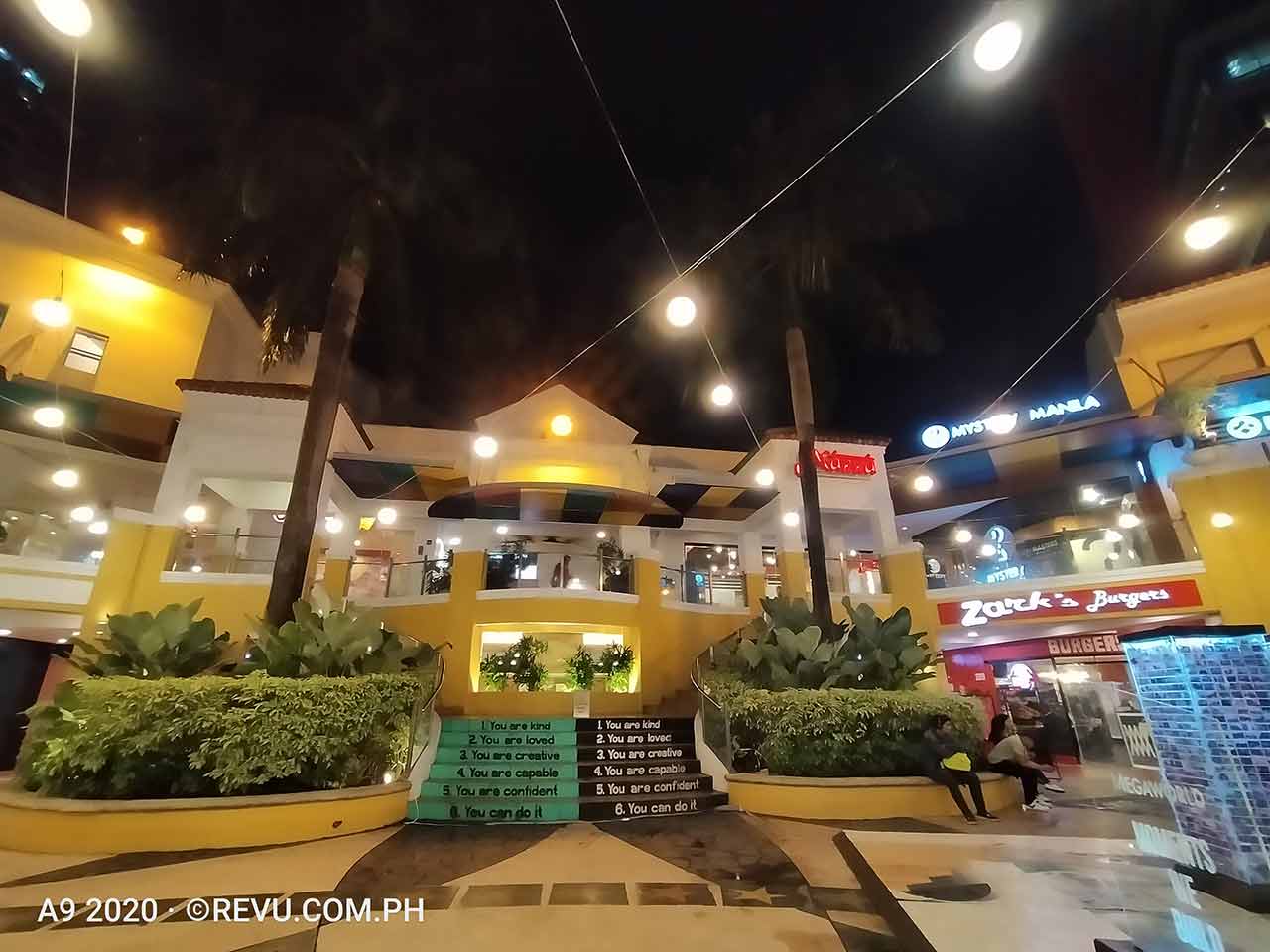 You can enable Night mode when taking ultra-wide pictures with the OPPO A9 2020, something that you can't do on most phones with super-wide-angle lens today
You can switch to the 48-megapixel mode to get sharper results, but we noticed these much larger files that contain extra information aren't all that much better. More megapixels don't necessarily translate to a better picture, right?
However, you can use still use this mode to crop a photo and get the equivalent of a 2x optical zoom without any digital interpolation. It's particularly handy on a phone that lacks a dedicated telephoto camera like the OPPO A9 2020.
The secondary camera combines an 8-megapixel sensor with an ultra-wide-angle, f/2.2 lens, to allow you to get more scenery or a bigger group of friends in one shot, while the other cameras in the system are two 2-megapixel sensors that add bokeh effects to a photo.
The last set has ' 2x zoom' and '5x zoom' versions
Understandably, wider shots look noticeably worse than those taken with the primary sensor, but the picture quality is decent in daylight conditions. Meanwhile, the depth-sensing camera is effective in working out a subject and producing background blur. The edge detection is on point in most cases.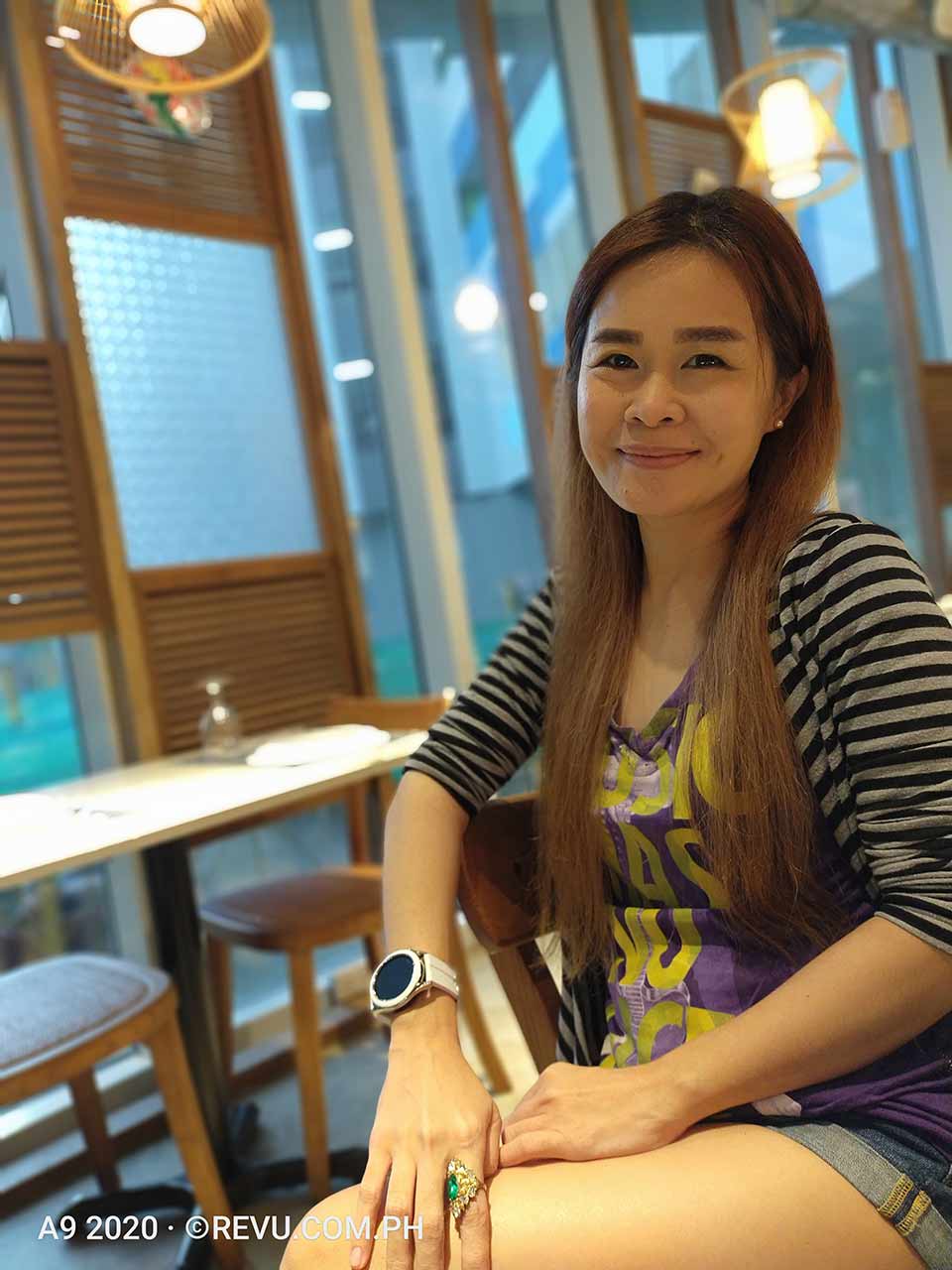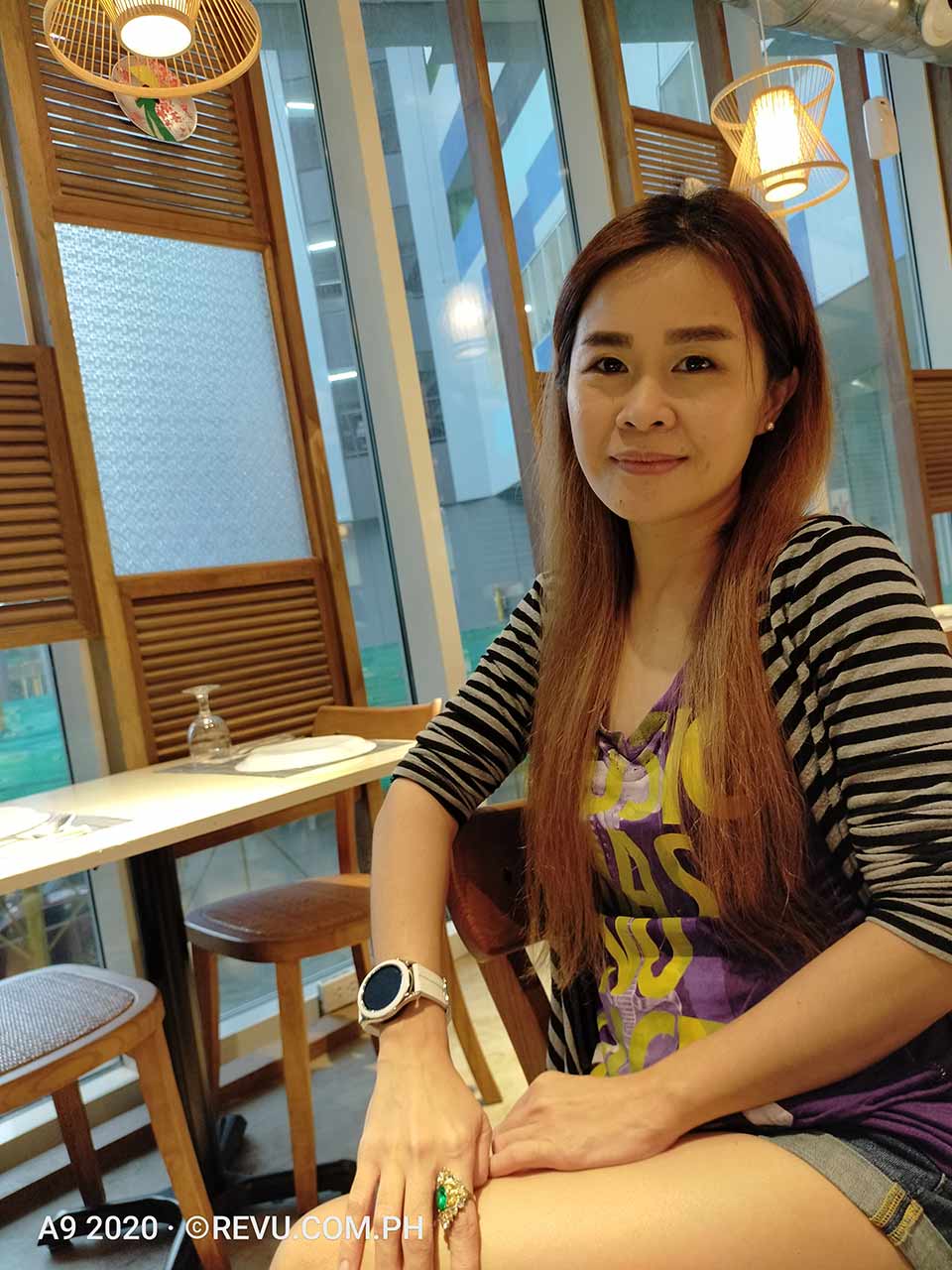 Portrait mode vs Auto mode. The OPPO A9 2020's depth-sensing camera is effective in working out a subject and producing background blur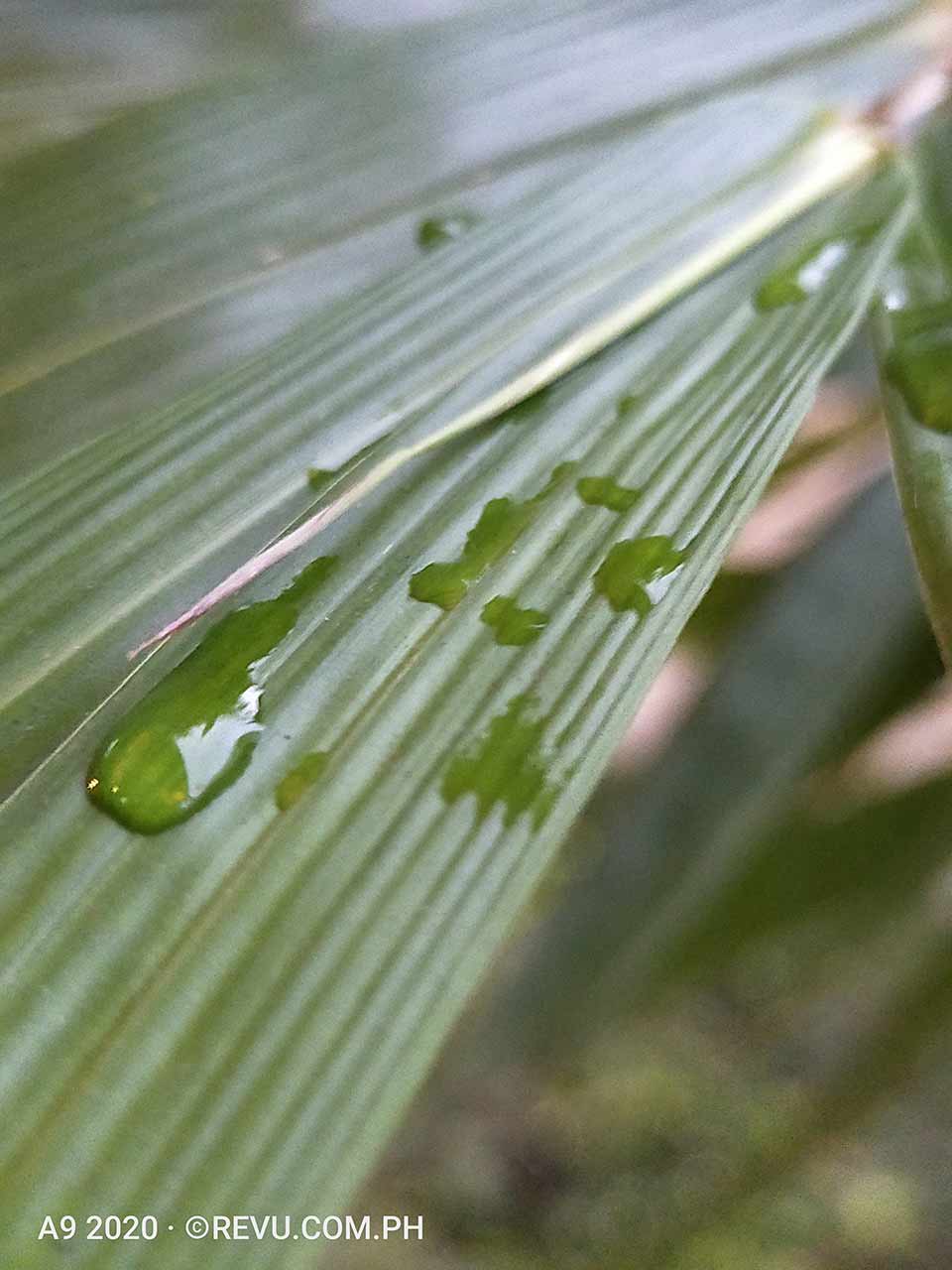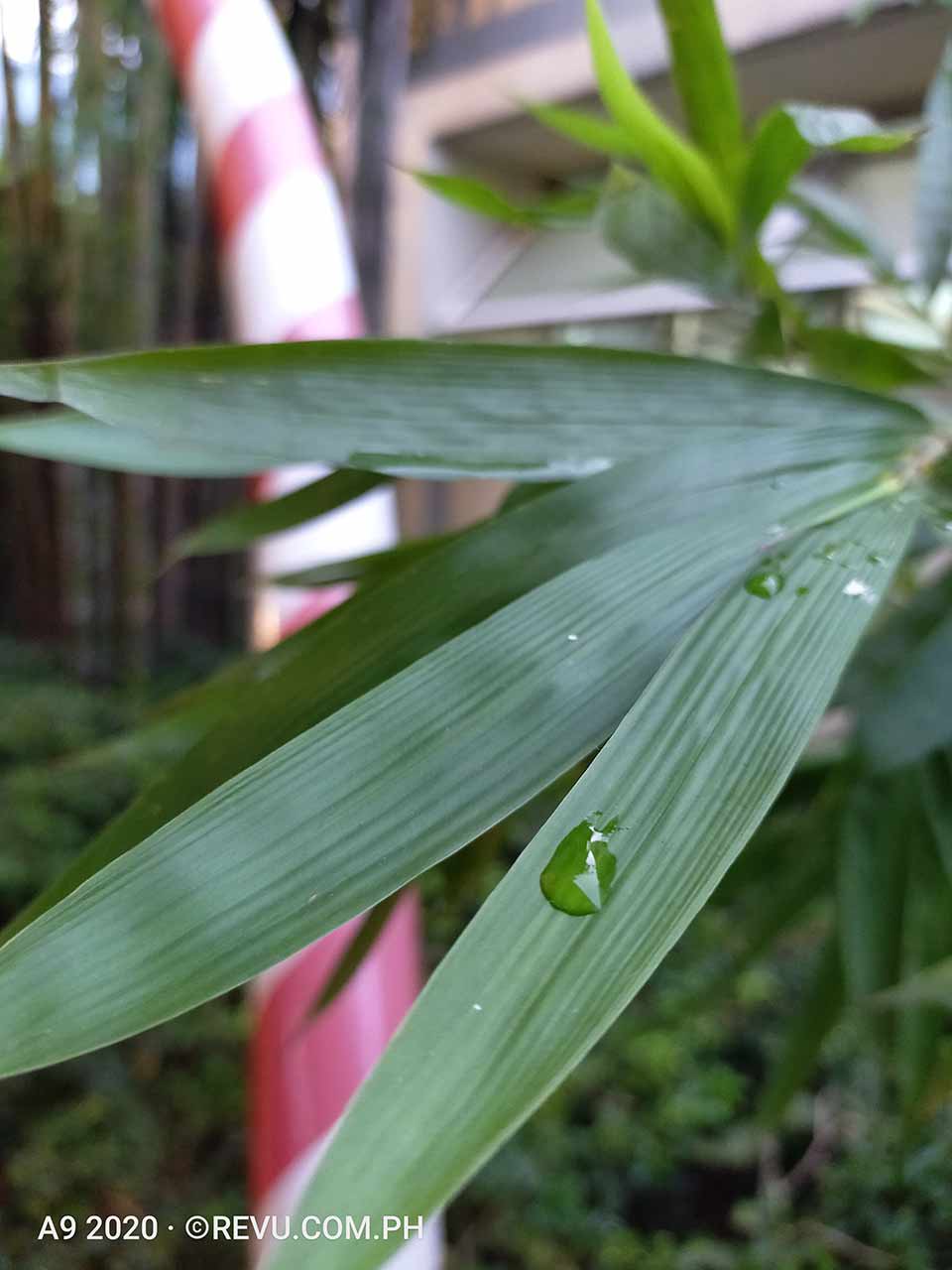 Getting closer to your subject automatically enables Macro mode
For selfies, there's a 16-megapixel, f/2.0 camera in front. Selfies came out looking as good as we had hoped, with acceptable dynamic range and enough detail on our faces.
2 sets of selfies: Portrait mode vs Auto mode
Performance
With regard to the chipset, OPPO has taken a different route for its latest midrange smartphone, equipping the A9 2020 with a Qualcomm Snapdragon 665 instead of using the latest silicon from MediaTek. The processor is coupled with 8GB RAM, which is more than enough for your multitasking needs, and 128GB of UFS 2.1 storage, while the graphics is handled by an Adreno 610.
On paper, the OPPO A9 2020 sure looks like a formidable device — and, for the most part, it is when it comes to handling everyday tasks and operating ColorOS 6.0.1 based on Android 9.0 Pie.
Gaming on the OPPO A9 2020: PUBG Mobile, NBA 2K20 (3:55 mark), Mobile Legends (8:27 mark)
Break out the gaming tests and benchmarks, however, and you'll find it doesn't offer the same fluid experience in games that require a lot of processing power like PUBG Mobile, which plays best at low detail. NBA 2K20 and Mobile Legends both run well with the graphics settings dialed all the way up. Mobile Legends also supports High Frame Rate mode on this OPPO.
We ran Antutu Benchmark, a general-performance benchmark, and a got an overall score of 133,966. This is pretty average for an affordable handset in the midrange. Geekbench 5's single- and multi-core tests, on the other hand, returned 315 and 1,354, respectively. In plain English, all of these observations and numbers mean that the OPPO A9 2020 is perfectly fine for most tasks, but a high-end gaming phone it is not.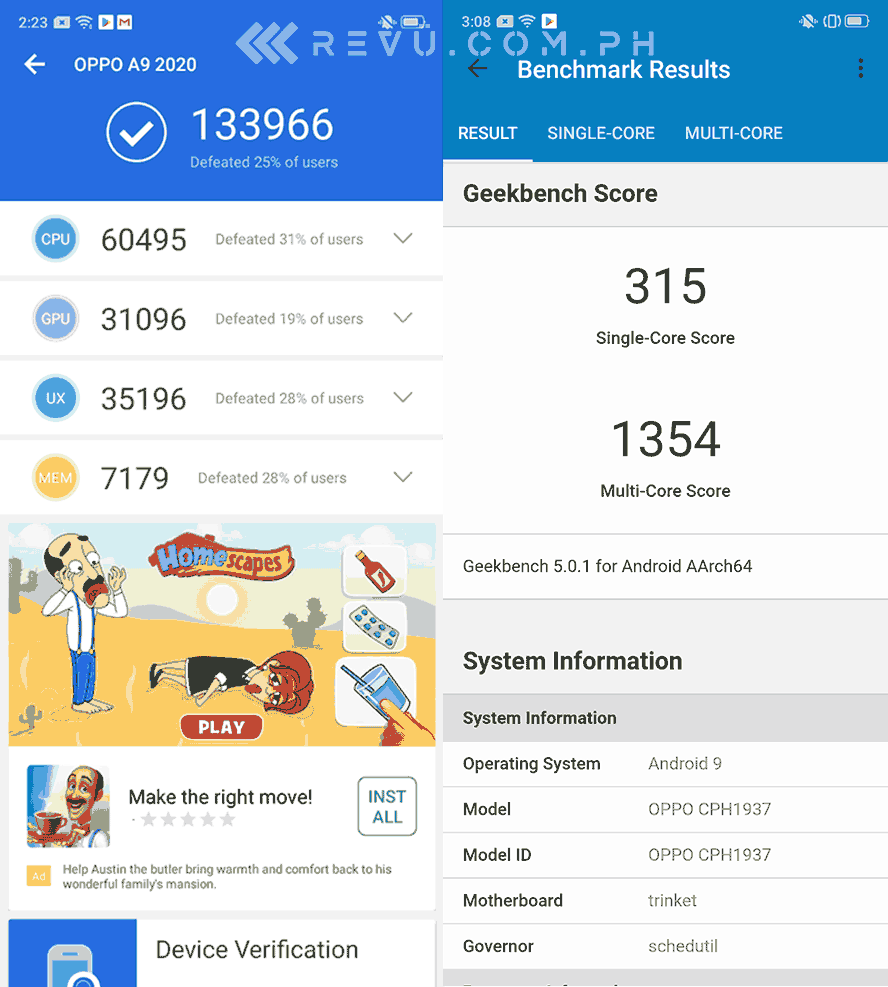 The A9 2020 does get warm, but not enough to cause issues in our testing. Our review sample was warmest when playing online games using mobile data.
Battery and charging
The OPPO A9 2020 delivers solid days-long battery life and offers plenty of stamina for gaming and taking photos and videos, thanks to its massive 5,000mAh battery backup. We could easily get through a full day of heavy usage, including lots of picture-taking and Spotify and YouTube streaming, with some juice left over for our morning routine.
In PCMark's Work 2.0 battery benchmark, which cycles through media and browser-related tasks, our unit ran for 15 hours and 36 minutes. This is a good result, something we expected given the battery capacity and HD+ screen.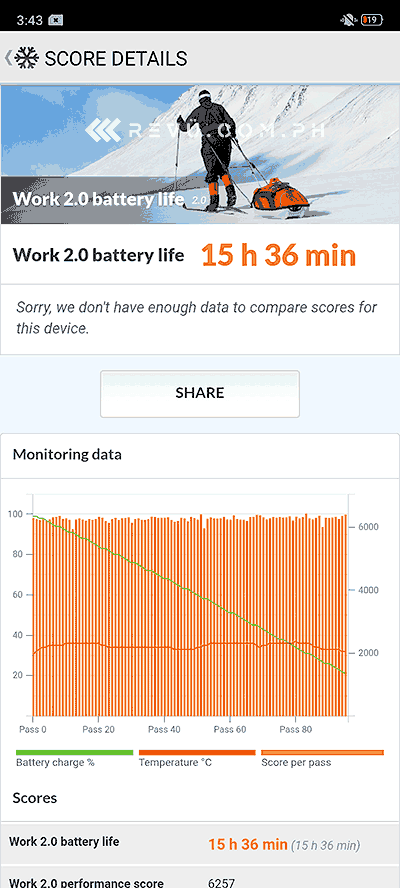 Charging is done via a USB-C port that is capable of pushing up to 10 watts. Reverse charging is onboard as well, so you can top up your friend's phone using the A9 2020's high-capacity battery. It's up to you or your friend to provide the requisite cable and/or adapter, though.
Final thoughts
Well-styled and well-specced with cameras capable of shooting 48-megapixel photos and ultra-wide shots and a battery that lasts days on a single charge, the OPPO A9 2020 is yet another solid midrange offering from the global brand.
The smartphone is up against plenty of powerhouses in the sub-P20,000 (sub-$385) price bracket, though, so we're interested to see if OPPO has done enough with the A9 2020 to sway the droves of consumers who will be looking to pick up a new smartphone this upcoming holiday shopping season.
It's somewhat let down by its gaming performance, but if you know that going in and are restricted by a budget, this phone won't disappoint.
OPPO A9 2020 specs
6.5-inch HD+ waterdrop display, 1,600 x 720 resolution, 20:9 aspect ratio
Octa-core Qualcomm Snapdragon 665 processor
8GB RAM
128GB expandable storage
Quad: 48MP, f/1.8 main camera; 8MP, f/2.25 ultra-wide-angle camera; 2MP, f/2.4 portrait camera; 2MP, f/2.4 portrait camera
16-megapixel, f/2.0 front camera
4K at 30fps video recording
Fingerprint reader (rear-mounted)
5,000mAh battery with 10-watt fast wired charging
ColorOS 6.0 based on Android 9.0 Pie
Colors: Marine Green and Space Purple
---