Apple has quietly launched the long-rumored AirPods Pro. And it has already shown up on Apple Store Philippines for P14,990 (around $293), but there is no availability or delivery date just yet.
In the United States, it will be available starting Wednesday, October 30, so we expect to get information about its local release soon.
SEE ALSO: iPhone 11 series Philippine prices revealed and Globe, Smart postpaid plans for iPhone 11, 11 Pro, 11 Pro Max
The new Apple AirPods Pro isn't a substitute for the standard AirPods. With the "Pro" branding, it's considered a premium option. This time, the company finally introduces active noise cancellation, a new water-resistant design, interchangeable tips, and a new Transparency mode that lets you hear what's around you.
Active noise cancellation is a feature we've been waiting to show up on the AirPods. It's made possible with two microphones. One is an external mic that monitors ambient noise and creates an inverse audio signal to cancel it out. The other is an internal mic that tracks sound within the earphones and automatically adjusts the noise cancellation on each ear, depending on the amount of noise that's leaking in.
Apple AirPods Pro official video
Active noise cancellation works alongside the new Transparency mode. This feature allows in some of the ambient sounds to enable you to hear your surroundings.
The Apple AirPods Pro comes equipped with IPX4 water- and sweat resistance, so you can take it with you on your workout. It's still not designed for swimming, though.
For the second time ever, Apple introduces an in-ear design for the AirPods Pro. The wireless earphones come with a set of three tapered silicone tips designed to easily click into place and provide passive noise isolation once you put them in. To deal with the discomfort the in-ears might pose, the AirPods Pro has a vent system to equalize the pressure.
READ ALSO: Android's best can't beat iPhone 11 series in new Antutu ranking and iPhone 11 series' A13 Bionic tops 'best mobile processors' list
Apple offers a new Ear Tip Fit Test that uses the internal mics to measure the sound level. It'll let you know if the ear tip you selected is the right size for your ear.
The stalks on the AirPods Pro are now pressure-sensitive, so the way you squeeze or hold them will pull up different functions. Press and hold to move between active noise cancellation and Transparency mode. Press once to play or pause, twice to skip tracks, and thrice to skip back.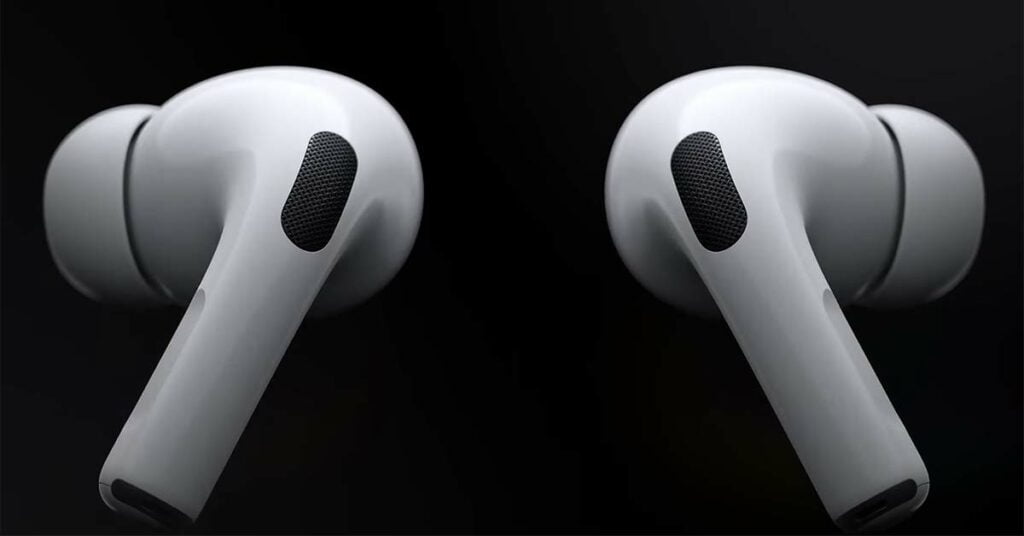 The H1 audio processor found on the second-generation AirPods does all the processing for the AirPods Pro as well. The custom chip gives the AirPods Pro low latency and at the same time, processes audio, noise cancellation, and hands-free Hey Siri requests.
Just like the regular AirPods, you can pull these out of your ears to pause the music and put them back on to continue playing. The AirPods Pros also supports Audio Sharing with select iOS and iPadOS devices. This feature lets you connect two sets of AirPods Pro or AirPod to the same gadget and listen to the same content simultaneously.
Battery life for the device is still the same as the AirPods at 4.5 hours of music listening time with noise canceling turned on and five hours with it turned off. You get 3.5 hours of talk time with noise cancellation on.
The Apple AirPods Pro's case provides an additional 24 hours of listening time and 18 hours of talk time
If you want to get extra juice out of the Apple AirPods Pro, you can use the included case. It provides an additional 24 hours of listening time and 18 hours of talk time. The case offers fast charging, which can eke out an hour of music or calls after just five minutes of charging.
Apple redesigned the case to support the design of the AirPods Pro. Now, the case already has wireless charging built in, so you don't need to buy an additional case to get the feature. It works with any Qi-enabled wireless chargers or power it up via a Lightning cable. What's the same with the standard AirPods' case is that you can open the lid near an iOS device and easily pair with it.
---