Good news, Poco fans: Your favorite Xiaomi sub-brand might be gearing up to launch the much-awaited, much-speculated Pocophone F2 sometime soon.

Two case listings have been posted on the official Spigen website, both for the Pocophone F1 successor. Spigen is offering a clear TPU case and a more rugged black cover with a carbon-fiber design on the back. You can already buy them on the website for $19.99 or P1,012 and $24.99 or P1,265.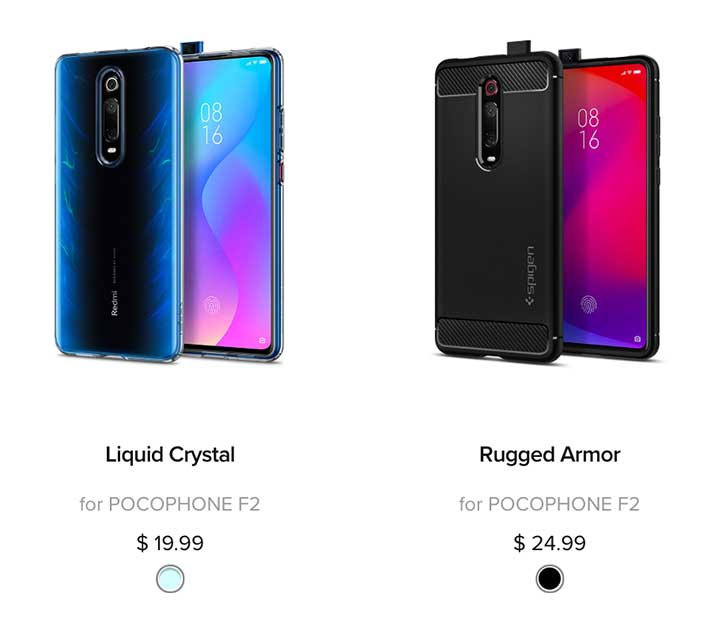 More interestingly, the product pages seem to to confirm the Poco F2 will use the same chassis as the Redmi K20 and Xiaomi Mi 9T series phones. One set of renders even uses the Redmi K20, perhaps because images of the Poco F2 were unavailable at the time of posting.
What's more, if you scroll down the source link, you'll find that the cases are also listed as compatible with the Pocophone F2 Pro. This got us thinking: Are there two devices in the Poco F2 lineup? If so, will the Pro model use a Snapdragon 855 or 855 Plus? We're crossing our fingers for the latter.
SEE ALSO: Xiaomi Mi 9T review: Almost a flagship at half the price and Redmi K30: Early info on the Redmi K20's successor
In terms of specs, the Poco F2 is expected to sport three cameras on the back, a pop-up camera for selfies, and a Super AMOLED screen with an integrated fingerprint sensor. The renders corroborate those leaks.
Featuring top-end specs including a Snapdragon 845 and affordable pricing, the Pocophone F1 built its reputation as a flagship for the masses. The 6GB RAM and 64GB model of the Poco F1 was priced at P17,990 ($356) in the Philippines at launch. The Poco F2 looks to be on course to follow the same blueprint, and reusing the familiar but attractive design of the K20 and Mi 9T phones is a good place to start.
Via GizmoChina
---