For the first time ever, India beat the United States as the world's second largest smartphone market after China on an annual level, according to Counterpoint Research.
The market-research company says shipments in India last year reached 158 million, which translates to a 7% growth year over year, because of Chinese brands' aggressive expansion in the country.
SEE ALSO: Apple, Huawei biggest-winning phone brands in Q4, full year 2019 and Look! This is OPPO, Xiaomi, Vivo's file-transfer tech in action
And in a market that's continuously proven to be an important one for manufacturers, Vivo has made a mark by knocking Samsung off the second spot for the first time, placing itself behind market leader Xiaomi in the last quarter of 2019. It used to be Xiaomi and Samsung competing for first place.
Vivo grew 76% YoY in 2019 and 134% YoY in the fourth quarter, thanks to its budget series' strong performance. Additionally, it successfully pivoted to online by introducing its Z and U lineups and aggressively positioned its S series in the offline segment.
READ ALSO: PH's top 5 smartphone brands in Q3 2019 — Counterpoint
On an annual basis, Vivo is still in third place. But considering it's the fastest-growing next to Realme — coincidentally the same thing we saw in the Philippines in the third quarter of 2019 — Vivo could surpass Samsung on a yearly level if the trend continues. The only question would be whether Realme's beating Vivo to it first.
You can see the ranking for the past period and the one for 2019 below. To read Counterpoint Research's report, visit this page.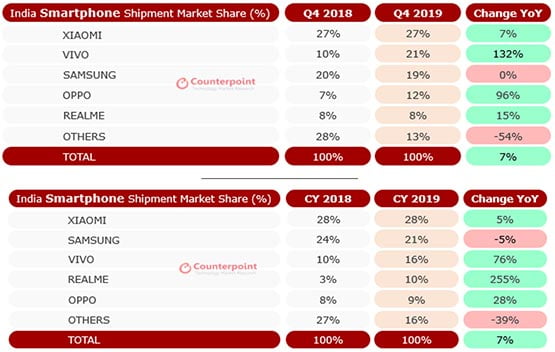 ---