Apple dominated the global smartphone market in the fourth quarter of 2019, outperforming rivals Samsung and Huawei, according to the latest estimates from research firm Canalys.
(Update, February 27: Canalys has a new report. Read Apple, Samsung, Xiaomi phones dominate 2019 rankings.)
This is big news for the American technology company, as Samsung and Huawei previously topped sales in the previous quarters. More importantly, it managed to reverse its decline in China, the world's largest smartphone market.
But it's not only Apple that has reason to celebrate. Canalys says 8 out of 10 vendors grew last quarter, with shipments hitting 369 million units, an improvement of 1% over the last quarter.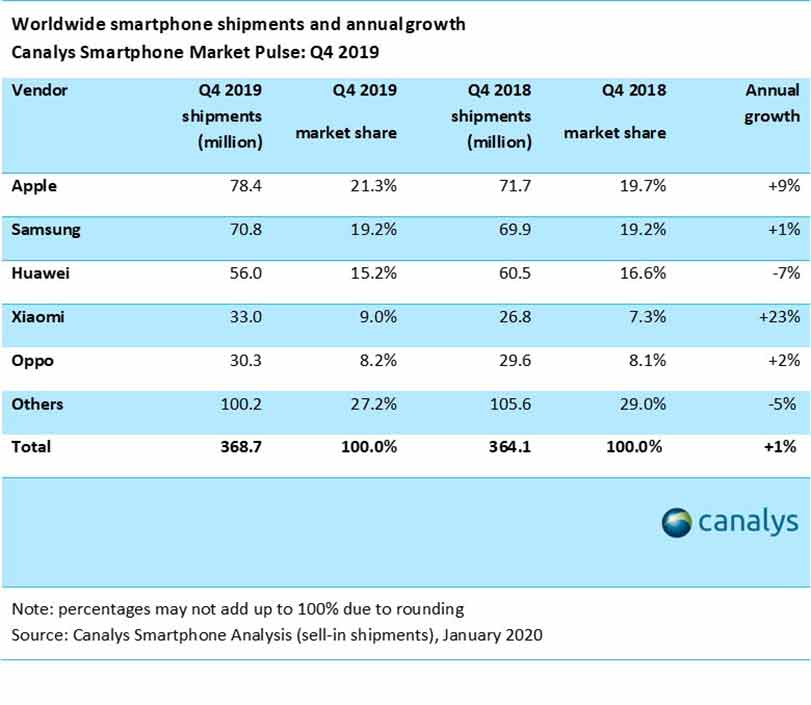 Apple led the way with 21.3% market share on 78.4 million units shipped in the fourth quarter of 2019, up 9% compared with the same period a year ago. The increase was largely due to the strong demand for the iPhone 11 series.
Samsung took second place with 19.2% market share and shipped 70.8 million units. Meanwhile, Huawei had 15.2% of the market, but shipments slipped 7% to 56 million units amid restrictions imposed by the U.S. government on the Chinese firm.
SEE ALSO: Vivo surpasses Samsung as 2nd biggest phone brand in India and The Philippines' top 5 smartphone brands in Q3 2019 — Counterpoint
Xiaomi and OPPO ranked fourth and fifth with 9% and 8.2% market share, respectively. Outside of the top 5 smartphone vendors, the rest of the industry sold 100 million units, which represented 27.2% of the global market during the three-month period that ended in December 2019.
An analyst from Canalys said phones under $100 (around P5,097) were a "major focus," as vendors targeted users who still use feature phones. Vivo was mentioned as an example of success in the budget segment. The Vivo Y91C was said to be wildly popular in Indonesia, although Vivo's shipments in the country were not disclosed in the report. Similarly, Apple saw success in emerging markets with the cheaper iPhone 11.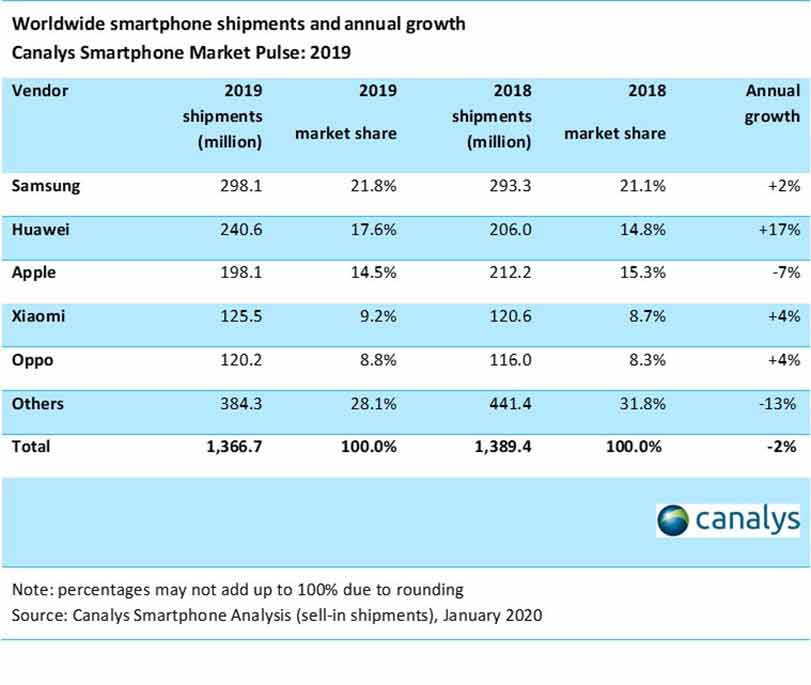 As for the whole of 2019, overall shipments declined 2% to 1.37 billion units year over year, despite growth in the past two quarters. The top five manufacturers in Canalys' results were Samsung, Huawei, Apple, Xiaomi, and OPPO, in that order.
Samsung retained its first spot, while Huawei secured second place ahead of Apple after posting double-digit growth last year. Impressively, the telecom and smartphone giant narrowed the gap with Samsung, even after launching new Android devices without Google apps preinstalled.
---