As you might have heard, Realme has begun rolling out its all-new Realme UI based on Android 10 to select 3 Pro and XT units in India. And even though we're based in the Philippines, we managed to update our Realme 3 Pro smartphone using a custom recovery.
(Update, January 31: Finally, an official method! Read Official method: Updating Realme 3 Pro, XT to Realme UI manually.)
SEE ALSO: Realme UI initial review: Big step forward in the right direction
We won't get into the details regarding that, because installing a custom recovery requires an unlocked bootloader and some prior knowledge about custom Android firmware. However, as we found out today, there's a chance you might be able to download and install the software onto your Realme phone via an over-the-air update — even if you don't live in India.
Step-by-step guide to updating your Realme 3 Pro and XT to Realme UI
Complete this form to get on the priority queue for Realme UI. You don't have to enter "India" as your country or region, though you have to input your unit's real IMEI. According to the Realme support team in India, those who apply now will receive the update sometime in February. You can still proceed with the steps below after submitting your application online.
Set your phone's region to India by going into the Settings menu.
Download a VPN app on your device (we chose the free version of PandaVPN).
Open the VPN app and connect to a server based in India.
Once your device is connected to the VPN server, launch the Settings app, then select Software Update.
The update notification should appear automatically on your screen. You can disable the VPN while downloading the update to speed things up. And switching to a different Wi-Fi network won't restart the download.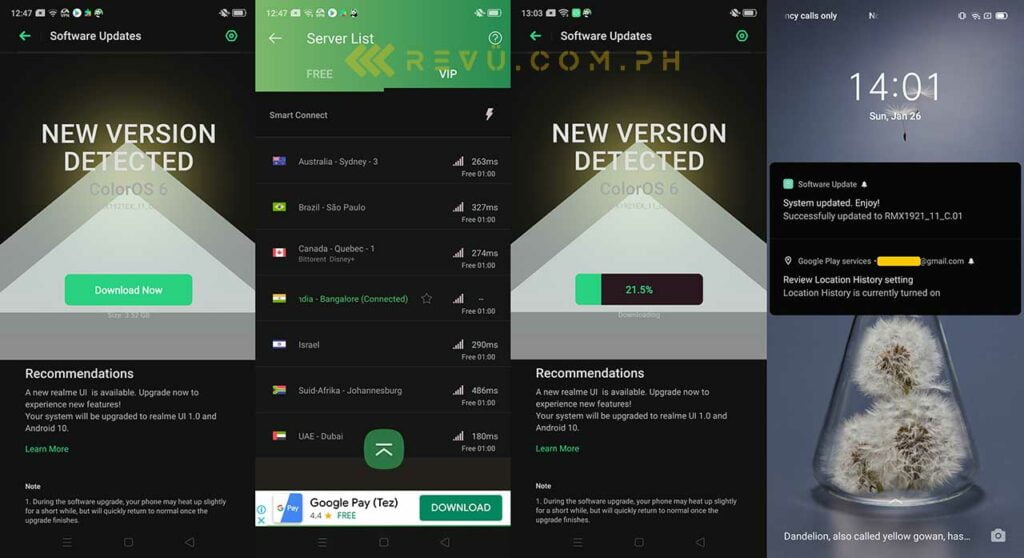 This is the simplest method of upgrading to Realme UI we know as of now. The best part is, you won't run the risk of damaging your device's system storage and voiding warranty coverage. Plus, it won't erase your data, although we suggest backing up your files in a cloud service before proceeding.
READ ALSO: Realme 5i: Camera specs, sample pictures
If you don't receive the update notification immediately, or in the next couple of days, don't fret; Realme uses a staged rollout, so it may not have hit your smartphone yet.
SEE ALSO: Realme Buds Air review: Good audio, even better price
We should also clarify this method doesn't guarantee your Realme device will get the update, but it doesn't hurt to try. Lastly, we want to mention that we successfully upgraded our Realme XT unit using the method detailed above.
Complete list of Realme UI features

---