Counterpoint has released its report on the performance of smartphone brands in the Philippines last quarter.
(Update, February 10, 2020: There's a new list now! Read Realme biggest winner in PH smartphone market in Q4 2019.)
(Update, December 26: Xiaomi has sent us a clarification on the latest "top smartphone brands in the Philippines" report. Read its statement — and that of Counterpoint Research's — in this story: Xiaomi issues statement on 'top phone brands in PH' report.)
According to the market-research firm, Chinese brands captured 57% of the market — the highest level ever — thanks to OPPO, Vivo, and Realme, at the expense of local players like Cherry Mobile. The latter two were the fastest-growing smartphone companies from July to September this year.
Vivo and Realme were the fastest-growing smartphone companies from July to September this year
Third-placer Vivo's market share increased 11% year-on-year, spurred by discounts on handsets like the Vivo Y91 and Y91C online. What's more, three of the 10 best-selling phone models were from Vivo.
Realme, which entered the Philippines just November 2018, already entered the top 10 list. By launching budget to upper-midrange devices that target primarily millennial and Generation Z segments, which contributed to its strong presence online and offline, it took 4% of the market. The new Realme 5 series accounted for 40% of the brand's sales.
Realme's main competitor, Xiaomi, on the other hand, is growing at a slow pace in the Philippines compared with other markets, Counterpoint said.
SEE ALSO: How OPPO is preparing for the 5G era in Asia-Pacific and How Huawei plans to grow its business through its ecosystem
At the top in the third quarter of 2019 was Samsung with 21% share and 6% YoY growth. The introduction of its upgraded low- and mid-end A series phones — the A10s, A20s, A30s, and A50s — was instrumental during the period.
OPPO, which grew 2% YoY, trailed Samsung by only 1%. The good performance of the OPPO A5s, A5 2020, and A9 2020 helped increase the company's market share.
Of the top 5 smartphone brands locally, only Huawei shrank, with sales dropping 26% YoY, an effect of the US-China trade war.
Below is the table summarizing the Philippine smartphone market share in the third quarter of 2019. You can read Counterpoint's report here.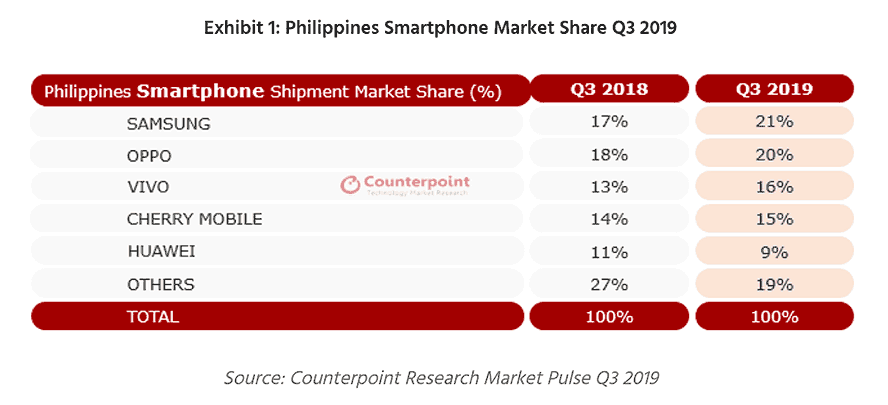 ---