Only smartphones from three brands made it to the latest lists of top global handsets, both in the last quarter of 2019 and in full year 2019.
According to market-research firm Canalys, Apple, Samsung, and Xiaomi devices dominated the rankings.
Apple was the biggest winner, with iPhones making up most of the lists. The iPhone 11 topped the one in the last period, and the iPhone XR was the bestselling model last year. Other units that performed well in the market include the other Apple iPhone 11 series smartphones, the iPhone 8, and the iPhone 7.
SEE ALSO: Apple biggest-winning phone brand in Q4 2019 and Legion Gaming Phone, ROG Phone 3, and more confirmed with Snapdragon 865
Korean manufacturer Samsung's Galaxy A lineup did great, too, with the Samsung Galaxy A10s, Galaxy A20s, Galaxy A30s, Galaxy A10, Galaxy A50, and Galaxy A20 making it to the lists. The only other Galaxy model that got in was the Samsung Galaxy S10 Plus, which landed in 10th place in full year 2019. This just shows that the company made the right decision to revamp its entry-level and midrange lines.
READ ALSO: Redmi Note 8 series smashes record, sells 10M units in 3 months
The Redmi Note series proved to be popular for Xiaomi. The Redmi Note 8 and Redmi Note 8 Pro were the 6th and 10th bestselling devices from October to December 2019. The Redmi Note 7, on the other hand, was the sixth most-sought-after phone overall last year.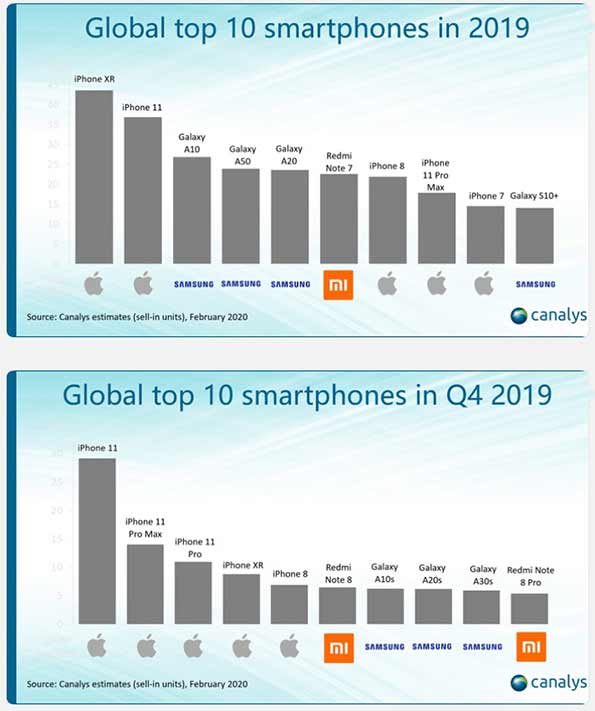 ---